We have been watching the weather, waiting for a break from snow and wind so we can begin the winter journey. Finally we see an opening, but due to a winter storm descending over Colorado and possibly into northern New Mexico, we will not be going to Santa Fe to camp as planned. We will, instead, head for Coronado Campground at Bernalillo (north of Albuquerque), which is far enough south to avoid the winter weather, as well as much easier on Suburban not to tow Cougar to the higher elevation of Santa Fe. This change of plans makes sense, but is still a disappointment not to have a week in Santa Fe. As a compromise, we will make a day trip to Santa Fe from Coronado see a few friends and run only the most essential errands.
Saturday December 7: We finish packing and everything is checked off the final to-do list. It is not a fun job to get Cougar hooked up in this cold weather, but by early afternoon, we are on our way.
We see snow cover on the San Juan Mountains as we near Cortez, Colorado. Taking photos through the window doesn't quite do it justice, but it is a record of the early stages of the journey. We pick up supplies and spend the night at Walmart in Farmington, New Mexico.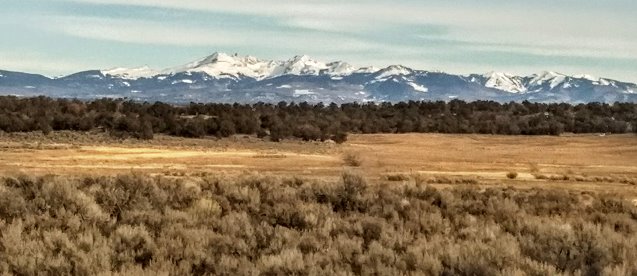 Sunday December 8: It is 23 degrees this morning after rain earlier. We travel from Farmington to Bernalillo, via highway 550, a long 165 miles. The highway is wet at the higher elevations, and we are happy that there is no snow or ice. It is a relief to arrive at Coronado Campground at Bernalillo. We pick a spot, not the prettiest, but the most level for easy setup.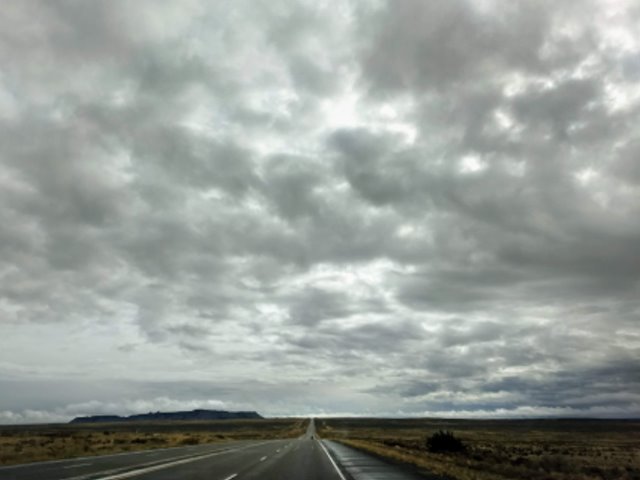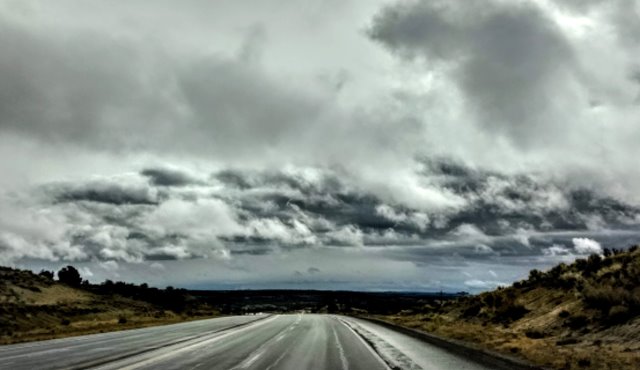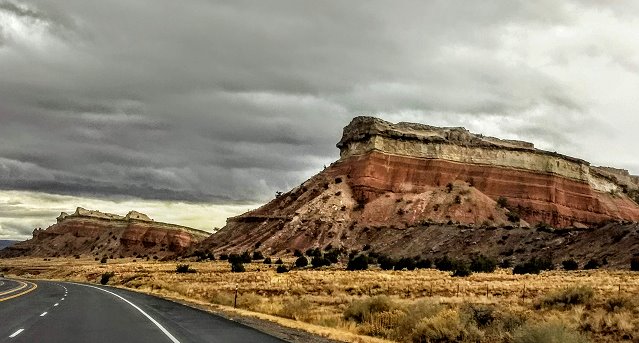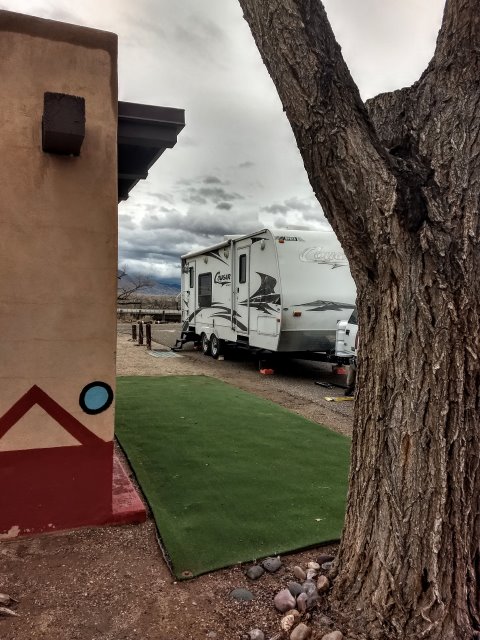 The interesting story about this place is that 22 years ago, it was a state park, and Clifford and I found it by good luck on a cold snowy Christmas Eve, on our first trip to New Mexico, after we discovered that there were no motels with vacancies along the freeways, which were being closed due to heavy snowfall. We weren't going to make it to Santa Fe that night, and camping appeared to be out of the question. However, north of Albuquerque, Clifford spotted the sign for Coronado State Park and we took the exit. We set up our tent in one of the shelters alongside the picnic table, somewhat out of the wind, very happy to have found a safe place to camp. The next couple of days we made day trips to Santa Fe and Los Alamos, since it was too snowy to camp near Santa Fe. It was quite the adventure!
Monday December 9th is our day in Santa Fe where we meet with dear long-time friends for breakfast, after dropping off one of my cellos at the Violin Shop, then a stop at Trader Joe's, followed by pizza at Dions with two other long-time special friends. Such a great time with all these people who have enriched our lives over the years. There were others we wanted to see, but just not enough time on this trip.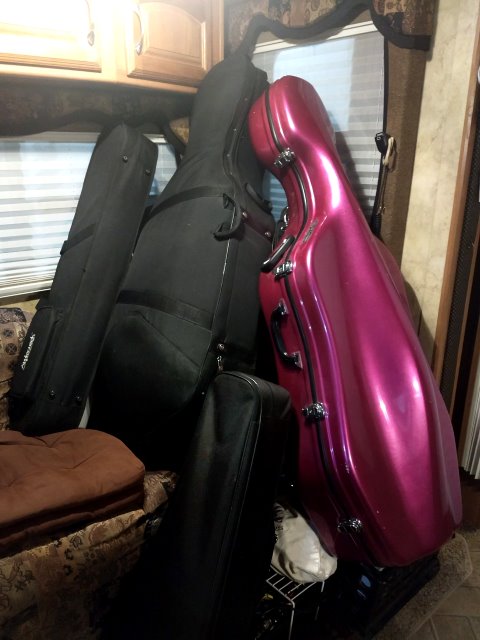 Tuesday December 10: I am up before sunrise and even though it is a chilly 23 degrees, I walk to the tent camping area, as I can get a better view of the Rio Grande River from there. It takes awhile for the sun to clear the Sandia Mountains, but I'm glad to be there for the welcome sight and feel of sunlight.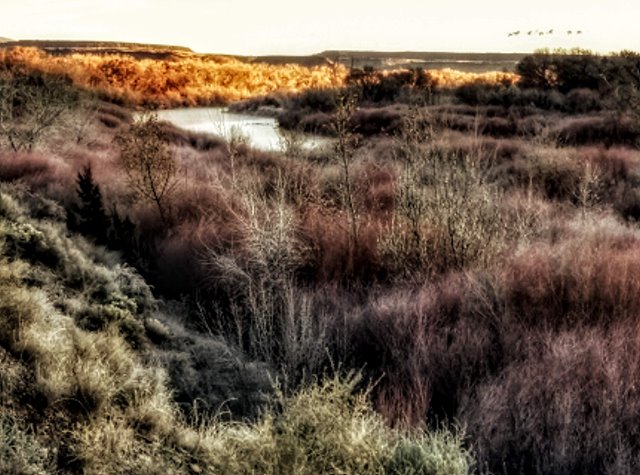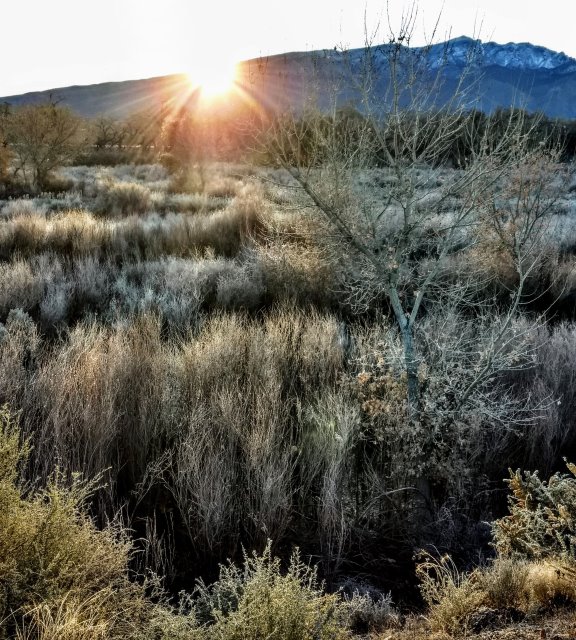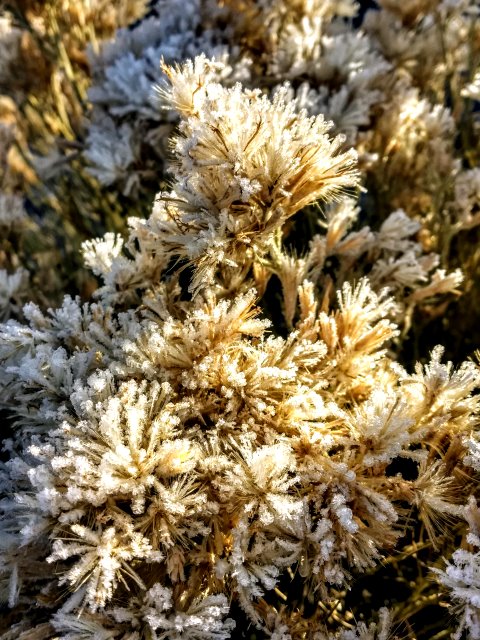 Back at camp, we pack up and leave at a leisurely time, as we are only going as far as Socorro Walmart today, less than 100 miles.