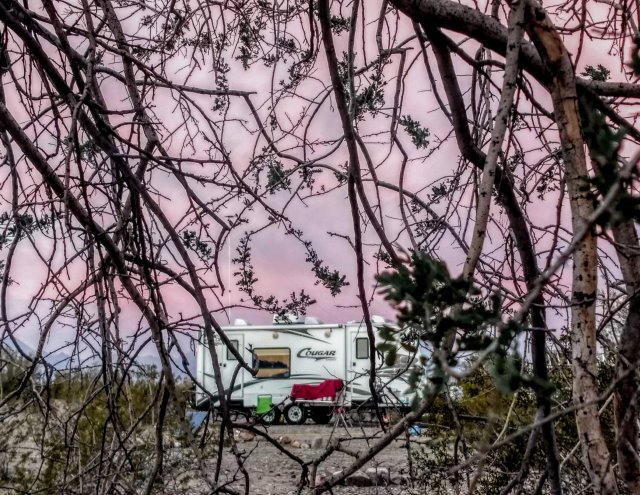 The next several days at our camping area at LaPosa South, south of Quartzsite are marked by lows in the 30's and highs in the 60's – not bad for January, but generally too windy to spend much time sitting outside.
Morning and evening walks in the desert happen almost daily for me, as I find myself very drawn to the stillness. I like the openness without barrenness, always finding interesting trees or rocks or flowers to take photos of, but it is the ambiance that I wish most to share. The morning "quiet time" routine of inspirational reading and writing that I had established in Monticello is harder to maintain here, so my quiet time is now walks in the desert.
Waiting for sunrise

First light on a palo verde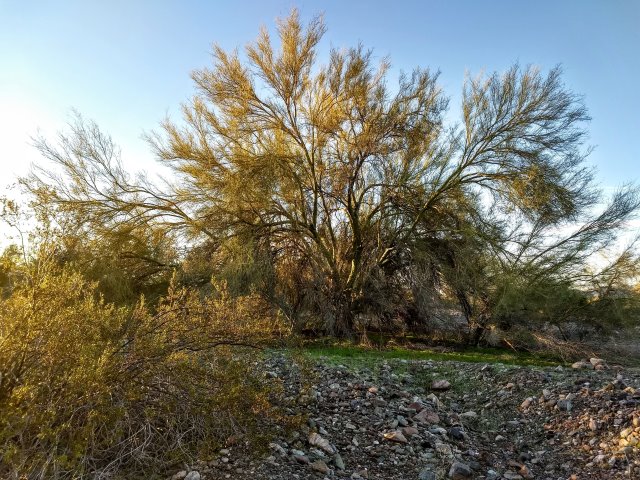 Saguaros with nursemaids

Desert marigolds bloom abundantly

Openness without barrenness
After repairing his drone, Clifford takes it for a flight… and it gets away from him, becoming a smaller and smaller dot until it disappears.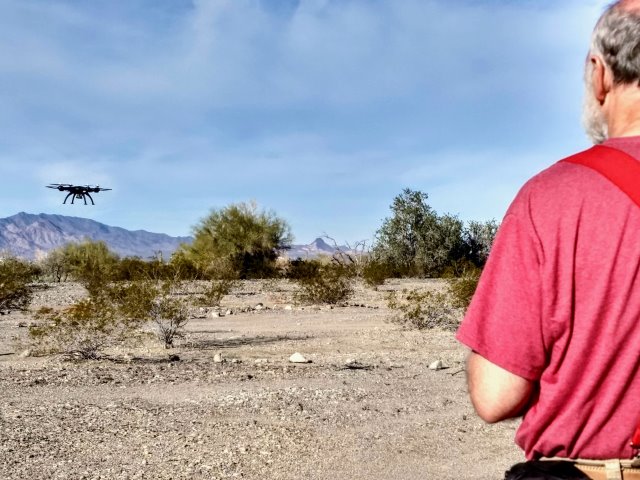 Well, this is a bit discouraging, but Clifford knows by line-of-sight which direction it has gone. Clifford, Rollie, and I go look for it, with a starting point a couple of miles past LaPosa South. Rollie and I go one direction along the trajectory line, inquiring of campers if they have seen a drone, but no one has. We are hoping it didn't crash into someone's RV. Clifford goes the other direction along the trajectory, back toward our campsite. As he's walking in the desert, using his binoculars to scout around, he comes across a couple of RVs a ways out from LaPosa South and he approaches a man who seems a bit unfriendly. Turns out Clifford is near the area of a nudist colony and the guy thinks Clifford has come to spy on the nudists. After a bit of conversation, the man is finally convinced that Clifford is indeed looking for a fly-away drone. The man's cousin and husband who are camped nearby might have noticed a drone, and the fellow will inquire of them when they return from town. Clifford describes where we are camped without much hope that anything will come of. Keep in mind there are thousands of RVs camped in the desert south of Quartzsite.
The next day after plotting a distance as well as a trajectory, we plan to go search again, but before we leave, a pickup comes up our driveway (we are quite a ways out from the main part of LaPosa South). Turns out the couple in the pickup are the cousin and husband of the man Clifford talked to yesterday, and the drone had landed in their driveway. They had taken it inside, but the fellow Clifford talked to didn't know that. He happened to mention talking to Clifford, and sure enough, they have the drone and set out to find us. So the drone is returned, none the worse off for its adventure.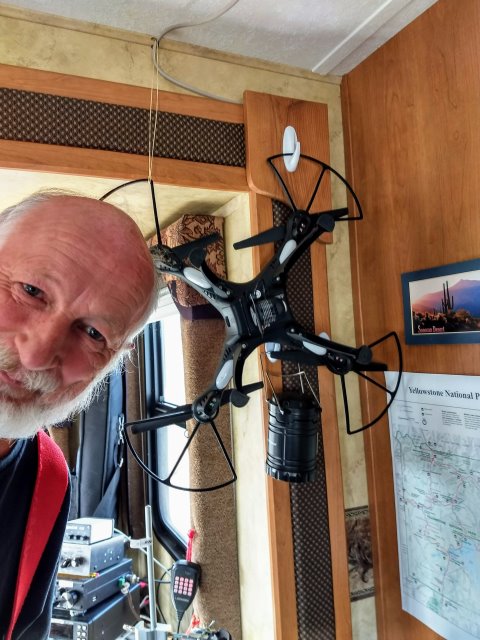 Another not quite so fun adventure is our trip to Lake Havasu City, about 90 miles to the north. We are going there to buy a Mr. Buddy heater, with plans to stop for photos on the way back to Quartzsite and lunch at the casino near Parker.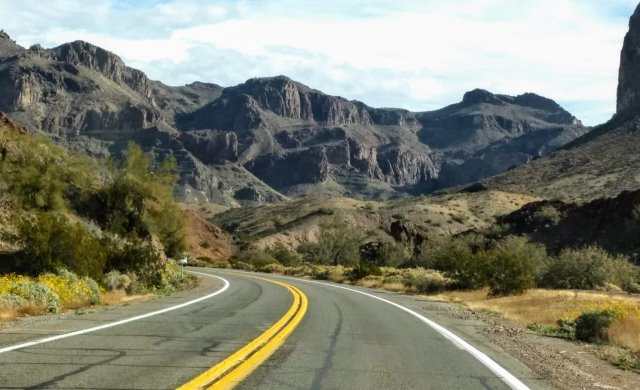 The Lake Havasu City Walmart is on the north end of town, but before we get there, as Clifford steps on the gas to merge into the correct lane of traffic, the Suburban starts steaming, big time, with the heat gauge rapidly going up. We barely make it to the Walmart parking lot, coasting in and stopping at the outside edge.
Rollie and Clifford assess the problem and it appears that broken motor mounts allowed the engine to jump enough to break a housing that holds hoses to the radiator and heater. We check out the Walmart auto supply, but they don't have the right part. A nearby Toyoto dealer orders the part for us and we have lunch at Subway while we wait for the part to be delivered. When the part arrives, it is the wrong size and won't work. We are back to square one, but now it is mid-afternoon. After much searching and some ingenuity, we come up with a series of garden hose parts and clamps to jury-rig (thanks to Rollie) the hoses so as to be able to drive without overheating the engine. This has taken hours, many trips back and forth to Walmart auto and garden centers, and me taking Ninja for long walks. It is after dark and the guys are working by flashlights before it is all back together and we head to camp. No photos and no stopping at the casino for a meal.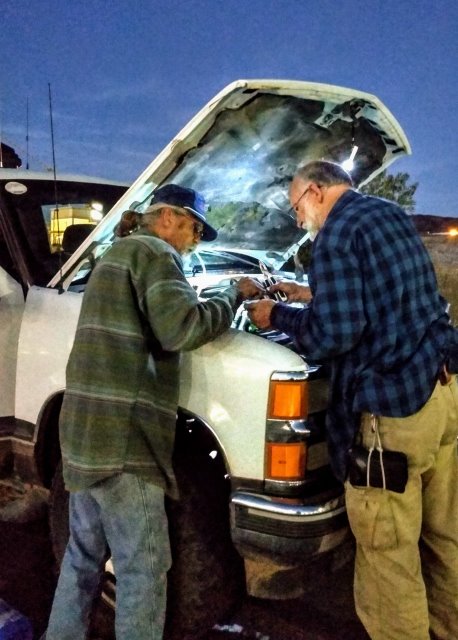 Other than the drone adventure and Suburban misadventure, which both ended well, we continue our projects. I do more editing, look into starting a website for Ang, and write a couple of blogs. Rollie and I play music almost every day and cribbage after dinner.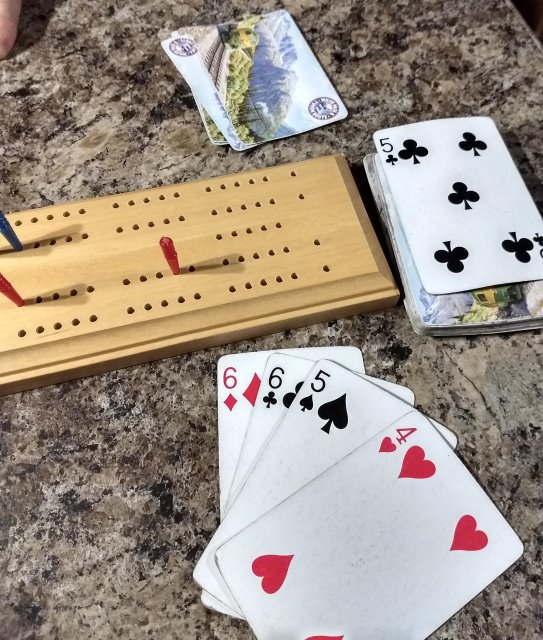 Clifford is busy with CI research, ham radio, playing his dulcimer, and flying the drone when it is not too windy. And we all went to the New Christy Minstrel concert in Quartzsite one evening, which was good entertainment.