Sunday December 30: Snow and forecast for snow storms delay our departure from Monticello, Utah, but we finally make our get-away on December 30th. We finish packing, say good-bye to our place, and by mid-morning we are on our way. It is 13 degrees and the landscape is snowy, but the highways are clear.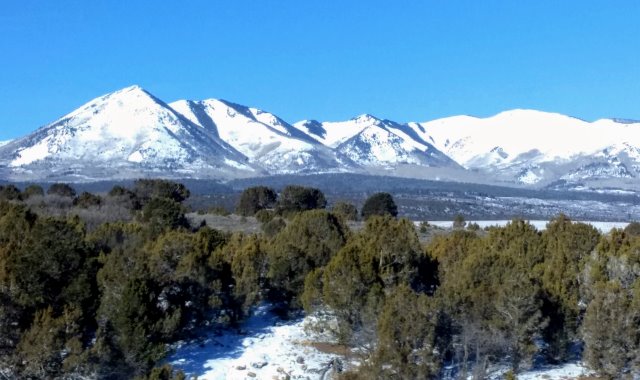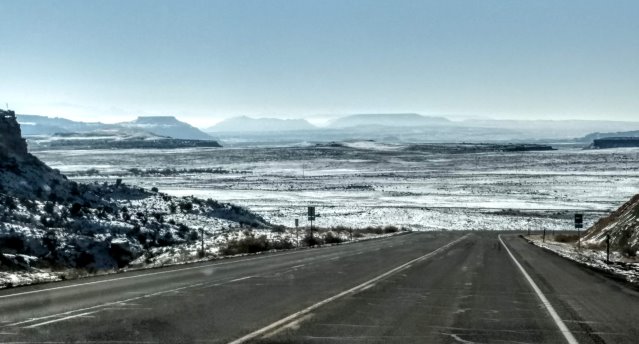 Utah formations…

and Arizona formations

Heading south toward Flagstaff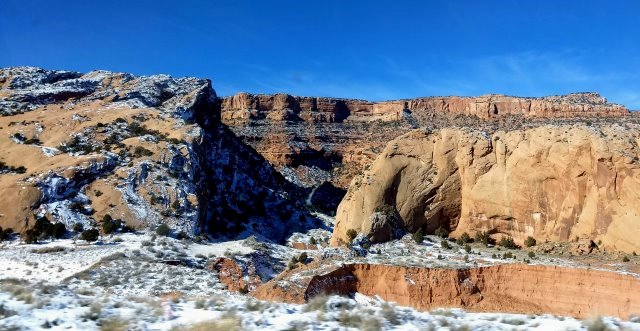 Due to the forecast for a big snow storm in region of Flagstaff, Arizona, we push on through Flagstaff and make it all the way to Seligman, Arizona, along I-40.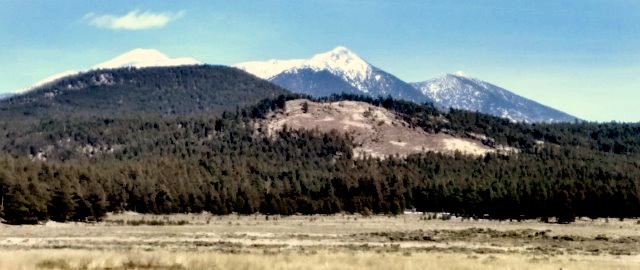 It was a super long day's drive for us – 350 miles, but we needed to get far enough west to be out of the storm.
A truck stop in Seligman provides a place for us to set up for the night. It is chilly enough that we use the furnace for the first time to warm Cougar up a bit, but we are dismayed that we can't get the fridge to light. Maybe too cold? I wanted to play viola and write in the journal, but I am too tired. Since the bed is cold, I nap on the couch until Clifford, the night owl, is ready to go to bed.
Monday December 31: I wake up about 7:00, don warm clothing, and walk across the dark parking lot to the restroom at the truck stop. When I get back to Cougar, I am too awake to go back to bed, so start making tea for the thermoses. By time Clifford gets up a short while later, it has started to snow here. That was not part of our plan! So Clifford skips his shower and we pull out as soon as we can.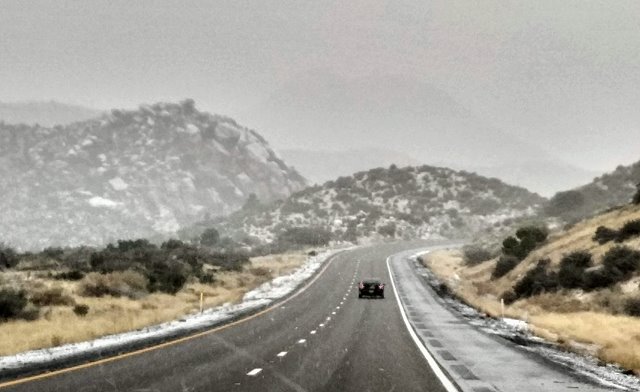 For the next 50 miles we are driving in a snow storm, which wouldn't have been so bad except for towing a trailer. Certainly not ideal conditions, but Clifford is steady, and I don't make any moves that might distract him. We are nearly out of the storm before I feel okay about taking a few photos of this rather scenic drive.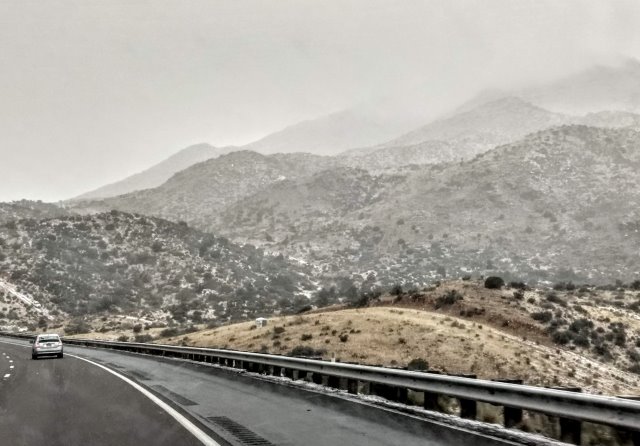 As we near Kingman, the snow lets up and we stop at a Petro truck stop for gas; the gas in Seligman was highway robbery, which we decided not to give in to, but it did mean running a bit closer than comfortable to the empty mark. In Kingman, lunch at Cracker Barrel is a treat and then we stop at Walmart for supplies. What a zoo! We could hardly find a spot big enough to park our rig so we could go in to shop.
Heading south out of Kingman, still on I-40, at the junction to highway 95, we pull into a Love's truck stop for the night. It is cold out, but with the furnace and burners on, we are quite comfortable. We have a restful night here, glad to be out of the snow and eager to reach our destination tomorrow.