Being gone for six months requires a lot of planning and preparation, both as what to take and what to leave behind. Decisions based on last year's experience: What to do with the houseplants, which I love and some of which I have had for many years? Although someone came to tend them, being left all last winter in a 50 degree apartment was too hard on them; I decided it would be better for them to go to homes where they will be warm and looked after. Gradually over the summer I gave them away, but it was sad to pack up the last of them. Many of them will be with my daughters and hopefully wood-heated cabins will stay warm all winter. Which cello to take? I find the most joy in playing the Snow cello, but fear that the camping venue will be too hard on it. I couldn't get it insured, so I finally decided on the old stout German cello, but the good bow, and a wide selection of pieces to work on.
Journey from Wallace, Idaho, to the Rest Stop near Anaconda, Montana
We leave Friday, October 7th,
more than a month earlier than last year.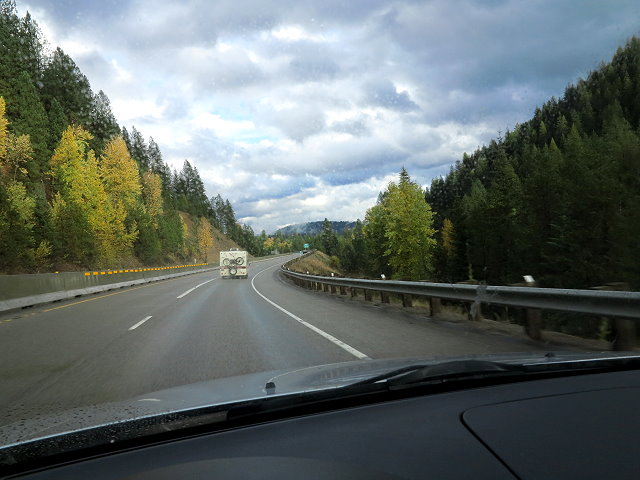 Hopefully we'll avoid the snow that accompanied us all the way to Arizona last winter.
We spend the night in Alberton in the parking lot next to the park and walk up to Merri's in the rain for dinner. Good conversation and good food; bed late.
The next day,
Saturday, October 8
th
, we drive out to Ang's place. I lend a helping hand with the greenhouse construction, a drop in the bucket compared to what they have done so far and have yet to do, but at least I can say I helped.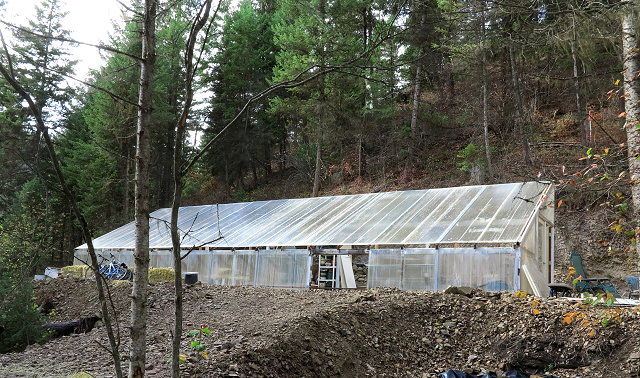 Sunday, October 9th
is bottle-cutting day – a demonstration that Ang is doing using wine bottles that will become "bricks" in a straw/clay-built wall, the tops becoming wind-chimes. Raining hard most of the day.
Monday October 10th
, Rama and Luther, Ang's property-mates, help us figure out some electrical issues we have with Terry (our 19' Terry Resort camper); a new converter is ordered and will be shipped to Katie's house in Missoula.
We say our good-byes and head for Missoula.
As we are going down Reserve (a main thoroughfare across town), our winter travels come within an inch or two of a complete disastrous halt as a vehicle in the oncoming lane of traffic makes a left turn across traffic right in front of us. Clifford swerves sharply to avoid a collision, Terry fishtailing like crazy. We pull over as soon as we can to assess damage. Miraculously, we did not hit the car that cut in front of us, nor did the fishtailing camper sideswipe anyone. Clifford thought he may have hit the guy and as we look closely, we see a new scuff mark on the bumper that could have been caused by a fast brush against something. Literally an inch or two difference between a serious wreck and the continuation of the journey.
On to Katie's house and park in front of
the
vacant lot
next door
.
Tuesday, October 11th
, I am invited to join Katie and Justice on an outing that includes a trip to Saddle Mountain to secure things on their property there. I had dressed to run errands with Clifford, so do a bit of tip-toeing through the snow to take photos in my street shoes.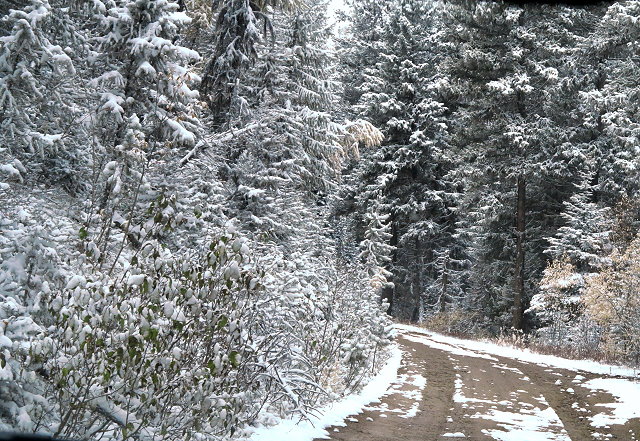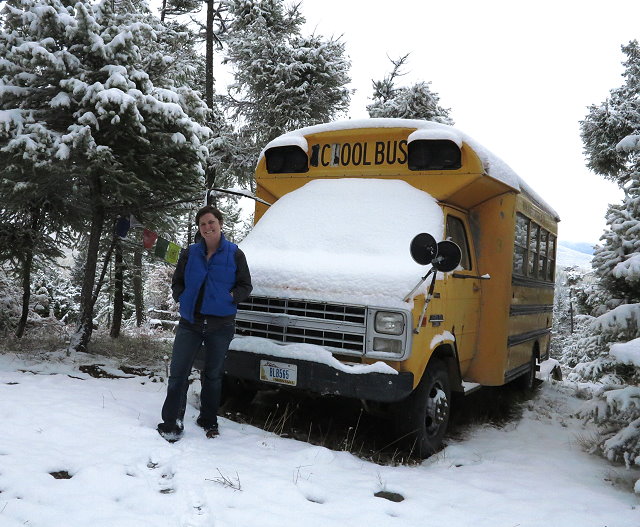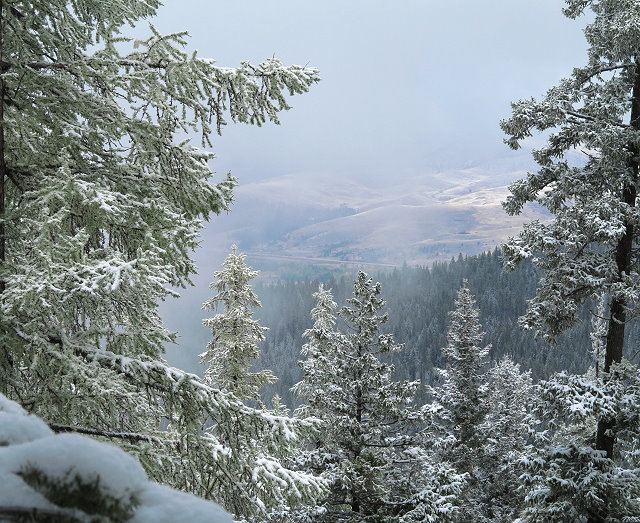 Then
we go on to
Quinns'
H
otsprings
to
soak in the
hot
water and savor an adult beverage
before driving back to Missoula.
Wednesday, October 12th
is errand day. We take Terry to Les Schwab to have tires flipped, run errands, and then out to see Mom. She is doing much better. She shows us her current projects and then while Clifford naps, she and I visit and play cribbage, which she wins. The hardest part of being gone all winter is not being able to see her until spring. Then on back to Les Schwab to pick Terry up and back to Katie's place.
Thursday, October 13th
, Rollie comes and helps us put in the new converter in trade for a cup of fresh-made organic French press coffee. By 1:00 we are packed up and ready to roll. Very pretty autumn colors along the Clark Fork River as we drive I-90 east toward Deer Lodge, our first gas stop. From there onward, it is quite windy; we are glad to reach the junction of I-90 and hwy 1, as there is a rest stop near the junction where we will spend the night.