Sunday August 28: I get up at 8:00, but what with one thing and other (getting water, making tea, and a visit to the lake), it is 9:00 by time I get around to a campfire. It is only 53 degrees out, so I figure I am entitled and since Mel gave me some good firewood, I have plenty of wood so don't need to be stingy with my campfires. Since the email on my cell phone doesn't work right, I decide to go ahead and delete everything, thinking it only affects the phone. Unfortunately, I discover when I check email on the laptop that I have deleted everything in my inbox across all my devices…. Uh, oh, not good. I have to spend some of my precious battery time on retrieving as many emails from the trash as I can. Oh, what a bother.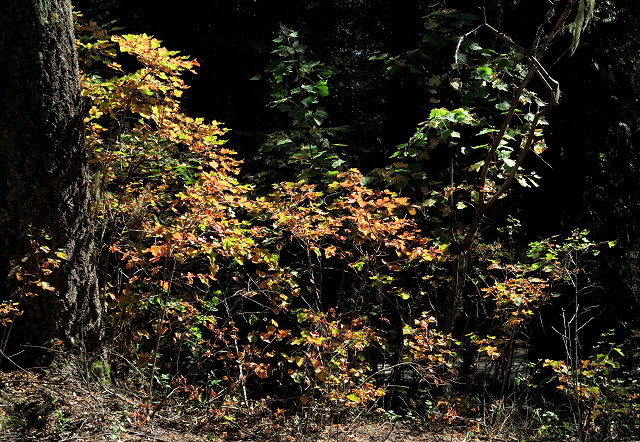 Cello in the afternoon, but not as long as usual, as I got a late start. Mel comes by: he is sending another musician my way – he wants another concert. Turns out this young woman, who comes by with her husband and two little boys, is a professional cellist!!! I think she should be the one to give a concert! I don't play for her family, but we do have the nicest chat. After dinner, since it is not quite dark yet, I make a campfire and sit out to write in the journal; as darkness comes on, I get a lantern so I can continue to write as I enjoy the campfire.
Monday August 29: I get up at 6:30 (5:30 Pacific) to use the restroom and could stay up, since it is beginning to get light out, but it is so chilly, I decide to get back into bed. As I doze off, the squirrels start dropping cedar and fir cones. The cedar cones are green and heavy with sap, and they hit Terry's roof with loud kerthunks. Next my phone tells me I have a message; someone from the east who doesn't realize it is not yet 6:00 a.m. here in Idaho, then the garbage truck comes in to pick up garbage. Why is it that garbage trucks always come early? Okay okay, I'm getting up. It is still early, chilly, but an excellent time for a campfire and some quiet meditation time. After breakfast, I walk down to the lake to take a few more photos and around the campground again.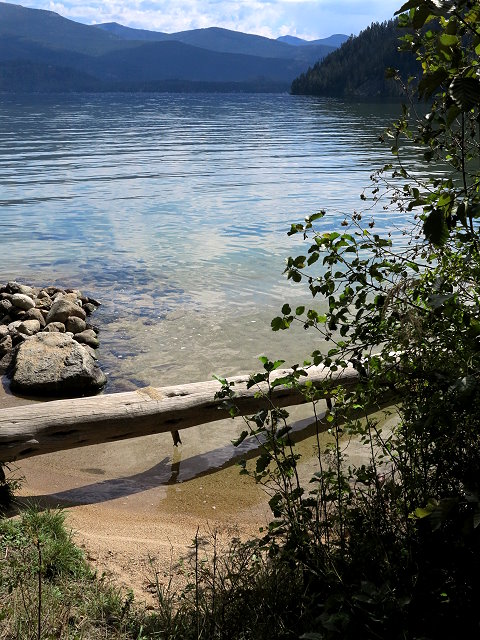 At campsite #9, I strike up a conversation with the couple there who are obviously packing up to leave. I want to know if they liked this spot, as it is the one I'd like to nab next time. We end up having a great conversation, sharing travel adventures, before they have to get on with their leaving preparations. Would have been fun to have met them sooner!
When I play cello in the afternoon, Mel comes by, pulls up a chair, and it is a concert for an audience of one! Later, I go for a hike on the trail that starts on the other side of the campground, the Woodrat Trail.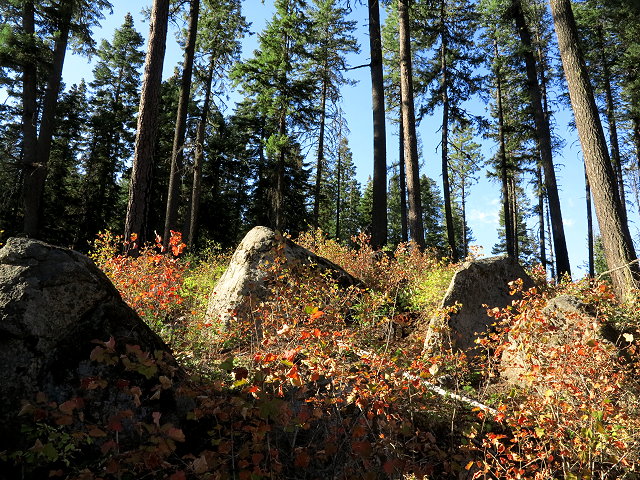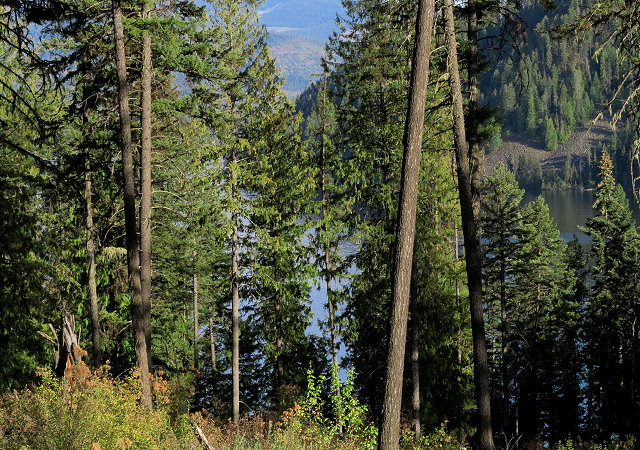 I am more concerned about bears than woodrats at this time of day, but hike about a half-mile in. Between logging and forest fires, this is not the prettiest forest, but it is interesting.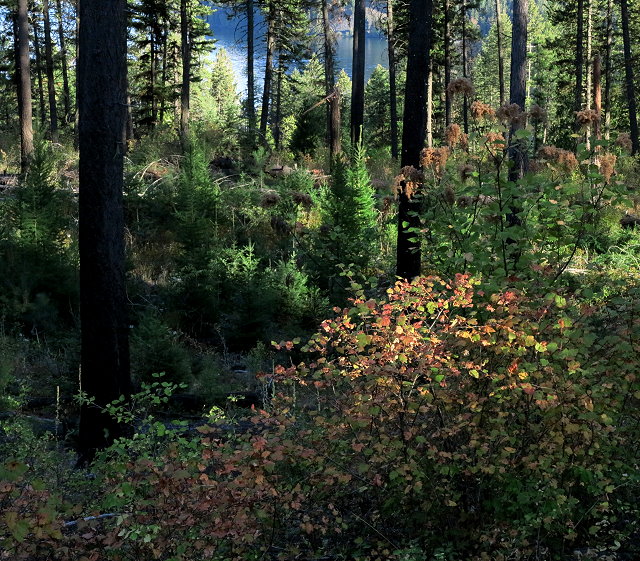 After dinner, I begin packing up loose stuff, as we will be leaving in the morning.
Tuesday August 30: I am up before Clifford, take a photo of the sun rising over the lake through the trees, and then take care of outside things like folding up tarps and table cloths.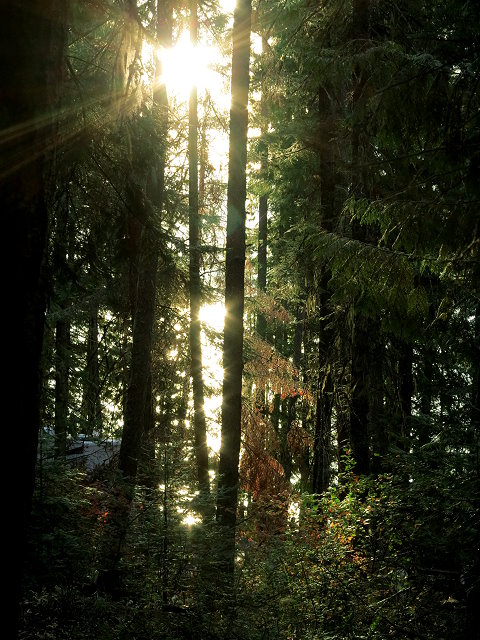 After Clifford is up, I finish packing up the inside while he takes care of his radio gear and bicycle. Mel comes by to say good-bye to us. We get Terry hitched to Blazer and take a last look around. It has been a good spot for us. Good-bye Priest Lake; maybe we'll see you next summer!