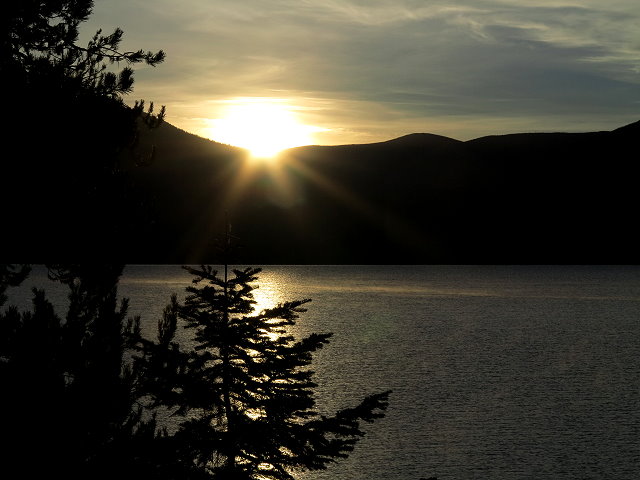 Friday August 19: I go for a walk along the lake first thing this morning, not as far as yesterday, but with more excursions down to the water's edge.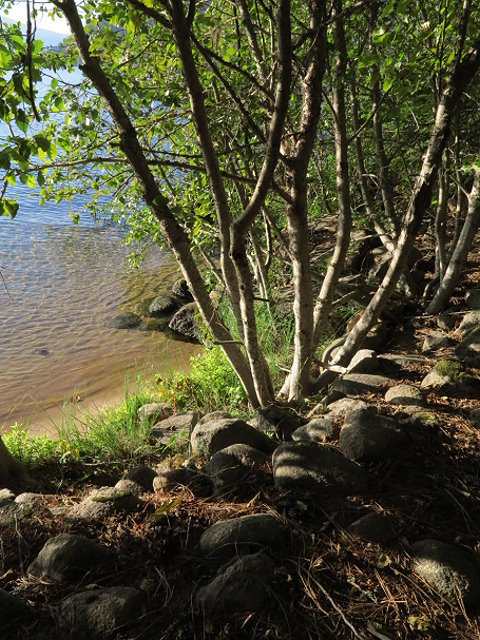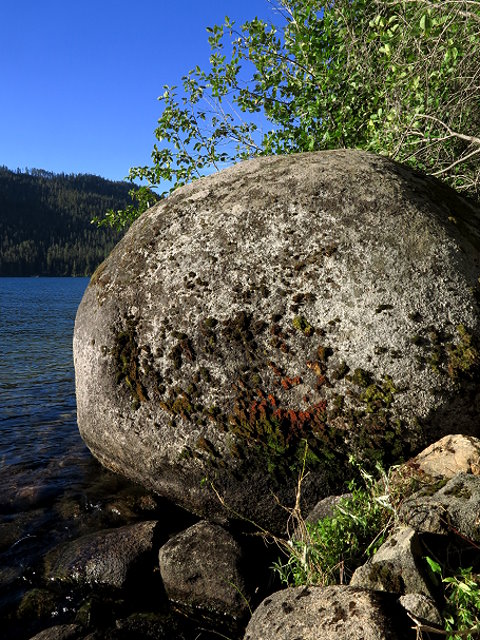 I sit on a rock, desiring to do a "lake meditation," but am too easily distracted by sounds: birds, boats, whatever. Playing cello and reading Alex's book are the main focus of my day. Very noisy here today: ski jets on the lake, a chainsaw, a dirt-blower (like a snow-blower) used by our fastidious host to clean around the campground, excited kids, crying babies, whining dogs. It's almost as bad as being in town.
Saturday August 20: I am up at 6:00 a.m., in time for the sunrise.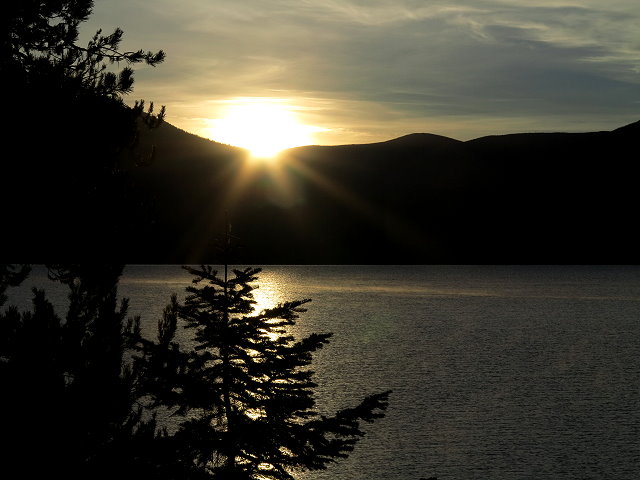 Since it is a cool 45 degrees out, I decide to have a campfire this morning. I use a couple pieces of the firewood I brought, but mostly gather twigs and small branches from around the campsite. Make a cup of yerba matte and sit by the fire to write in my journal. Nice and quiet this time of the day.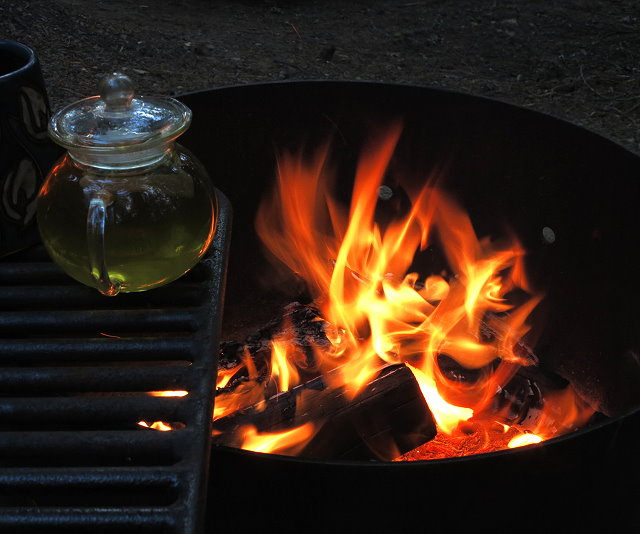 Later, as I'm playing the cello, a couple of girls are curious enough to engage in conversation and I talk them into coming over and trying out the cello. That was fun for them and for me. In the afternoon, Clifford and I walk along the lake trail past Osprey, the next campground up the road. I'm going to explore it a bit more another day.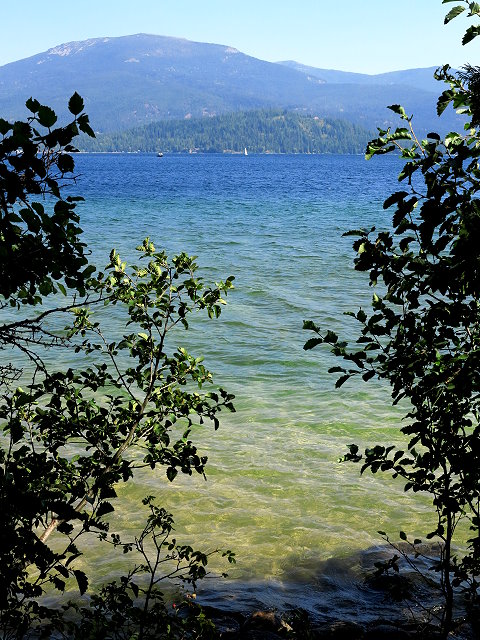 Sunday August 21: Another cool morning and I make a campfire with wood I gathered on our walk yesterday. I try the technique for quieting the mind, per Alex's book, but too many distractions: Mel stopping by, Clifford getting up, the fire needing tending, and so on. Today is a quieter day, as many campers leave fairly early. I finish the book, briefly check email on the tablet, and have just enough power on the laptop to edit one chapter for the Montana author whose book I have been editing. Power has been inadequate here due to lots of trees and not much sunshine on the solar panels; we are grateful for the shade, which has kept us comfortable, but not being able to use my laptop puts a crimp in my editing and blogging. Glad I have the cello and play it a couple of times today.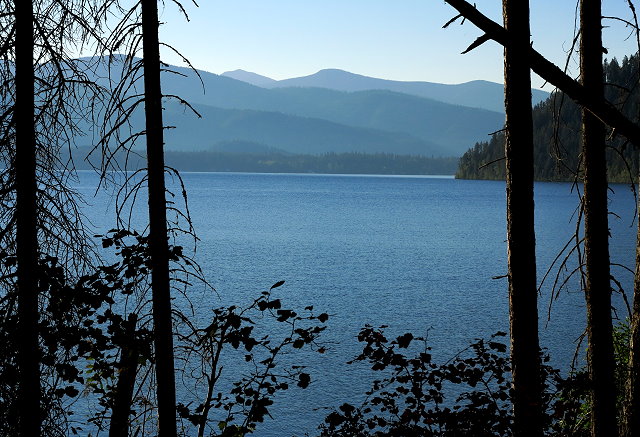 In the afternoon, I walk along the lake trail to Osprey by myself and walk around its long loop, checking out possibilities for next year. After dinner, Clifford and I sit outside, as the temperature is quite mild, but it is past my bedtime, so I soon head to bed.
Monday August 22: In the night last night, my tooth problem flared up, which is not a good thing, but an ibuprofin helped. Today, since we are going to town, there is no time for a campfire, so I stay warm and cozy in bed until Clifford is ready to get up. Then we head off to Priest River, about a 25 mile drive, to mail some government forms that we finished filling out over the weekend. We get all the way there before I discover that the papers to be mailed at still at camp. I am super annoyed at the waste of time and gas to drive down here, but we make the best of it by going on to Newport and getting groceries at the Safeway there. We check out a couple of small campgrounds on our way back to Outlet Bay, including one near the little village of Coolin on the SE shore of Priest Lake.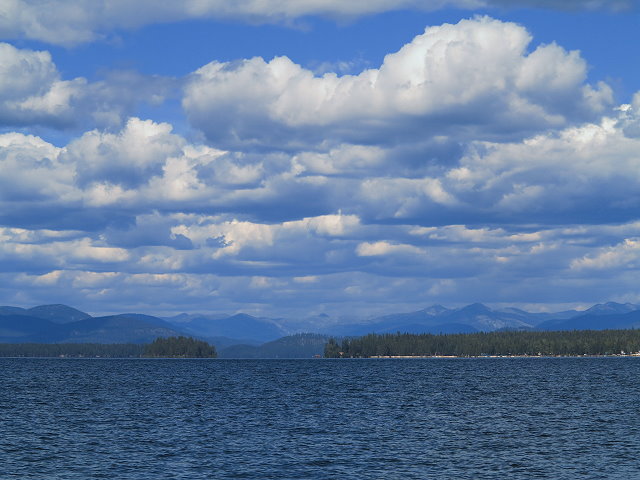 Even though we still have papers to mail, we have a nice little outing.