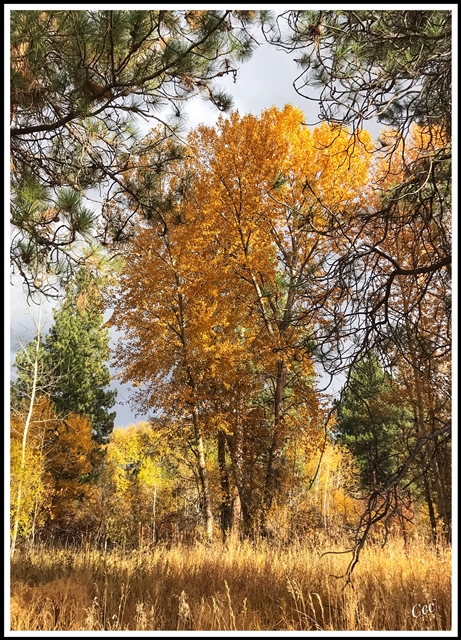 After the trip to Wallace with my sister Nancy, the next few days are spent reorganizing Suburban and Cougar in preparation for leaving Montana. Clifford and I want to be on our way before the weather turns colder than it has been. The autumn colors are at their best in the nearby woods. Nancy and I walk to the side channel of the Bitterroot River one more time.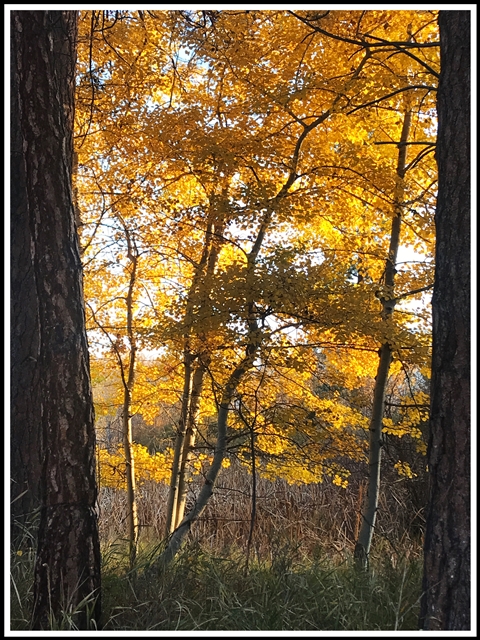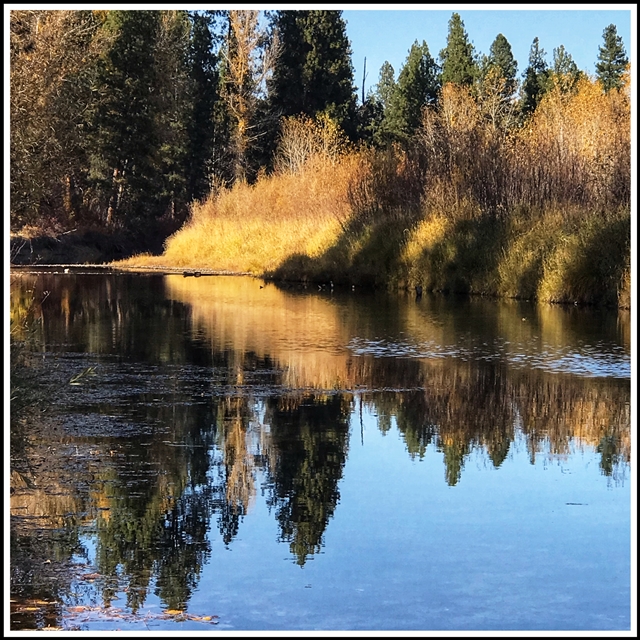 Thursday, October 21, Clifford and I finish packing and leave Florence a little after noon. The autumn colors along the Clark Fork River are quite striking as we head east from Missoula toward Butte.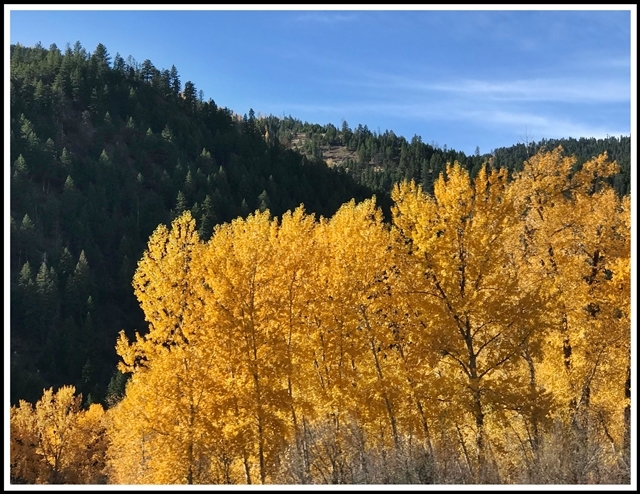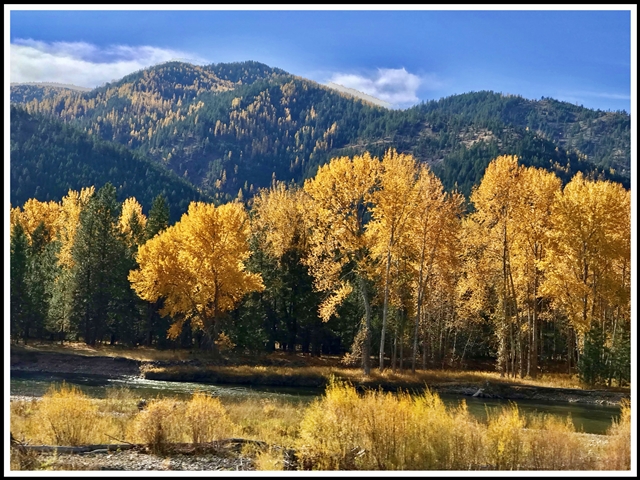 Although we usually stop at the rest area south of Butte on I-15 or at Divide Bridge Campground, this time we push on through to the rest area at Dubois, Idaho, arriving at sunset, 284 miles, a very long day for us.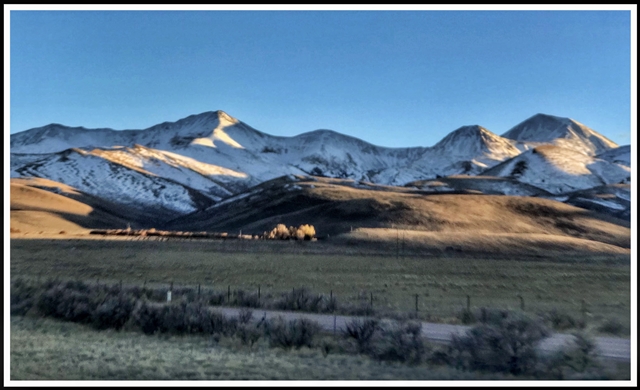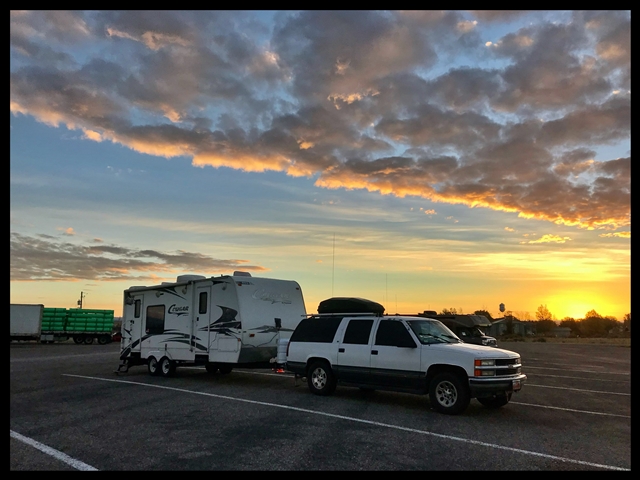 The next day is windier, so not as easy driving, and we stop at the Devil's Creek RV park in southern Idaho around 3:00. We set up on the far end of the reservoir rather than in one of the RV sites. I have time to post photos to the RV Bunch on FB, play fiddle, and make dinner before heading to bed. A good productive day despite the hours on the road.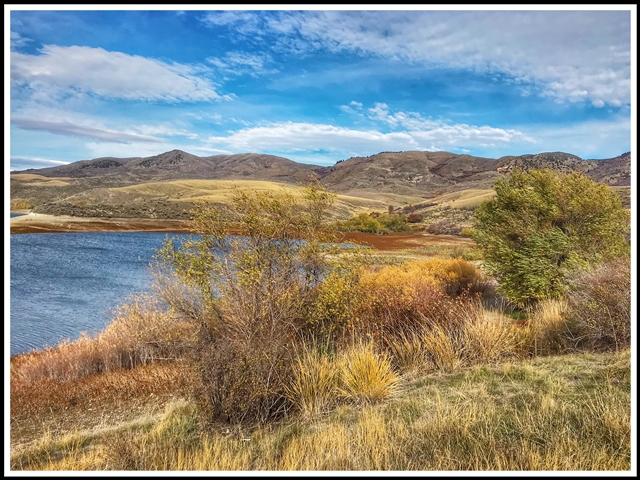 Drizzle and rain in the night and the misty morning provide some photo opportunities for me.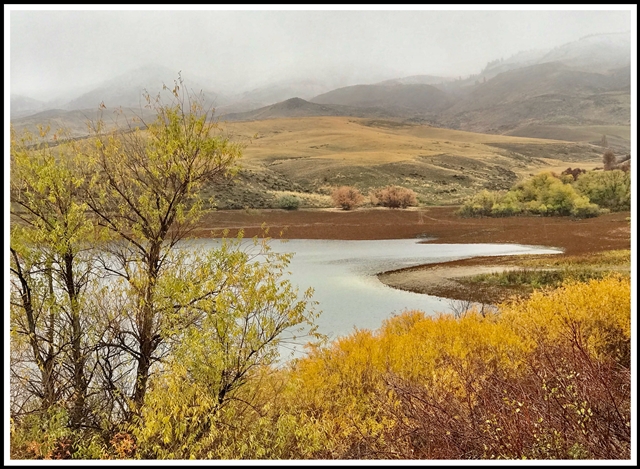 We take time to repair the rear view camera and leave Devil's Creek about 2:00 in the afternoon.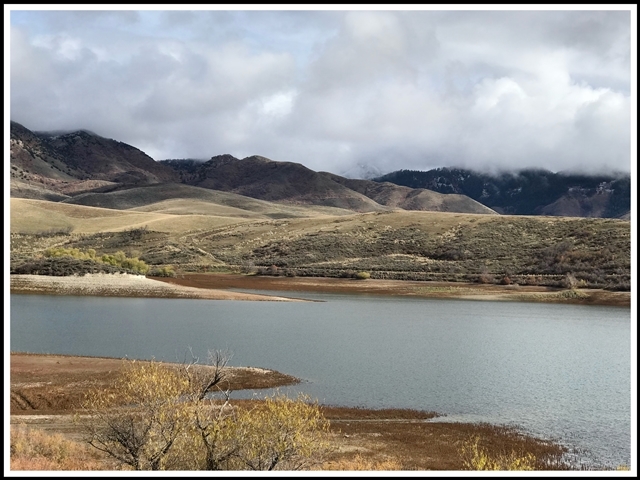 Construction as we approach Salt Lake City slows us down, but we arrive at the Perry, Utah, Walmart about 4:00 and are happy to get a spot along the median with grass and a tree.
The next morning is Sunday, October 24. We always plan our drive through SLC on Sunday so there isn't as much traffic. We are up early enough to do a bit more shopping and leave by 10:00, but we are disappointed that the rear view camera is still not working despite our working on it. Driving through SLC is taxing enough, but doing it without a camera makes it even worse. As we drive through Salt Lake City, we feel the wind starting to pick up.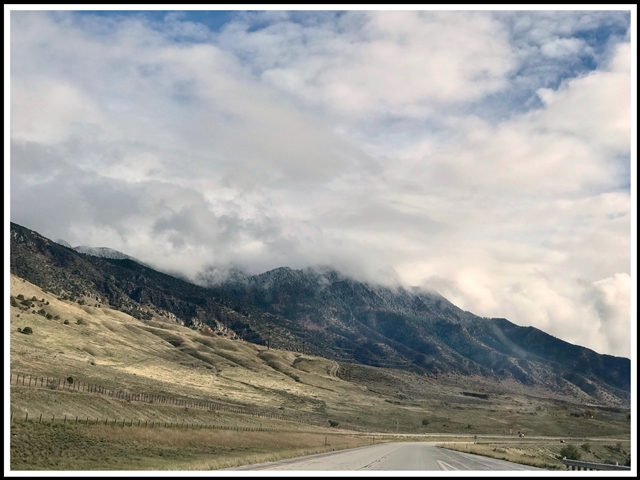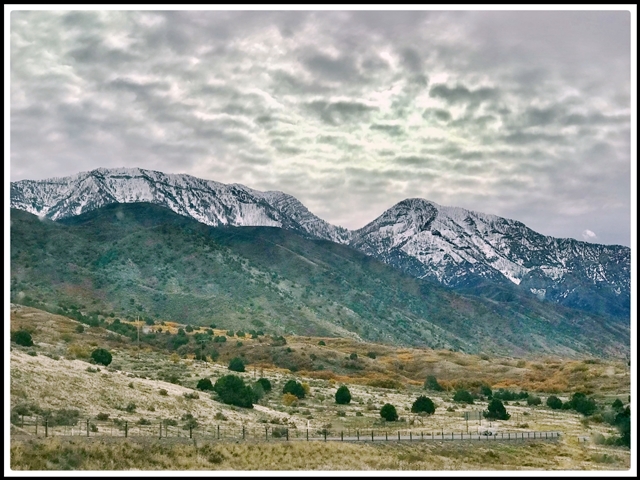 By time we get to Beaver, 200 miles to the south on I-15, we pull off and find a place to park in a trashy dirt lot behind the Flying J. It is very windy now and we are both glad to be off the highway and parked for the night.
Monday is much too windy for travel and despite putting down the stabilizers, which we don't usually do for an overnight stop, we are rocking and rolling in the wind all day. We bundle up against the wind and walk to nearby Denny's for a meal. We keep busy the rest of the day with our various projects.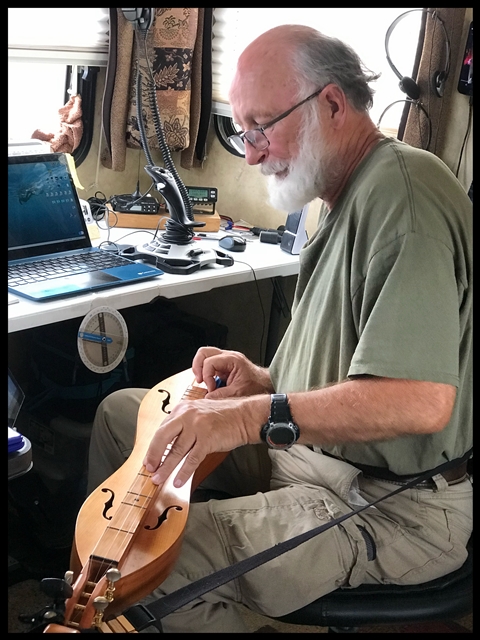 Our friend David calls to see if we are still in Montana. He informs us that the campground in the Virgin River Gorge where we had planned to go, which also happens to be where we met him several years ago, is closed. That is disappointing to us, but David encourages us to go to Black Rock Road and camp there near where he is set up.
When I open the door the next morning, I am surprised and delighted to see a landscape covered with snow. Trash has disappeared under white fluffiness.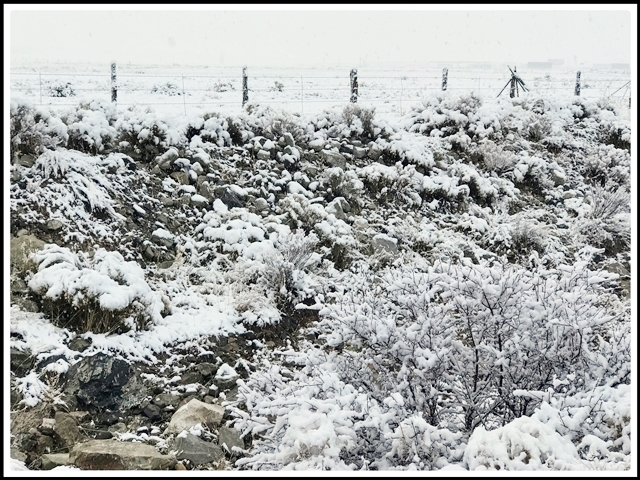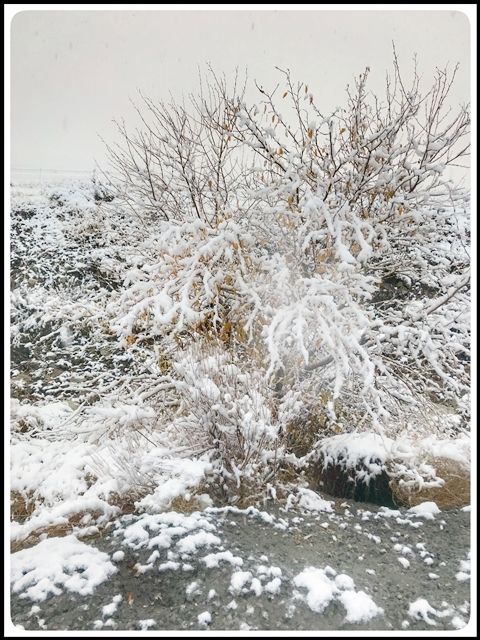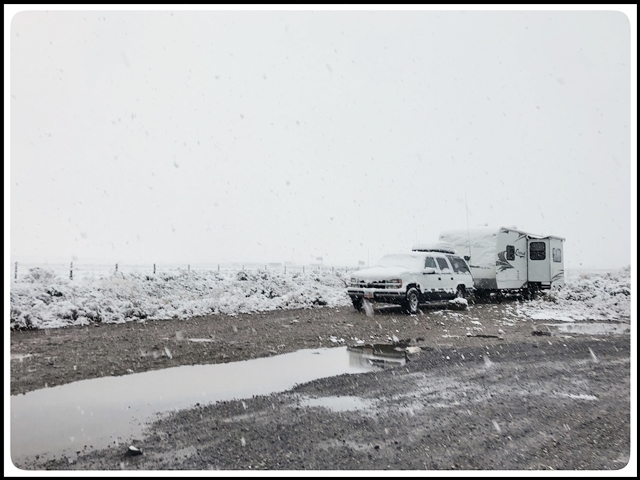 As the sky clears, snow on the nearby mountains is quite scenic.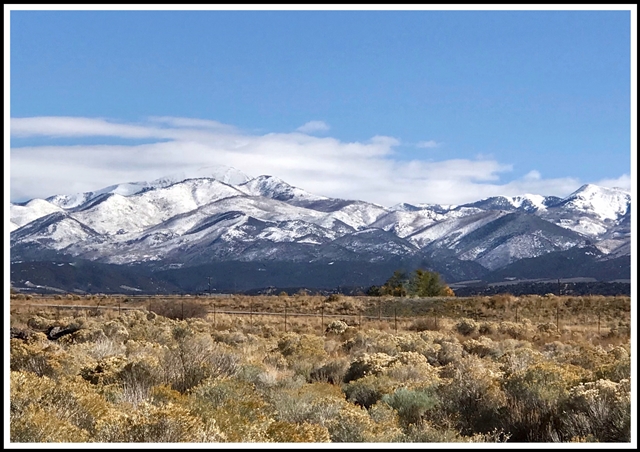 We are not traveling today, waiting for the roads over mountain passes to clear. Cell service is good here, so both Clifford and I work on our projects, mostly editing for me, and for Clifford, whatever he has going on.
By Wednesday, the 27th, the snow is mostly gone and the highways are clear, so we leave Beaver and head south through St. George, and cross the border into Arizona.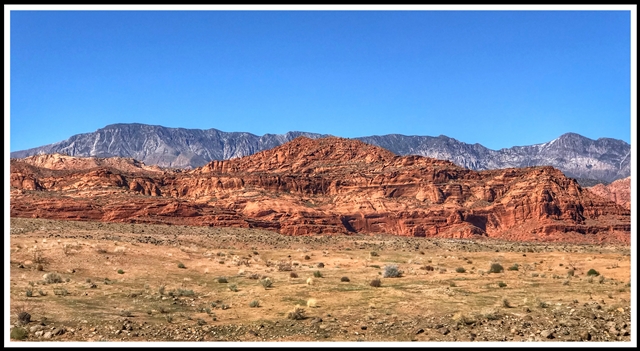 With David's directions, we find our way to the spot he has suggested for us on Black Rock Road. There are desert views in every direction and gently rising hills in this valley basin, sloping down to a wash and upward to nearby mesas, but not a single tree. The acres and acres of creosote are green and alive, but without trees, it feels kind of exposed and barren to me.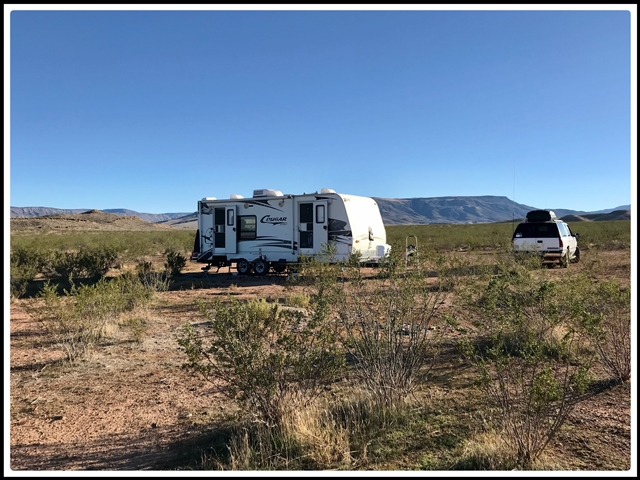 I appreciate the views, and how peaceful and private it is here, but coming from the mountains, trees, and rivers of Montana, Black Rock will take some getting used to for this Mountain Girl.