Friday March 15: My day at Molino Basin Campground starts with a hike to the creek for photos and quiet time.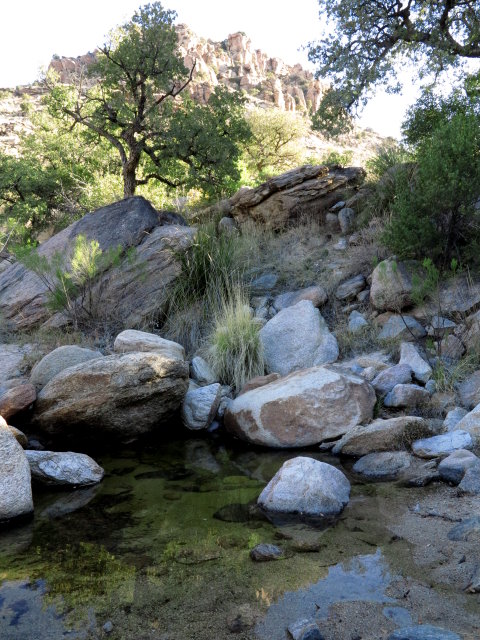 Today is catch-up day after our long day in Tucson yesterday. Dishes are done, sundries and clean clothes are put away. Rachel, our camp neighbor, stops by and we look at maps together. She knows of dispersed camping areas that we are not yet acquainted with. Rollie and I play a game of cribbage before I start editing, finishing up The Keeper and the King. Too windy to do music outside, so Rollie and I just work separately in our own campers – good time for me to really focus on viola technique. It is fun learning to play the little instrument, but I have to say (in my opinion) that violins and violas are not very ergonomic compared to cellos, and I miss playing my cello.
Saturday March 16: Overcast, then clearing, then cloudy and gusty – guess it is spring weather. After sitting by the creek a bit, I have tea with Rollie. He is feeling off today – a bit dizzy. I give him some good salt to put in his water and we go for a hike on the portion of the Arizona Trail that parallels the campground.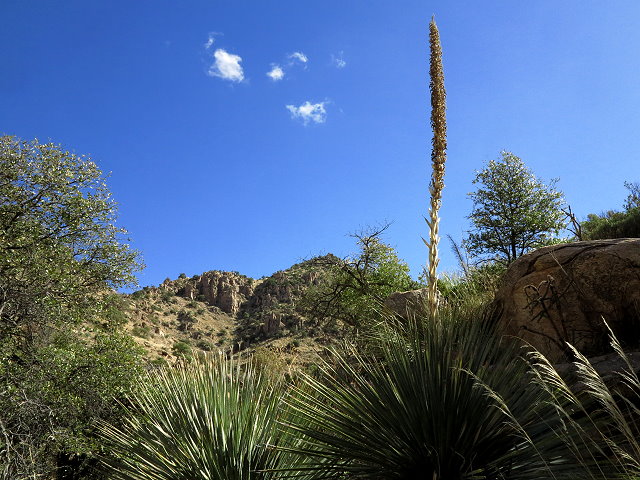 Walking back down the road, we visit our musician friend, Rachel. She is getting ready to leave, but we talk her into singing and playing for us, and I record her singing her beautiful Desert Song. We will miss her.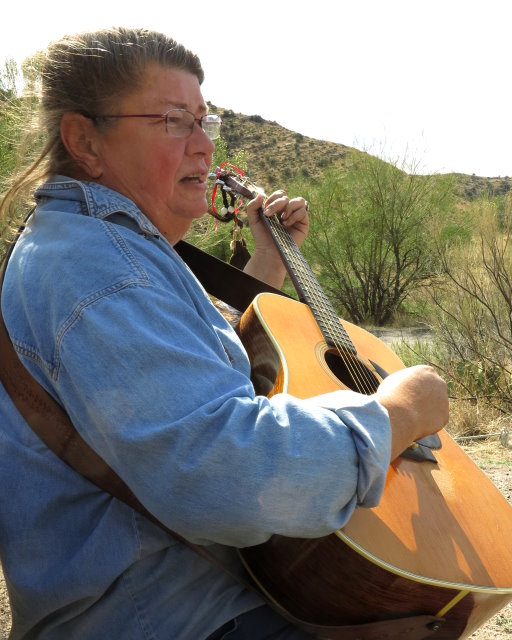 After breakfast Rollie and I do music in the little tipi tent, kind of crowded, but it breaks the wind so we can play outside. Then we all go down to the Babad Do'ag Vista Point, which overlooks Tucson, as we can get cell service there. We catch up on email, phone calls, and texts.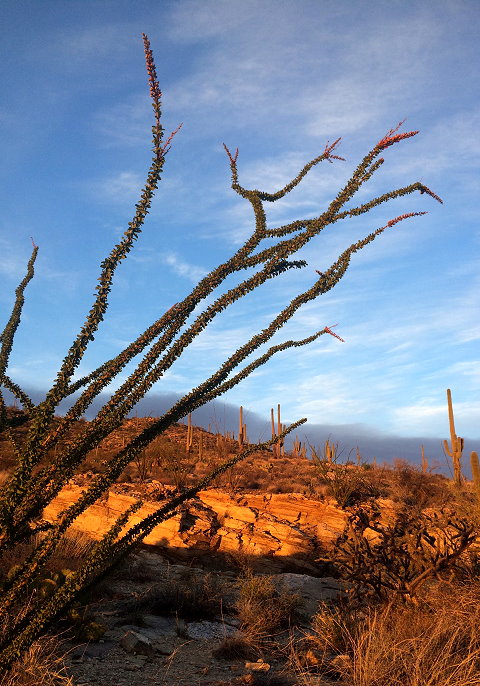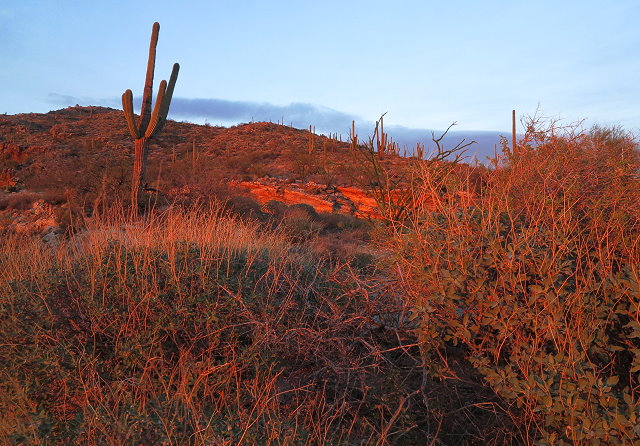 At sunset at the vista point, some girls pose for each other on the rock wall, which makes me very nervous for fear one of them will fall, there being quite a drop-off beyond the wall. But they survive and I get a few photos at sunset.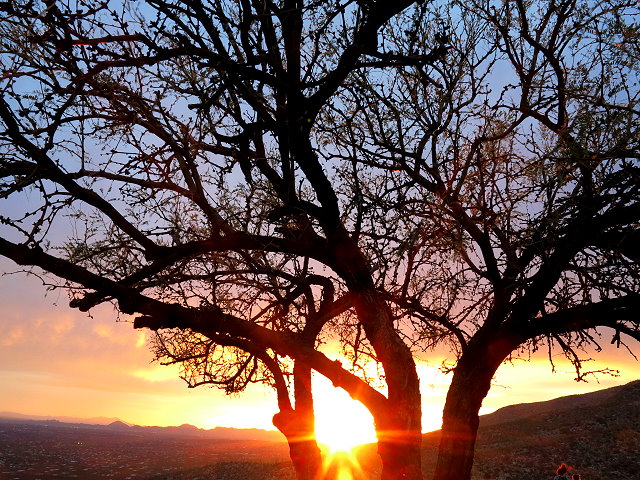 Back at camp, after a dinner of stir fry veggies and rice, Rollie and I play cribbage before I do dishes. Planner updates and journal are the usual closing of the day.
Saturday March 17: After my morning creek time,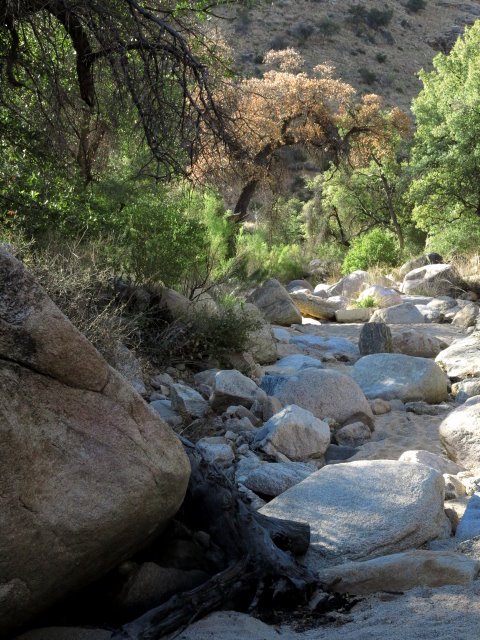 Rollie and I hike up the creek on the other side of the highway, a trail that we saw below us when we and Clifford hiked the Arizona Trail to the saddle. It is really quite beautiful along the creek, and we hike until we get to a section that is too steep to interest us today.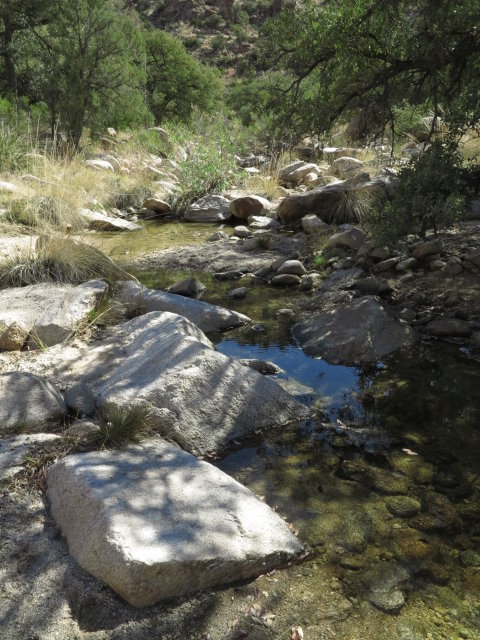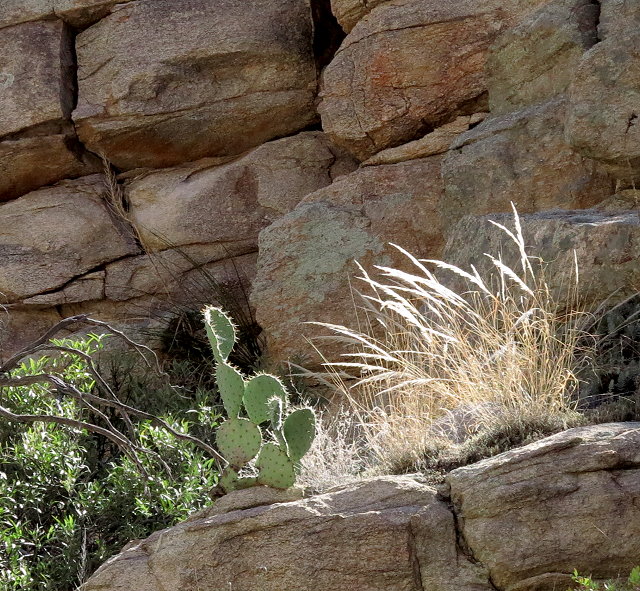 Back at camp, after I tidy up the Suburban, Rollie and I do music, sometimes in the tipi tent and sometimes in the shade of the gnarly oak tree. It is too warm and too crowded in the tent, too windy out in the shade. Other than the in and out, the music goes well. After snacks, Clifford and I head to Tucson, as we are getting new batteries for the camper. On the way back to camp, we stop at the Molino Basin Vista Point for photos of the ocotillo. It was not the best spot and I didn't have the right shoes to hike down into the ravine, but I got a few photos of these unique cacti in bloom.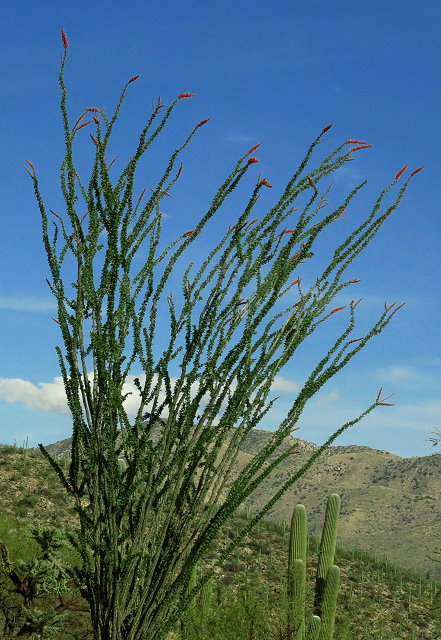 The usual evening routine of dinner, cribbage, dishes, planner, and journal finishes out the day.