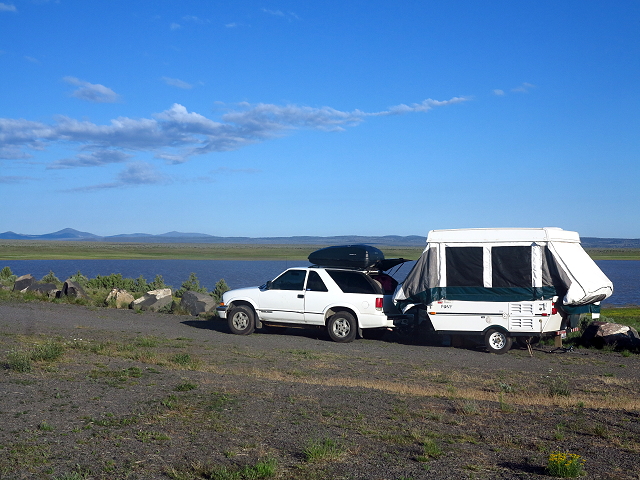 Tuesday May 26: It is 43 degrees this morning, brisk, but comfortable as I walk about the Chickahominy BLM Campground in southeastern Oregon, taking photos before we pack up.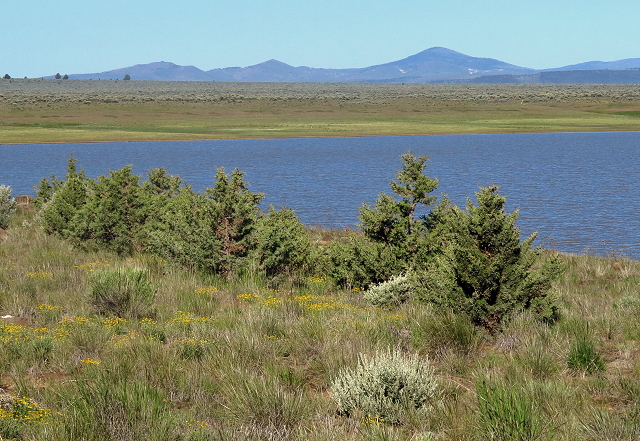 I make tea for the road, along with hard-boiled eggs, cheese, crackers, and apples to eat as we go – a  traveling picnic. On the way out, I stop to chat with the camp host for a moment and to admire the rock collection at the host site. She points out a particularly rich vein of obsidian, like a sparking river running across the ground, and she encourages me help myself to some obsidian. I feel like a kid in a candy-store as I walk along the vein picking out just the right pieces to carry home.
We backtrack a few miles to Riley and continue eastward on state highway 20, traveling through more sagebrush. The landscape changes near Burns with a broad valley and farmland being in contrast to most of what we have seen in this part of the country.This is followed by more rugged mesas and buttes, and farmland again as we near Payette, Idaho.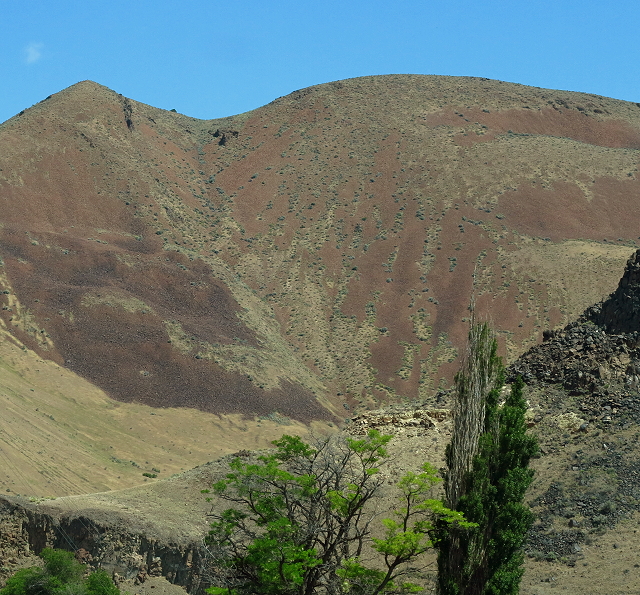 After Payette, heading north on state highway 95, the landscape features large treeless hills. We have a lively discussion about whether these are mountains or not. I say no: they are hills, mesas, or buttes – but they are not mountains in my book. Clifford disagrees, but maybe just to be poking fun at me.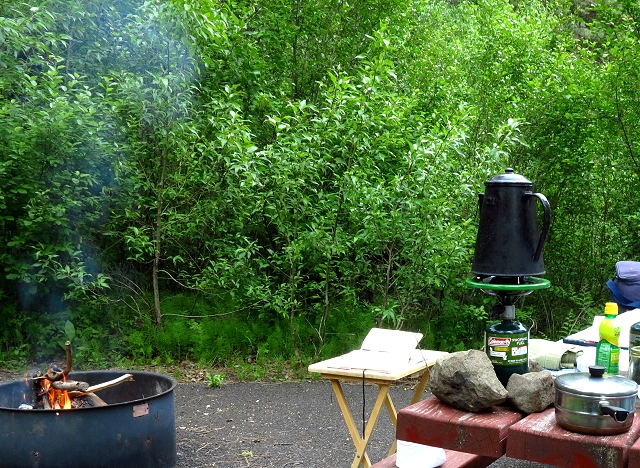 At Midvale, about 30 miles further north, snow- peaked mountains come into view with treeless hills in the foreground, reminding me of southeastern Montana. Another 50 miles or so brings us to our next campground, Evergreen. What a different landscape than yesterday's home-for-the-night. Now we are surrounded by trees and shrubs of all sorts, with a lively creek flowing alongside the campground. We are the only people here, so have our pick of the sites. We decide on a pretty spot furthest from the highway and do a modified Pony (our pop-up tent trailer) set-up. I look around and find enough firewood to make a delightful campfire to go with our dinner: home-made soup for me, beans and hotdogs for Clifford. It is great to have some daylight left to relax before we go to bed.
Wednesday May 27: I didn't sleep well and wake up with my head screaming, possibly from propane leaking as the bottles were changed on the lantern last night. Ugh. I make mint tea from sprigs of mint I keep in a vase of water and as I move about packing up, I begin to feel better. We take our time getting packed this morning, preparing tea and another traveling picnic to eat as we drive.
Our next destination is Lee Creek along highway 12, but I don't know if it is in Montana or Idaho. We stop at the ranger station in New Meadows, a thriving small town just north of Evergreen Campground, and learn that Lee Creek Campground is on the Montana side of Lolo Pass.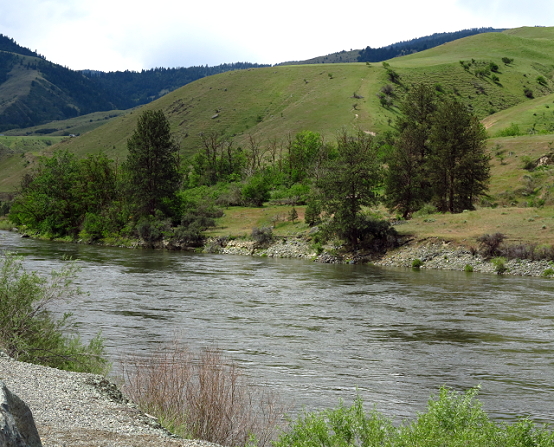 As we travel north, the valley narrows and rugged barren mountains dominate the landscape. We see a great number of vehicles parked by the highway as we approach Riggens, where the Little Salmon and the Big Salmon Rivers join forces to become the powerful Salmon River. Stopping for gas, we find out that hundreds of fishermen are here for the salmon run. Vehicles line the sides of the road and RV's fill every pull-out for miles past the little town.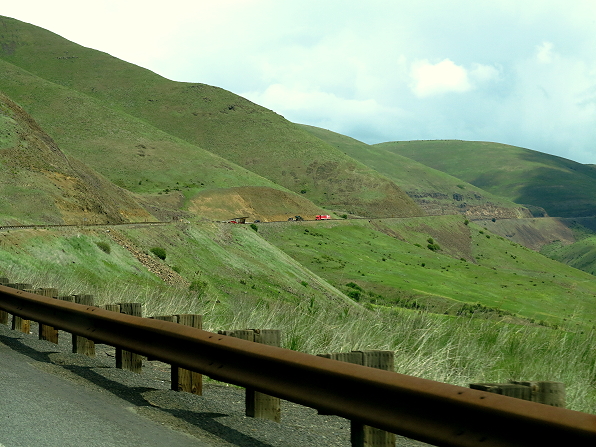 Beyond Riggens, before Grangeville where we will head east to Montana, is a long long long climb – part of the Hells Canyon Recreation Area. Go Chevy Blazer Go!!!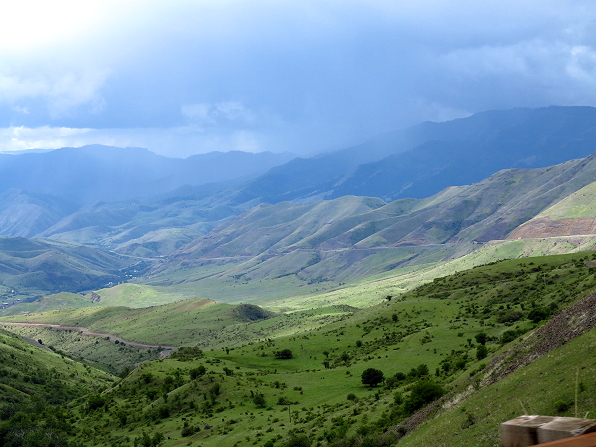 At Grangeville – whew, we made it! – we buy gas, groceries, and ice since there will not be towns of any size along highway 12. We leave Grangeville on highway 13, a narrow winding mountain road with no shoulders, driving in the rain.
The very lovely Clearwater River comes into view and we are pleased to see that its banks are full.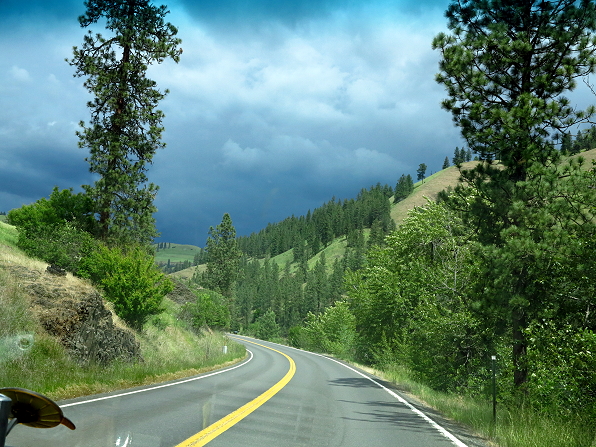 At Kooskia, we take the junction onto highway 12, which isn't a whole lot better. The mountainous drive is lovely with the Lochsa River tumbling alongside, but the road is winding and narrow. We check out several campgrounds on the Idaho side of the pass, as we are weary of traveling, but do not find any that really seem right to us.
Finally we cross Lolo Pass and, entering Montana, we leave the Lochsa River behind and soon arrive at the Lee Creek Campground. A wonderful spot right alongside the creek, with lots of trees and shrubs for shade and privacy, is available. When I say "hello" to the creek, I am almost ready to cry with relief that we do not have to go anywhere for at least a week. We've seen some interesting country and had good places to camp, but too many miles in the last three days for me. We get the Pony set-up, full mode this time, and have nachos for dinner because it is a tasty and easy dinner. I am so glad to be here!