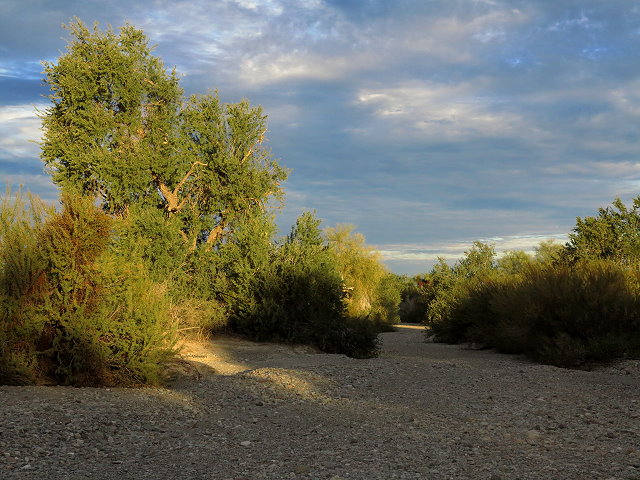 Friday December 29: Today's temp: 38/71 and clear. Today is moving day and we have decided to go to La Posa South, a long-term BLM place just to the north of Roadrunner on 95, for several reasons. One: it is close; two: water and dumpsters are available at La Posa; and 3: it is close enough to Quartzsite to attend events that are coming up soon. I have seen La Posa South from the highway and it looks crowded – like a sea of RV's without much vegetation for privacy. So, I have my reservations about moving there, but it is only for a couple of weeks.
We pack up and head to La Posa South, parking at the entrance to pay our fee, then driving in to find a spot. The further in we go, the fewer RV's there are and the more vegetation. We find a side road and then a hint of a road that takes us out to a very wide wash.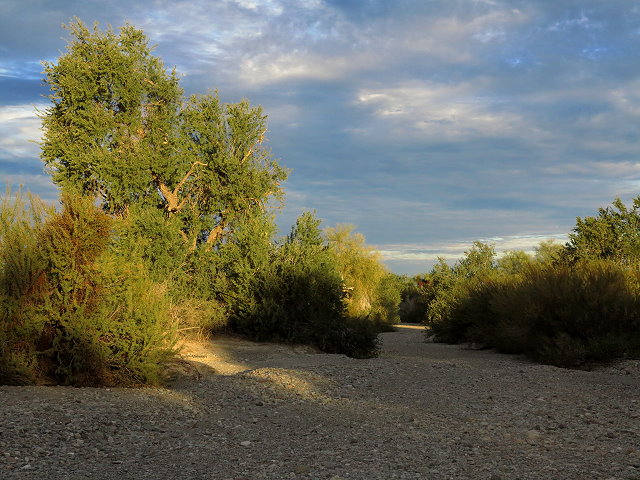 The trees here are tall and lush, the shrubs thick, so there is privacy from other campers in the area. Beyond the wash is uninhabited natural desert all the way to the mountain on the far side of the basin. Looks like we have found a good spot.
Once we get our rigs set up, we decide where to make a fire ring, picking a gravel bar just a ways out in the wash and protected by trees and shrubs.
The gravel bar will need some leveling, but we will leave that until tomorrow. I make smooth pathways from the camper to the gravel bar for safer walking,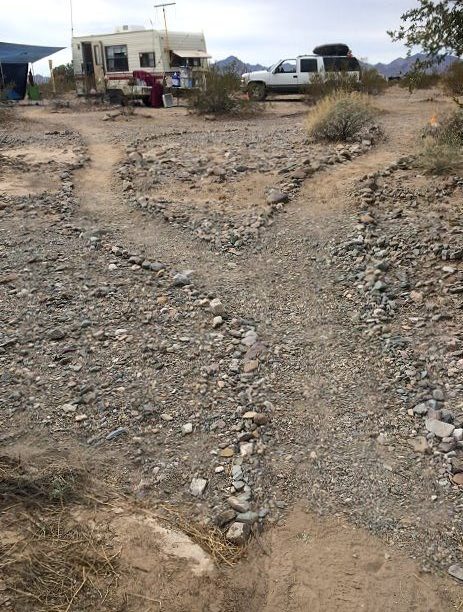 Clifford gets his ham radio set up right away, and Rollie does what he does to get comfortable.
I take photos at sunset, happy to be here in this beautiful spot.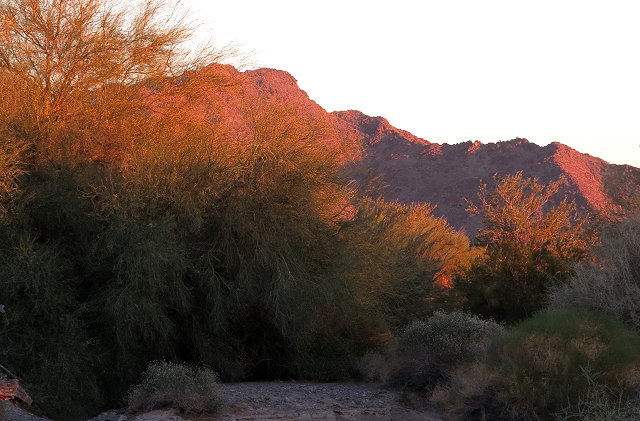 Saturday December 30: Today: 40/74 – great temperature, especially for December.
Today is settling-in day: reorganizing, sweeping and mopping, hanging out lanterns and wind socks, and so on. While Rollie goes to a jam session, I watch Ninja and begin leveling the gravel bar. Rocks are are abundant in the wash, so I start getting a fire ring in place. When Rollie returns, he brings firewood and levels the gravel bar even more so we can set up a picnic table and chairs. The fire ring is a work of art in progress as we both gather rocks and add to it.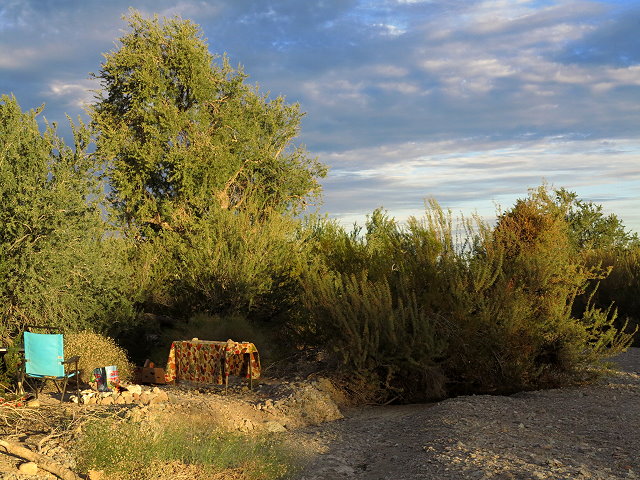 Good day for playing music outside and the gravel bar becomes our music center. First Rollie and I do some bluegrass music, then Clifford gets out his dulcimer.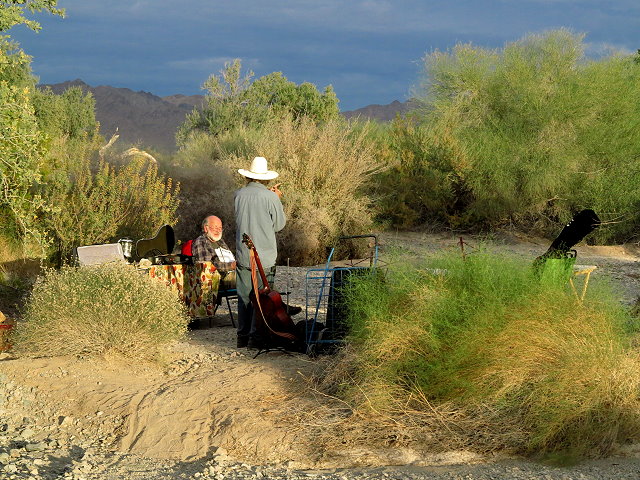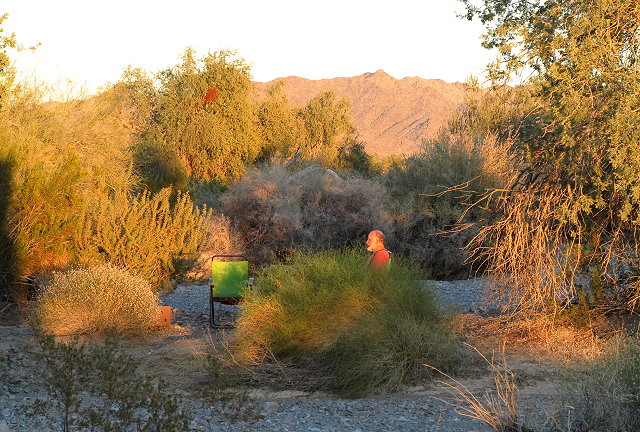 When the afternoon begins to cool, we build a great campfire and have nachos for dinner sitting around a cheery blaze.
Sunday December 31: Today: 41/69 and overcast; jet trails mar the sky, so no photos with sky today, but beautiful rocks remain a delight.
Rollie and I run errands in Quartzsite in the morning while Clifford stays at camp and works with his ham radios. In the late afternoon we go to a bluegrass jam session with several musicians gathered around a campfire. Rollie is able to join in on all the songs, but I am limited to following the most basic chord progressions. But it was fun.
I read "A Wild Thing" when I go to bed, but am asleep before midnight; Clifford is still up, just listening to his radios – so the New Year, 2018, arrives without any fanfare on our part.