Monday January 1 – Temps: 37/70, kind of scummy looking. Breezy in the afternoon.
I sit in the wash to read – the warmth of the weak sunshine feels good. As soon as my laptop is charged, I do some edits for Ang and suggest another agent for her book, "Dragons of Va'Ha'Den."
We have a chili dinner at our place (too windy this evening to have a campfire). Later I finish the book I have been reading, "A Wild Thing," and it has such a depressing ending that I feel annoyed for having spent so much time reading this past week. A rather uneventful first day of the New Year.
Tuesday January 2 – Temps: 46/73
I walk to the east beyond the wash.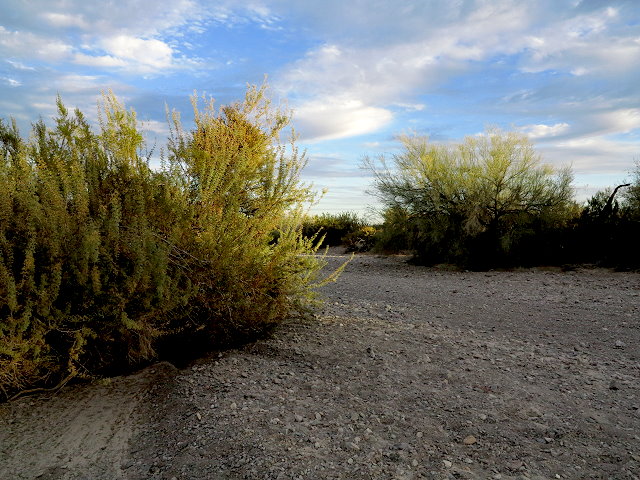 Before me is uninhabited desert all the way across the basin. The desert lends itself to serenity. No wonder wise and holy men and women throughout history have spend time in the desert. It is not a punishment; the essence of a desert of this nature makes it possible to achieve a deeper meditative state just by being here.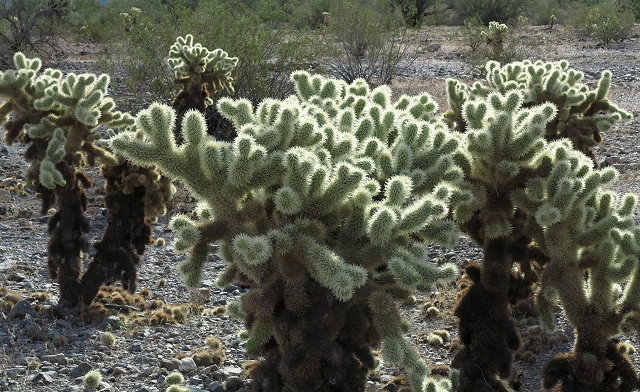 We decide to go exploring, taking the main La Posa road deeper into the desert, beyond the boundary of the BLM camping area and into the Kofa National Wildlife Refuge.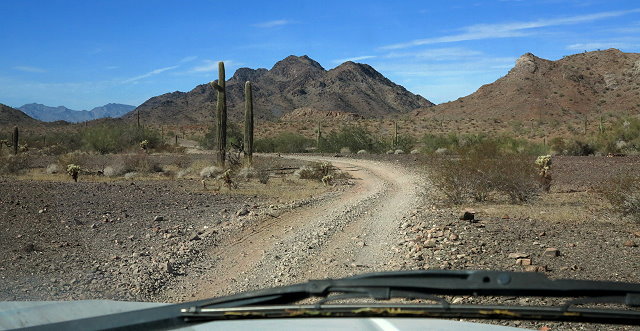 We thought we might be able to make a loop to Crystal Hill, but the road is blocked. We hang out for a bit, admiring the scenery – too bad I didn't bring a picnic lunch for us – and gather a few of the extraordinary rocks that are abundant here.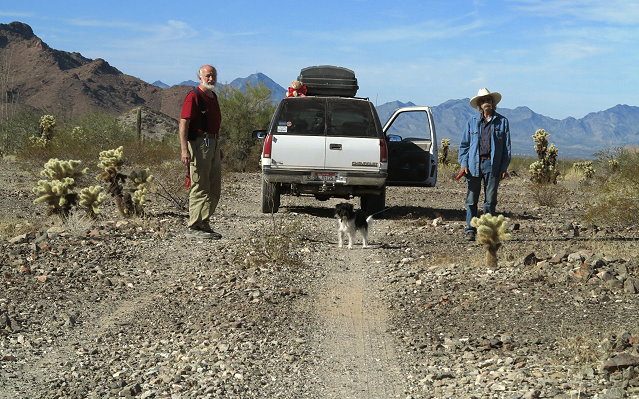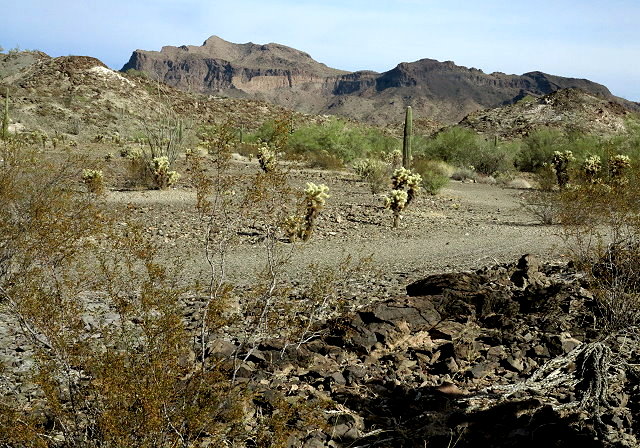 Back at camp, I do some editing before starting dinner. Dinner is at the campfire tonight, which make the meal a fun adventure. Later, before bedtime, I begin reading a Tony Hillerman novel, only to discover that I've already read it. Ah well…. It was still a very good day.
Wednesday January 3 – Temps: 40/69 and cloudy all day.
I walk in the desert for photos at sunrise, then make a pot of yerba matte tea and start a campfire.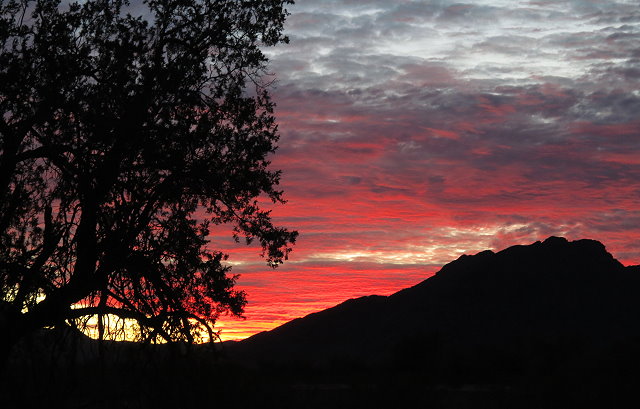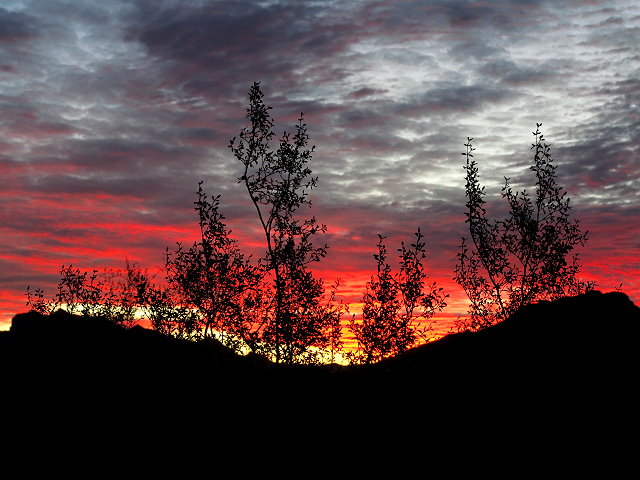 Rollie joins me, coffee in hand, and we chat as we sip our hot drinks. I do enjoy a morning campfire!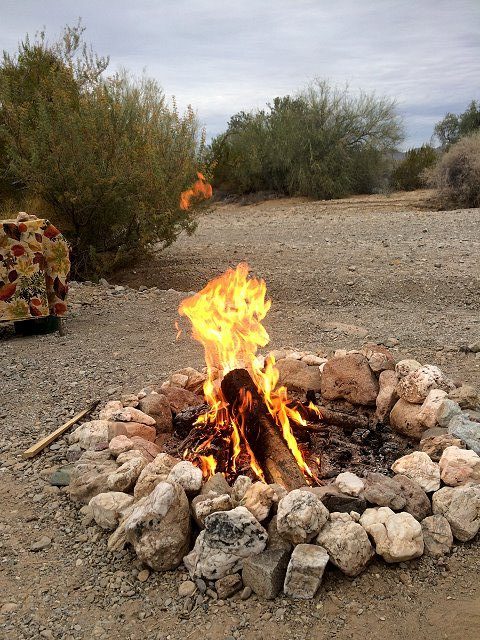 In the afternoon, we make the 30-mile trip to Blythe, California, to a small music store, as Rollie needs strings for his mandolin. Very nice lady owner there.  Long-story-short, Rollie and I end up playing some bluegrass music on store-instruments: Rollie on a guitar and me on a cello. What a hoot!
Back at camp, we have a late dinner of left-over chili and then I start a different Tony Hillerman novel, reading until well after midnight.
Thursday January 4 – Temps: 43/73 and mostly sunny.
I walk in the desert and take photos, glad to have some sunshine and blue sky overhead instead of jet trails and murk. I sure do love our spot and the unencumbered desert here.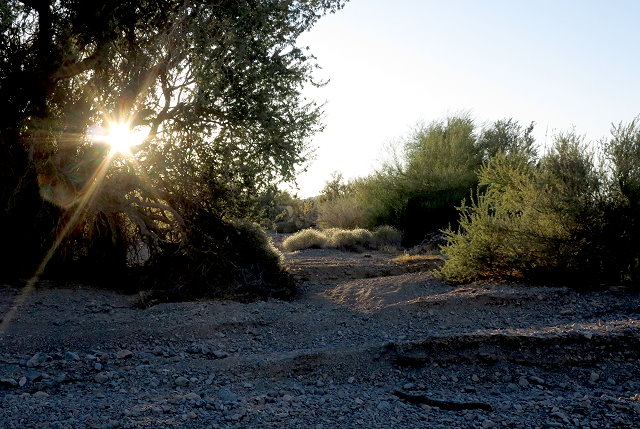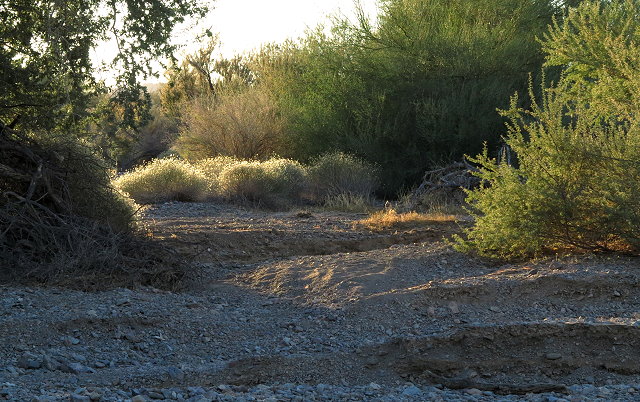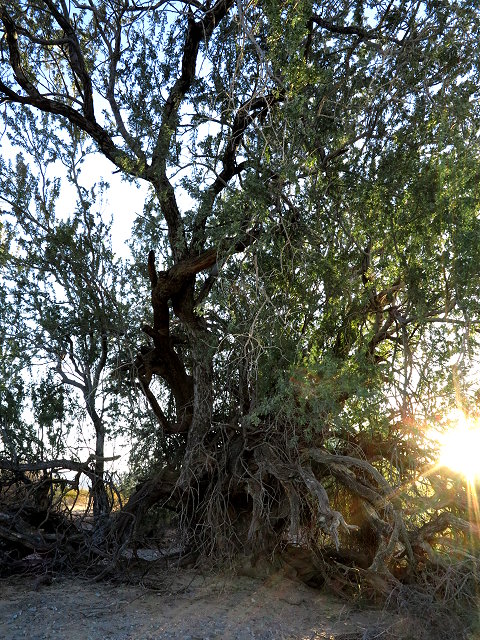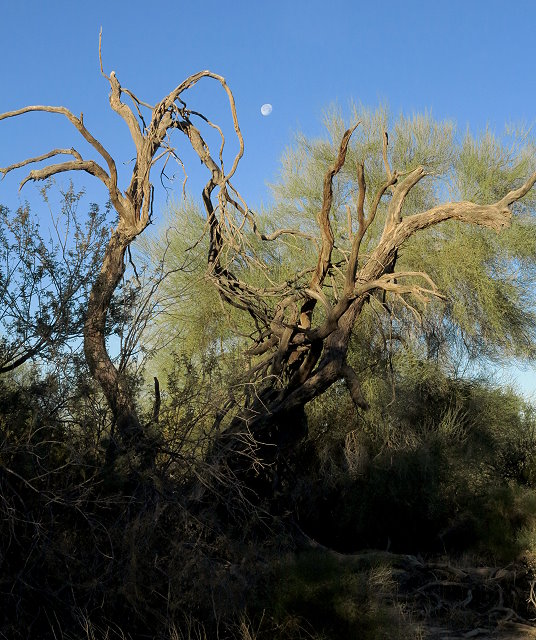 In mail that was forwarded to us at Quartzsite, I have a letter from Social Security indicating a problem with my allotment. The nearest SS office is in Blythe, and due to a deadline to take care of this, we make another trip to Blythe. I read as I wait for my turn to be seen and when I finally see the woman, she is not the least helpful. I have to dig for every bit of information to know how to proceed.
Back at camp, we have a quick soup dinner, as we are going to a music presentation at the Quartzsite Improvement Association (QIA) venue. This proves to be a community event with some very accomplished performers and some just so-so, but everyone's contribution is appreciated by the mostly senior citizen audience. Maybe Rollie and I could play there sometime; it is something for us to consider.