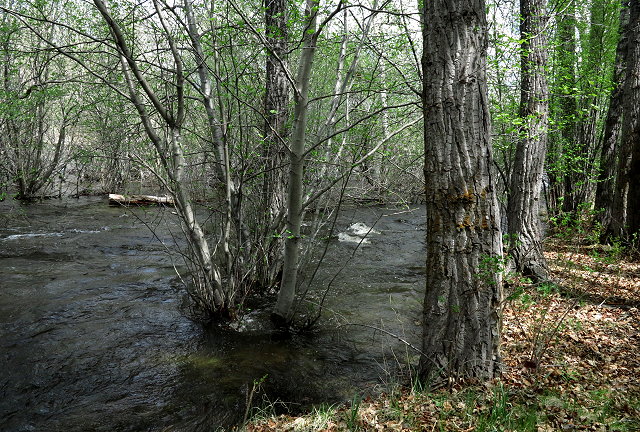 Wednesday May 10th  – I am up early getting a thermos and clothes ready in case we need to spend the night at a KOA, as we don't know how long it will take to fix Terry (our now broken-down camper).  We talk to Jason, the manager here at Les Schwab, and learn that we will have to replace both axles, hubs, brakes, and so on.   The reason is explained and we see that it is the best way to take care of our situation.  The parts are ordered and we carry on as usual until the parts arrive.  From the parking lot, I enjoy the snow-capped mountains that border the town.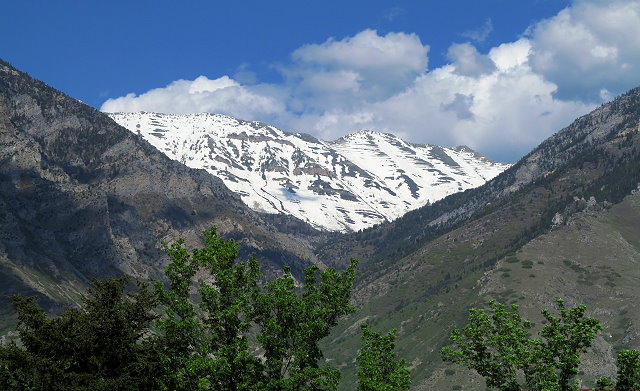 It is interesting to watch how they tow Terry into the bay with a forklift, not dragging the injured part.  We spend the afternoon in the waiting room with wifi and our thermos of tea. I take care of email, post blogs, and edit, while Clifford studies.
It is after 6:00 p.m. by time Terry is ready to roll.  Expensive for us, but very reasonable considering all that has been done.  We will be much safer on the road now.
We head north to the Walmart at Orem.  There is no Walmart in Provo; the address in the book was listed as Provo, but the Walmart is in Orem.  How ironic: we were looking for a Walmart in Provo that didn't exist and broke down less than a block from the place that could truly fix the problem.  Life is full of mysteries.
Thursday May 11th – We get a few groceries in Orem before continuing north through Salt Lake City, stressful with all the traffic, but uneventful.
As we cross Idaho, we see the lava fields that the area is known for.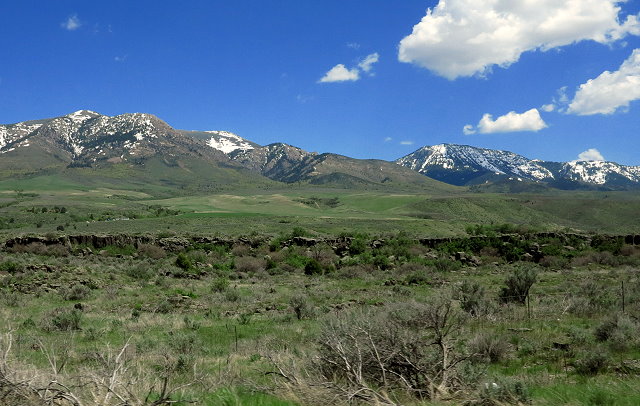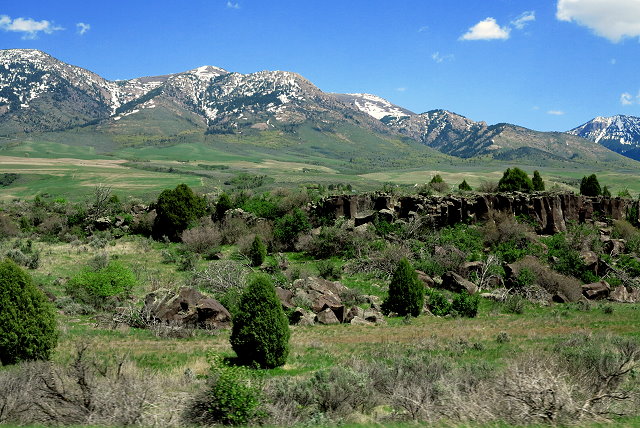 We stop in Idaho Falls for a late lunch and the salad I ordered was so bad I couldn't eat it.  Ugh.
We find the Walmart in Idaho Falls and park in a quiet corner alongside a nice strip of green grass with trees, a pleasant enough place to spend the night once I pick up a bit of trash.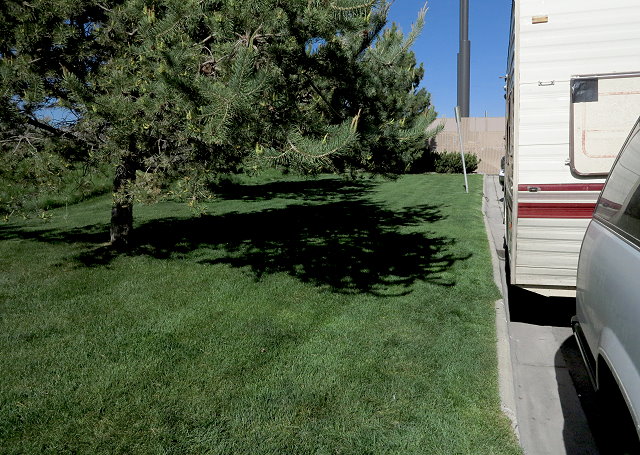 I don't feel great – too much stress, too many miles in the last few days, and lack of proper meals.  Clifford is tired from all the driving, so we head to bed earlier tonight.
Friday May 12th – We are up early and continue north, soon crossing into Montana.  Our plans to camp at Grasshopper Creek Campground west of Dillon have changed, as my cousin, who lives in Dillon has a weather forecast indicating SNOW at that elevation.  Seeing a BLM campground indicated on the map just a few miles off the interstate outside the tiny town of Divide, we head for that, not knowing what we will find.  Some BLM campgrounds are quite inaccessible for towing vehicles, but we are pleasantly surprised to find a well-maintained campground with several lovely sites right along the Bighole River.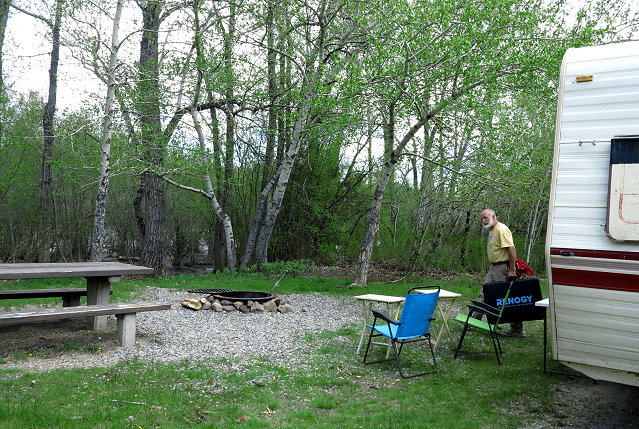 In fact, it is such a nice campground, we decide to wait out the cold weather that is forecast and stay at least five days rather than heading further north right away.
After getting set up, we drive back out to the town of Divide, close enough to the interstate to have cell service, and notify family and friends where we are.  Back at camp, after admiring the river, I explore a bit, bringing back some fragrant sage.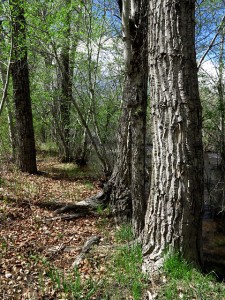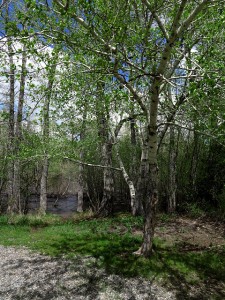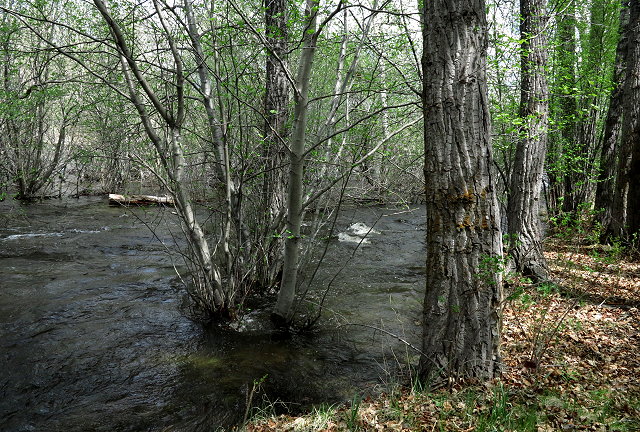 There are few gusts and sprinkles through the later afternoon and heavier rain in the evening.  I'm feeling very happy to be here rather than continuing north fighting the weather.