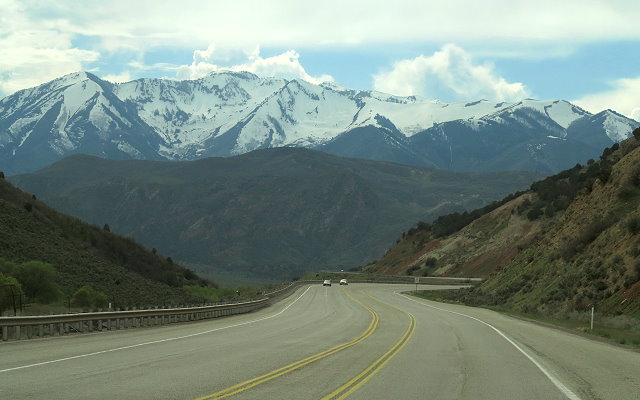 Tuesday May 9th is our last morning at Drinks Canyon Campground. I go down to the Colorado River first thing to say my good-byes to the river, the cliffs, the trees, and the sky. Back at camp, Clifford is up; we finish packing and are on the road by 10:15 a.m.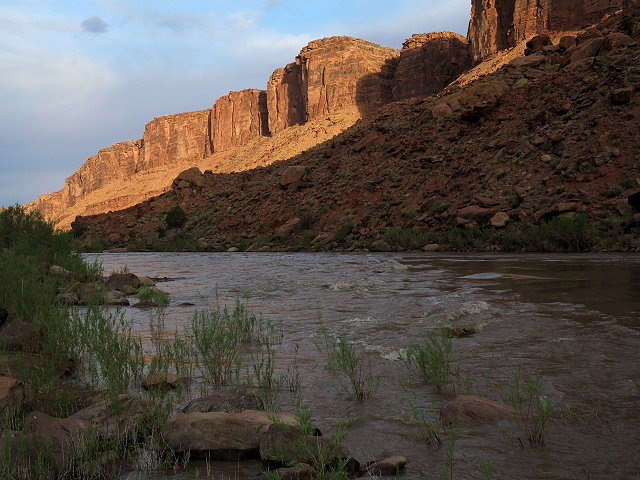 We head north, our first stop being Price, Utah. We had considered spending the night in the Walmart parking lot, but instead, being early afternoon, we buy one new tire for Terry (our camper) and continue northward. The route takes us through very scenic canyon and mountain country of  north-central Utah, with lots of steep ups and downs and curves.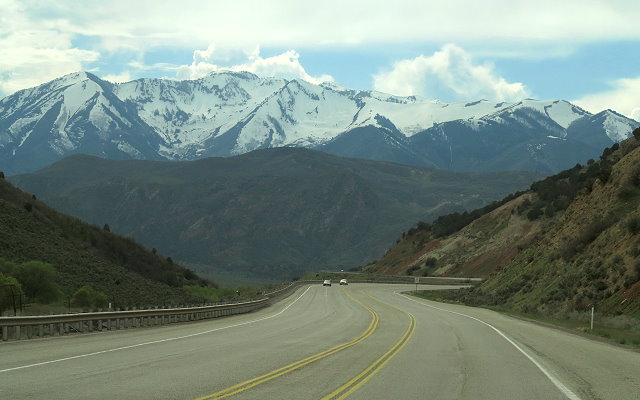 We arrive in Provo, Utah, around 5:00 in the afternoon and head for the Walmart there, per the address that we have in the GPS.
We seem to be heading the wrong direction on University Avenue, a main thoroughfare through Provo, so get turned around, wrangling through construction on the side streets. Back on University Avenue, just as we head over a very long overpass, one of Terry's tires flies off, the underpinning of the axle (whatever that is called) drags the pavement. We can't stop, as it is rush hour traffic and no shoulder. We pull off into a vacant lot at the end of the overpass, in a serious quandary what to do. It was the new tire that came off, the hub is obviously damaged, and the underpinning is digging into the ground.
How to retrieve the tire during rush hour on this main street is our first dilemma. Just then a fellow in a pickup pulls up and he has our tire in the back of his truck. Whew – thank goodness! First step taken care of. There is a brake shop on the other side of the busy avenue, so we carefully make our way across and talk to the manager there. He can't do anything to help us except that he points out a Les Schwab Tire Service just a block away and shows us how we can navigate underneath the overpass to avoid traveling on University Avenue. We walk to Les Schwab, arriving just in time to catch the manager before they close. Yes, he can fix our camper and we are welcome to camp in their parking lot. All we have to do is get there.
Back at our rig, we very very very slowly drag our way under the underpass and down quiet side streets until we arrive at the Les Schwab parking lot – home for the night with a great view of the snow-capped mountains to the east of the city.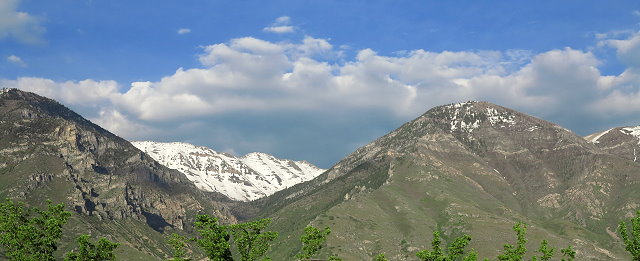 We have a lot to be grateful for right at this moment, as we settle down for the night.