Thursday March 16th – I am up early, before sunrise so I can catch the first light on the blossoms on a family of Joshua trees in the campground.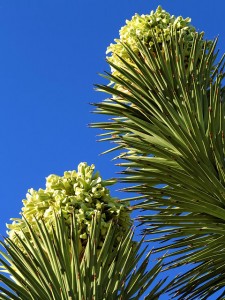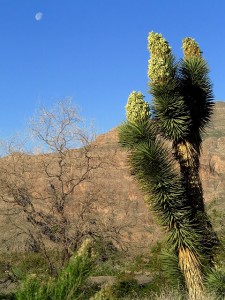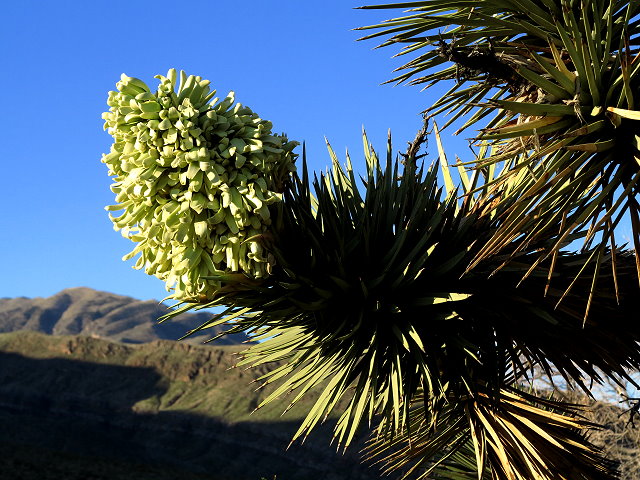 In continuing on my morning walk, I run into David, the friendly fellow I met yesterday, and another neighbor. In commenting about the jet trails marring the sky, it turns out that David is quite aware of the phenomenon and very interested in learning about Clifford's research.
Today is an editing day for me, but also a good cello-in-the-shade day. Hooray! It is a "biochemical-analyzer" day for Clifford as he learns more of the capabilities of this instrument.
Friday March 17th – My morning quiet time is a few minutes of sitting on the canyon rim, more of a slope than a drop-off, and then writing in my journal, warmed by the sun.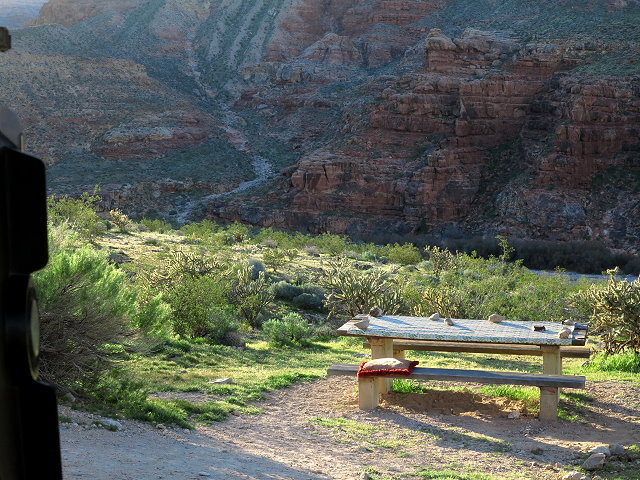 I walk around the campground and talk to David and several of the other neighbors that I have met. What a friendly campground this is – I think perhaps because there are so many snow-birds. We are all of a similar age and living a similar lifestyle, which makes it easy and interesting to talk about where we've been and where we are going, sharing the memories of common places and learning of new places.
More editing for me and more chemical analyzer testing for Clifford.
Loving this beautiful desert canyon spot!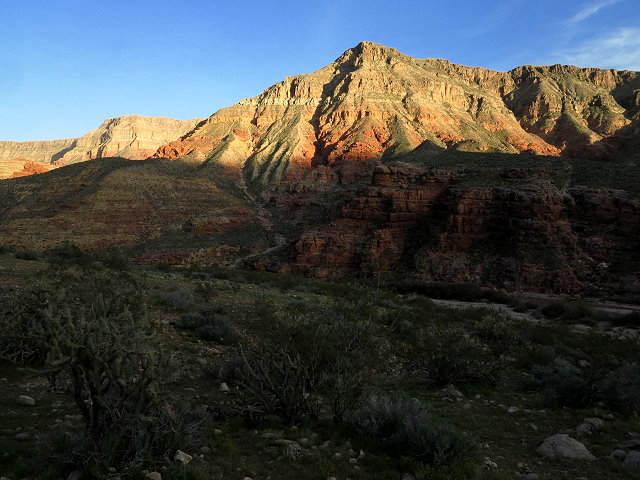 Saturday March 18th – This morning I walk to the lower campground, which doubles as a rest stop along I-15. I walked along the trail below the rim, which is private, quiet, and scenic… and this walk is my quiet time.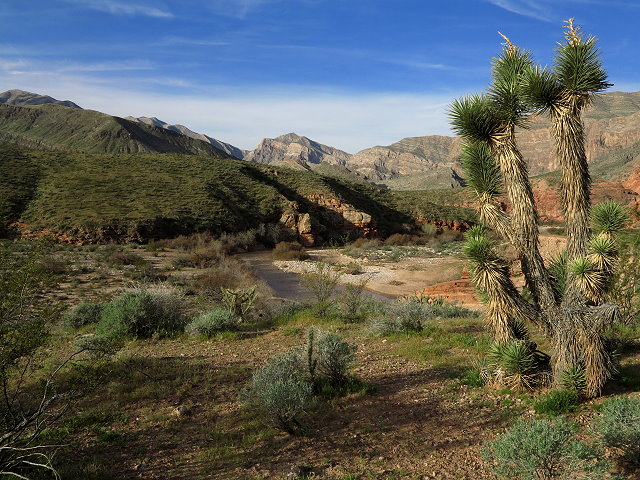 Back at camp, I spend much of the day editing for two authors. In the evening I edit photos for the next couple of blogs. No cello today, as it was too hot and windy.
Sunday March 19th – After my quiet time of sitting on the canyon rim, I take care of internet business, including banking, emailing completed edited chapters to my authors, and posting a photo on Celebrate What's Right With the World, a FB site that I follow. As I'm preparing photos for the next blog, I am undecided about which of several sunsets that I want to include and decide to have a contest on FB, posting seven sunset photos, all taken within moments of each other, and having my FB friends chose which one they like best. This will be interesting.
David comes by and suggests meeting for a late lunch at his site, so I get busy and make a potato salad to share. We gather at David's site, joining him and three of his kids who are there for a visit, as well as a couple other neighbors. Of course, they are interested in Clifford's work, but the talk centers around life in general and about the journeys we are all on.
Later in the day, David joins me on my walk down to the lower campground, which gives us more time to chat.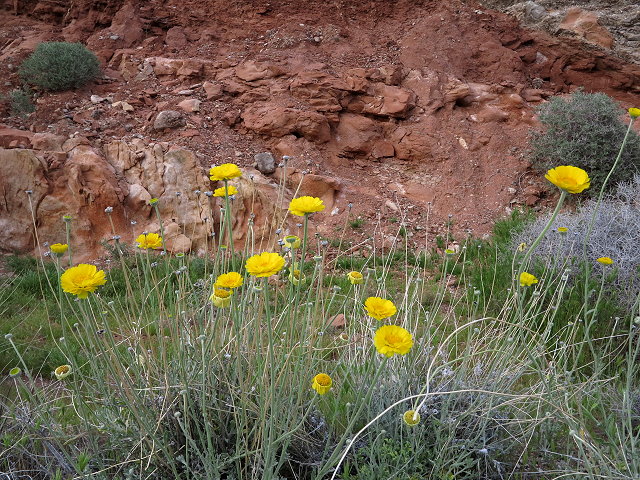 Lots of things on the "to-do" list don't get done today, but that is okay. Spending quality time with people is more important.