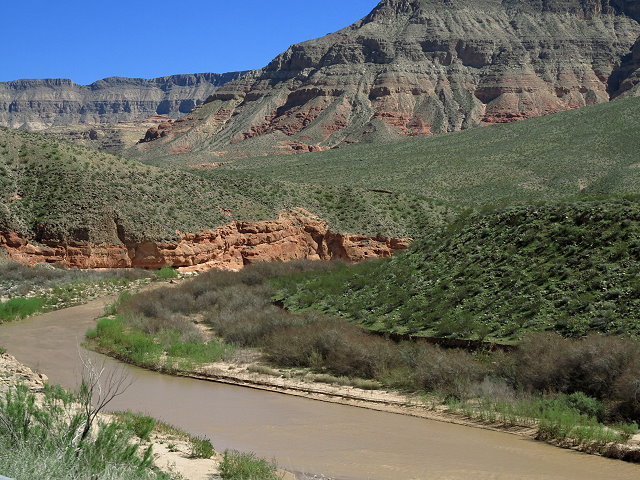 Tuesday March 14th – We are up about 8:30 and soon packed and ready to leave. Although it is pleasant in the early morning here at Cottonwood Cove Campground, we know it will soon be hotter than we like, so we are continuing north. We make it safely through Las Vegas, Nevada. I-15 between Las Vegas and St. George, Utah, cuts through the very northwestern corner of Arizona and it is along this stretch of interstate that the Virgin River BLM Campground is located, and where we arrive by mid-afternoon.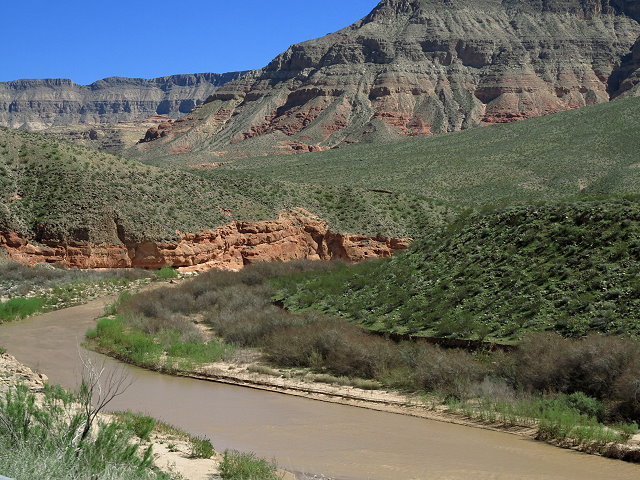 We have never been here, but the location was right for us and the reviews indicated scenic views, so this was our destination. We are not disappointed; the views are fabulous and we are lucky to find a pull-through spot on the outer loop overlooking the Virgin River Canyon. Facing south when we park is not ideal, but other than that, we are very pleased with the site and get set up, including ham radio antennas and a tarp for an awning.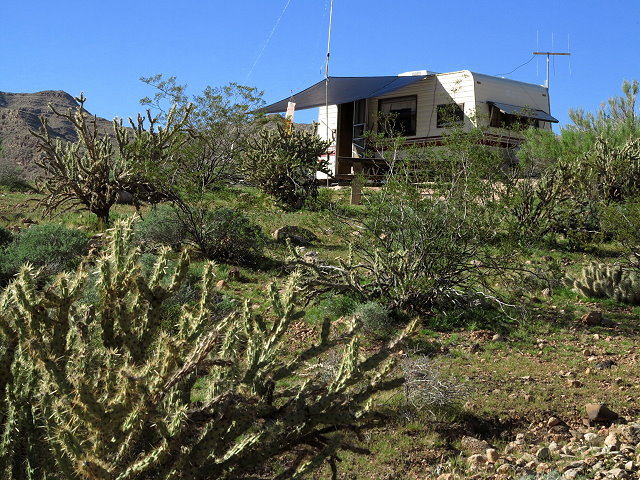 Within a few minutes of being here, we meet several of our neighbors, most of them curious about the antenna; this seems to be an unusually friendly campground, with a mix of long-term snow-birds (like us) slowly heading north and younger people stopping on their way to or from some other destination, as well as weekenders with families.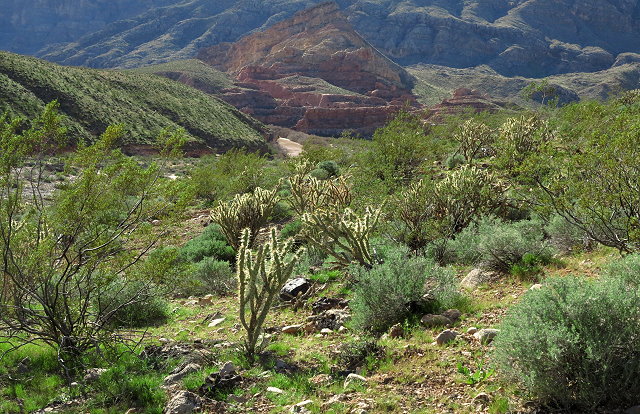 In the evening, I hike down to the river.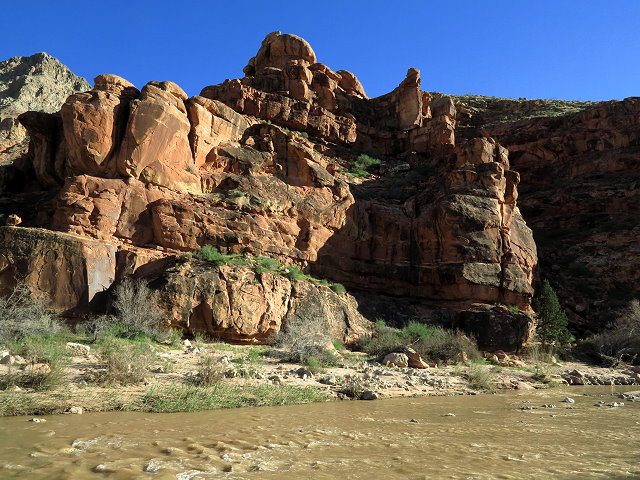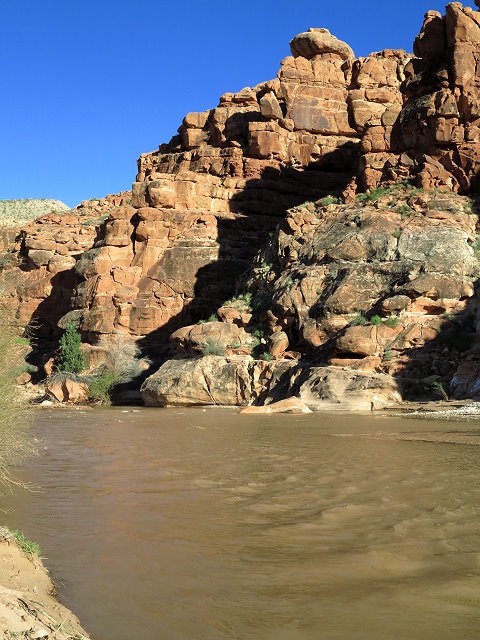 I am delighted to find Joshua trees here as I hike back up to the campsite. What a great place this is!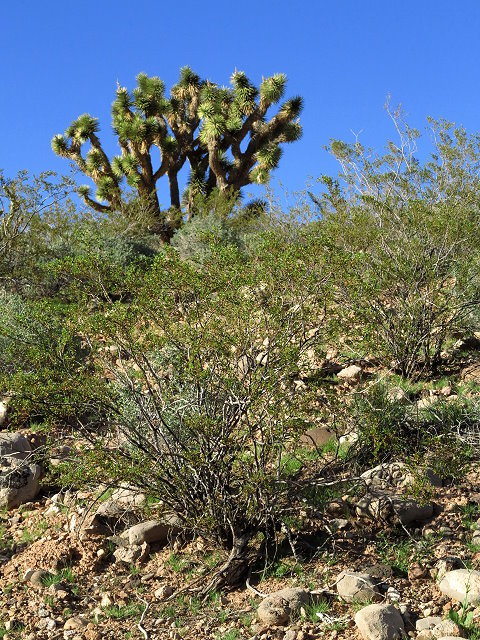 Wednesday March 15th – off to a great start this morning with a campfire and a few minutes of quiet time, just sitting facing the river below and the red cliffs opposite, feeling the sun on my face. Make a cup of tea and write in my journal. This is how I would like to start most every day, but it doesn't often happen.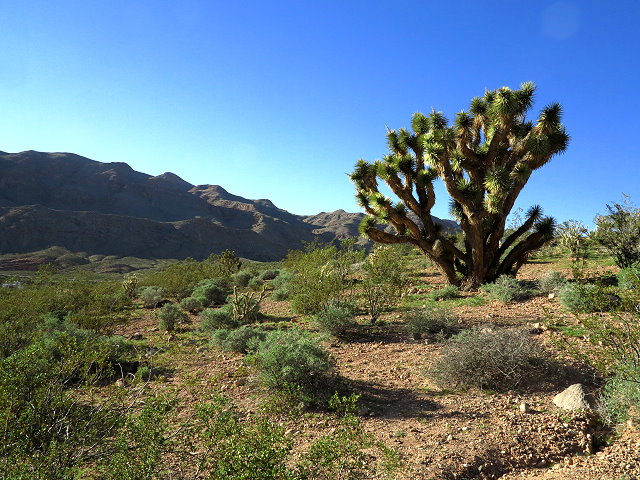 I meet another neighbor, David, as he comes by, also curious about the antenna. I thought he was joking when he asked if it was to pick up alien signals. He is very friendly and having a large family himself, he is curious to know about my kids and actually listens as I mention each of them briefly.
And cello outside today, sitting in the shade of our tarp.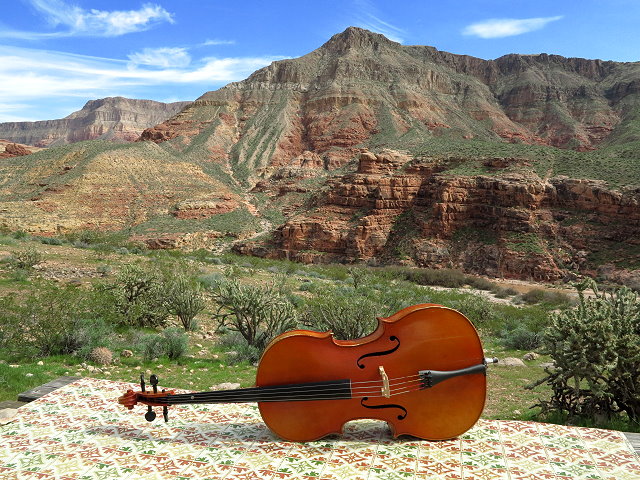 I walk about picking up trash (of which there is not very much) and bits of dead wood to use for kindling, as well as scavenging wood from abandoned campfires. I hike down to the Virgin River twice, which at this time of year is quite muddy; Clifford goes with me the second time.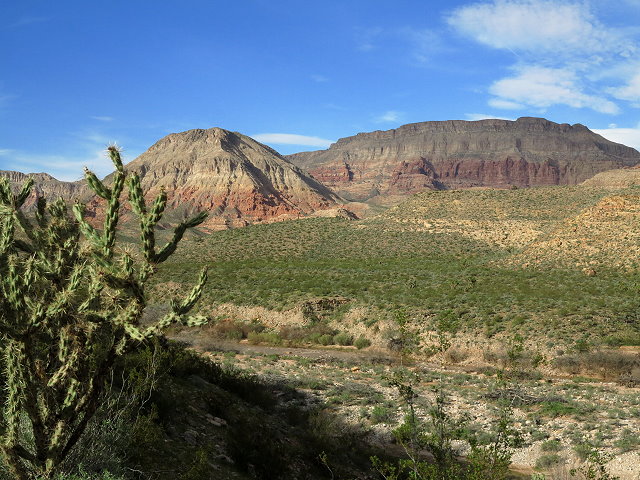 Becka calls on here way to her evening activity… I'm glad cell service here is decent and we can chat. I can also access the net and am able to download documents that need editing.
I am delighted with the late afternoon light as it hits the cholla that cover the slope below the campground.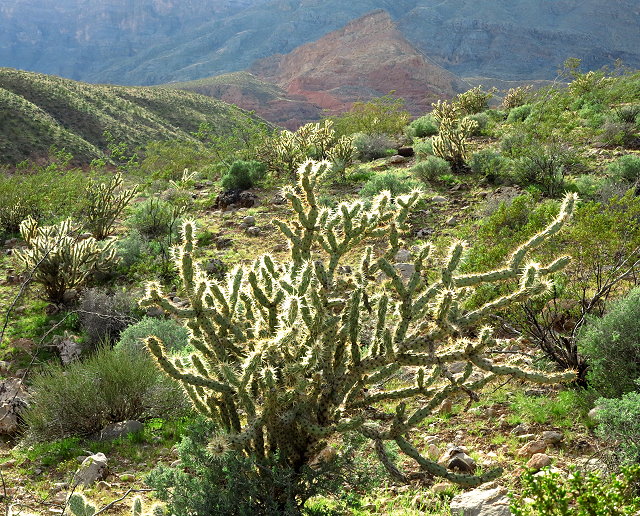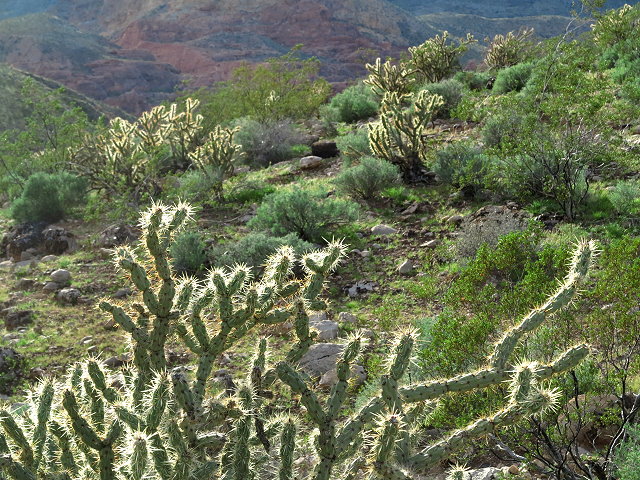 Clifford spends much of his day using the biochemical analyzer instrument.
This was a fun and productive day for both of us – what a great place to be this time of the year.