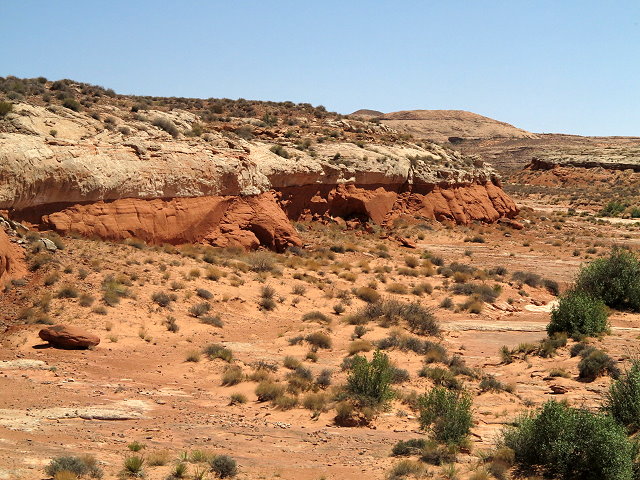 Trip to Tucson – May 2018
Thursday May 10: We are leaving for Tucson today to participate in the StopGeoengineeringTucson Conference in Tucson, Arizona, an event being put on by activist Matt Landman. Clifford has been invited to speak, along with several environmental activists.
It is a hot dry windy drive from Monticello through the barren land of the Navajo Reservation in northeastern Atrizona. Sand/dust twisters are frequent and we are even hit by one that crosses the highway, shoving us over at least a foot or two.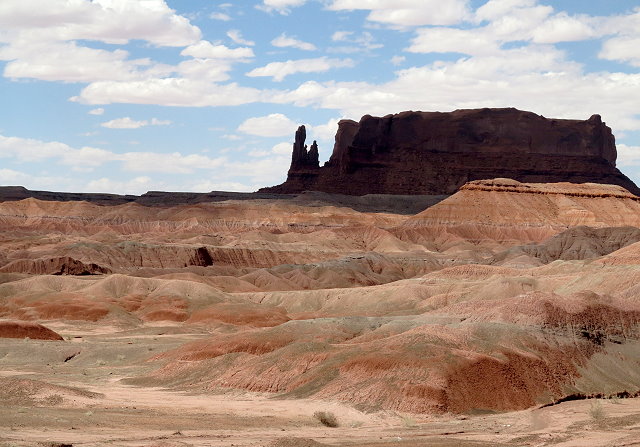 As we approach Snow Flake, Arizona, just north of Show Low where we will be spending the night,
we see ponds, trees, and green fields. What a difference!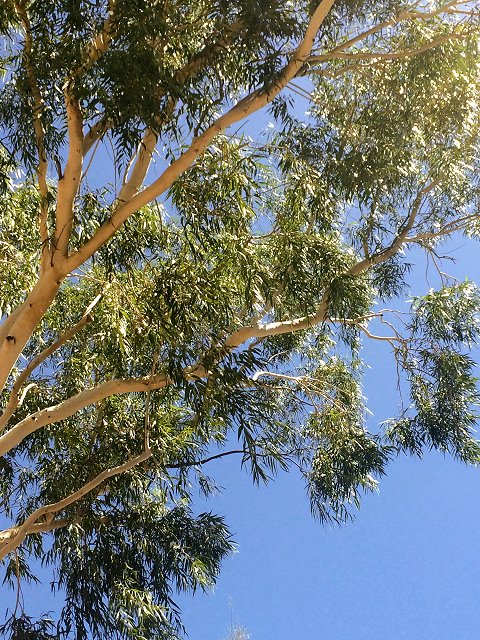 We arrive in Show Low in the early evening, find our motel, then meet up with our webmaster, Kaylee, who will be joining us at the conference. While Clifford naps, Kaylee helps me make small changes to the CI website, as well as setting up a gallery on my photography website. Good to see him and to have such personalized web assistance!
We go out for a late dinner, visit awhile – lots to catch up on – and then bed way too late.
Friday May 11: After showers and making tea for the thermoses, we are on our way. It is even hotter today, still dry and windy, but at least the landscape is more interesting, especially as we go through the Salt River Canyon. I would have liked to stop for photos, but the pullouts are on the wrong side of the highway, and Clifford is eager to get to Tucson.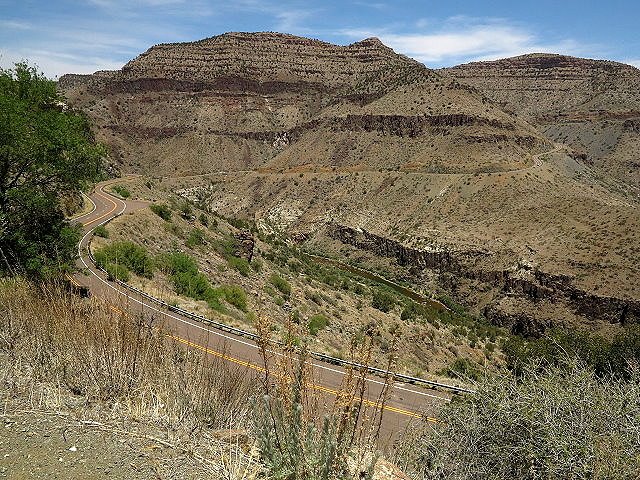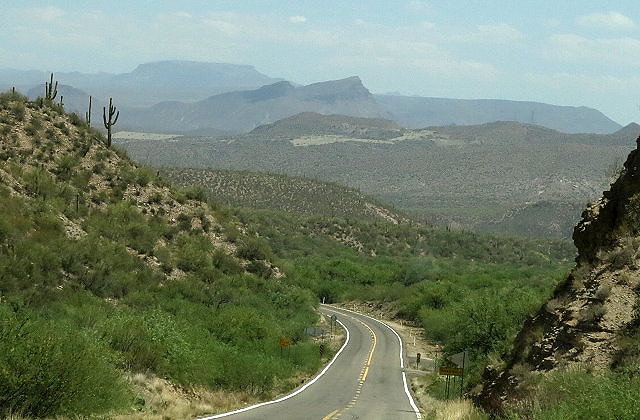 Arriving in Tucson, we find our air B&B. It is locked and we can't get in, so we hang out in the little courtyard. Eventually, in a round-about way, we are given the combo to unlock the door. The place is funky in a grungy sort of way, but it was the only place available this weekend. So, we will make do, including me giving the kitchen a cleaning before it is suitable for our needs. We are joined by others who will also be participating in the event.
Saturday May 12: We leave our B&B early, without breakfast, so we can get spots in the parking garage at the event center. We had been told there would be a food court open, but unfortunately, this is not the case and finding food during the day takes a bit of a scrounging around. A Panda open nearby and a Starbucks are most helpful.
The conference goes well, as all the speakers are exceptional as they speak on their topics.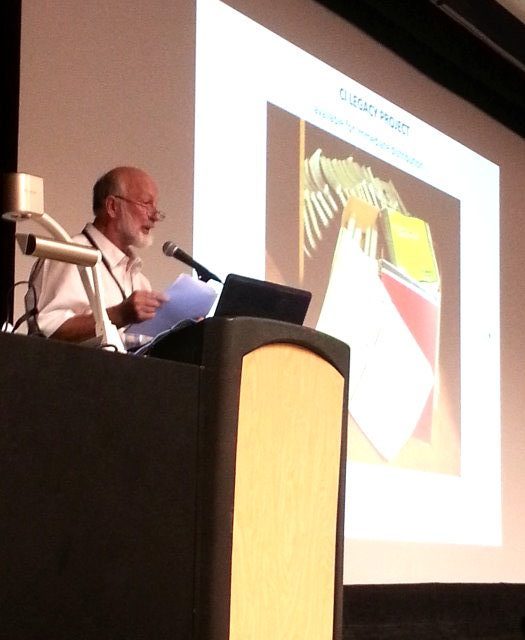 After the conference, we all help with cleaning up the auditorium. Back at our B&B, a group of folks gather in the small front room and interesting conversations ensue. Later we all walk to a street where night-life is active and we find a place where food is still being served. It is way too noisy for me (and Kaylee, also, I'm thinking), but everyone else seems to have a good time.
Sunday May 13: Mother's Day. Many of those who attended the conference, either as speakers or audience, turn out for a protest against the environmental toxins that are being deliberately introduced into the atmosphere. It was interesting to see teenagers, young families with small children, middle-age folks, and the senior group all participating in this protest.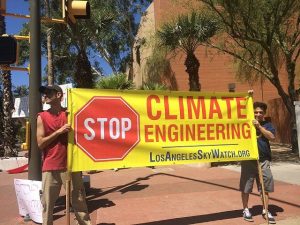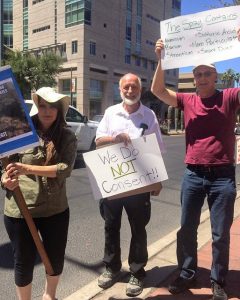 There are lots of us who are aware and care about what is being done to our Mother Earth and her delicate atmosphere.
As the protest winds down, we say good-bye to our friends and begin the trip home. It is not as hot and windy today. I am excited to see saguaro in bloom for the first time, but it sure is hard to get photos as we drive. A brief stop at a possible camping area helps out.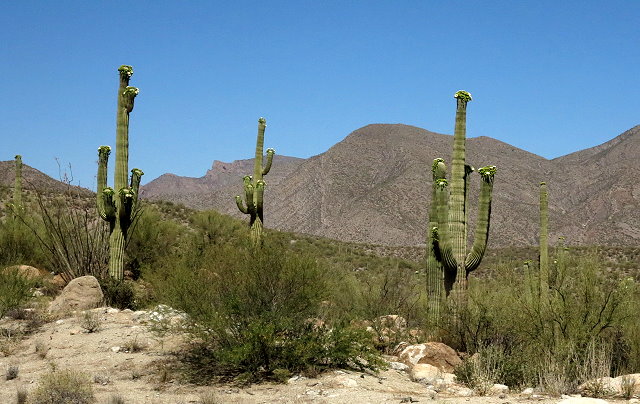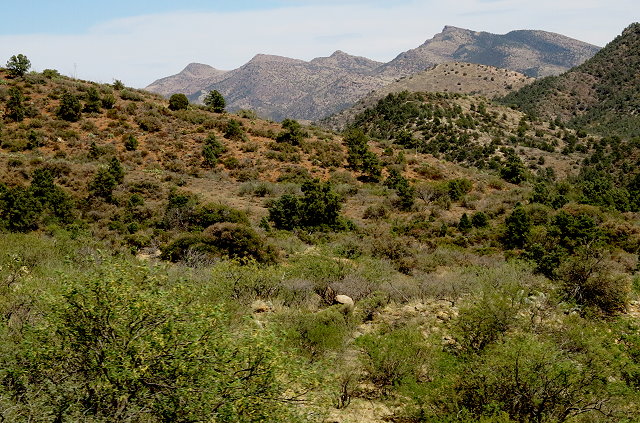 At Salt River Canyon, w
e  stop at a couple pullouts, but the shadows are already too deep for good photos.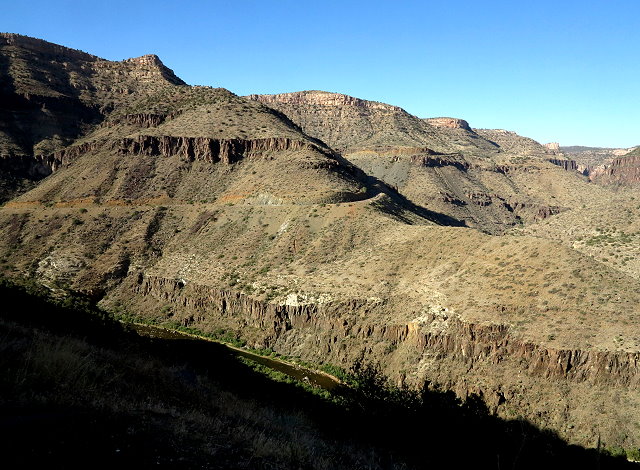 We also stop briefly at the Visitor's Center at the bottom of the canyon.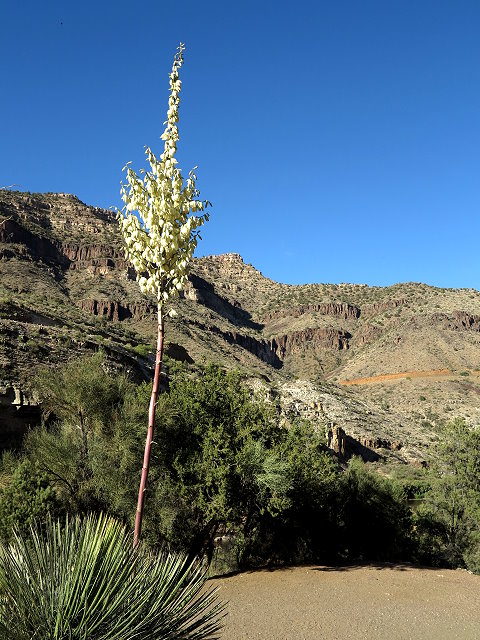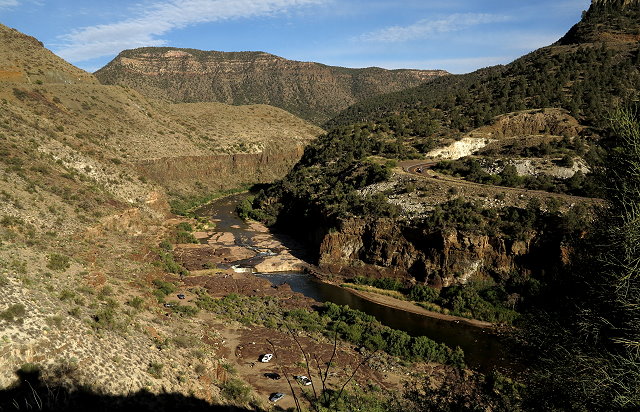 Beyond that, the landscape is quite barren and I knit more than watch the scenery.
Tonight we enjoy a nice room at Motel 8 in Holbrook, Arizona. The long drive through the hot dry desert, as well as lack of proper nutrition and sleep these past few days, has been exhausting. I am glad for the comfortable room and head to bed as soon as I can.
Monday May 14: After the continental breakfast, which was quite good, we hit the road – another 325 to Monticello, most of it through the deserts of northeastern Arizona.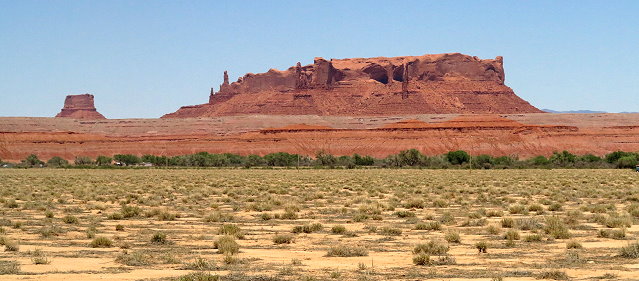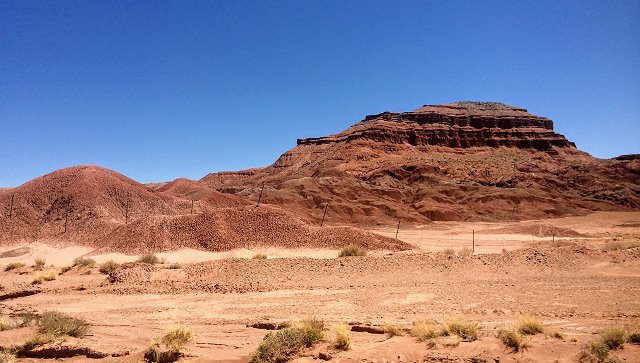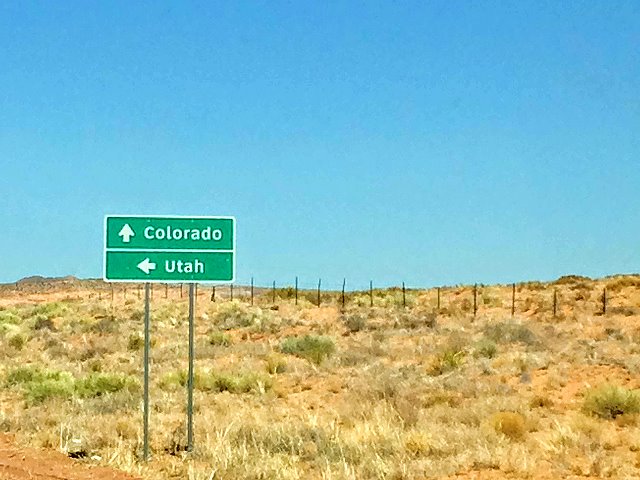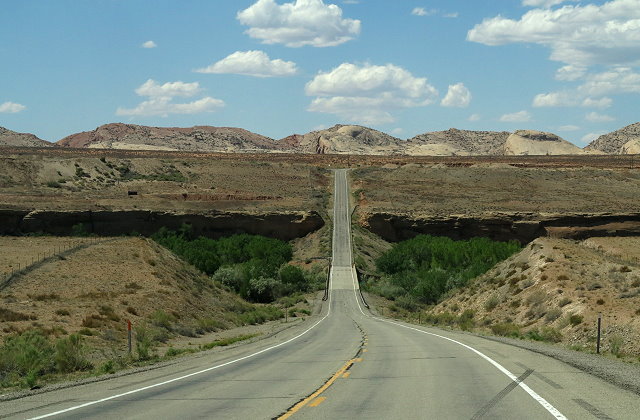 We take a break from driving when we cross the San Juan River in southern Utah, exploring the campground there.The river is a joyful sight to me!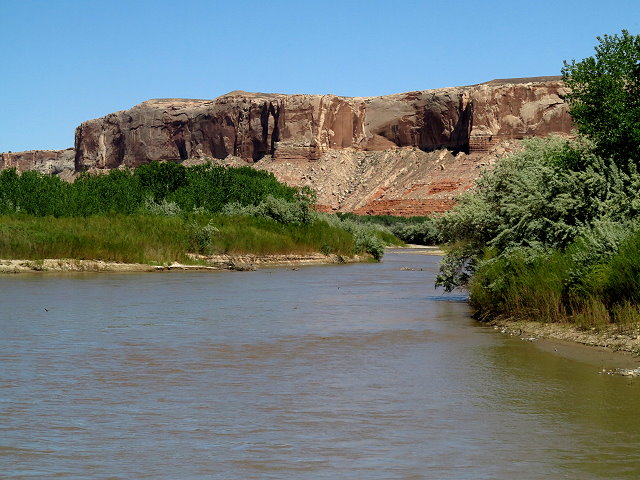 Although we are now in Utah, we still have a ways to go.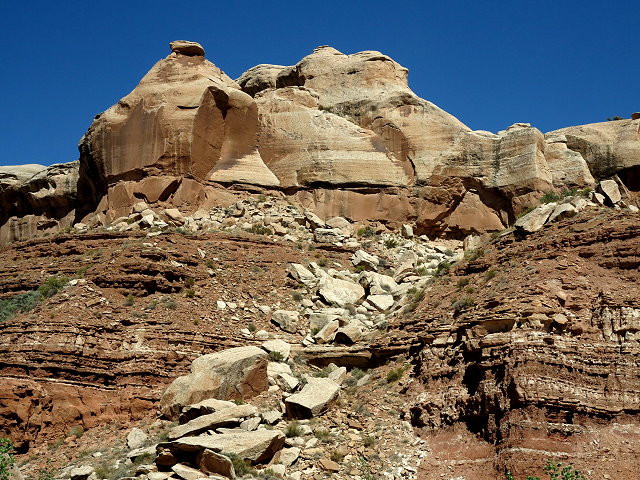 We arrive in Monticello in late afternoon.
It was an important and jam-packed few days, but I'm really glad to be back home.