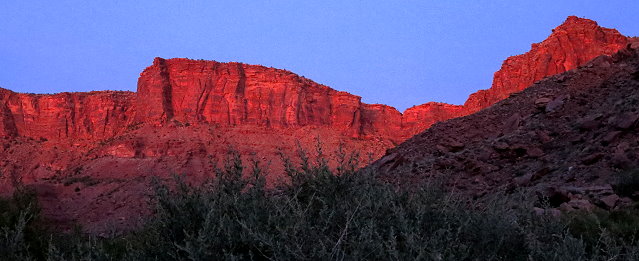 Wednesday May 3rd – I go down to the river first thing, as I am so enchanted with the beauty and power of this flowing water.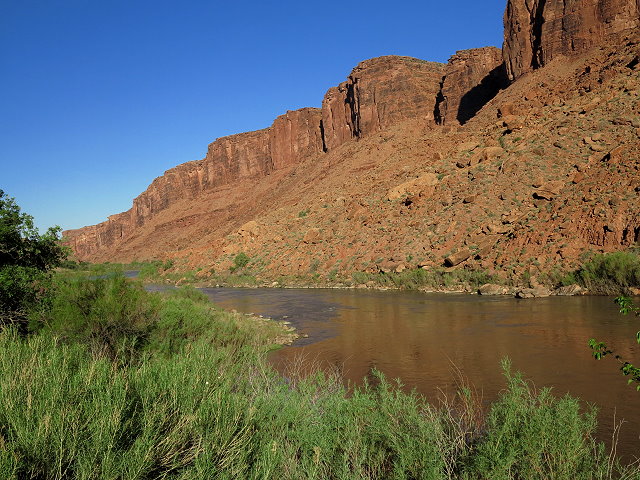 I sit for awhile, and back at camp I build a little campfire, make tea, and read Mary Oliver poems. I'm not that much into poetry, but I do like her poems, as her connection with nature resonates with me.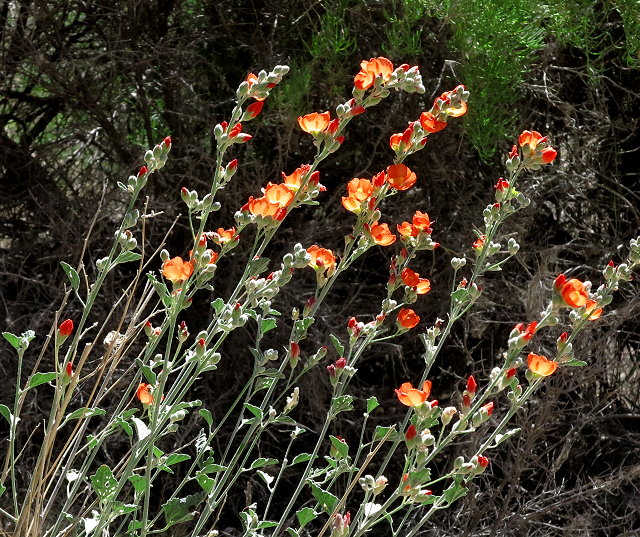 I prepare thermoses for our trip to town, thinking someone from Moab Chevy dealership will be coming to pick us up; we know that they replaced the fuel pump yesterday. Get other things ready to go – items to mail, laptop for a stop at the library, and so on. No word from Chevy, so play cello awhile, working on Franck and one of Ken's pieces. As it turns out, we do not hear from Chevy all day, so no trip to town. Errands are not done, we miss our friend's birthday celebration and miss the bluegrass outdoor concert. What I would have missed had we gone to town was the extraordinary color on the mesas this evening, which were thrilling to see.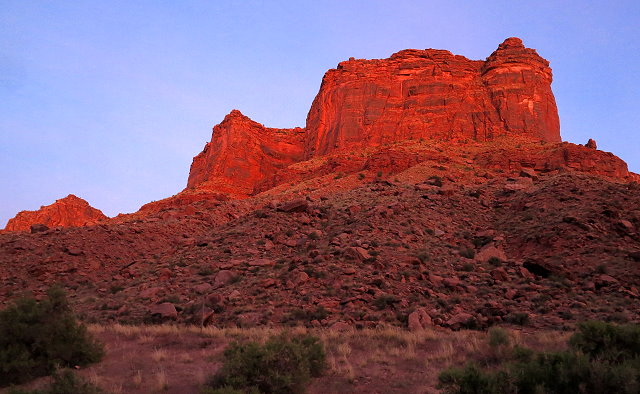 Thursday May 4th – This morning I make a campfire first thing; it is really nice to be outdoors for journal writing.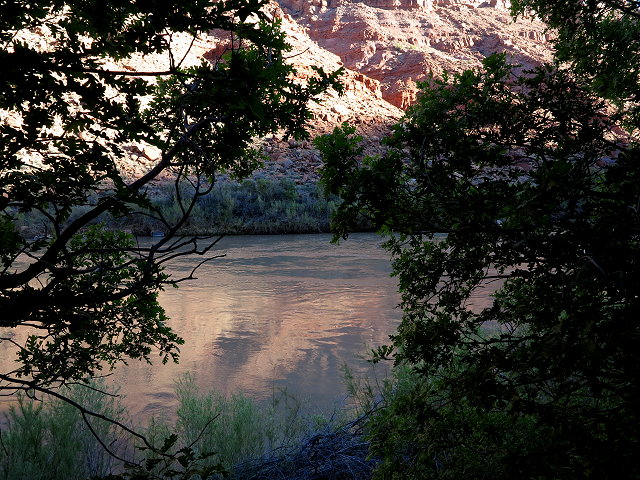 Call from Chevy – our ride is on the way and I scarcely have time to get ready. Once at the Chevy dealer, there is a bit of a hassle getting NAPA warranty to cover the cost of the new part and labor, but finally things are worked out and we are free to run our errands. We have a late lunch at Eddie's before heading back to camp. In the evening I take a few photos and journal a little, but I am tired and my eyes hurt, so earlier to bed tonight.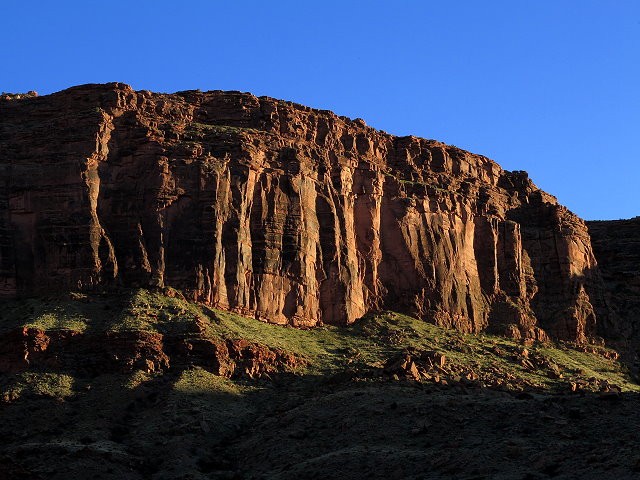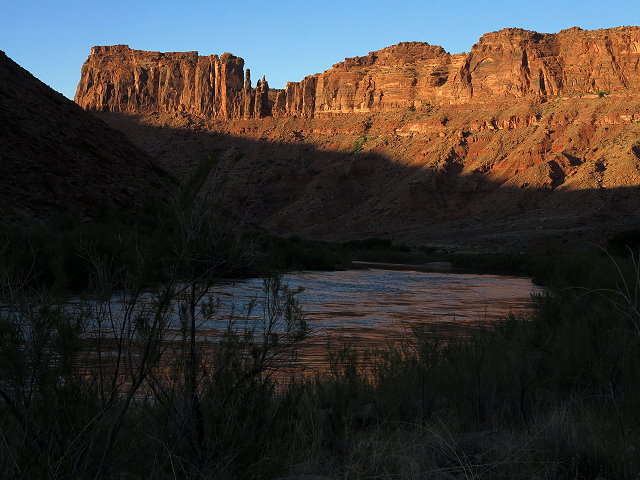 Friday May 5th – I sit out for tea, journal and Mary Oliver this morning, but no campfire, as it is already getting warm. We are lucky that there is always some shade/diffused light on the picnic table, making it a pleasant place to be any time of the day. I do some editing today. We decide to forego the trip we had planned to Castle Valley because it is too hot to feel like going anywhere. We spend some time looking at the map, contemplating our return route. What with all the vehicle issues, we are behind on our schedule and our itinerary needs to reflect that, as we have to be back in Wallace before the end of May. Looks like I-15 straight north through Salt Lake City will be our best bet.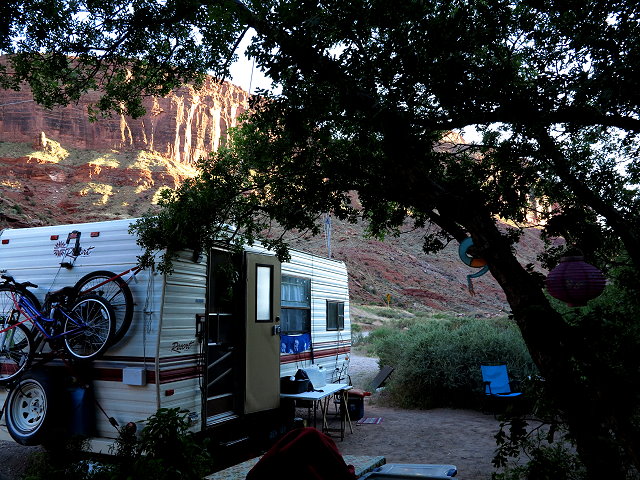 Saturday May 6th – Clifford gets up at 5:00 a.m. (unheard of!), but comes back to bed at 6:00 a.m., waking me up, so I get up, visit the river, make tea, and sit out to write in journal.
After Clifford gets up again, we get ready to head to Moab, as he has a business call, which gives me time to work on my projects at the library, mostly emails today. We make arrangements to meet our friend David on Monday, as we will be leaving on Tuesday. It is raining in Moab as we head south to see LaSal, a small town in the foothills of the great LaSal Mountains. Out of Moab a ways, it is very windy, but blowing sand and dust rather than rain. Once there, we know that this little town will not work for the CI lab for several reasons, but good to have checked it out. Back at camp, late afternoon naps are in order, and then I stay up too late editing photos and reading!