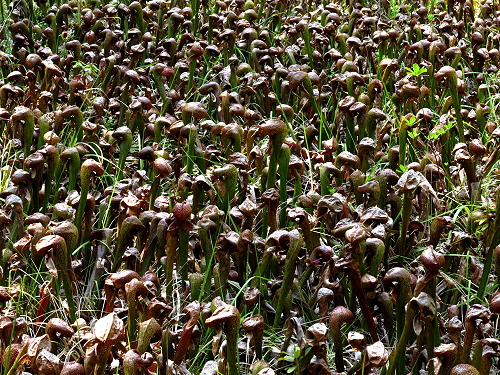 Friday May 1: I begin the day with a campfire, a cup of coffee, and journal writing.This is my precious QT – quiet time – a time before talking begins, a time of being before doing takes over for the day.
It is windy this morning and as I sit by the fire (well-contained in deep metal firepits), I gaze up at the tall Douglas fir and youngish redwoods as they do their slow graceful dance to the wind-music.  As I walk about the camp, the iris are are also doing their little dances, which makes it challenging to take their portraits.
After breakfast, we drive up the highway to the Darlingtonia Interpretive Trail which we know about from Jeff, the camp host, who gave us the flyer as well as the insider information that these rare plants can also be found not far from the campground. Maybe I will be able to find the local ones, but in the meantime, the botanical area will be a good outing for us. Jeff shows me an unusual plant right at their site.  Perhaps related to a mushroom, this plant was about six to seven inches tall and not like anything I've ever seen before.
We park at the trail head and walk a short ways to a swampy area where hundreds of these ancient-looking plants, also known as California Pitcher Plants, grow en masse. They remind me of giant Venus fly-traps – the neat little plants that I would buy as a kid, even though they never seemed to catch a fly and didn't survive for long. The head of a Darlingtonia is designed to trap insects; decayed remains of the insect provides nourishment to the plant.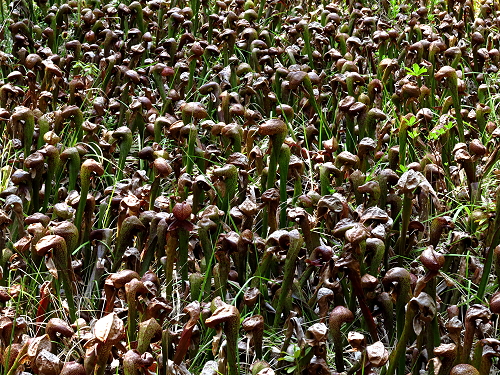 It is easy to imagine a swamp dinosaur browsing here. The Darlingtonias are not at the height of their blossom period, but we do see a few blossoms here and there.
We continue the walk learning of other flowers and trees in this area, including Port Oxford Cedar, Jeffrey Pine, orchids, azaleas, and several other flowers and shrubs.  The Darlingtonians are thriving here, but are quite rare. I have to wonder how long these swamp-loving plants will survive the California drought.

When we get back to the campground, I go off to gather twigs for tomorrow's fire and when I get back to our campsite, Nigel, the young man who is camped down a couple spots from us, is talking with Cllifford. He is an interesting fellow, having some of the same interests as we do, such as camping and photography, and going to school not far from where one of Clifford's brothers live. We chat for a bit before Clifford and I head down to the river.
Today we are going swimming at the beach that we found the first day. What this means is that Clifford is going swimming while I take photos and wade in the shallow water at the river's bank.
Although I find the water too cold to be comfortable, Clifford cajoles me into getting in deeper. It is a a refreshing but short-lived moment.  This afternoon the river seems especially rich in color, that delicious shade of aqua, and crystal clear as always.
As we look at the map and review our travel schedule, we decide to not go to Yosemite as planned, but instead go east and north from Sebastopol. The timing as well as the expense of traveling are the deciding factors. We will be staying with friends in Sebastopol in connection with the Institute, so that is an important portion of the journey, but also a good turning point. I am disappointed that we won't see Yosemite on this journey, but understand the need to make this change in plans. I am still looking forward to the giant redwoods and seeing the ocean, however.
We finish our day with nachos and more crossword puzzles. One of these days I am going to switch to photo editing during dinner instead of the puzzles, but not today.