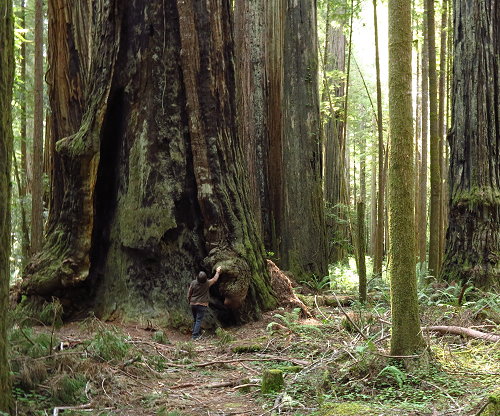 Thursday April 30

: We are up before 8:00 this morning. The odd thing is that I seldom know what time it is, what time we get up, what time we eat, or what time we go to bed. This morning, after a short walkabout to visit flower-friends, I make a campfire, not really because it is cold enough to need it, but because I enjoy it.
My friends Ken and Shelley Anne who have been so supportive over the preceding challenging months are on my mind. I give them a call, thinking I will get voice mail and am pleased to talk to Shelley Anne in person for a few minutes.
Once the coastal redwoods covered 2 million acres of land, mostly in California, but due to logging in the late 1800's to the 1920's, only about 100,000 acres of ancient redwood forests remain. Today we drive to Stouts Grove near the beginning of Howland Hill Road (or end, depending on which way one is traveling). This is an old-growth grove in what is now Redwood National Park and Jedediah Smith State Park, a co-operative effort on the part of national and state agencies to preserve what remains of the old-growth forests. What a loss it would be to both the natural world and the civilizations of the world to not have the redwoods. These ancient giants deserve our very best efforts to preserve them for their invaluable role in the ecology of the planet, as well as to inspire all those who gaze upward toward their lofty heights. We today are most fortunate that efforts have been made to preserve these remaining great trees.
Redwoods may reach a height of 370 feet tall and may be as much as 20 feet in diameter. They can live to be 2,000 years old, although many are merely 500 to 700 years old. I am in awe of them as I walk the trail. The tops cannot be seen by looking up; it is like trying to look at a mountain peak when standing at the base of the mountain where one can see only the foothills. Photos do not do justice to their majestic size unless a tiny human is included in the photo.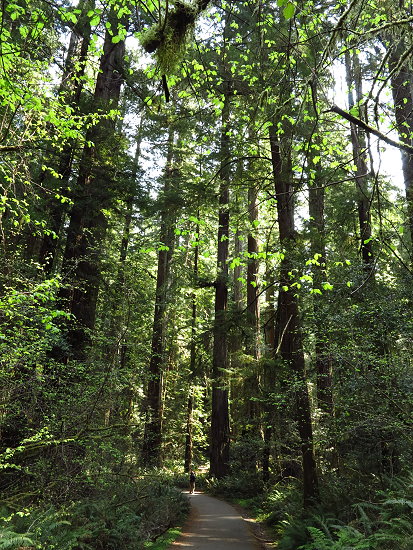 We have learned something of their growth patterns that allows these great trees to survive.  Bulbous outgrowths hold the potential to grow new trees out of the old – like a fetus waiting to grow and be born as a baby.  Some redwoods grow in a tight cluster from one root system, their strength supporting each other.  Thick bark protects them from insect injury and even damage from fire.  Many of these old trees, still living, bear the scars of severe forest fires.
Not only are the trees wonderful, but the ferns and shamrocks are lush, adding color and texture to the scene.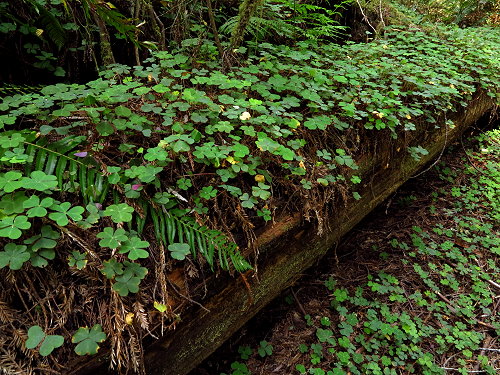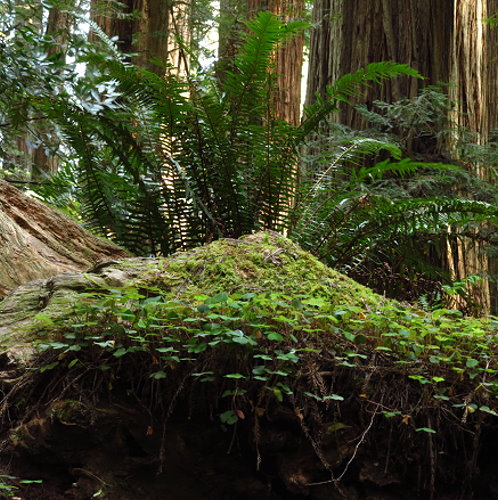 Back at the campground, I take the trail down to the Smith River and find a place where I can take photos of some of the rapids along this stretch. I am drawn to the beautiful clear aqua water of this lively river.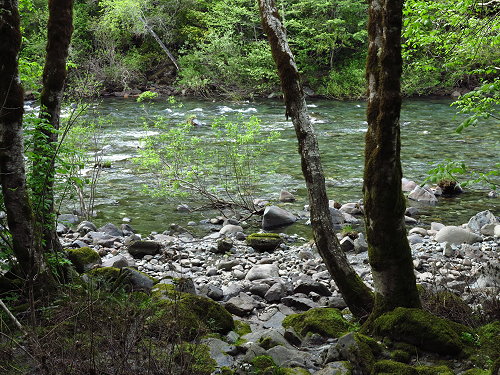 We have nachos for dinner and do crossword puzzles, which are both addictive and annoying. One of these days I am going to not do the crosswords with dinner. But tonight I do crosswords until I can't stand doing another one. I go to bed thinking not of crosswords, however, but of great tall wonderful trees.