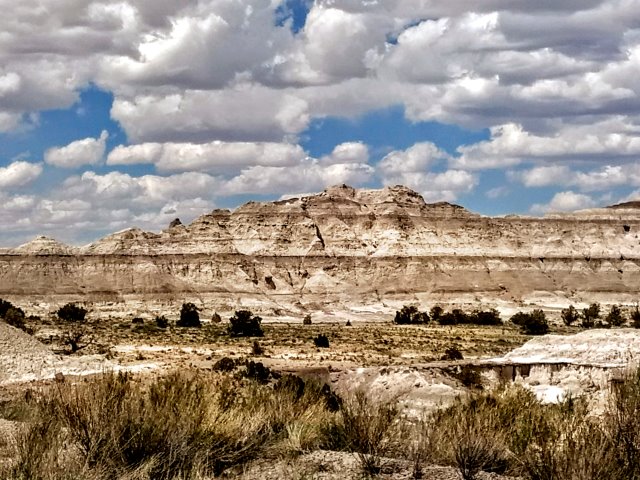 Tuesday May 7: Clifford and I have enjoyed our time in New Mexico the past couple of weeks, but it is time to head back to "base-camp" and the lab in Utah. After making tea for the thermoses, we say good-bye to our friends here in Santa Fe where we have been parked the last couple of days, and we are on our way by 10:30 a.m.
The wind is not a problem today, which makes for easier and safe travel. I take lots of photos of the New Mexico landscape along the way, and we arrive in Farmington in the northwest corner of the state by mid-afternoon.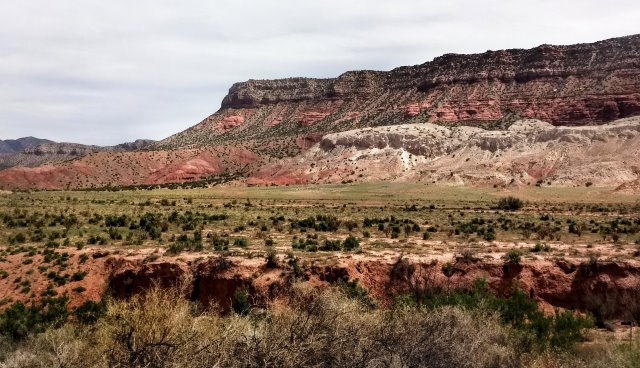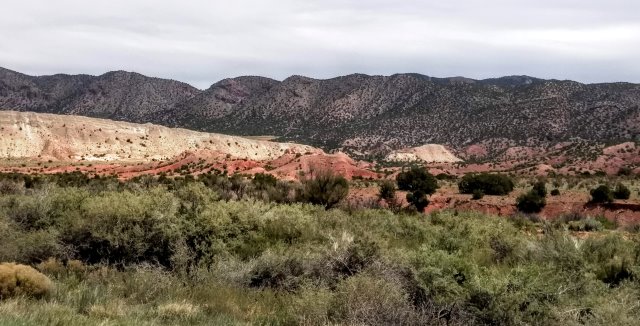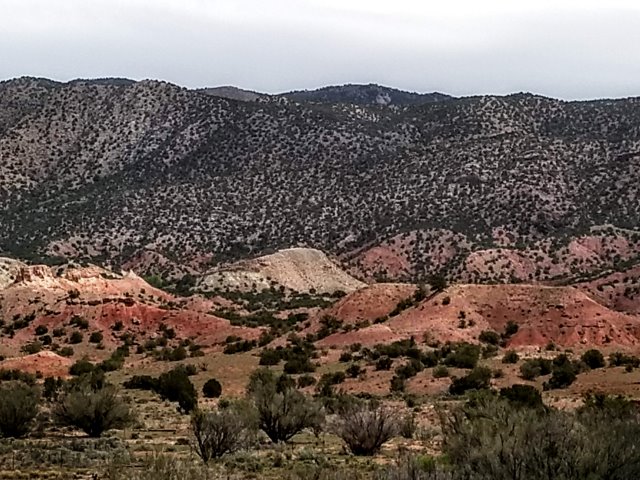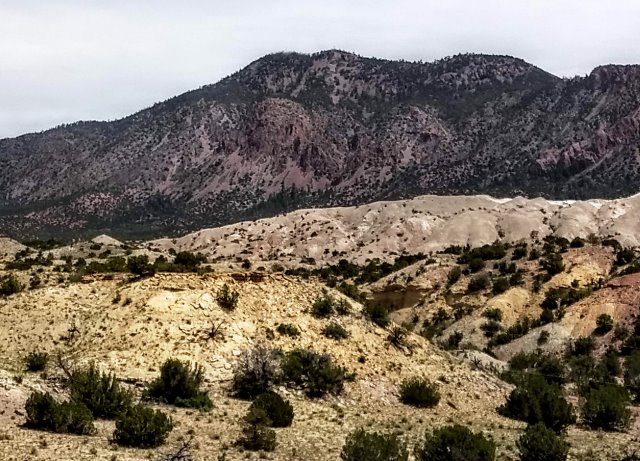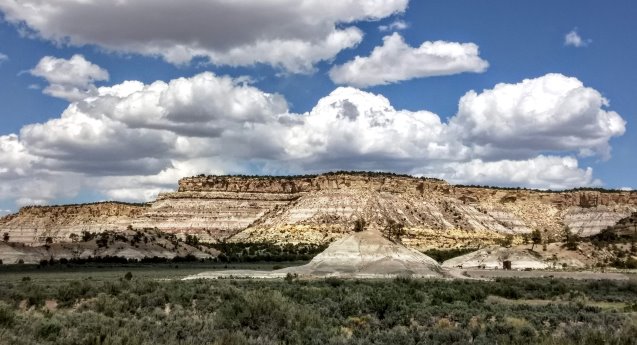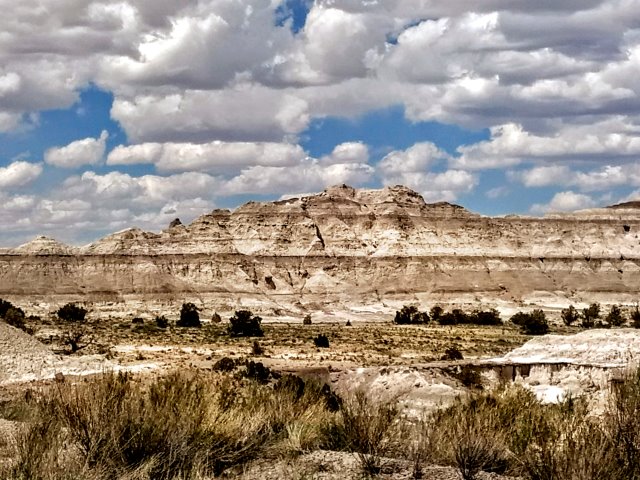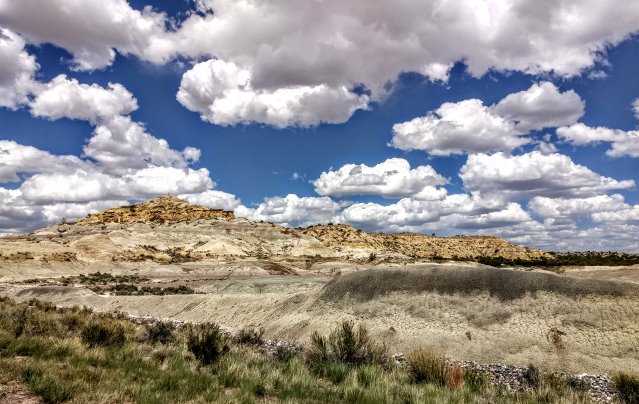 After parking in a far corner of the Walmart parking lot, we go in to buy what we need for a good lunch.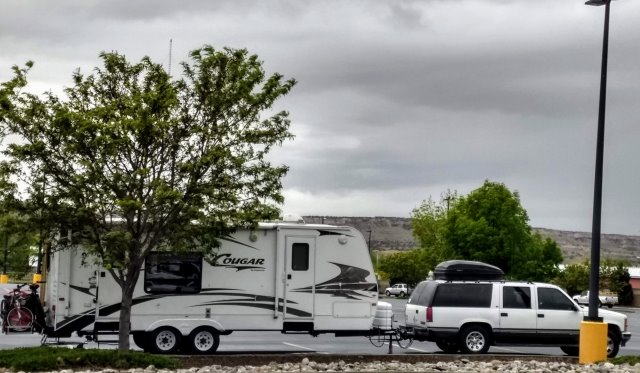 Then naps, although I finish reading Erica Elliott's book, Medicine and Miracles in the High Desert first. Later we go back into the store to stock up on groceries and sundries that we will need in the upcoming weeks.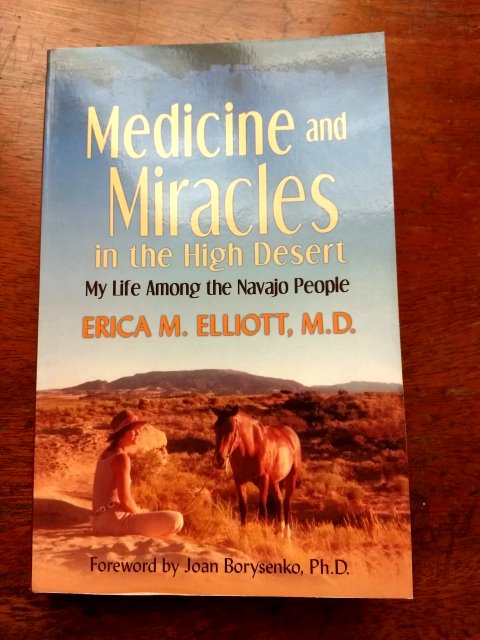 We have leftover Dions pizza for an easy and tasty dinner. I do some photo editing, but am too tired for much of anything else. Clifford is up late with his project – writing tablature for his dulcimer music.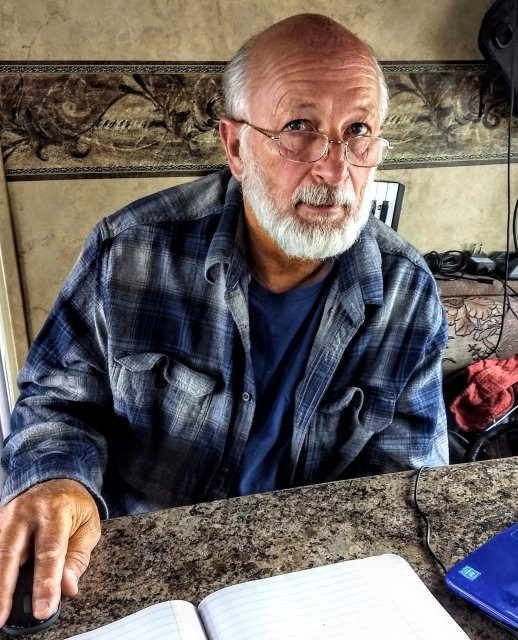 We are keeping an eye on the weather forecast, as strong headwinds may make travel tomorrow very difficult. We will check again in the morning.
Wednesday May 8: It is windy and raining here in Farmington this morning as I start packing up after a little breakfast. After checking the weather forecast, we decide to stay put. We are somewhat reluctant because of the Walmart policy on overnight parking, but it is not a good idea to drive in the strong wind and rain, either. We do a bit more shopping, take naps, and while it is not a very productive day from my side, we are both relieved to not be traveling today.
Thursday May 9: It is calm this morning and after making thermoses of tea and snacks for the road, we head west from Farmington to Shiprock, north to Cortez, Colorado, and west to Monticello, Utah, traveling through three of the four states that make up the Four Corners. Jet trails crisscross the sky on much of this journey, turning it a drab grey, so I don't take many photos.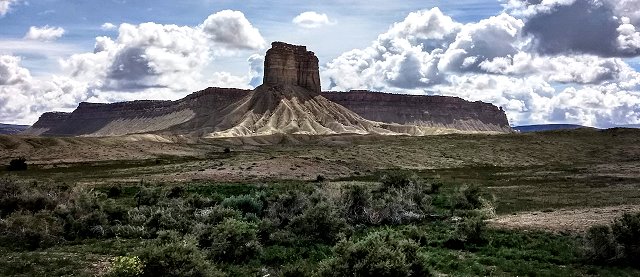 Before we reach Dove Creek, it starts to rain and sleet. I had planned to buy us lunch at Wild Coffee in Dove Creek, but we are disappointed when we get there to find that it has been closed and replaced with a liquor store.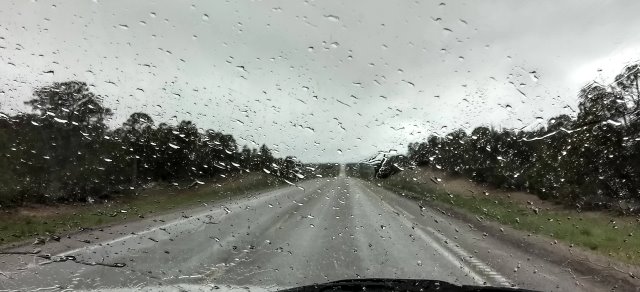 So, on to Monticello, arriving in early afternoon to a rainy and chilly 38 degrees. Everything looks to be in good shape here. We only unload the herbs, our instruments, and enough food to make lunch. It is a good day for a long nap. Tomorrow will be soon enough to shift gears and settle into the home-base and lab routine.