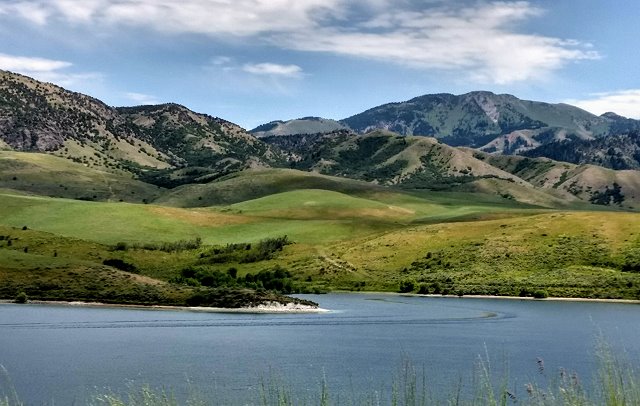 Sunday July 14: As soon as we get up, I make tea and coffee for the thermoses. After yogurt and fruit for breakfast, we pack up the little that needs packing – we weren't here long enough to really unpack much. Everything is in place and we are ready to leave Diamond Campground, south of Spanish Forks, Utah, by 9:00 a.m. This was such a beautiful spot, I am sad to leave.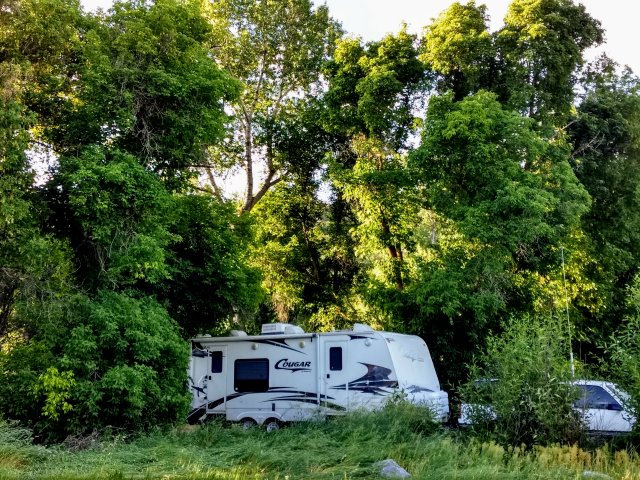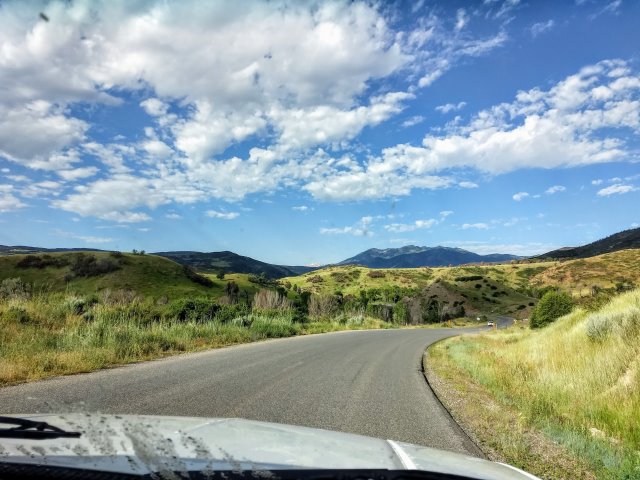 Heading north on Highway 6, we soon enter I-15 and everything is good until we get to Provo. Without warning, we enter a construction area where the lanes narrow and curve this way and that, and the speed limit does not slow traffic down nearly enough. We are nearly side-swiped by a semi trying to come alongside, but he pulls back and we make it through okay. After miles and miles of fast-paced traffic, it is such a relief when we finally make it through the Salt Lake City complex.
We stop for lunch at Tremonton, Utah, then continue on north, still on I-15 until we reach the Devils Creek Reservoir, north of Malad City in southern Idaho.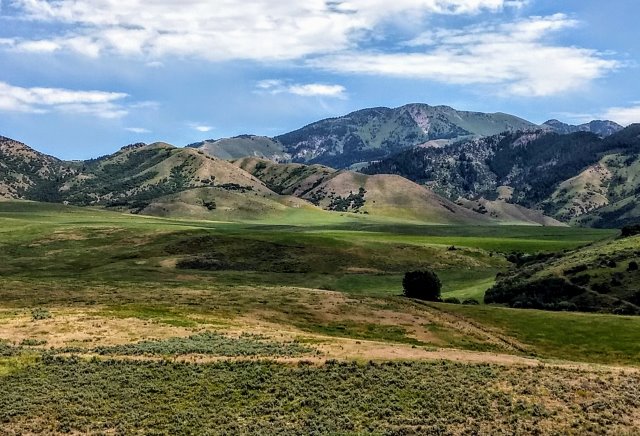 We pull off to check out boondocking here, and driving past the marina and the RV park, we find a fishing access at the far end of the reservoir. We park here and while Clifford naps, I walk down to the reservoir to take a few photos. The water is low, but the hills are very green for this time of year. I talk to a nice family of grandparents, parents, and kids playing and fishing at the water's edge.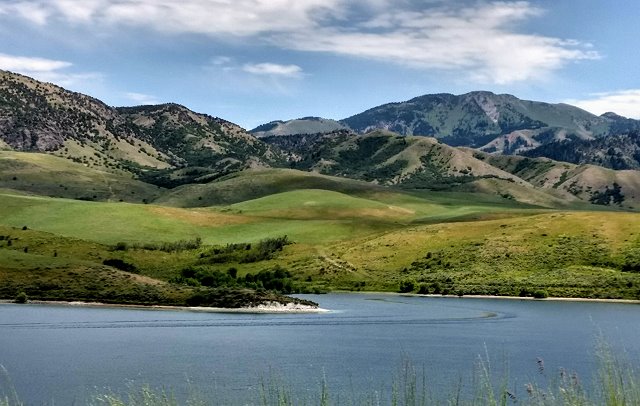 Clifford is refreshed from his nap and we continue on.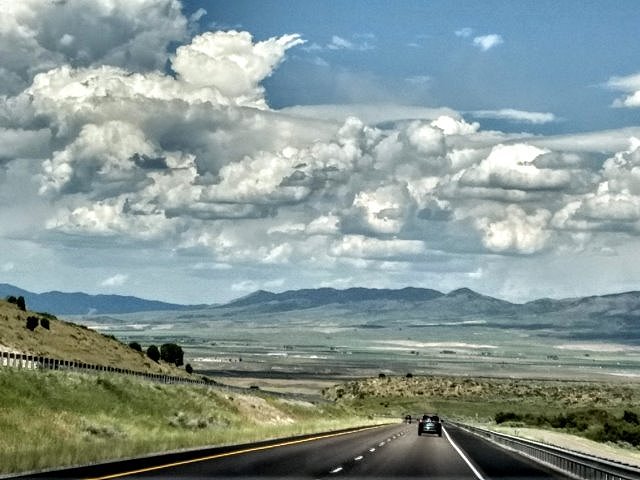 A big thunderstorm near Pocatello, Idaho, cools the air from upper 90's to mid 70's, but once we are out of the storm, the temperature climbs again.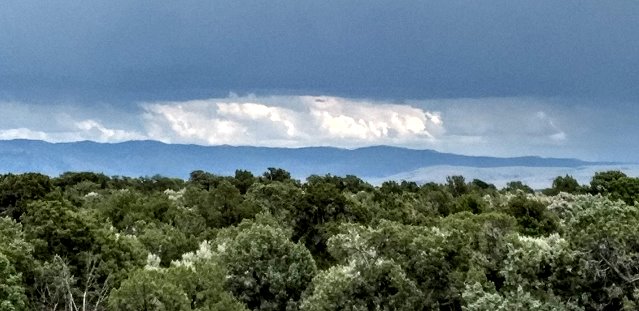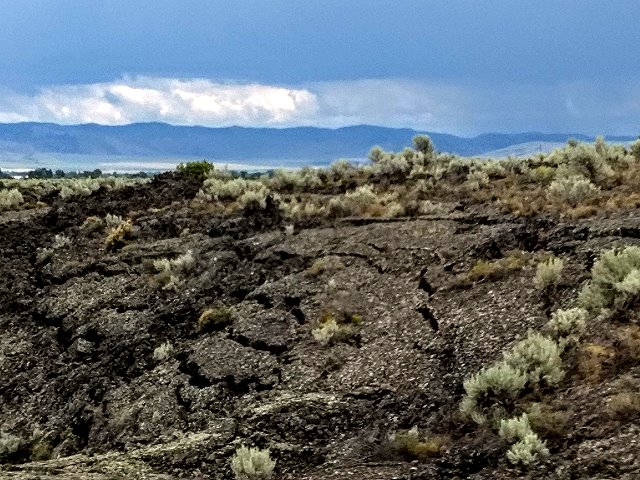 We are grateful to arrive at the Idaho Falls Walmart and find a spot to park along the edge of the lot where there is strip of grass, a few trees, and thistles blooming on the ridge above. We stock up on supplies and sundries at Walmart, then walk to the nearby Panda express for dinner.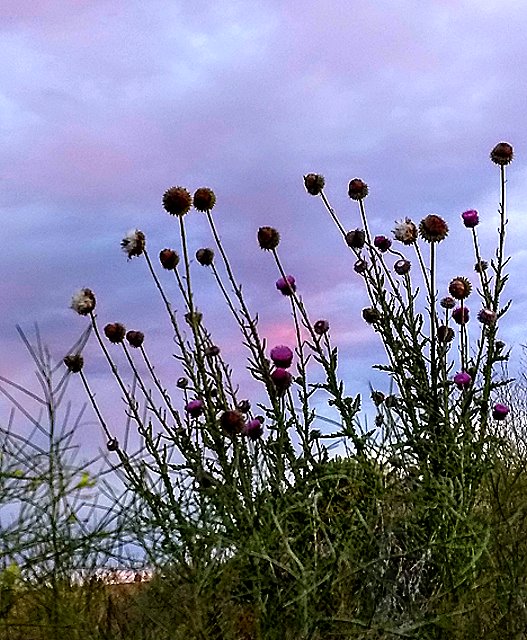 Back at Cougar, we sit outside to enjoy the lovely sunset and the pleasant coolness of the evening, chatting as we watch the moon play hide 'n seek with the clouds.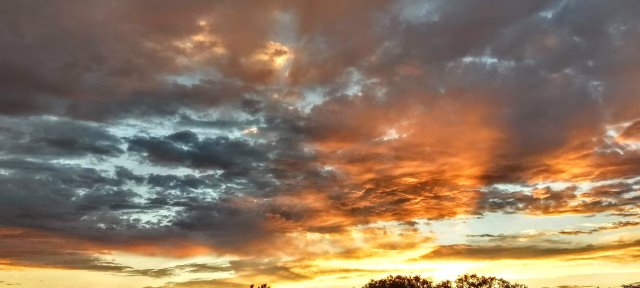 A hiss gives us but a second warning before the sprinkler system comes on. Our backsides are soaked by water hitting us full-blast as we dash inside, rescuing cell phones and books as we go.
It is not a restful night, as each time the sprinkler comes on, the water hitting the side of Cougar is deafening. There is also a lot of traffic, lights, and city noise – but it is convenient and free.