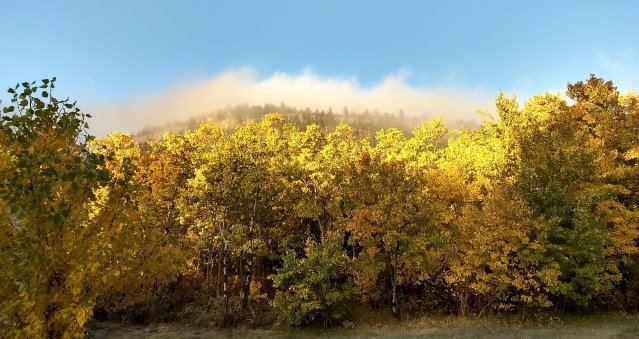 Monday October 1: I am up by 7:30 and chat with the neighbors at their campfire before making tea for our thermoses. Today is a travel day and we plan to leave from our brief stay here at Divide Bridge Campground and make it as far as the Walmart in Idaho Falls, Idaho.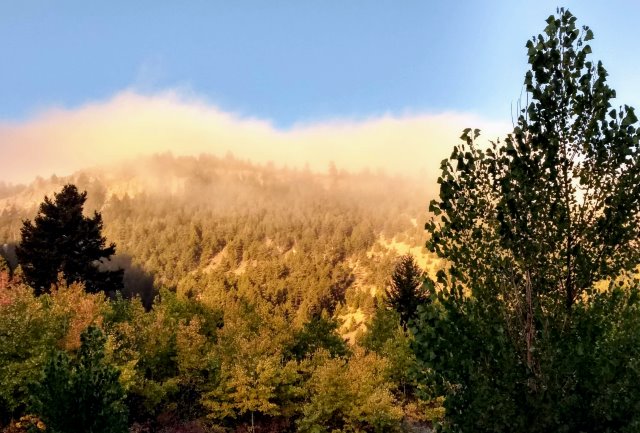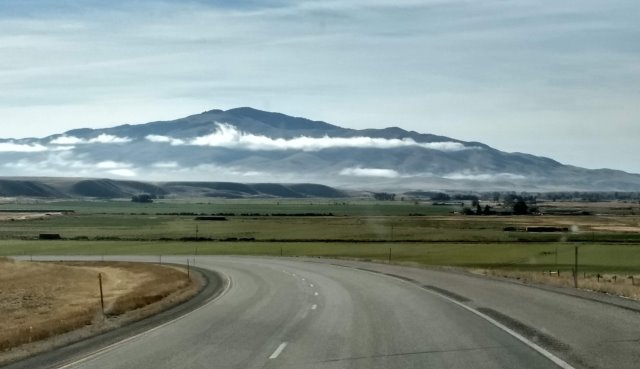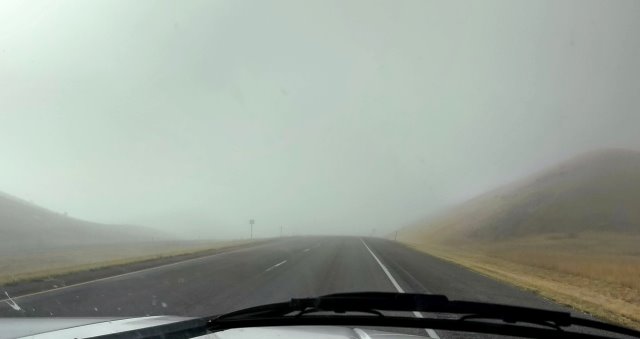 It is very windy and we are glad to pull off the highway when we reach Idaho Falls. We park along the grass on the back parking lot and then spend a few minutes picking up trash. It is too bad that some people abuse the privilege of overnight stays at Walmart, and because of that fewer Walmarts are allowing overnighters. There are many RV coming in this afternoon, perhaps because of the wind. We go to Panda for a late lunch and then pick up the groceries and sundries we will need for the next leg of the trip.
Tuesday October 2: We are on our way after making thermoses and tidying up. It is very windy, worse than yesterday, causing slower travel and poor gas mileage.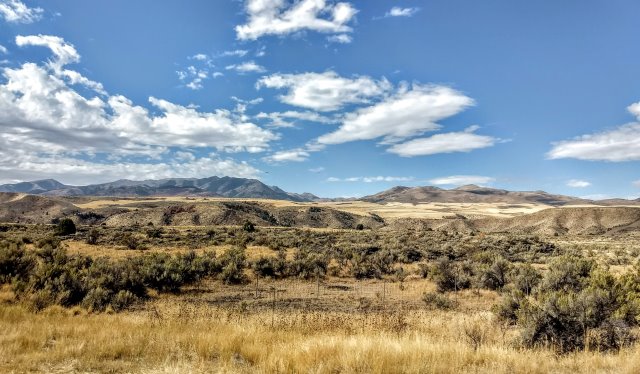 We stop at the rest stop before the Utah border, the rest stop that I call the Apple Tree Stop. It is a relief to get off the highway for awhile and just walk about. I check out the apple tree, an untended giant of a tree, and see that it is bountiful this year. I poke among the apples that have fallen and gather a bagful that will be made into applesauce.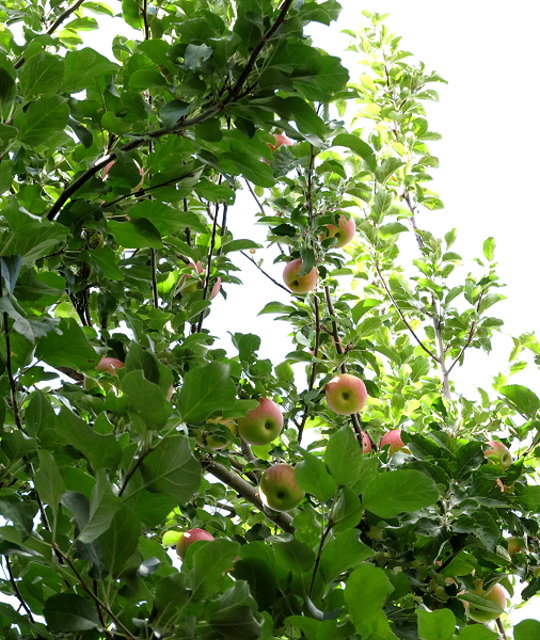 We reach the Perry, Utah, Walmart in late afternoon and park along the edge of the lot. We can see a huge storm to the west, and we learn from my brother Rollie that he is in the midst of it on his parallel route through Nevada. Eventually the storm moves over us and I'm glad we are parked and not trying to drive through the downpour.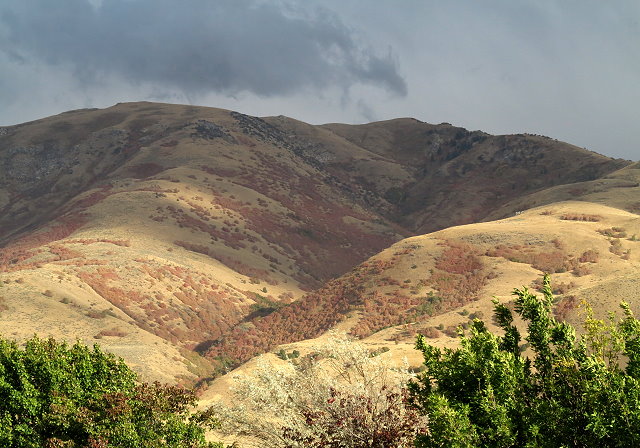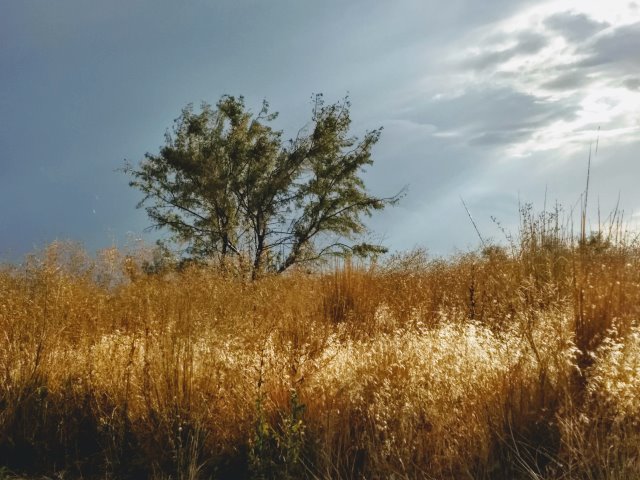 Wednesday October 3: We leave Perry and begin the journey through Salt Lake City, and even though part of it is on a bypass that we have discovered, the rest of it is the main I-15 corridor made worse by construction. I am ever so grateful when we come out on the south end of this huge city complex and stop for lunch at Cracker Barrel in Springfield.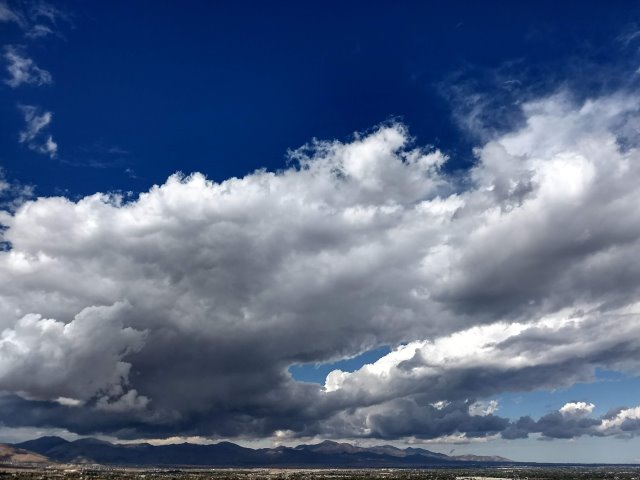 After lunch, we continue south of I-15, new country for us, a day of clouds and rain storms. We leave the interstate at the junction to Utah State Hwy 50, then take Hwy 24 to the small town of Loa where we are meeting Rollie.
A day …

of clouds …

and …

rain storms…

and more clouds.
Rollie arrives before us and as soon as we get there, we all decide to head onto our intended destination outside Torrey, Utah, near Capitol Reef National Park. Arriving at the BLM road, Beas Lewis Flat, where we plan to stay, we park and scout on foot, finding a couple of pullouts that will accommodate both rigs. We will have lots of privacy here, as well as great views.
Scouting out places to park the rigs

End of day
After we get set up, I make chili for dinner for all of us, glad to have the driving over for awhile and happy to have found such a scenic place to call home for the next couple of weeks.