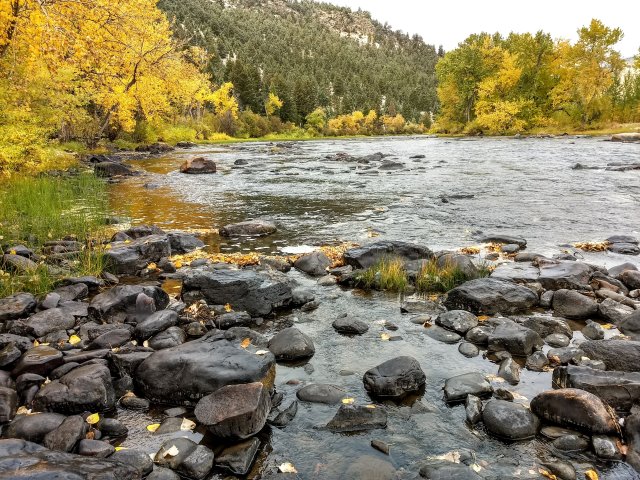 Saturday September 29: We get up a little earlier than usual and I get tea made for the thermoses. We have a quick breakfast of yogurt and fruit before we finish packing, and we are on our way before 10:00. We are leaving the Bass Creek Recreation Area in the Bitterroot Valley of western Montana where we have been camped for the last couple of weeks. Our destination today is Divide Bridge campground in southwestern Montana.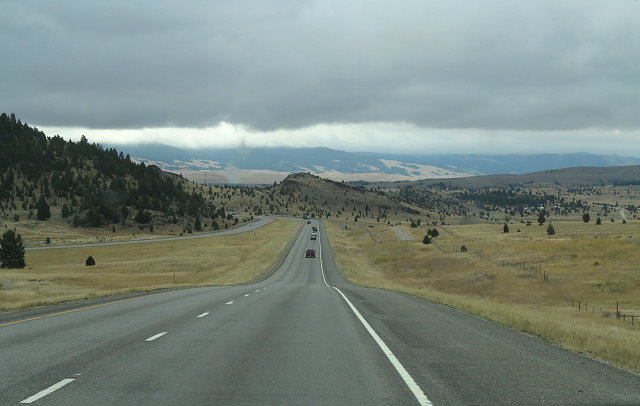 The wind is fierce as we go through Hellgate Canyon on the east side of Missoula. We are relieved that it lets up some as we head further east, but even so, stopping for gas at Deer Lodge, we are surprised at how cold the wind is.
Reaching Divide Bridge Campground, we find a spot with grass still green and shrubs showing autumn colors. Our set-up is minimal, as we won't be staying long.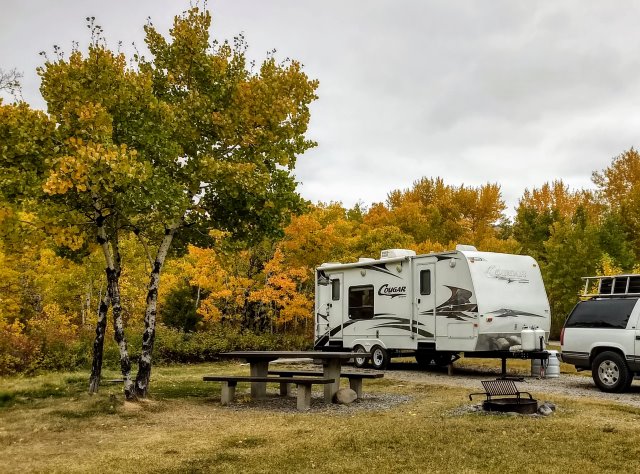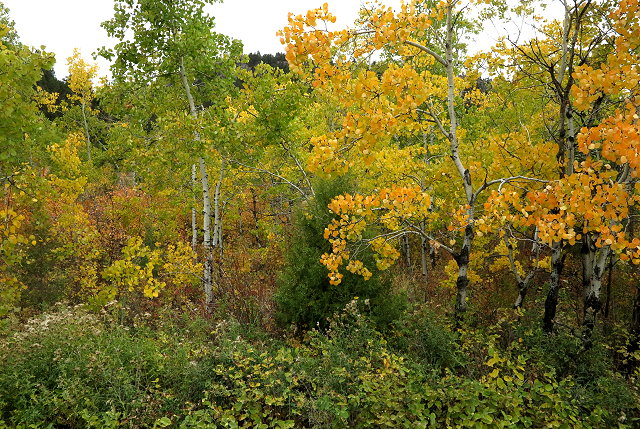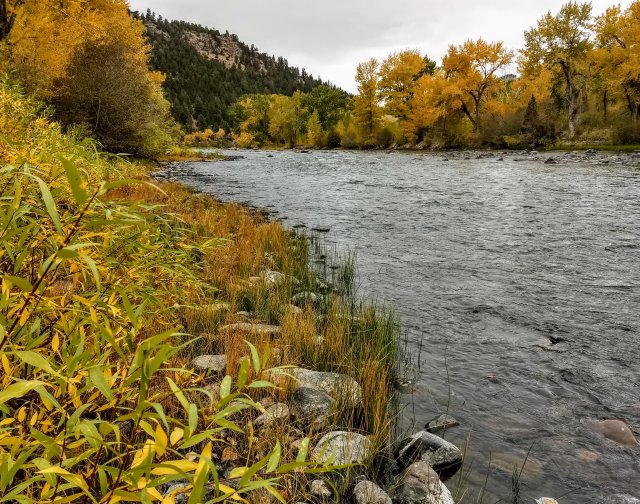 Of course, I visit the river right away.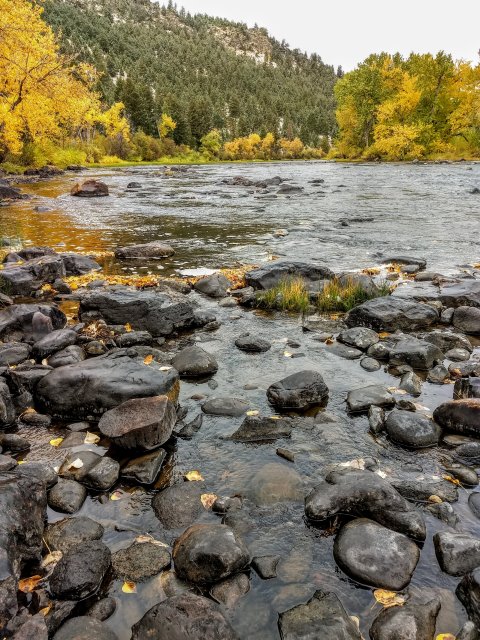 In the evening, we work on our projects – dulcimer and CI Legacy for Clifford, while I continue editing Princes and Priests and prepare another blog of our travels. We have nachos for dinner, as that is easy and tasty, and head to bed earlier than usual. Travel days are tiring, but at least we have a pretty place to stay.
Sunday September 30: I am up early to use the restroom and see that it is a drizzly morning The neighbors have a nice big campfire, so I go over to say "hi." We have a nice visit before I go back to Cougar to make tea for the thermoses, as we are planning on leaving to meet Tye and Tammy at Lewis&Clark Caverns.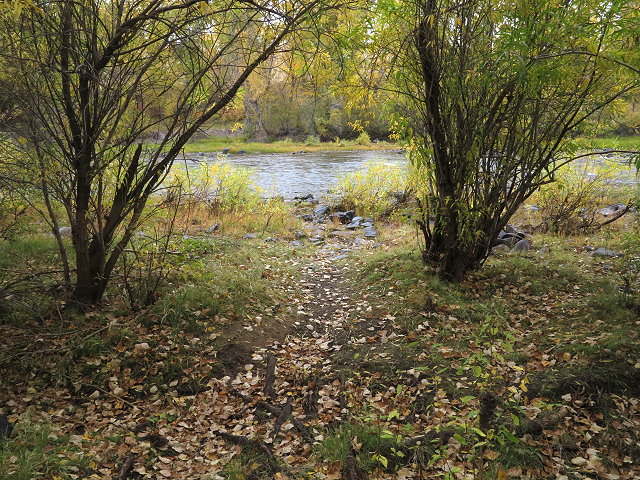 However, the drizzle turns to sleet, which turns to snow. Since we don't have a current weather report, we are a bit undecided about the wisdom of driving over Pipestone pass to meet them, not knowing what the weather is on the pass or on their side of the mountain. In the end, we drive out to the highway where there is cell service and cancel our plans to meet them. I am very disappointed, but again, discretion is wise.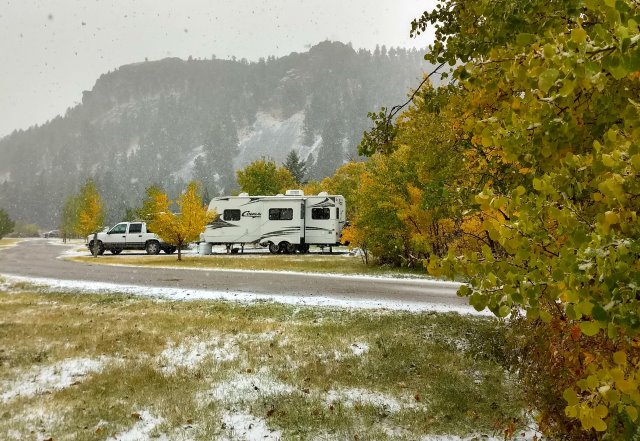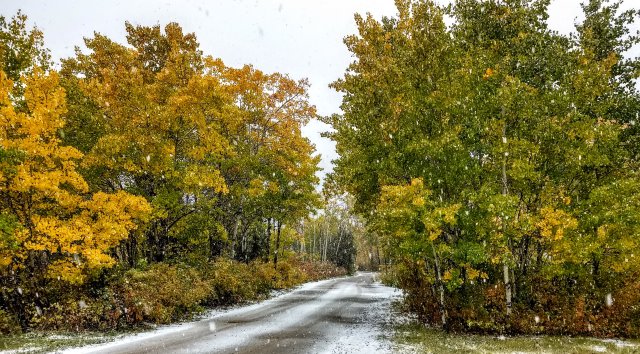 By afternoon, the weather clears up and had we had communication, we might have been able to still pull off a get-together, but oh well, sometimes things don't work out the way I'd like them to. At least it is pretty here and I spend time walking about, taking photos of the snow on autumn colored leaves in the morning and photos of the river in the river in the afternoon.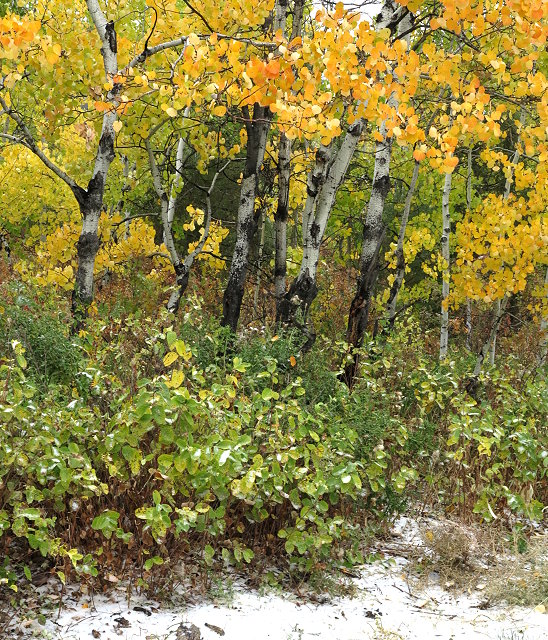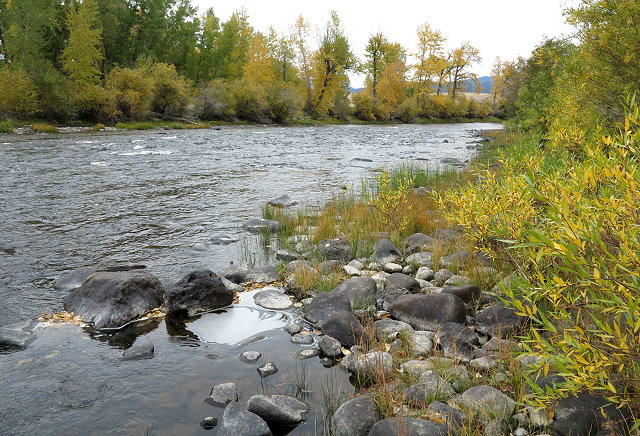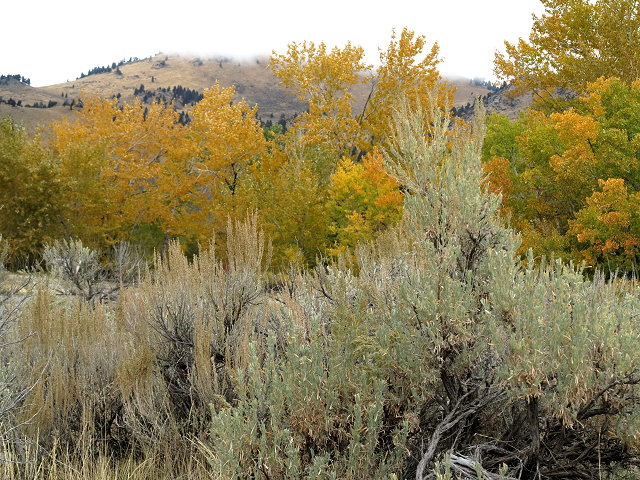 We are short on power today; I edit until the laptop battery is dead, then play viola for awhile. Dinner is cooked and eaten by lantern light. Even though we normally use our electronic devices a lot, there are always things that can be done without power. Tomorrow we will be continuing south and we will see what the weather brings our way.