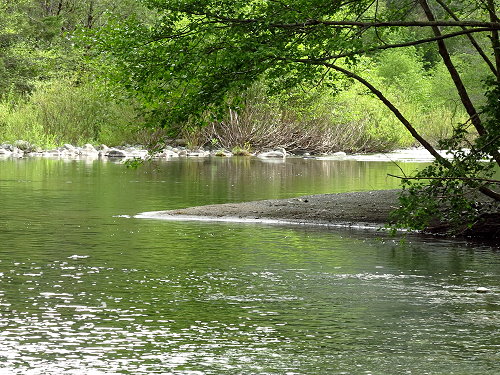 Tuesday April 28: When I step out the door I am struck by the smell of fresh clean air. I take the G12 (Canon point & shoot), since it takes good macro shots and head out to take photos of flowers around the campground. There are a variety of flowering shrubs and several flowers; most notable are the rhododendron or azelea and wild iris in shades of lavender to white.  I take lots and lots of photos because I can't resist these delicate little beauties.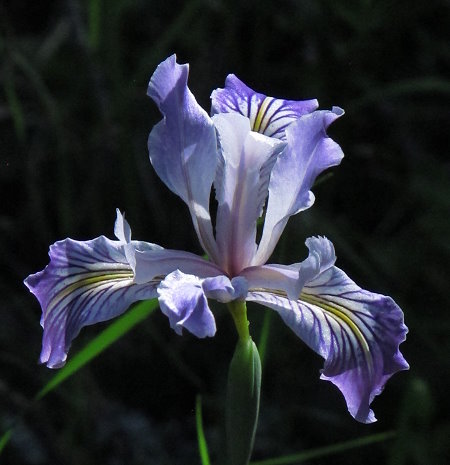 Back at camp I make a campfire, the morning cup of coffee (organic, with organic honey and organic coconut milk), write in my journal, look at our map of California, and read through the material with area information that will be of interest to us. Jeff, our host extraordinaire, gave us the handouts as well as pointing out a route, the Howland Hill Road, we might want to take back from Crescent City through the redwood forest of the Jedediah Smith State Park and the Stout grove. This is a road we will not want to miss, he tells us.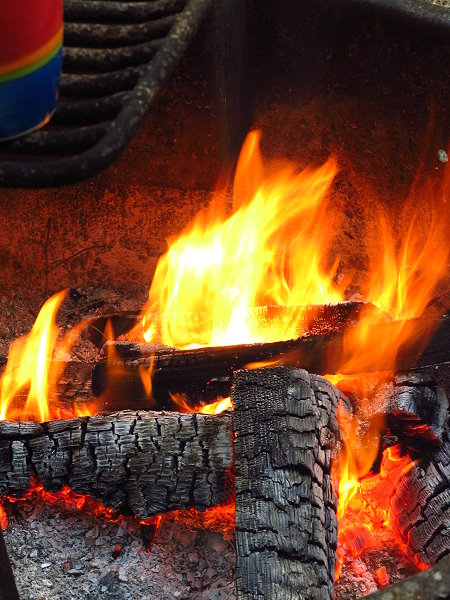 Much of my day, most days, is spent with cooking, eating, and cleaning up, in addition to wood-gathering and fire-tending. As I'm gleaning wood from the forest, which is allowed here, I visit Jeff and his quiet wife, JoAn. Jeff is bursting with a wealth of experience and information, shared always with his quirky sense of humor. JoAn is his opposite, so quiet that I am honored that she and I have a conversation.
As I walk through the forest, I find the very tall madrone trees with their sensuously smooth and curvy branches to be quite interesting.  The outer bark peels off to reveal an inner skin, smooth and firm like the taut thigh of a dancer in yummy shades of golden to reddish-orange color.
We are fortunate that my cell phone has service here so I can check email briefly and Clifford can make business calls from the campground. One important call involves the Carnicom Institute: the IRB for the Morgellon's Research Project is nearly in place.
Later we go down to the river for another walk-about. We have learned that this is the only river in California in its natural state, i.e. no dams or diversions. Perhaps this accounts for its incredible clarity while the aqua color comes from the mineral serpentine in the rock cliffs that rise up from the river bed.
After dinner I put Velcro on the sheets and sleeping bag – my attempt to keep our sheet liner in place, while Clifford falls asleep sitting up. Once the Velcro and the sheets are in place, we head to bed.
Wednesday April 29: I make a campfire when I get up. I love being outside and it is a bit too chilly to just sit without the fire. As usual, coffee and journal completes the picture for me.
Today we go to Crescent City for errands: laundromat, groceries, information at the Forest Service office, and sundries. While we are at the laundromat, Clifford makes another business call and I walk to a nearby natural food store. It is small and pricey, but I am happy to get a few organic veges into the diet.
After the errands, we go for a drive along the ocean on the outskirts of Crescent City, stopping at a vantage point for photos. I am quite enthralled with the waves that come crashing against the rugged rocks of the coast here.  It is so windy, however, that I have to sit in the car and shoot through the window.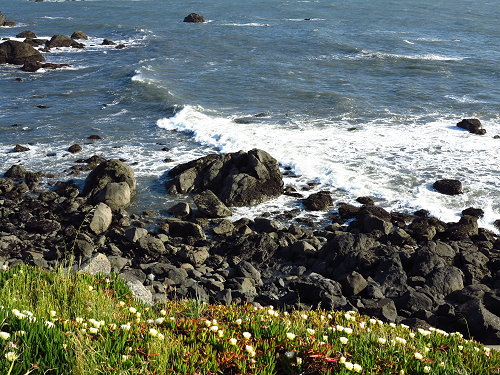 Noticing a lighthouse, we check it out. It is not open right now, but we will be able to visit it another day, since it is now a museum.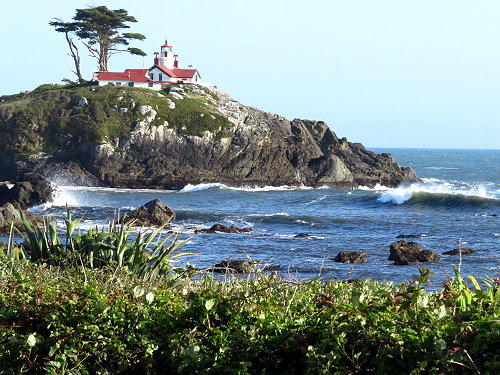 We go to Denny's for lunch before heading back to camp, stopping a couple of times to take photos of the lively Smith River in the gorge below the highway.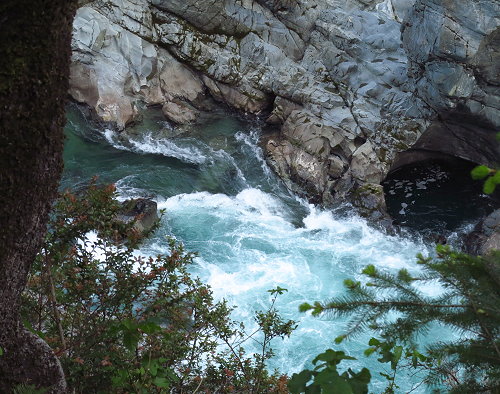 It is too late to take the Howland Hill Road through the redwoods back to camp, so that is something to look forward to for another day.