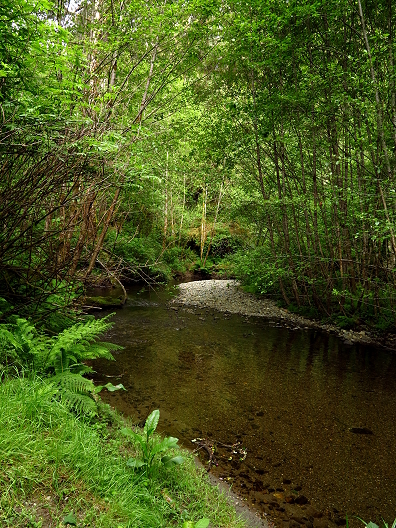 Tuesday May 12, 2015
This morning is our last morning at Elk Meadows Campground, as we are leaving Prairie Creek State Park and heading south to visit friends and take care of Carnicom Institute business. I take a photo of the creek that has been such a joy to me during our stay here. I would love to stay longer, but we must go.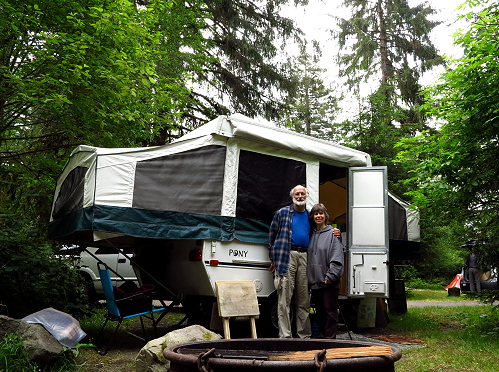 After taking photos of us by the Pony (our pop-up) we pack up and are on our way by 11:00 a.m.
On our way out, I had hoped to talk Clifford into hiking the trail to the humongus redwood family that I saw yesterday, but he is anxious to get on the road. Good thing I took a few selfies yesterday with some of the big trees in the forests here.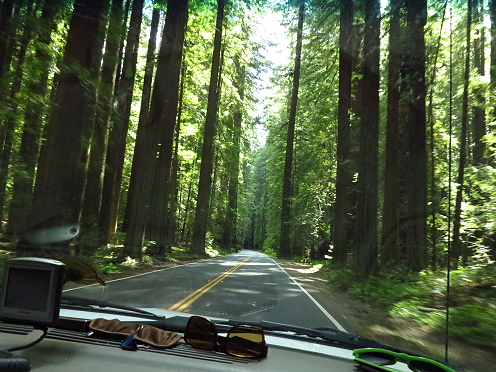 We stop briefly at the Visitors' Center in Orick and then continue the journey toward Sebastopol. We take the scenic highway through the "Avenue of the Giants" and, although we don't stop to take photos, I am happy to see more of the old redwoods that live here. My mom and dad were here 25 years ago and it is interesting to think about them driving this road all those years ago and seeing what we are seeing today.
We catch glimpses of the slow-moving and now very low Eel River, but can't get a photo of it until I ask Clifford to pull over when there is a safe place for us to do so. Although this river isn't as lively as the Smith River further north, every river is important and I show my appreciation by taking photos, portraits if you will, of these special entities.
We consider camping at the furthest south campground along the "Avenue of the Giants," but when we get there, we find that it is not open. Since we cannot take time to backtrack, we keep on going, our next destination being the Standish-Hickey State Park, arriving there in the late afternoon.This is the campground that had poor reviews because the more desirable loops along the river and away from highway are closed. We find a spot on the side of the open loop as far away from the highway as we can; I certainly understand why people complain. The closed loops are ever-so-much prettier and quieter. But we are fine, since it is just for the night.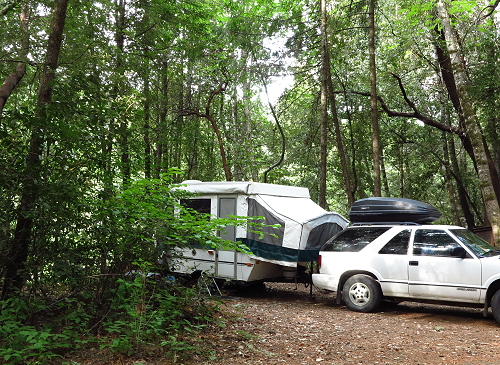 We find a relatively level spot and do a modified set-up, which means that we don't pull the extensions fully out. We don't unpack anything and only have access to what's in the back of the Blazer. It is not as convenient, but it saves a lot of time both tonight and in the morning, as there is almost no set-up or take-down involved. We use a camp stove and mess kit from the topper on the Blazer to cook soup and heat water for tea. I have enough wood to build a campfire and we enjoy a simple dinner sitting at the picnic table.
We do a little walkabout, noticing that there is a lot of poison oak here; I am fortunate not to have walked right through a patch of it at the backside of our spot before Clifford pointed it out to me. Whew – that could have been a bummer! Definitely not a good place for families to camp, as kids would surely get into it. Although the poison oak is abundant, there are also tall Douglas fir, madrone trees, lovely big oak trees, and a variety of shrubs that create a colorful backdrop to our campsite.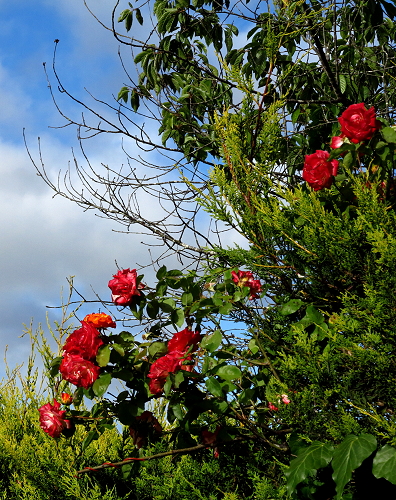 Wednesday May 13, 2015:
Take down is quick and easy, as planned, and we are soon on our way. We stop for lunch in Ukiah for lunch and gas, noticing how much warmer it is here, and arrive at our destination – Sebastopol – by mid-afternoon. I will always hold the redwoods of northern California in my heart, but new adventures and new sights await us.