Sunday January 20: As most days here at La Posa South, my day starts with a walk in the desert, and my thoughts today are of Mary Oliver and her connection to nature so elegantly expressed in her poetry.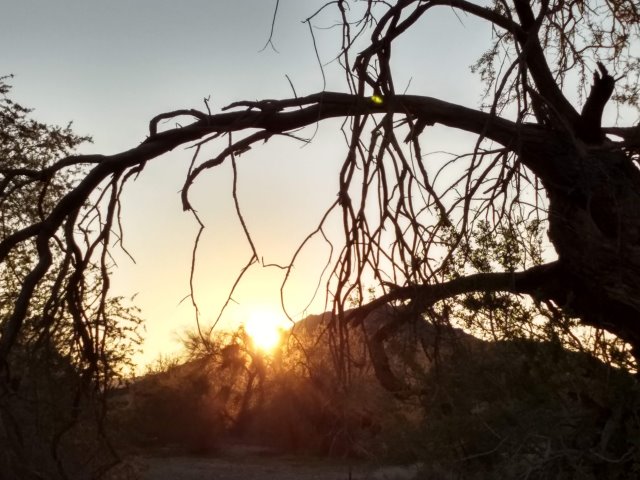 Today I work on a website for my daughter Ang and get some basics in place, but it is slow going, as the net is not great here. The usual evening routine of dinner, cribbage, and dishes finishes the day.
Monday January 21: It is really windy this morning, but I go for a desert walk anyway, visiting Grandmother Saguaro and the rose-bud looking blossom in the arroyo.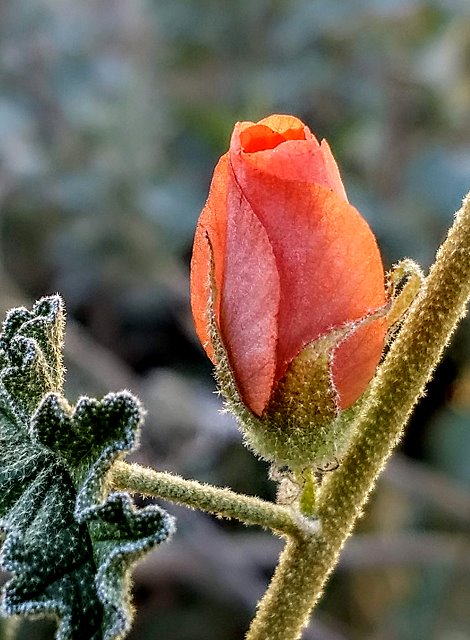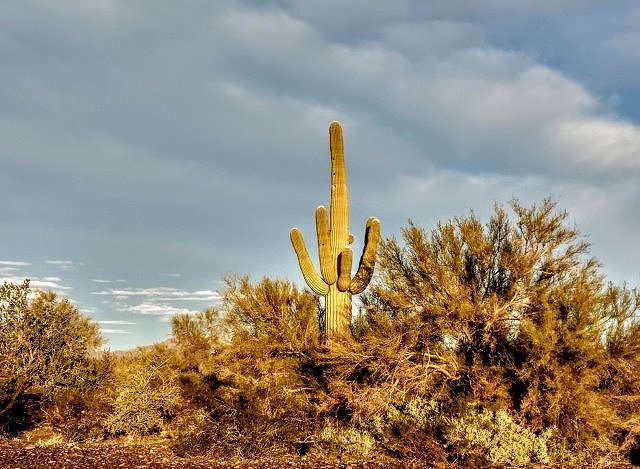 Clifford and I go for an outing to Quartzfest at nearby Roadrunner BLM camping area, as today is the first day of classes and events for the week-long ham radio festival. Other years we have camped onsite, but this year we are staying at La Posa South, as it is easier to not pack up and move. Then we go to Quartzsite, visiting a funky bookstore, Family Dollar, and the market.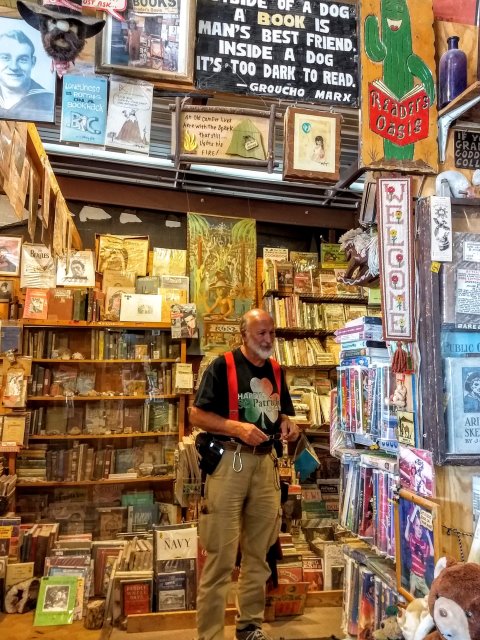 Tonight Clifford has a call with his brothers after dinner, while Rollie and I play a game of cribbage.
Tuesday January 22: Desert walk at sunrise, still windy, but better looking sky than yesterday.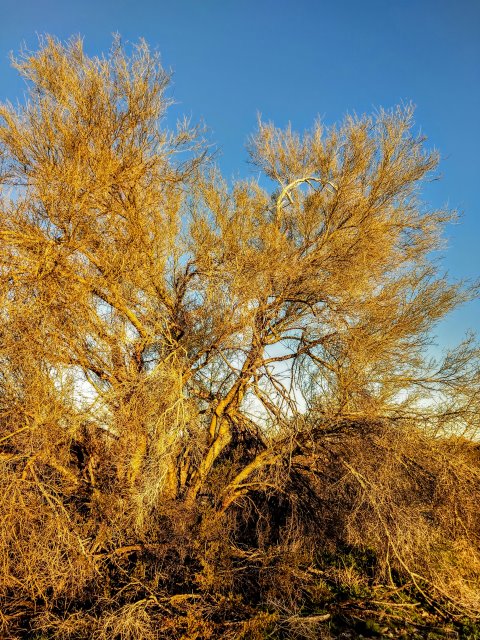 Today Rollie works on the Suburban, replacing garden hose parts with the real deal parts purchased from a Chevy dealer. We have an early dinner then head to town for MacDougal West concert – the Peter, Paul, and Mary Trio clone. They are quite good and we enjoy the concert. Bed late.
Wednesday January 23: I go for a longer walk in the desert this morning – my quiet time.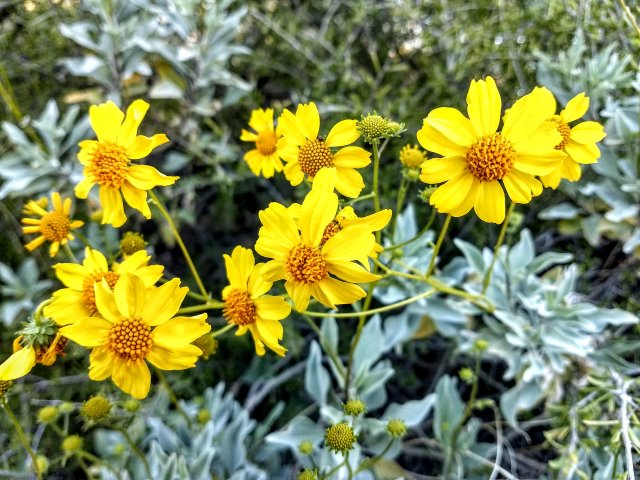 In the afternoon we go to the Outdoor Survival class at Quartzfest. Back at camp, I post a tribute to Mary Oliver with one of her poems and one of my photos.
Thursday January 24: Today is the Quartzfest Trail Ride, which Rollie and I are participating in. Nearly 60 vehicles are in the lineup this year.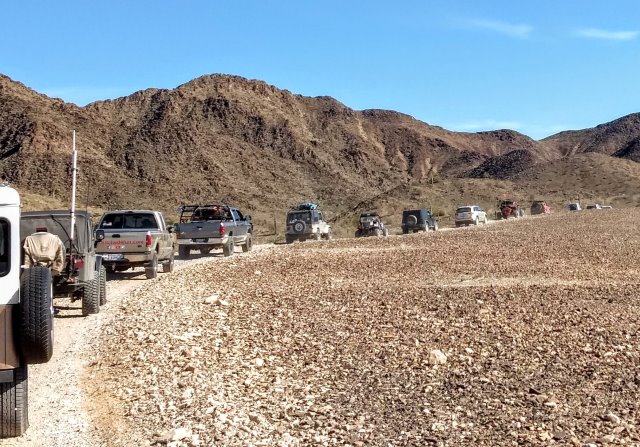 We follow the leader, Frank, down Pipeline Road to Tyson Wash and down the wash to Tyson Well. Using our 2-meter radios, Frank points out the petroglyphs and gives us a history of Tyson Well, an important stop for desert travelers. We are here long enough to climb to the hilltop above the well.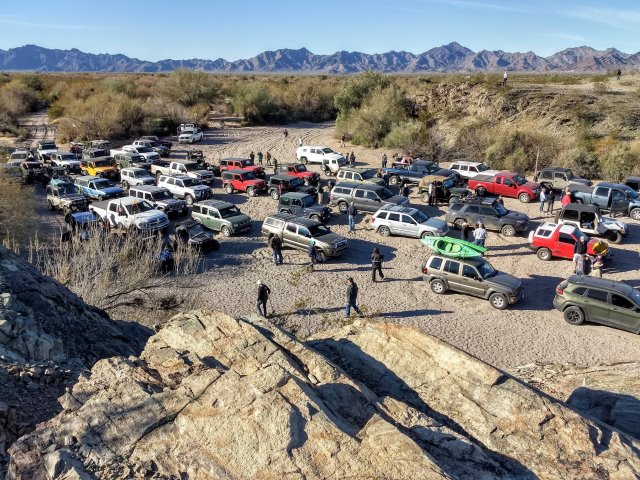 Petroglyph at Tyson Well

Cave on hillside above Tyson Well
Cone' cabin and studio and Coombs cabin are other historical sites where we stop as the journey takes us on back roads through the desert.
Cone' Cabin

Coombs Cabin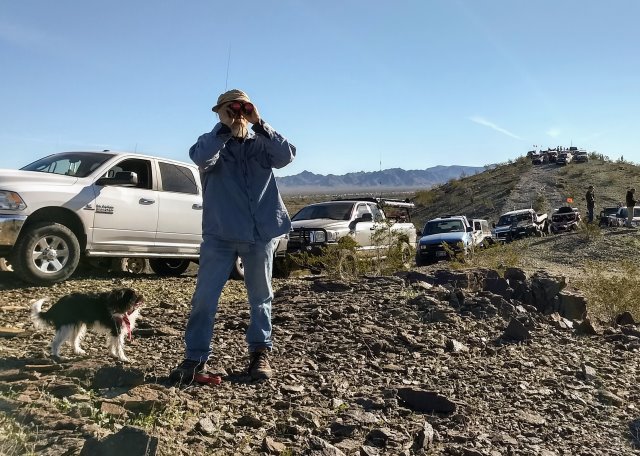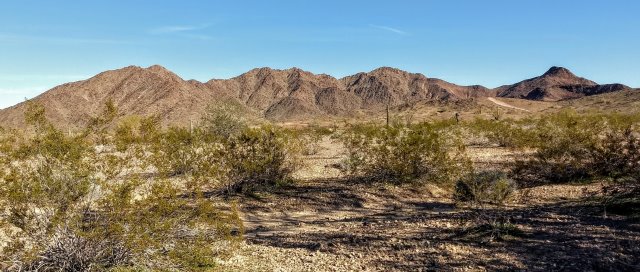 Following Tyson Wash, the caravan heads to the Hi Jolly Monument on the edge of Quartzsite. Plaques detail the history of the camel experiment.
Hi Jolly historical plaque

Hi Jolly Monument
Back at camp, I am experiencing problems with the net, making it hard to send my entries to the Quartzfest photo contest and I am limited to photos taken today and the "rose," which had been previously downloaded to the laptop. Very frustrating. In the evening we drive back over to Quartzfest to attend the Hootenanny for awhile. It was a very full day and midnight by time I head to bed.
Friday January 25: Words and not even photos come close to the experience of being in the desert at sunrise. The ambiance is more than the fresh air and the smell and sounds of birds. I find a perfect seat in the wash to sit and write in the journal, and visit Grandmother Saguaro, "rose," and desert marigold before heading back to camp.
Visiting the desert marigolds…

and "rose"
Smoothie, new kombucha tea, texts with photos, and preparing a blog from early September fill the morning until time to head to Quartzfest for the Antenna Walkabout. Looking at the bulletin board, I see four of my photos have made it to the finals.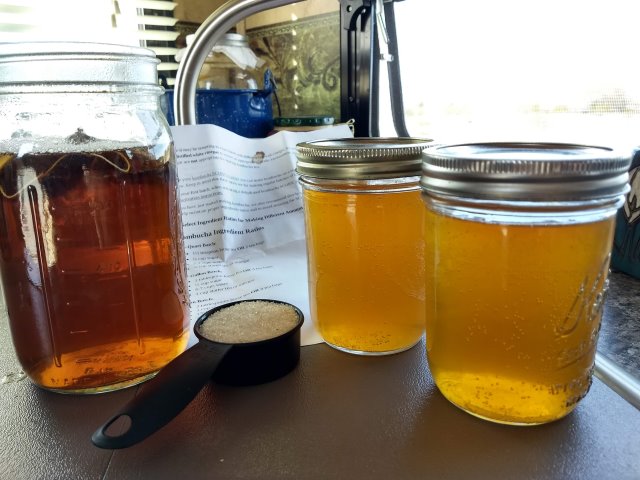 Saturday January 26: For the desert walk this morning, I go to my sitting spot by Top-knot Saguaro, with coffee and journal.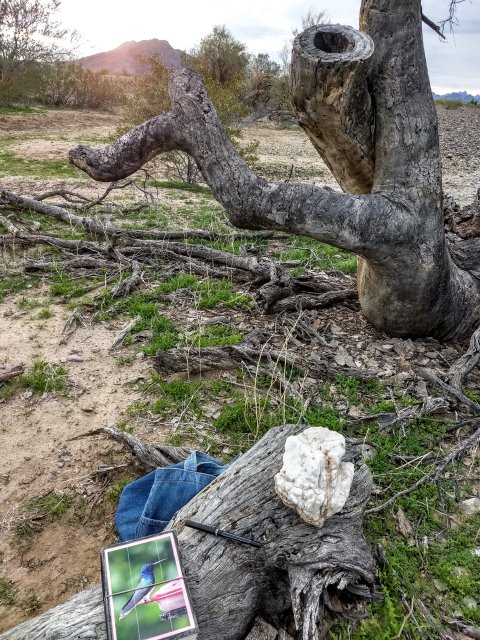 Winter field day starts for Clifford, but is interrupted when we go to the Quartzfest closing. Lots of prizes are given out, and the photo contest is one of the highlights. I am delighted to take 1st in General, 1st in Pets, and 1st in Nature, as well as the Grand Prize. Needless to say, I am quite pleased to have done so well.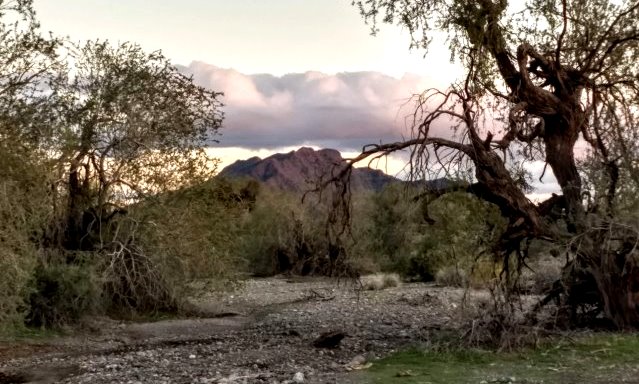 Back at camp, Clifford continues with Winter Field Day, making radio contacts through the evening, while Rollie and I play cribbage after dinner. And as always, whether I win or lose, I am the one who does the dishes. And so ends Quartzfest week – 2019.