Saturday May 9: I wake up in the night thinking about ticks. Hmm… guess I should have taken a shower after our outing to Fern Canyon yesterday, but waking up in the night is not helpful. It is overcast this morning, which is not something we've seen much of on this trip, even though I had heard how foggy and overcast it would be on the coast. Well, the weather is not being "normal" anywhere, it seems, so who knows what to expect.
Today we are going to Eureka and Arcata to the south of Prairie Creek where we are camped. After showers and breakfast, we head out, stopping at a rest stop on the way, as I see one of those beautifully blooming bushes that I had never seen before arriving in California.
I later learn that it is a rhododendron, which I also learn has blossoms similar to azaleas, but the leaves are different. It is a very pretty drive down this curving highway with tall trees frequently obscuring our view of the ocean just to the west of us; lagoons and flowering shrubs add to the beauty of the landscape.
North of Arcata we stop at Clam Beach, as this is one of the hang-outs where Clifford lived part-time in his van for seven years while going to school at the College of the Redwoods and Humboldt State University in his late teens and early 20's. He used to camp in the dunes for free, but now there are a couple fee-campgrounds. We walk out a ways into the vegetation-covered sand dunes so I can see the ocean and take a few photos.
We drive on through Eureka to Fields Landing, a small poor fishing village where Clifford would also park for free during those van/school years. The dirt lot where he used to park is now a day-use paved parking lot for folks coming in to launch their boats. Seeing these places after 40 years brings back a lot of memories for him. After Fields Landing, we find another spot off the highway near the College of the Redwoods. The dirt road down to the "secret" parking place in a clearing in the woods alongside the highway is now obscured with dense growth, as is the clearing, but he recognizes where it used to be. How things change over time!
At the College of the Redwoods, we walk around admiring the lovely campus: lawns, flowering trees, ponds, foot bridges, and flowers of all sorts grace the grounds around the attractive dorms and classroom buildings here.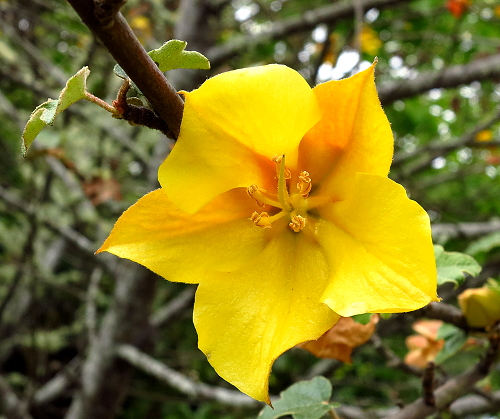 What a great place to go to school! We go inside the building that houses the cafeteria where Clifford used to work washing dishes, and he recounts the experience of being there one evening when a friend of a friend streaked through, to the delight of the students who were witness to the event.
Then we head back to Eureka and out to Samoa, a jetty where the Samoa Cookhouse, once used to feed loggers, is now a popular spot for locals and tourists to have a good home-cooked meal served family-style. We sit at a long table covered with a red-and-white-checkered tablecloth. Big bowls of soup and salad and a platter of fresh bread are placed before us. This is followed with platters of potatoes and roast beef and a bowl of gravy. We finish off with a spice cake for dessert. To begin with I was a bit cautious because of my food allergies, but for the most part, everything sets well with my finicky digestive system. We both enjoy the plentiful food and the ambiance of the place, which is also a museum of sorts with photos and paraphernalia of the logging operations in the area, as well as photos of the loggers who used to eat at this very establishment. While it was a great time for the logging industry, photos of old-growth redwoods, with stumps big enough to become small dancing floors, lying dead on the ground are a source of sadness for me. I am so grateful that national and state agencies are now protecting most of the remaining old-growth forests so that I and others and those to come after us have the opportunity to stand in awe under these giants, some of whom are more than 2,000 years old.
After our hearty meal, a quick stop at Wells Fargo and a visit to the library in Eureka to check email, we head north to Arcata to buy a few groceries. Clifford wants to visit the plaza for more old memories and in the process we find a used bookstore. It is perfect for Clifford because of the college text books that he finds there on microbiology and organic chemistry. In a sudden rush of memory, I decide to see if I can find the book "Legacy of Luna" by Julia Butterfly Hill and am pleased that there are several like-new copies at the used book price. I don't know much of the story of Luna and Julia, but recall that it takes place in the redwoods, or more precisely in a redwood called Luna. Right now is the perfect time for me to read this book. I take my purchase to a chair and begin reading while Clifford continues his search for text books that will aid him in his research.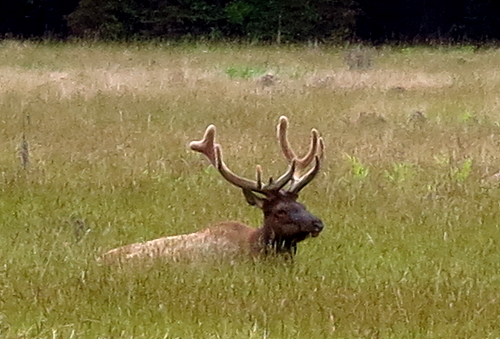 On the way back to camp we stop to take photos of the elk in the meadow adjacent to the campground.  It is getting  late and they are already bedded down, but I take a photo, anyway.
When we get back to the Pony (our pop-up tent trailer) my intention is to download photos, but I read instead and continue reading long after Clifford goes to bed. I am quite taken with Julia's courageous adventure, especially being here surrounded by the magnificent redwoods that she was trying to save.