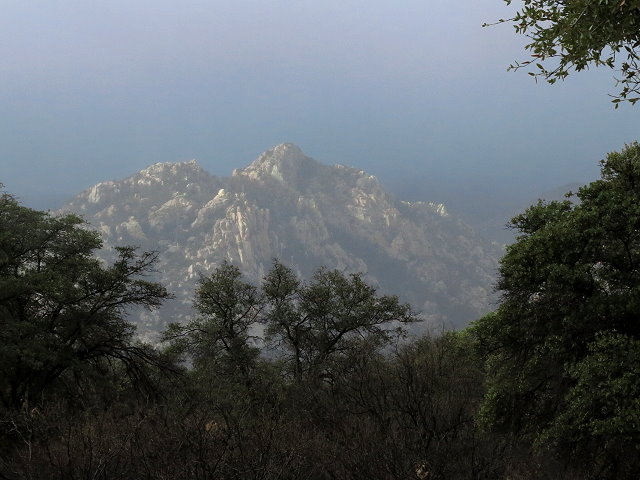 Monday February 19: Very windy all day with hard gusts that shake our little home.
I start the morning with a walkabout n the misty rain to see how much water is flowing in the wash.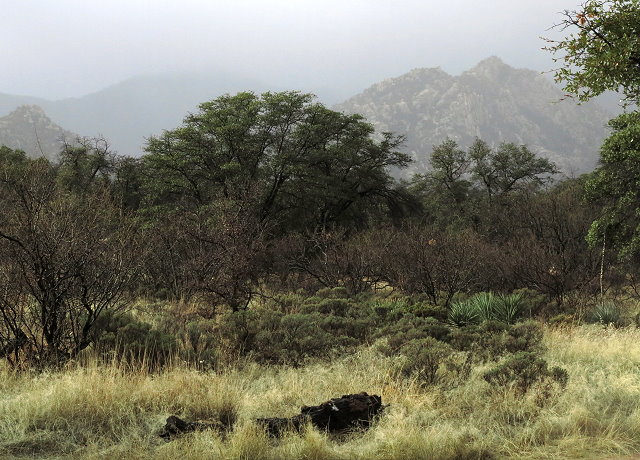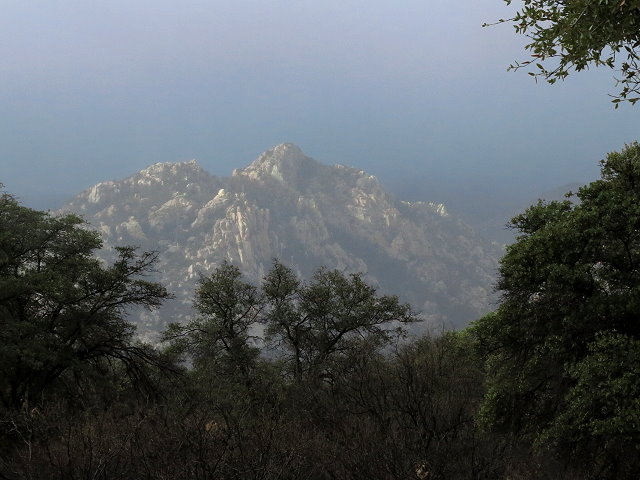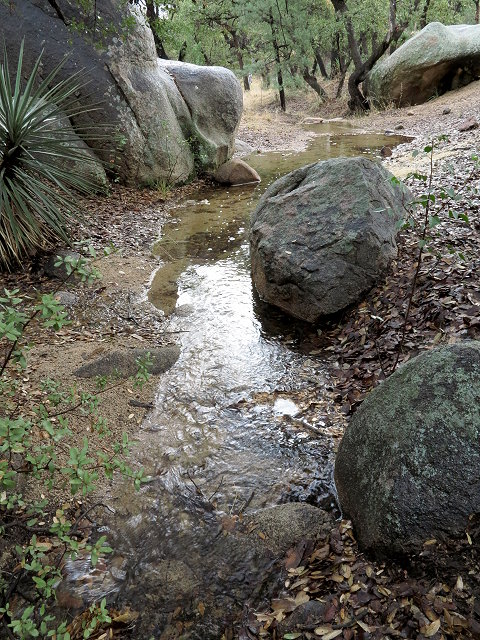 With the rain last night, the waterfalls on the rock face of the mountain have been reinvigorated and I estimate from the water in a free-standing pan that the Dragoon Mountains have received about 3″ of rain in the last several days.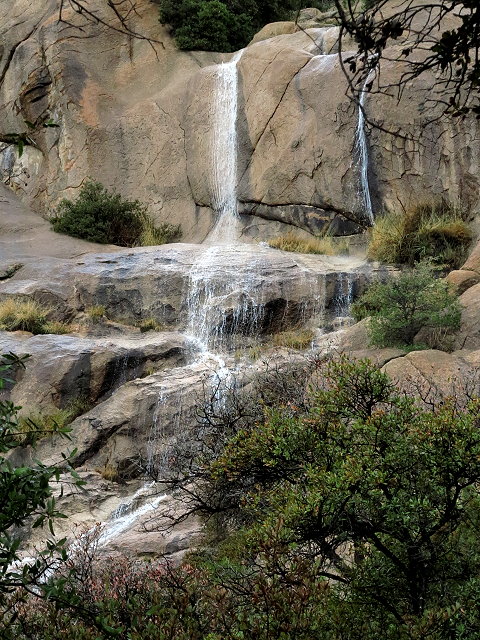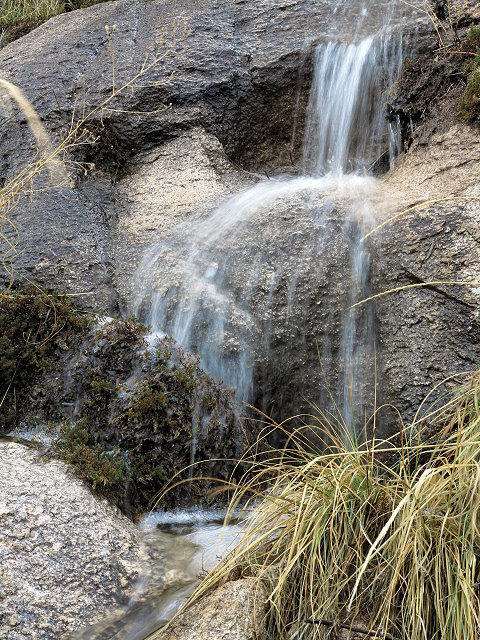 In the afternoon there is enough sunshine to charge my laptop for a few minutes so I can do some editing, but most activities during the day are non-electronic related. Dinner is simply soup and salad, since I am not crazy about cooking and cleaning by lantern light. Living in a cute homey but small camper can be stressful when the weather is not conducive for spending time outdoors.
Tuesday February 20: High today is only 53 and the wind is chilly, so no morning walk. But later, as some blue sky appears, I do a good walkabout up the mountain and then out to the road and back to the campsite via a long loop. It is good to spend time outside.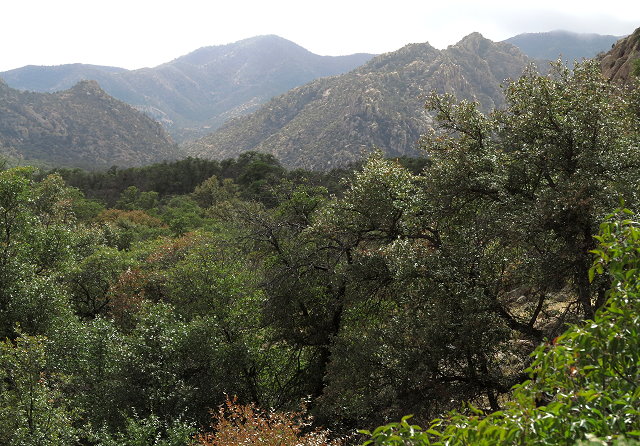 Back at camp, I make a list of things that can be done that do not involve power: Hike, take photos, write in journal, read a book or magazine, play viola, play guitar, color, sing, clean a cabinet, clean the floor, meditate, go visit someone, dance, write postcards, write a letter, gather wood for a campfire, build and sit by a campfire (if it's not too windy), mindmap a project, cook something, gather rocks, knit, tidy camper, tidy campsite, add to planner, study up on essential oils, make coffee and take time to enjoy it. If the cell is charged, then I can add texts to family/friends, practice Morse code, and peruse cell pics.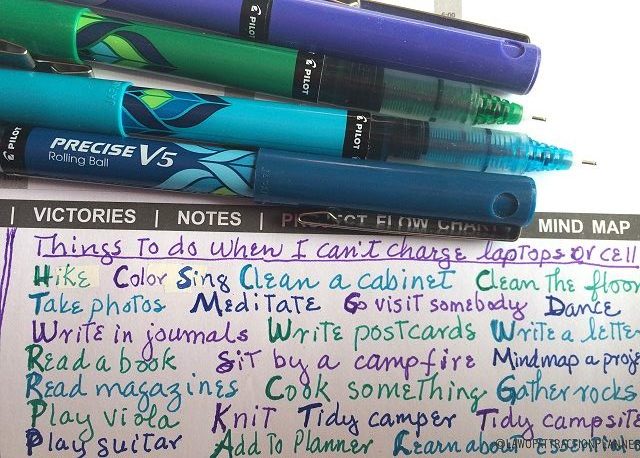 Since cell is charged a bit, I check FB, post a pic, and text with Rollie – he is on the east side of Tucson tonight, having left Parker, Arizona, this morning, and he will be here sometime tomorrow. Big smile! Now I can add play cribbage and music with Rollie to the non-power list.
Wednesday February 21: Breezy and cool with a mix of blue sky and clouds throughout the day.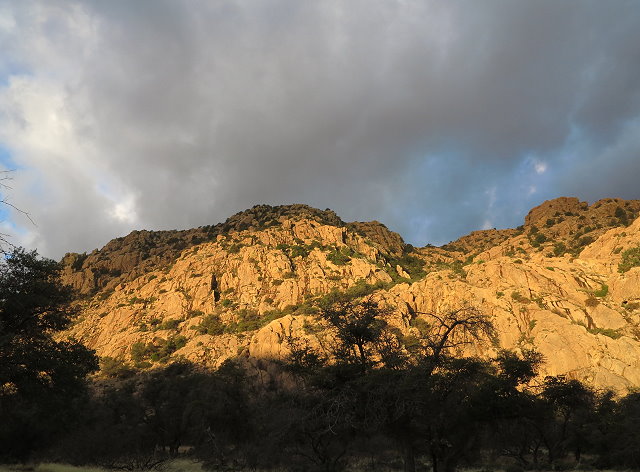 When Rollie and Ninja arrive, I show him around so he can pick a campsite that will work for him; he decides to share our site with us, as that will make it easier to visit back and forth for music and meals.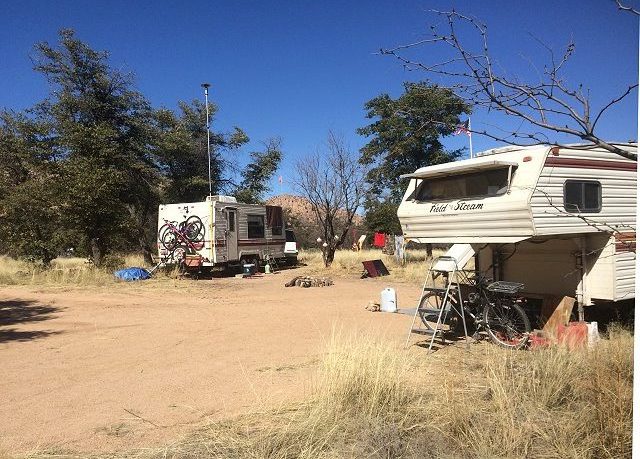 After he is set up, we drive through the entire loop to look for firewood that has been left behind by other campers. Then we head on up to the Cochise Stronghold campground so Rollie can meet the camp host, our friend, Jimi, and we make plans for a hike on the Cochise Trail later in the week.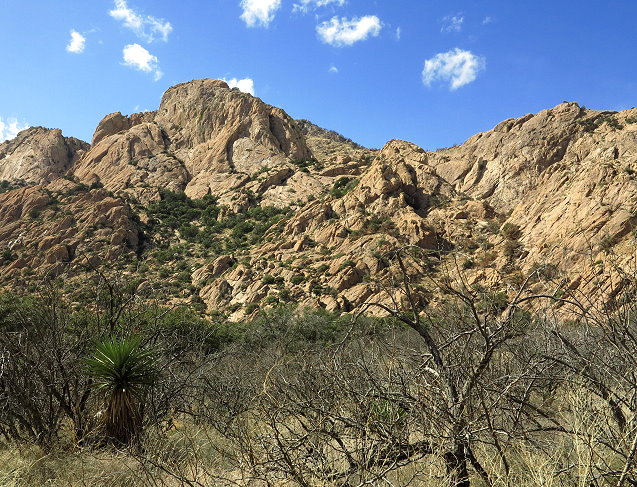 In the evening, we play music at Rollie's camper; fun to play viola with his guitar, now that I can play a few more tunes, and of course, the mandolin and guitar as we were doing earlier in the winter.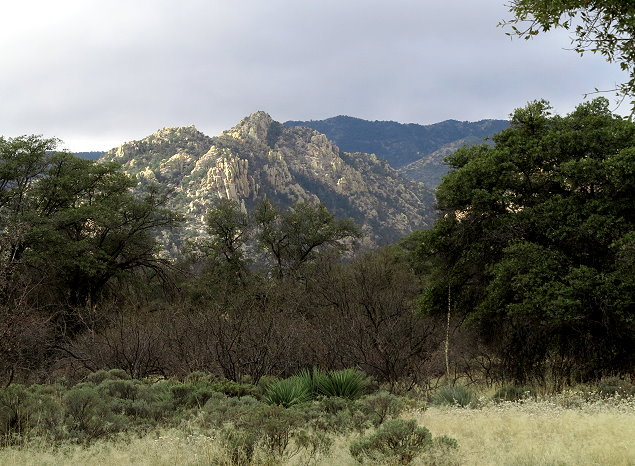 I make a big pot of chili for dinner at our place – too cool and windy to eat by a campfire, but fun to share the meal in the comfort of our little home and catch up with the events of the last couple weeks.