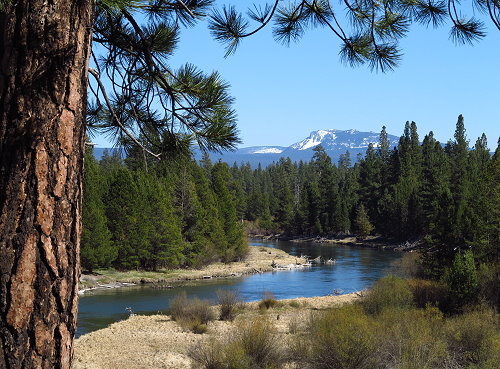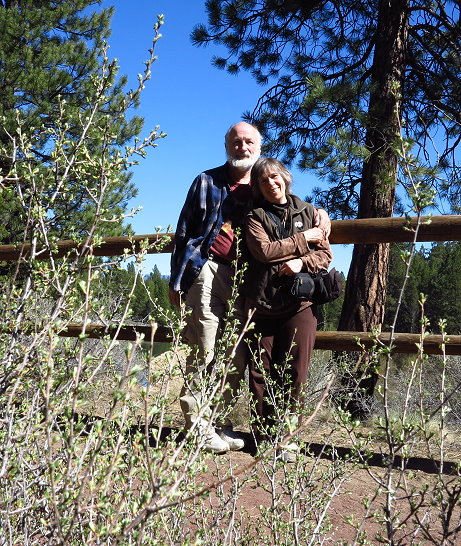 Wednesday April 15

: It is a chilly 18 degrees this morning, but by time I get up, it is already sunny in camp so I don't bother with a campfire. I was going to sit in the sun and write in my journal, but instead I walk along the creek bank taking photos of ice-coated blades of grass. It is really a delight to walk about, warmed by the sun with the blue sky overhead.
Today I start reading the journal started in 1983. Part of this journal, beginning in 1984, I had written out and emailed to Dan in 2008 to give him a sense of the family that he was going to be born into in the fall of 1984. Unfortunately, he became angry with what he saw as my selfishness when I mentioned being depressed, overwhelmed with raising a family and taking care of a farm with little support. It is too bad that the connection I was hoping to establish with him didn't happen, but at least this journal is not as pathetic as the 1979 journal that I read last fall. In spite of difficulties, I continued to be involved with music and other creative activities as well as spending time with friends. What is missing is more of the good and fun stuff that my kids were doing; luckily photos from that time period are reminders of that side of my stressed-out life. And I don't often mention being happy, which is a sad commentary on my life back then.
In the evening I write a blog about our stay in Deschutes Oregon State Park and get the text uploaded to WordPress, but the internet connection is not strong enough to allow photos to be uploaded – so I will leave it for another day.
Thursday April 16:

Even though the morning starts out chilly, it gets up to 63 degrees under a beautiful blue sky. Good morning for a shower, which means heating a pan of water and then finding a private spot in the forest to dump some of the hot water over one's body, suds up, and then rinse off. It works fine as long as it is warm enough outside and private enough. Still a little brisk when we do showers this morning, but sure feels good.
Our hot spots are flukey today. Mine doesn't work well even though Clifford has called the company to reset it; his goes dead but won't charge with USB, which is what we have using the solar panels. "Go with the Flow" is important to keep in mind; so what if I can't get on WordPress, so what if I can't do the CI email…..
We decide to go for a drive back to McGregor Viewpoint so I can take photos on this blue-sky day. I'm concerned that in the previous photos the snow on the caldera will not distinct enough due to the clouds that afternoon.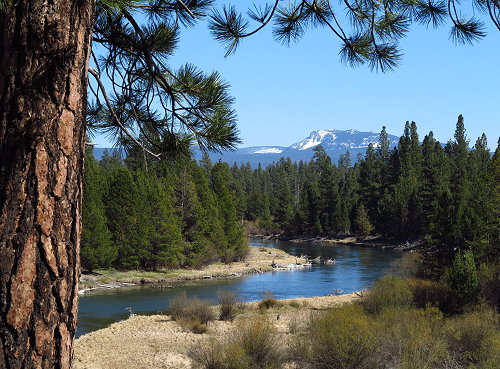 While I take more photos, Clifford continues his research at a nearby picnic table and then we take a double selfie – thanks to the timer on the camera.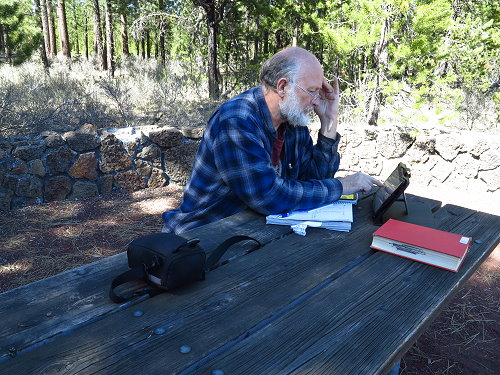 Becka calls while we are there and I tell her about the old journal written when she was one to two years old. Interesting to hear her recount some good memories of her childhood.
In the evening I download the photos taken over the last several days and look at them while we have our CI staff call. Then I do a little more editing, but the internet is still too intermittent to upload any photos, so once again I'll "go with the flow" and leave it for another day, being grateful for having another view of the Newberry Caldera on this beautiful blue-sky day.