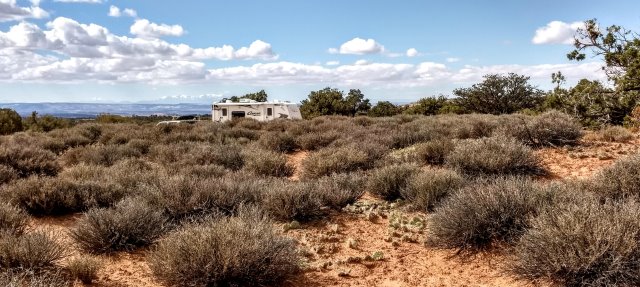 Saturday October 13: It is 32 degrees, clear and windy this morning at Beas Lewis Flat, west of Capitol Reef National Park. The sunlight on the mesa at sunrise is amazing!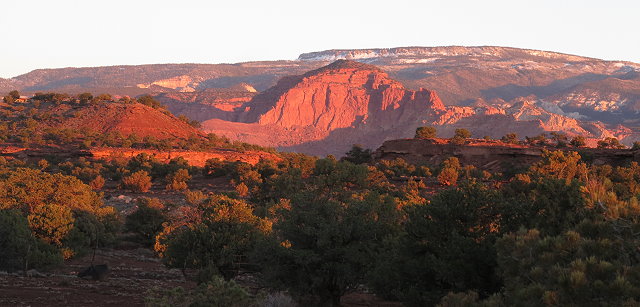 Clifford has been watching the weather forecast; a storm is coming and he figures we should leave. I want to stay and hike in the park as planned and leave after the storm, but my brother Rollie has had enough of chilly weather and is also ready to move on south. So, we pack up and head out, even though I think moving to a popular area (Moab for us) on a Saturday is a bad idea.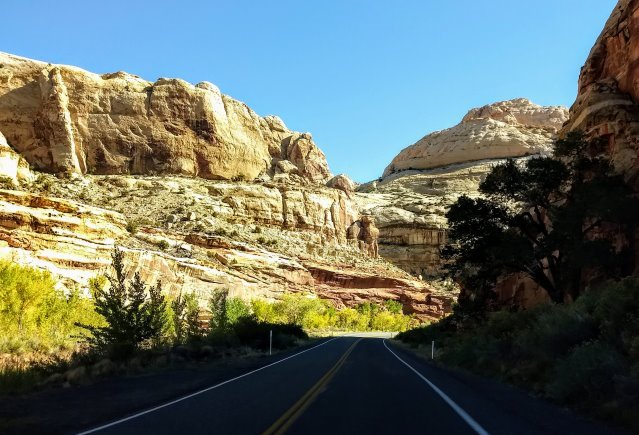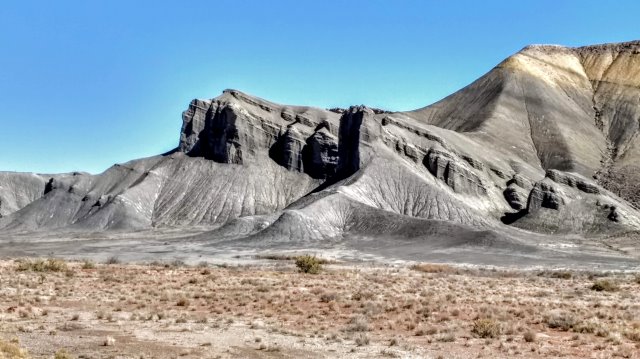 We arrive at Horsethief Campground outside Canyonland National Park in the late afternoon and sure enough, there is not a single site available. We keep on going out Mineral Point Road, as we know there is some dispersed camping about a mile further on. When we reach this dispersed area, we discover that it has been closed. We continue on and it seems that every available pull-out is taken. Finally we choose a spot that is small, hard to get into, and close to the neighboring campers, but the best we can find. We are barely off the road, the ground is far from level, and the sand is soft. It is one of the hardest parking and set-ups we've ever done, but at least we have a home for the night.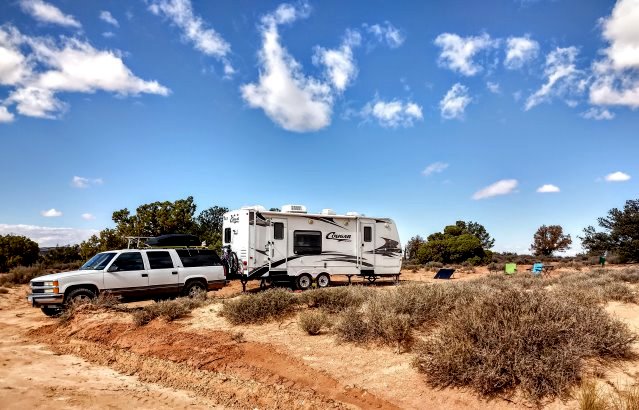 Sunday October 14: It is a windy chilly day here in this sagebrush desert. We had thought we'd move to Horsethief Campground this morning, but decide there really is no point in doing that since we are set up here now. It is very peaceful here and the neighbors left, so we don't feel so much like we are crowding someone. And interestingly enough, we have better cell service at this location with the slightly higher elevation and a view of the snow-covered La Sal Mountains (cell service is better when there is line-of-sight to La Sal Mountains).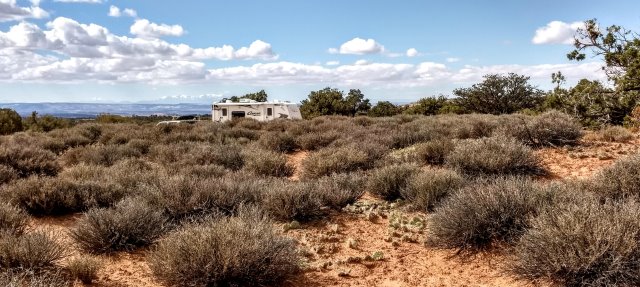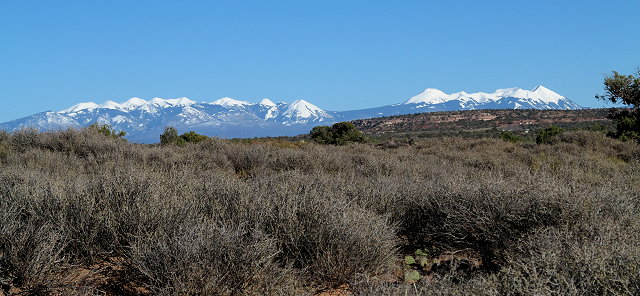 Since we are not moving this morning, I walk down the road to take photos, send texts with photos to family and friends letting them know where we are, redo the fire ring at the campsite, and rake out unsightly tire tracks. In the afternoon I edit, making good headway on the revised and updated version of Ang's epic fantasy, Princes and Priests. Clifford has kept himself busy with working on video projects for CI, ham radio, and his dulcimer.

Monday October 15: It is 25 degrees outside and 34 inside! That is a bit chilly for an inside temperature, but we can't run the furnace without electricity. Ah well. Making coffee and cooking a big batch of applesauce with the last of the wild apples warms Cougar up.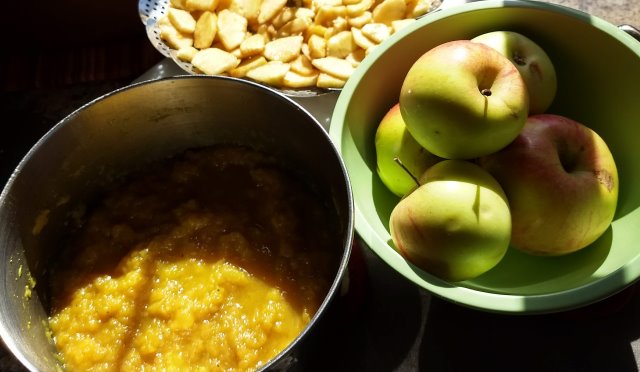 Clifford continues working with the video project and his ham radio set-up today, and I continue editing.
Tuesday October 16: Another chilly morning, but luckily Cougar's living space is small enough that it warms up adequately with making coffee and breakfast. Today we go to Moab for errands and a stop at the public library where we can use power and free wifi. I post a blog of our brief stay at Agua Fria National Monument in Arizona on our way north last spring. Clifford always has research to do when the opportunity presents itself.

Back at camp, we have a late dinner, and even though it is near bedtime by time dishes and cleanup are done, I take out the viola and play for a bit. Sending texts with photos rounds out the day for me, while Clifford stays up to listen to the radio.