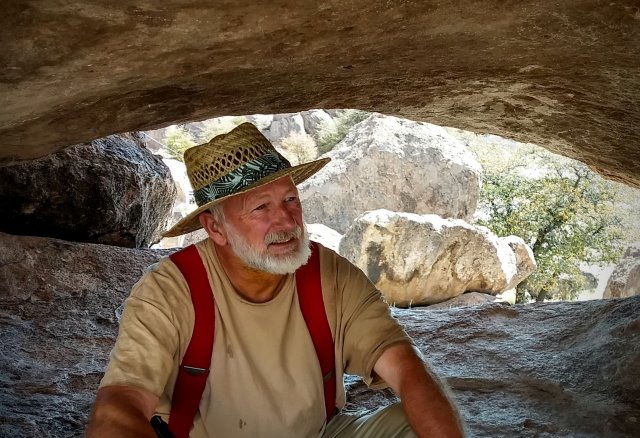 Tuesday April 9: After breakfast, Clifford and I go with our friends to the Botanical Gardens here at City of Rocks State Park in New Mexico where we are all camped. Then we hike through the rocks, not on the trail, but wherever our meanderings take us. We find a big "cave" in the overhang of a large boulder and spend time here in the shade as we visit.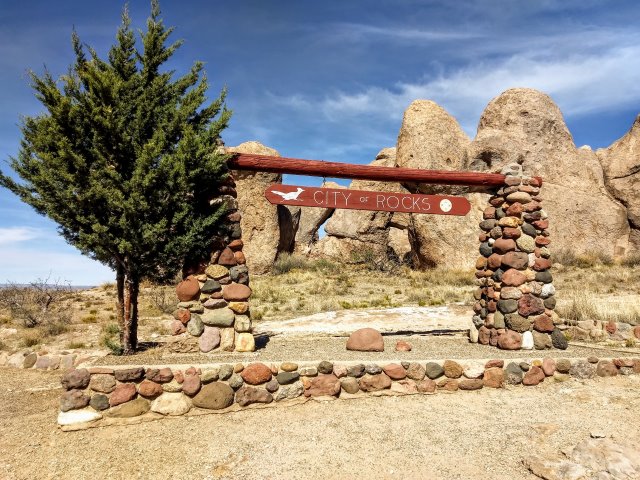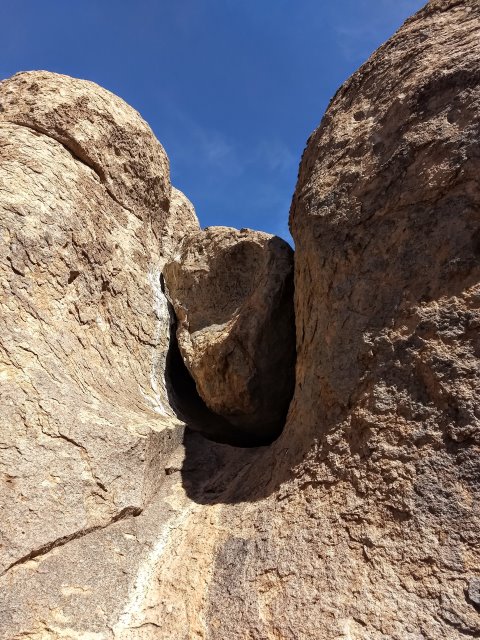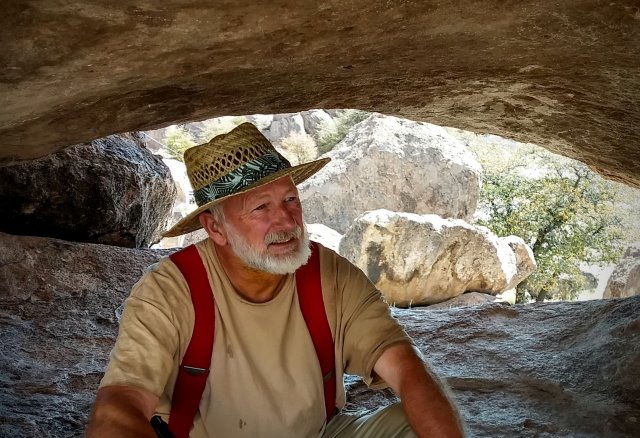 In the afternoon, we all work on our various projects. Our friends make dinner for all of us this evening, which I especially appreciate, since I am most usually (like nearly always) chief-cook-and-bottle-washer. It is nice to have someone else take on this important responsibility.
We have been checking the weather frequently, as tomorrow was to be our leaving day. However, we see that it will be too windy for us, with gusts up to 60 mph on our intended route. There is sleet in Montana where my brother Rollie is headed, with a forecast for snow, possibly a lot of snow from the "cyclone bomb" that is hitting Colorado tonight and tomorrow. It is normal to be windy on the east side of the Rockies in the spring, but some of weather we are seeing and hearing about goes way beyond normal.
Wednesday April 10: It is windy and windier, with a temperature variation between the low last night and the high today of only 2 degrees. The sky is pale with dust, no doubt from the high winds. Our friends left very early to try to beat the inclement weather and high winds, but we heard later from them that it was a very harrowing drive for many miles. It would have been worse for us in the direction of our next destination. During the day we notice no one (other than our friends) leaving and no one coming into this usually active state park. We are staying beyond the 14-day limit, as are others who cannot travel today.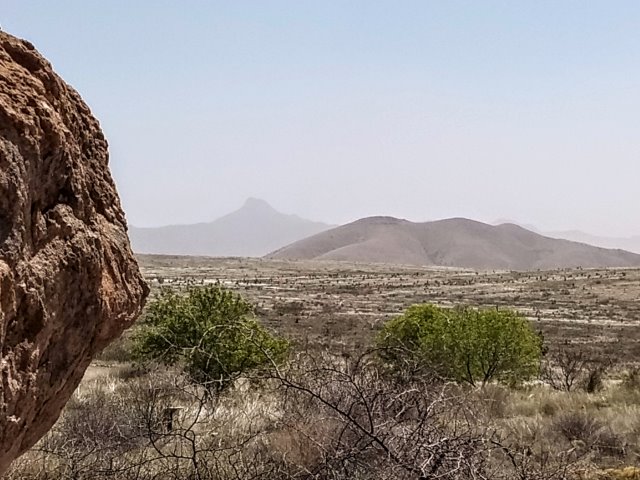 The wind is wearying and I head to bed as soon as the dishes are done. I have scarcely had time to fall asleep when Clifford wakes me up to find out where the mouse traps are. Traps are set and a mouse caught before I am even back asleep. Hope that was the only one!
Thursday April 11: It is not quite as windy this morning, so I go for a walk and take a few photos with plans to go back when the sun is in a more optimal position.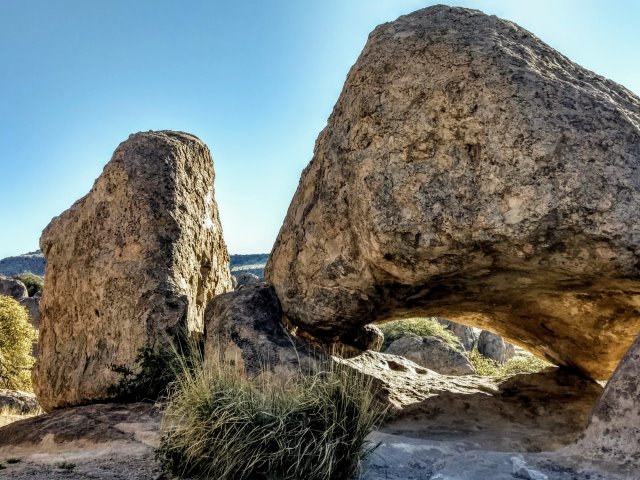 However, by afternoon it is too windy to go hiking in the rocks again. We work on CI projects: MeWe, Friends of CI for our fund-raising platform, and start the quarterly newsletter. In the afternoon, we go for a short walk, very chilly, and back at the campsite, we pack up all the outside chairs, tables, solar panel, and so on, as we intend to leave in the morning. Other than the wind, we have enjoyed our stay here, but it is time to move northward. We have things to do and people to see!