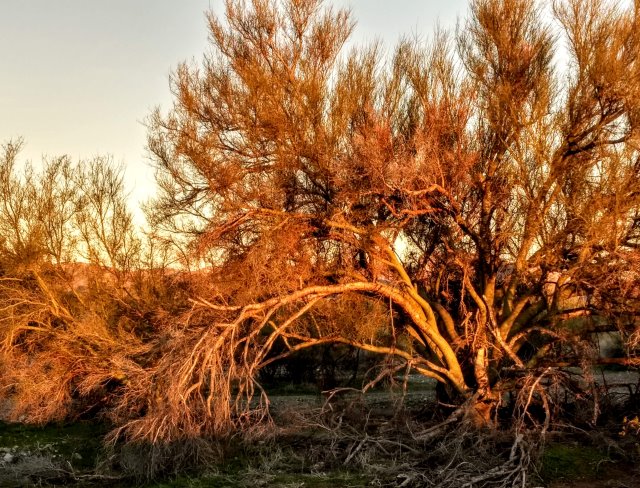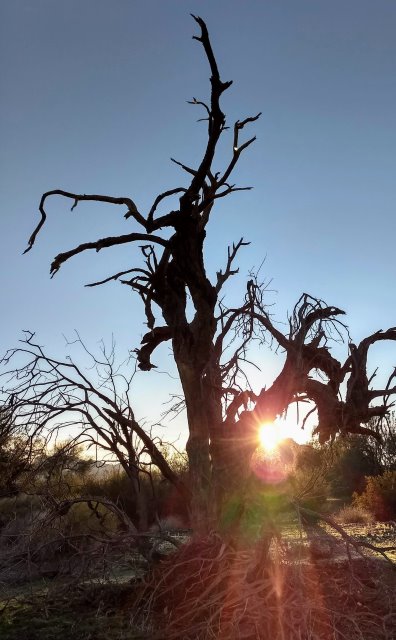 I begin each day with walking in the desert here at La Posa South, the long-term BLM camping area south of Quartzsite, Arizona. Clifford and I, and my brother Rollie, are camped a couple miles in from US highway 95, and there are not nearly so many RV's out here as compared to the area closer to the highway.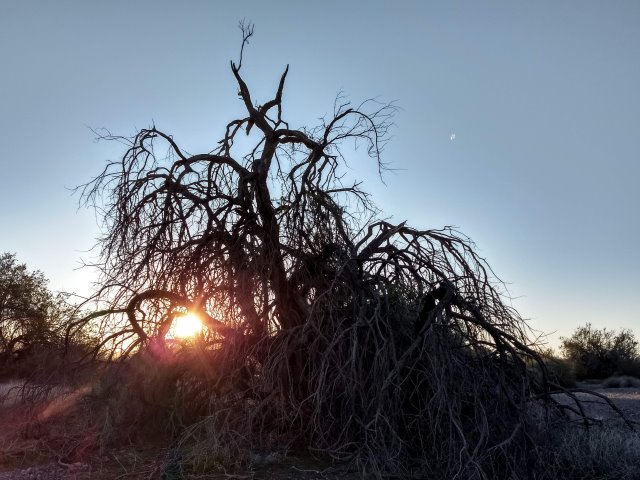 We are camped along a wide wash, and it is an easy matter to cross the wash and walk out into the uninhabited desert or just follow the wash. Most days I head toward the closest mountain, which I call Shale Mountain, since when Clifford and I hiked there, we found that it was just that – a mountain made of shale. The stillness of the desert appeals to me and I find it easy to be there, sometimes finding a place to sit on the trunk of a fallen dead tree.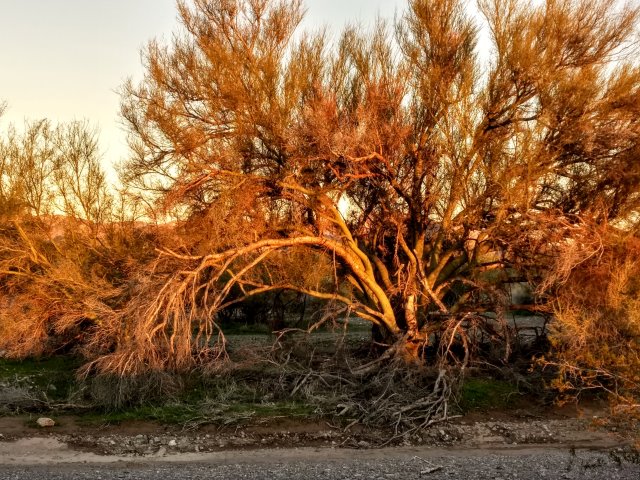 Some days I make a thermos of coffee to take with me, as well as my journal, and always my cell phone for taking photos. The sky has been mucked up with jet trails almost every day, which is a very grievous environmental issue, but one I won't go into detail here, other than to say it makes taking photos much more of a challenge.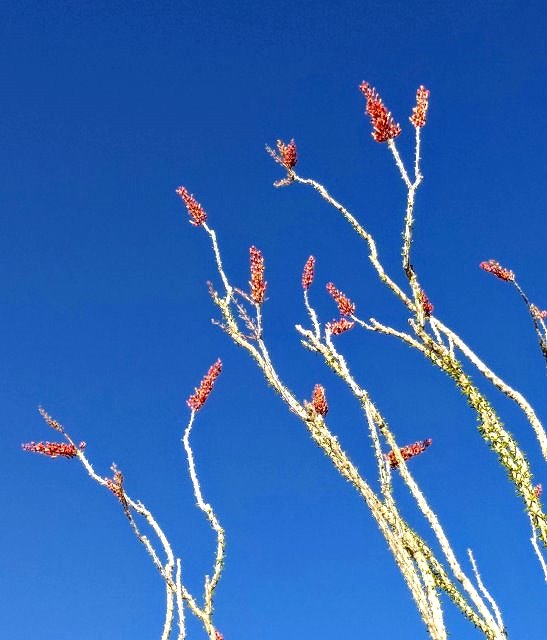 I am not afraid of getting lost, as I have landmarks on the surrounding mountain ranges, as well as the immediate landmarks of certain saguaros, such as the one I call Grandmother, as it is one of the larger and more stately saguaros in this area.
Grandmother Saguaro ….

… is a landmark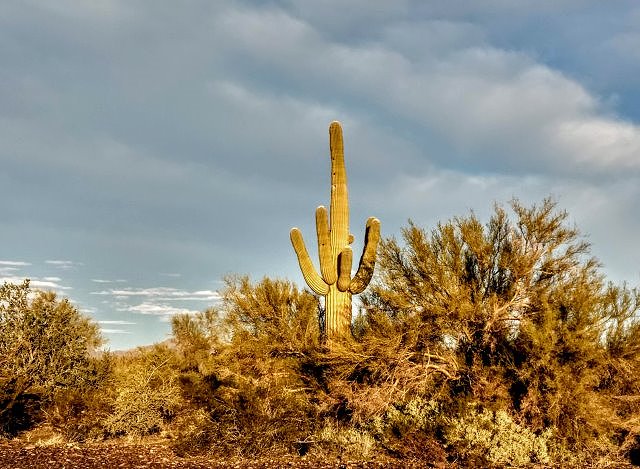 It is always a delight to me to find wildflowers blooming, most often a clump of desert marigold, but one particular bush has small red buds that look like rose buds, though the plant is definitely not a rose.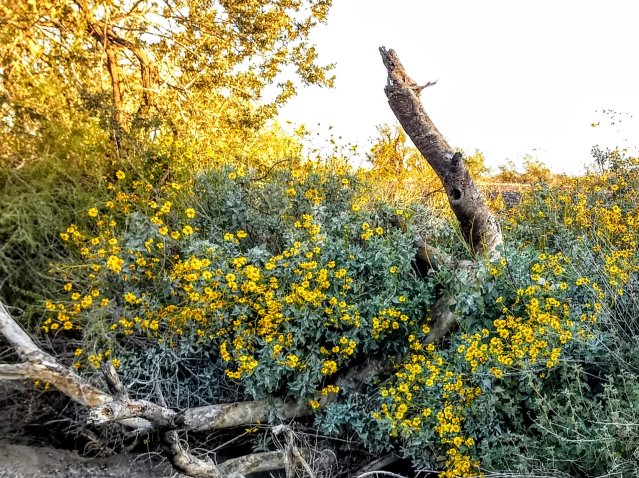 A rose bud that is not …

…a rose
As I wander in the desert, I feel connected to the earth and the poems of Mary Oliver, and I am saddened to learn that this great soul has passed on.
At the laundromat, we meet a fellow musician, Daniel, who comes out and camps next to us for a day so we can all play music together. It is always fun to add another musician to the bluegrass get-togethers that Rollie and I have almost every day.
Rollie is going to the bluegrass festival at Blythe, California, this weekend, as is Daniel. I watch Ninja, who is quite a good companion on desert walks, which are more like desert runs. He is patient when I stop to take photos, and then on we run.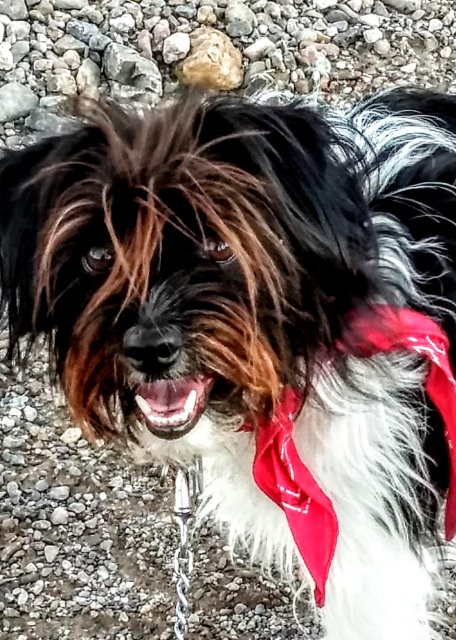 One day Rollie makes a door into the storage compartment under the bench in our RV, allowing access to the portion that was previously out of reach. It is great to have a place for canned good; storage area in RV's is always a precious commodity. In the evenings after dinner, we play cribbage, which is fun for us.
Rollie making a door into storage compartment

My winning cribbage hand
On Clifford's birthday, he and I go to Parker, partly business and partly for fun, having lunch at the Blue Water Casino. It might not have been the most exciting birthday ever, but we are happy to be well and to spend the day together.