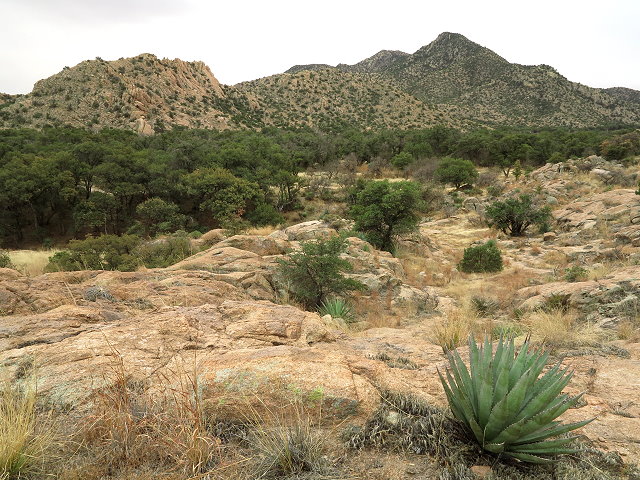 Tuesday February 13:  No time for a morning walk at Snyder Hill, west of Tucson, as we are packing up and leaving for Cochise Stronghold in the Dragoon Mountains, about 50 miles east of Tucson.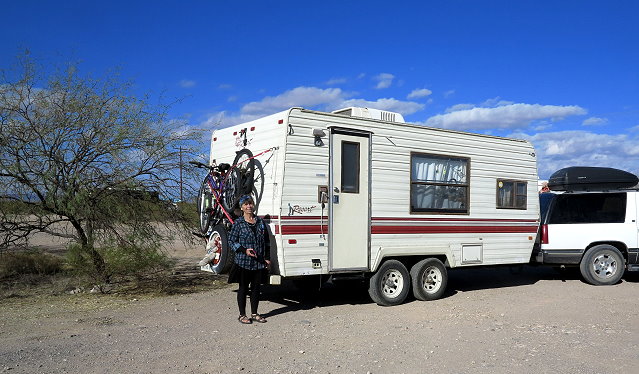 We make stops for propane, water, and groceries, as well as picking up forwarded mail, so it is afternoon by time we make it out to the Stronghold.
This time we are camping in the dispersed area along the forest road that leads to the campground. This area will give us more space, more sunlight for the solar panels, and it is free. Between the recent wildfire and the forecast for inclement weather, no one is there and we have our choice of campsites.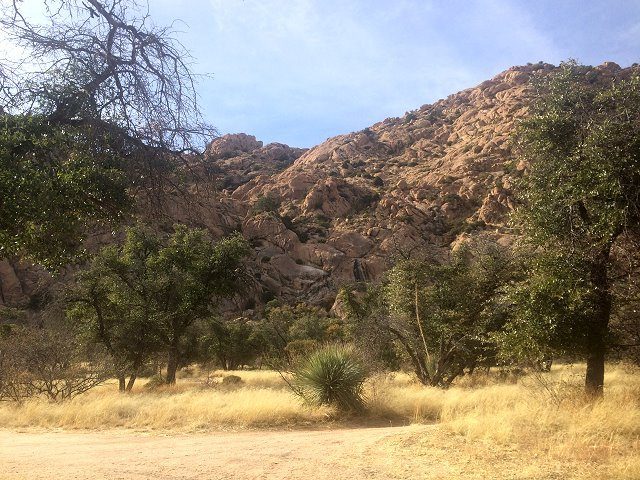 We find a spacious site and get tucked in between a couple of oak trees. Clifford takes care of the solar panel and ham antenna while I get the inside ready for us.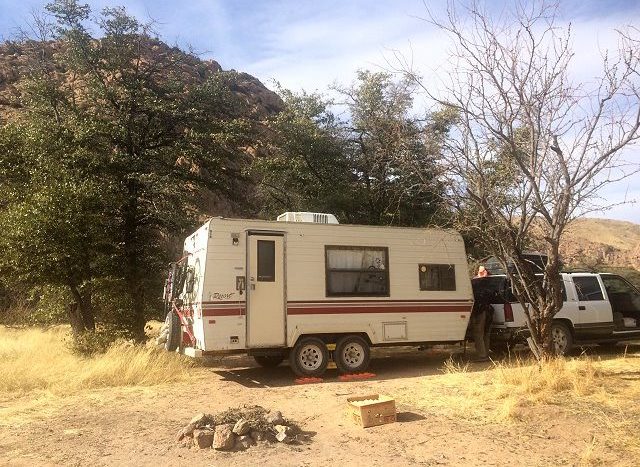 I call and/or text my kids to let them know where we are before going for a walk to explore. There are several other campsites that could have been suitable, but this one is good for this time of year. I am happy that it worked out for us to come after all, with the beautiful scenery and ample hiking opportunities away from traffic and noise. There is something about this place that really resonates with me.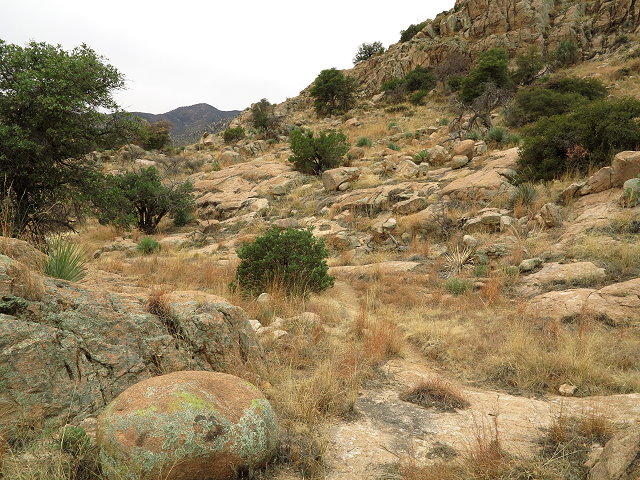 Wednesday February 14: It is cooler here today than the past week in Tucson, with a high of only 60. I send Happy Valentine's Day greetings to my kids and my siblings. And, of course, Happy Valentine's Day wishes to Clifford!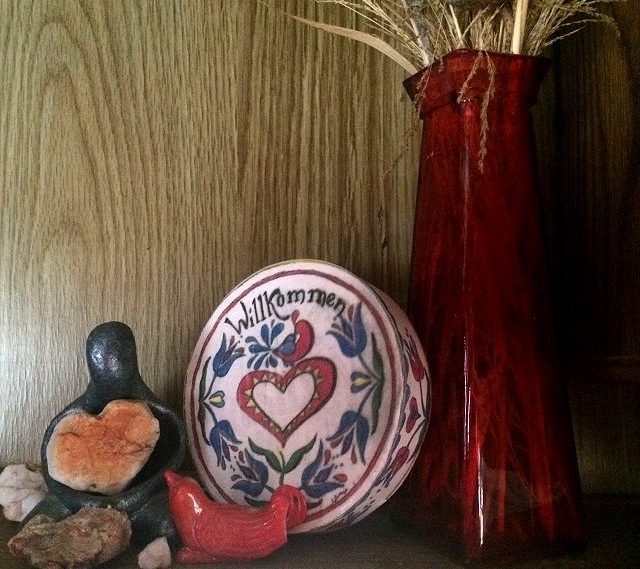 This morning I explore the ravine at the base of the mountain, discovering faint trails up the rocky slopes. Walking the road that meanders through the camping area, I find more campsites and another trail up the mountain. I hike a short distance up the trail and sit on a rock there, with a great view of the valley below and mountains beyond.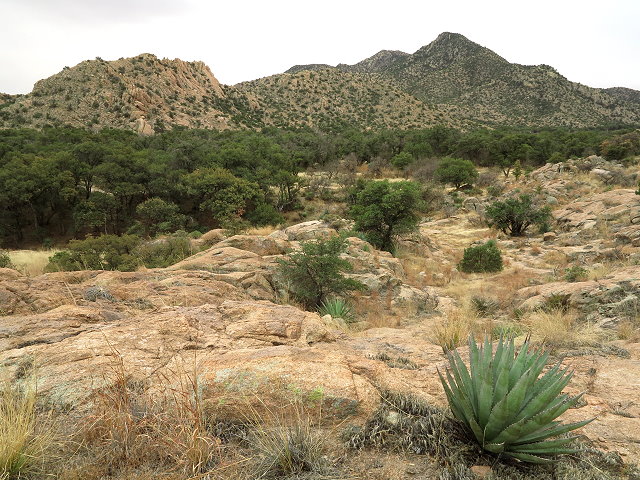 Back at camp, after writing thank you cards to recent donors to Carnicom Institute, we drive out to the Peace post office and on to Marsha's Garden, a great little shop of lotions, salves, soaps, creams, and candles made with goat milk and essential oils. I take my time selecting items to purchase, enjoying the wonderful smells of this delightful little shop.
On our way back to camp, even though it is raining, we drive on out to the campground to say hi to our camp host friend, Jimi.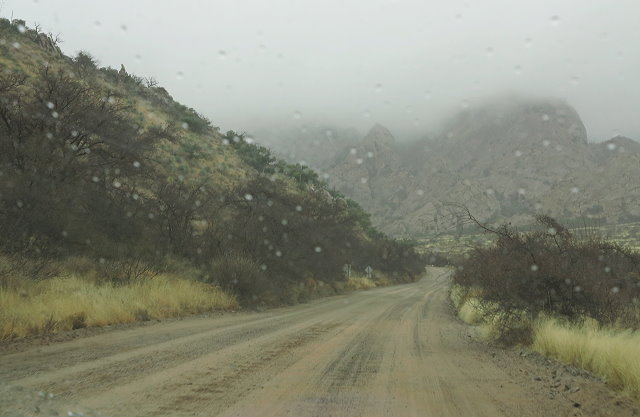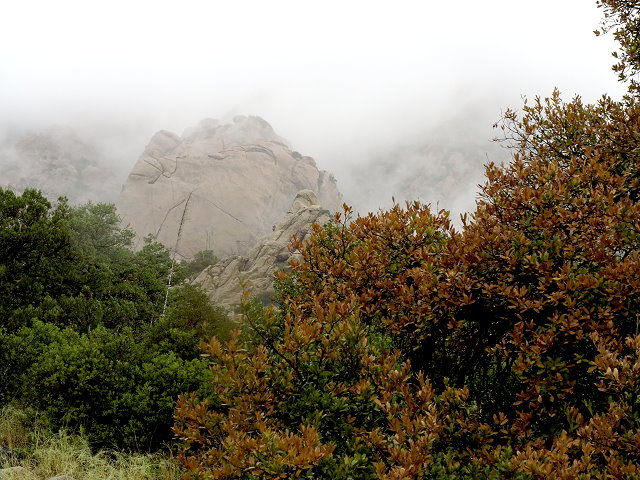 Back at our campsite, we discover that our camper has leaked and our bed is wet, all the way to the mattress pad. Ugh. We soak up as much as possible with towels and let the layers dry out over the course of the afternoon. We put a tarp over the vent, as it appears the rain will continue. I am happy to be here and grateful for the rain!