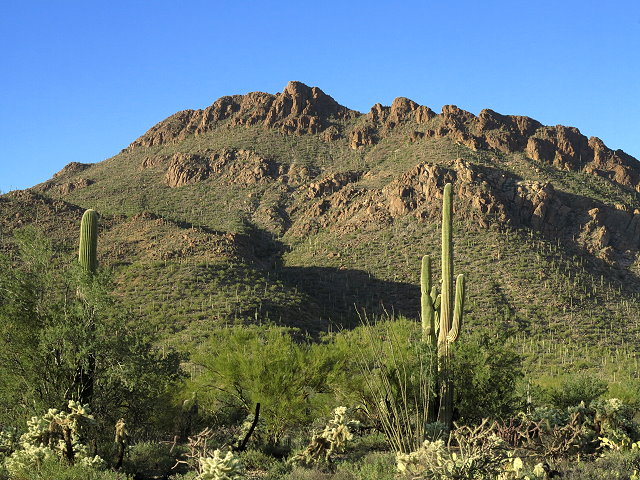 Wednesday March 1st is a beautiful blue-sky day. We run a couple of errands in the morning, and then drive out to the Saguaro NP, which is not far from Synder Hill where we are camped. This park is a fine example of the lushness of the Sonoran desert with its variety of vegetation, including blooming shrubs, several varieties of cholla, ocotillo in bloom, and great tall saguaro cacti. Because of the rains in the December and January, the desert is more green than usual.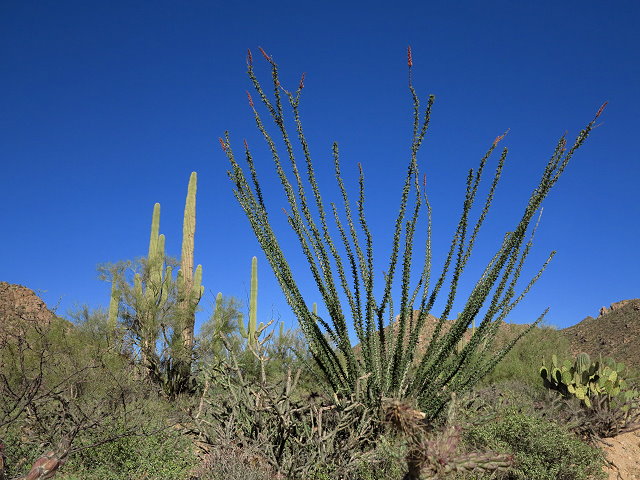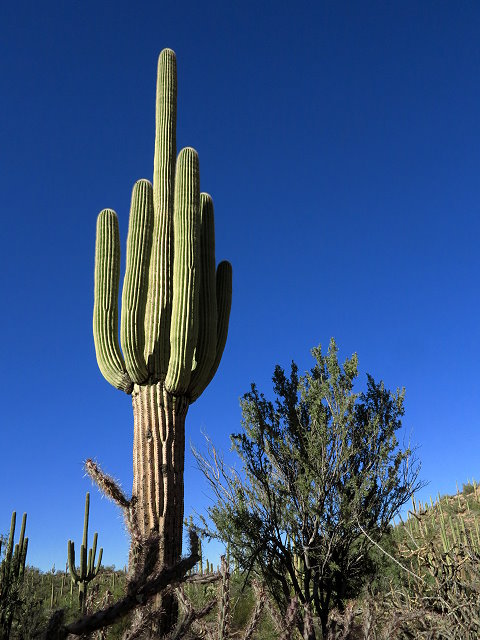 We go to the Visitors' Center and then decide on the loop drive that will take us to Signal Hill. Signal Hill has a day use area and there is a nice hike to a rocky hilltop where there are petroglyphs. In addition to the petroglyphs at the viewing area at the top of the mound, we spot other petroglyphs on rock faces that are mostly unseen unless one happens to look in the right direction at the right time.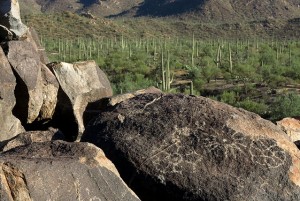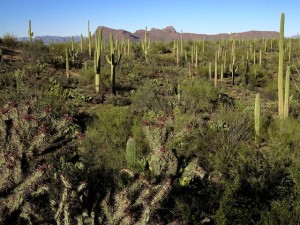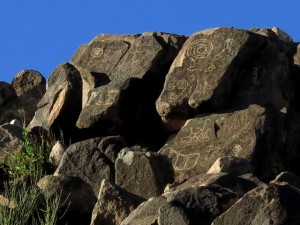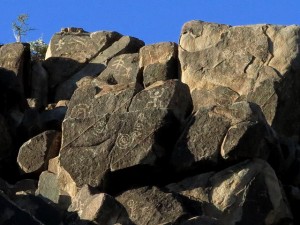 On the way out, we take the wrong road and miss seeing flowers that I was hoping to photograph. We plan to come again, so I hope to catch them next time.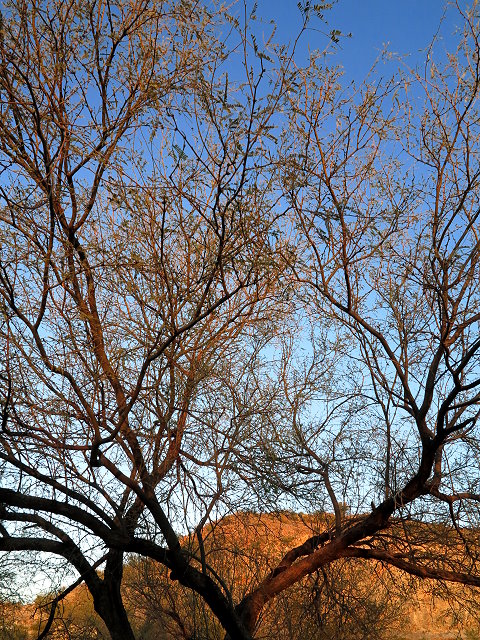 Thursday, March 2nd – today is another beautiful day. We reorganize the tubs – Clifford's books and scientific instruments – in the back of the Suburban, making things neat and accessible. Clifford had ordered a radio, which has arrived at a UPS store in Tucson. He drives in to get it, but I stay at camp and take advantage of the nice day to play cello outside, the first time in quite awhile.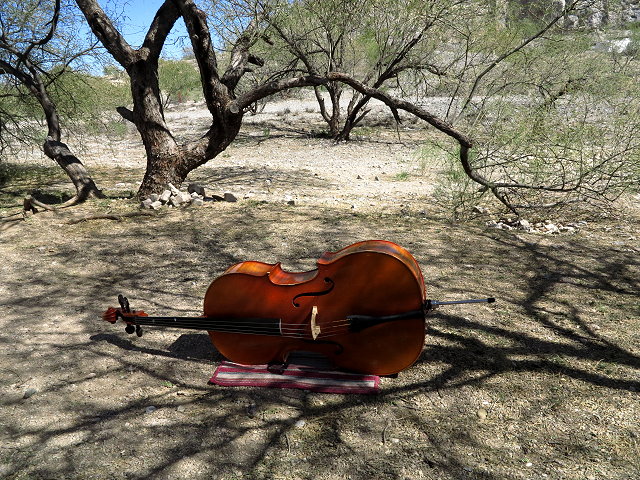 In the afternoon we drive back out to the Saguaro NP, but today I don't see the flowers in bloom. Too bad, but it is nice to be there again and take a few more photos.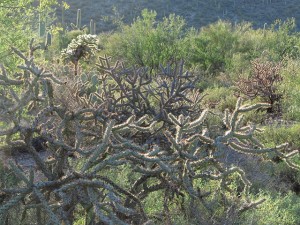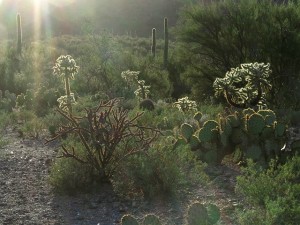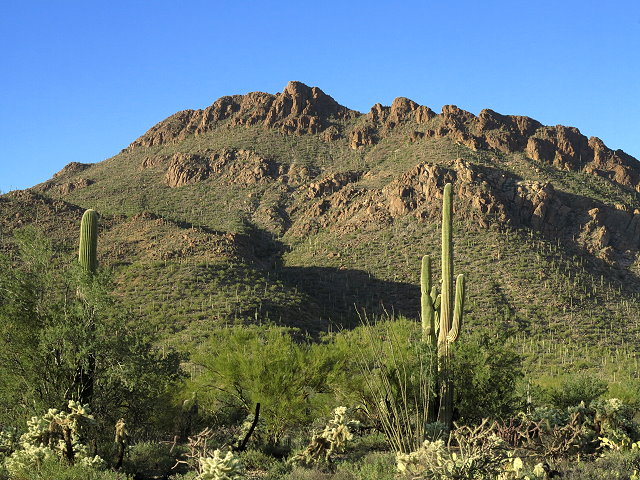 We explore the Gilbert Ray Campground, located near the park. The campsites are very close together, but there is enough vegetation to provide a sense of privacy. In the evening, after dinner and cleanup, I do some bookwork and take care of emails, while Clifford works with his new radio.
Friday, March 3rd – A super windy day. Our friend Dan comes, and he and Clifford go to Tucson to take care of errands in regard to getting the Suburban ready to tow Terry: wiring for the electronic brakes, different ball hitch, a new tongue jack, and other such stuff. While they are gone, I write postcards to send to family and friends; too windy to play cello. When the guys get back, we go to Three Point Cafe for lunch. In the afternoon, after talking to Becka, I go up Synder Hill to take photos of the setting sun.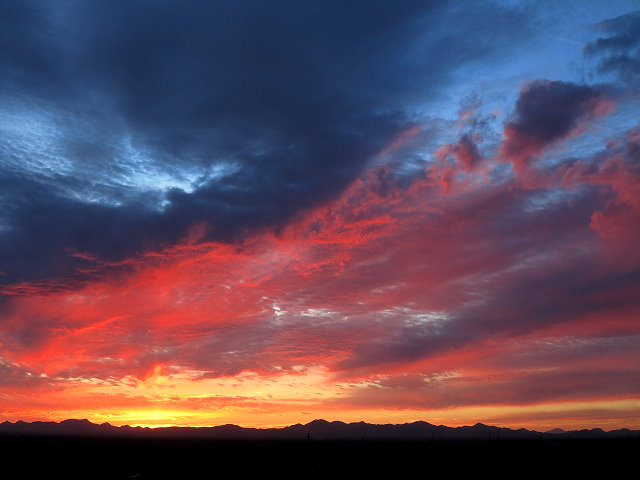 Back at camp, I download my camera – over 300 photos since my last download. Later I edit Princes of Purt – the next book in the Novel of Shannon series by Angela MacDonald (an exciting series for epic fantasy readers) – until the battery on my laptop goes dead. This was a good productive day for both of us!