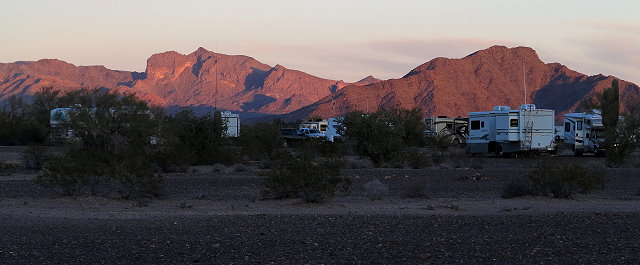 Quartzfest is the annual gathering of amateur radio operators and their spouses at the La Paz BLM dispersed camping area south of Quartzsite, Arizona. There were events and activities all day, every day.  Clifford attended classes on portable antennas, vertical antennas, drones, the Red Cross, RV Refrigeration, participated in the antenna shoot-out, and studied for his ham test, which he took and passed with flying colors (he now has his Extra Class license).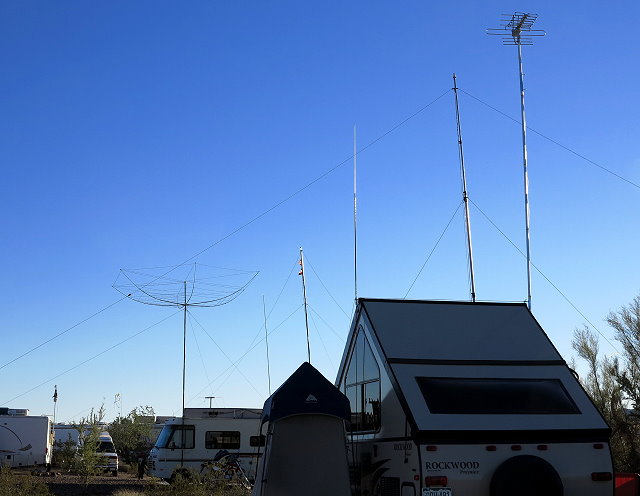 I went to a photography class, a card-making class, and attended a daily women's circle. Daily we went to Happy Hour – the afternoon gathering where the events and activities of the day were reviewed, upcoming activities were announced, and raffle prizes handed out.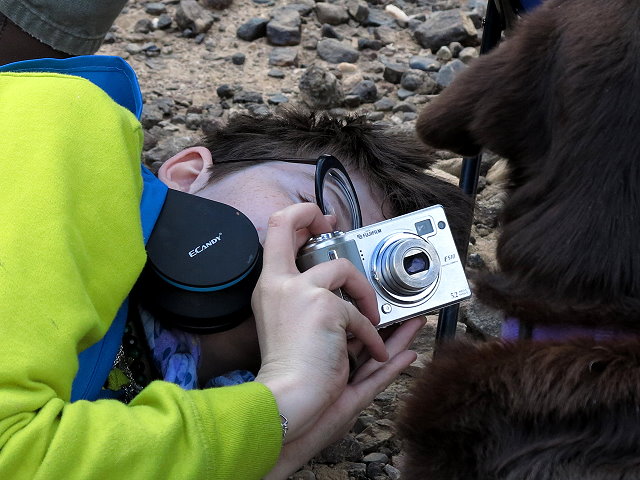 There were nearly 800 people in attendance at this Quartzfest, most of them camped in the desert for the week in everything from cars to giant 5thwheels. Bus-size motor homes were very popular and a few tents were set up. The events were either held in open-sided tents or out in the open. Usually the weather this time of the year is mild with daytime temperatures in the 60's to 70's. However, this year the daytime temperatures were mid-50's, and with the overcast sky and a very chilly wind it seemed much colder. Several events were canceled due to the winds. But even so, people showed up activities and Happy Hour, bundled up in winter coats, hats and gloves. Clifford and I were camped about the equivalent of two blocks from the event center, so we made several trips daily, walking back and forth in the blustery wind, to attend classes and events.
A photo contest was one of the highlights of the week. As I mentioned earlier, I was not too inspired to take photographs here, as being surrounded by RVs in the desert is not really my thing.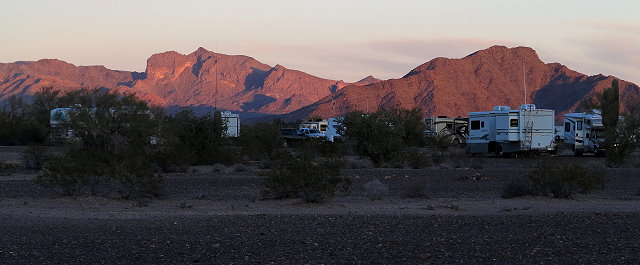 However, I certainly couldn't resist the opportunity to enter the contest. There were five categories: Technical, People, Pets, Nature, and General. I started looking around for photo opportunities, but even with the intention of taking photos for a contest, I didn't come up with much. I reviewed and narrowed my photos for the week down to five and, just by chance, I had one photo to enter in each category.
On Friday, the top five photos in each category, out of hundreds of submissions, were posted on the bulletin board. I was quite delighted to see that two of my five entries had made it to this pared-down selection. For the rest of the day, people voted on their favorites. At the closing ceremony on Saturday, 3rd place, 2nd place, and 1st places winners were called up. My photo of a parrot on the shoulder of one of the volunteers took 2nd place in Pets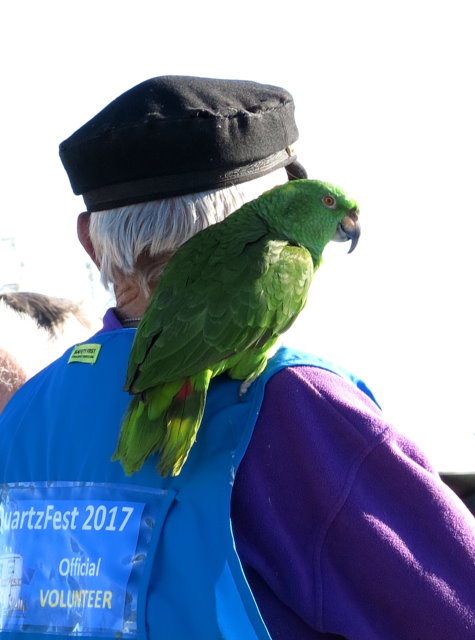 and my photo of a saguaro, taken right at the main fire-ring during one Happy Hour, took first place in the Nature category. Then, the professional photographer who gave the class chose one photo overall as the Grand Prize winner. To my surprise and delight, the saguaro, which he called Portrait of a Cactus, won the Grand Prize.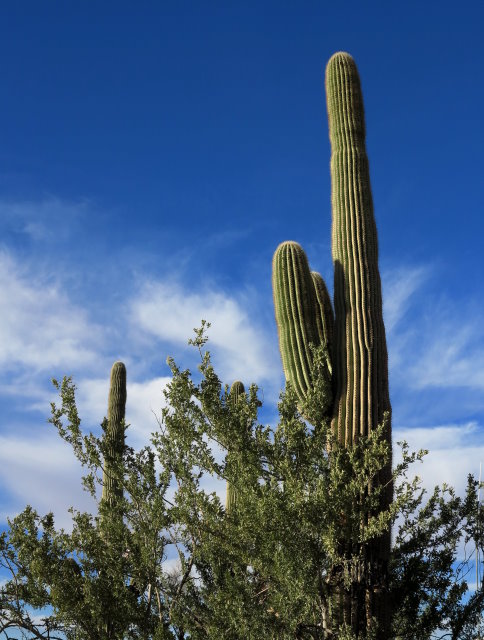 Hooray for me! In spite of not being very inspired, I still pulled the best out of what was available to me.
It was a fun week. I'm guessing we'll go again and maybe next time it will be warmer.