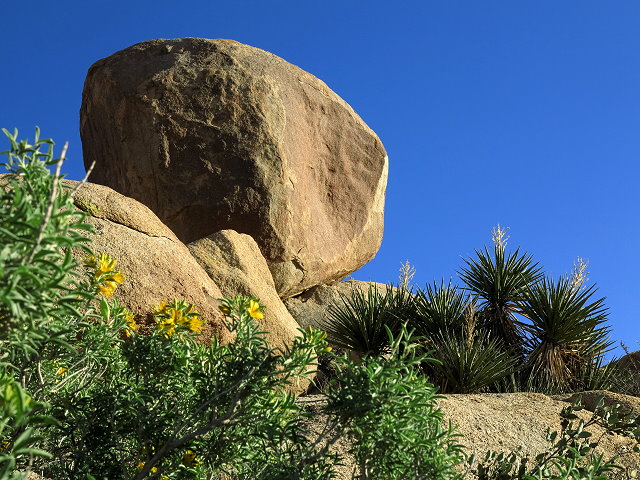 Sunday, February 12th – I am up before sunrise again today, which I enjoy, as a stroll in the desert in the quiet of the morning is a great way to start the day.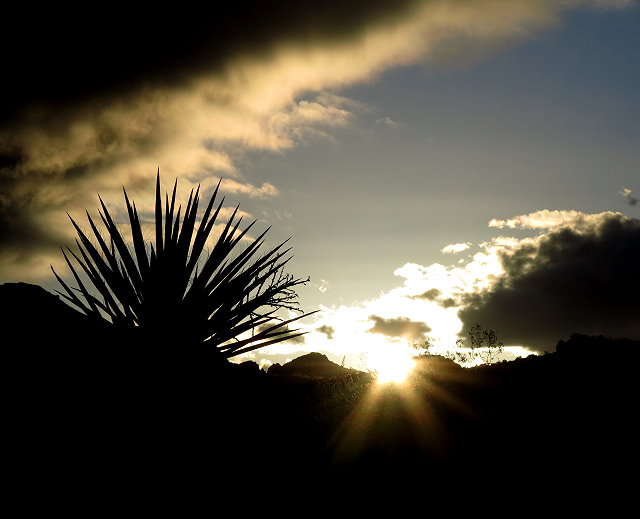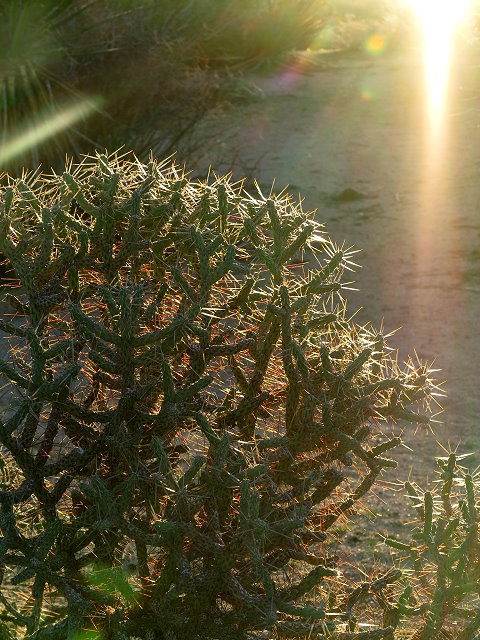 Today Clifford rewires the solar panel so it can be either on or off the controller. At one point, he thinks he has fried the controller, but luckily a fuse prevented damage. Whew! Next project is hooking up the new backup camera to the back end of Terry (our camper) and installing the monitor in the Blazer. I help with both of these projects, which takes up a large chunk of the day. Later we journey down to Bajada, as Clifford has a business call and I walk about taking photos, as usual, and send a few more texts.
Too windy for cello today – darn.
In the evening, I write the blog to go with the photos edited last night, so I will be ready for the next internet outing.
Monday, February 13th – I walk about the desert for my quiet morning time, trying to capture starbursts… and sometimes they work.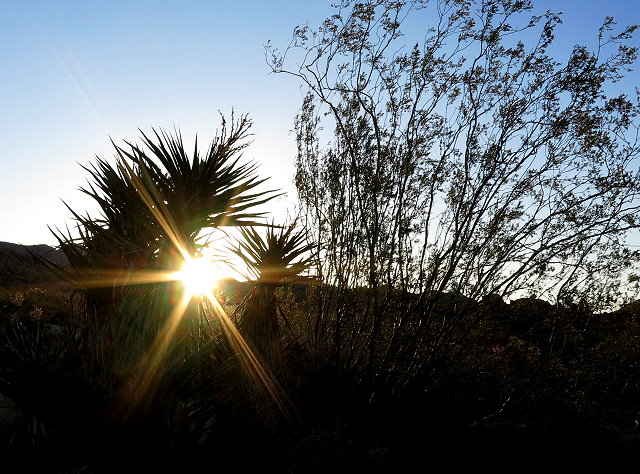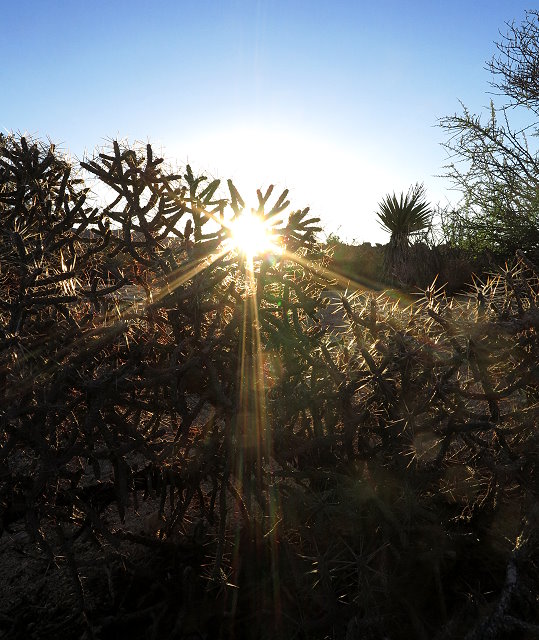 Back at camp, I sit outside to write in my journal until the wind drives me in. I do a lot of editing today, since being outside isn't so fun with the wind. Clifford is focused on his radio gear, getting things to work as they should and making contacts all over the world. In the evening we go down to Bajada to take care of business. Clifford needs to stay current on emails regarding his non-profit and he has another business call; I post a blog, take care of my emails, and do a quick check of FB.
By time we get back to camp, it is too late fix a real dinner. Clifford heats up a can of soup; I have a smoothie, followed by yogurt and fruit for both of us – our usual bedtime snack.
Tuesday February 14th – It is cloudy and calm this morning as I do my desert walk and this morning I go all the way to the arroyo at the base of the rock hills, and there I find a patch of ocotillo in bloom. What a treat that is! Wish I had explored here sooner, as this is quite a lovely place.
Back at camp, Clifford sees the Valentine card I left for him, and he makes breakfast for both of us. We sit outside to eat and I write in my journal, until the wind, which has now come up, drives us inside. I spend much of the afternoon editing and then hike in the afternoon, in spite of the wind. My plan was to hike toward Cottonwood Springs and where the trail crosses the arroyo, head back up the arroyo to where I found the ocotillo patch this morning. When I get to the arroyo crossing, I am not sure which branch to take to get me to the right ravine. I'm not worried about getting lost, but I am concerned about missing my way and not getting to the ocotillo patch before shadows overtake them. I try going along a ridge-top instead, until I come to a narrow spot that would be foolhardy to try since I don't have my hiking sticks with me. Instead, I backtrack and then cut across to where I know where I am. After taking a few photos and making a short cell video, I go back at camp and talk Clifford in going to the arroyo with me to see the ocotillo in bloom. We also explore a few places along the arroyo where springs must have been, as there are willows and other non-desert plants tucked in here and there.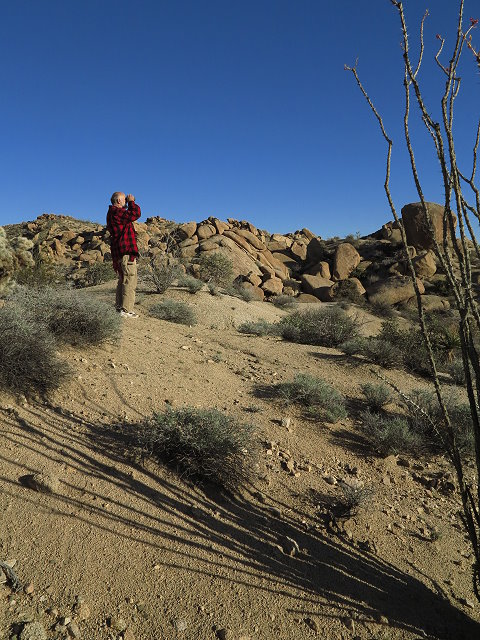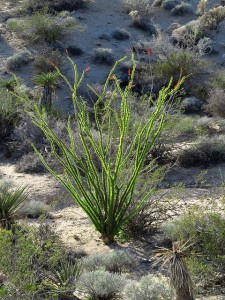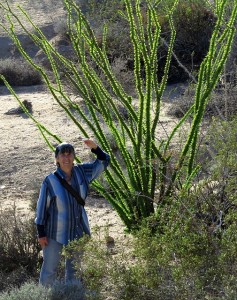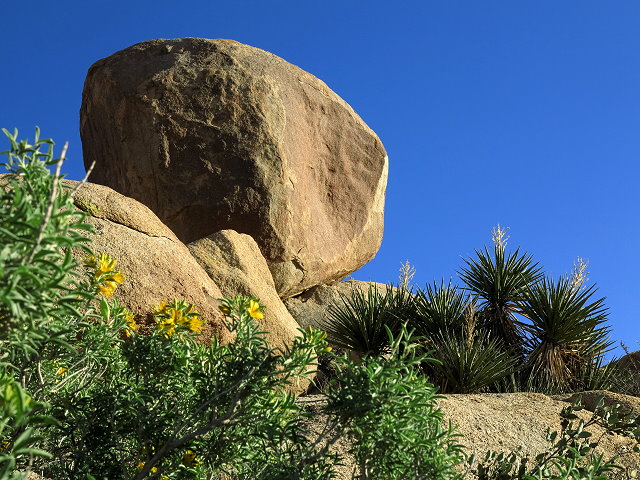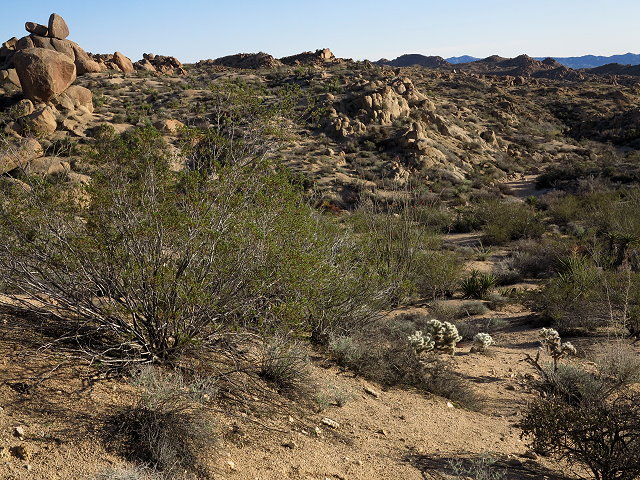 Back at camp, I organize the Blazer and begin packing up what I can, as tomorrow is moving day. I would stay longer if we could; the desert here has been quite a delight to me.