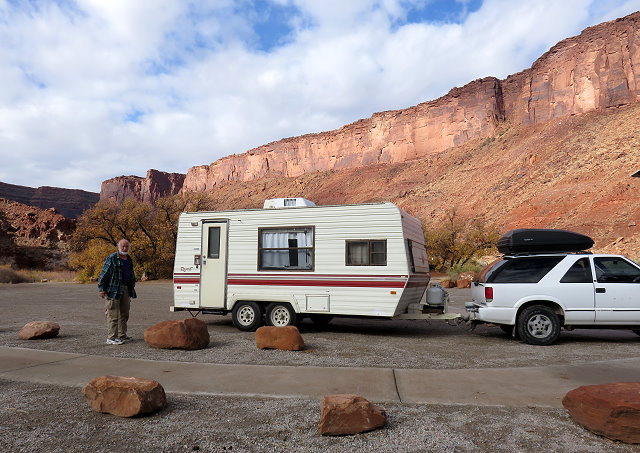 Saturday, November 19th is a sunny day, so I take care of some CI business while my laptop is charged, even though I would much rather be outside. By the time this is done, even though the high today is only 53 degrees, it is warm enough to play cello on the sunny side of Terry.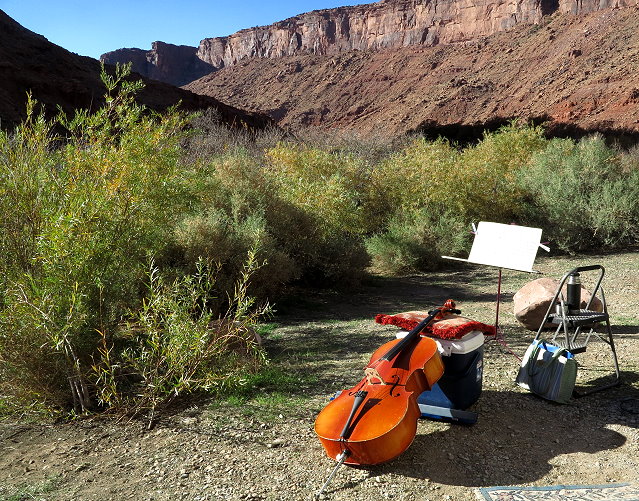 With the steep mesas east and west of us, there are not many hours of direct sunlight, so as soon as the sun goes behind the mesa, I extend my outdoor time with a cheery campfire. When it is too dark to write in the journal, I head inside to fix dinner and later do some editing for the Montana author. Goodness, the days go by so quickly…..
Sunday, November 20th is a walk-about day, looking for wood and just enjoying being outdoors, even though it is overcast and not a great day for photos.  It is warm enough to play cello outdoors, which is always a good thing. I start writing a blog with photos of our trip. Last year I did a daily post with photos, but not sure that will happen this year, as I am so far behind. Clifford is experimenting with ham radio antennas and studying for the next test to upgrade his license. Some of what he learns can be applied to work in the lab.
Monday, November 21st is a town day to buy supplies and do laundry. At the Visitors' Center, using the free wifi,  I am able to post the first blog of the Winter Journey 2016-2017 on my website with links to FB for those who want to follow along. After we finish up there, we walk in the pouring rain to the museum in the next block. The deluge of rain continues as we leave Moab, and heading up the canyon to the campground, we see numerous waterfall with water dropping hundred of feet from the cliff tops to the river canyon below. I want to take photos, but there are no safe places to pull over until we get closer to camp.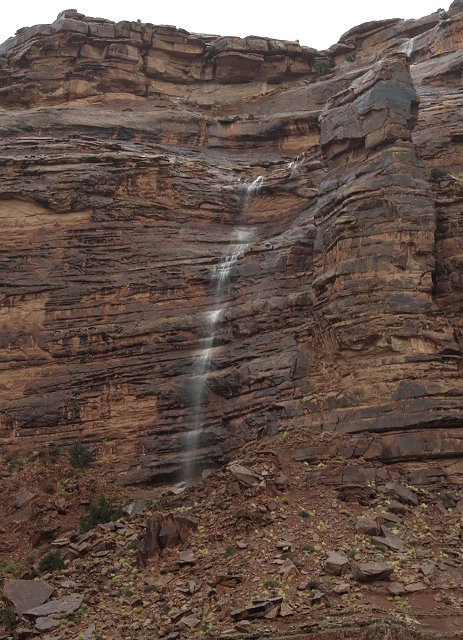 By then, the rain has let up, and as unexpectedly as they appeared, the waterfalls disappear. It was quite a sight to see, while it lasted. Back at camp, I put away clothes, remake the bed, and clean the fridge. Clifford continues with his studies.
Tuesday, November 22nd is travel day. Since I am up before Clifford, I have time for tea and saying good-bye to the river. This has been a good stay for us; I'm sorry that we have to leave, but we are lucky to have had such mild weather this time of year and we need to move on further south.  After Clifford is up, we begin packing up. As we are leaving, we take photos of an interesting rock formation/geological event:  it appears the big boulder at the campsite probably fell at least 1,500 feet from the top of the cliff, perhaps eons ago.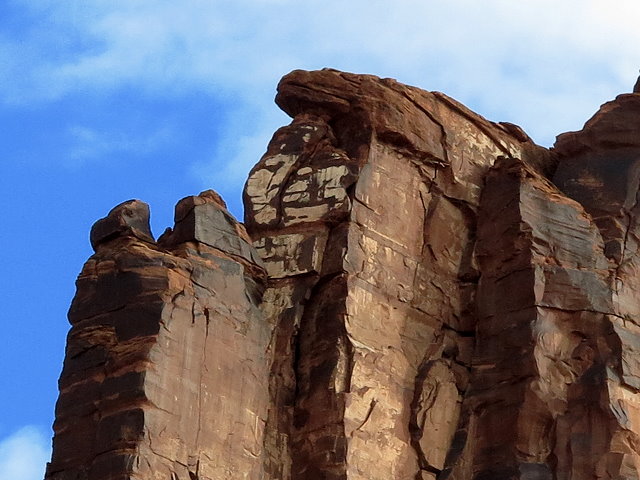 I had called regarding camping at Mesa Verde National Park in Colorado and that is our destination for tonight, but once we arrive there, we find that we were given misinformation on the phone and there are no campgrounds open. The only rest area in the vicinity clearly states no overnight stays, so we go on back to Cortez (Colorado) and spend the night in a spacious Walmart parking lot. This town is not a place I'd like to live, but we are grateful for a place to stay overnight.