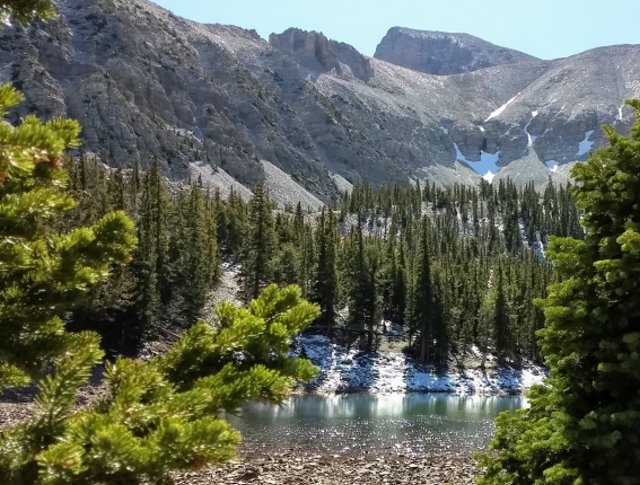 Saturday October 5: It is very chilly out this morning (27 degrees) here at Great Basin National Park, Nevada, when I walk to the restroom. I continue on up the road where I can get a photo of the creek without sun glare, a very pretty spot with boulders and little cascades.
There is a great blue sky today, a perfect day for a drive to Wheeler Peak. However, Clifford is reluctant because of the climb being a bit much for old Suburban, which has just passed the 200,000 mile mark and is showing its age. So, instead, we decide to drive to the end of Baker Creek Road, only about a mile from the Baker Creek Campground where we are camped. As we are driving and I'm looking at the map, we realize that the climb to Wheeler Peak is not as great as he thought, and we could go partway to one of the scenic pull-outs.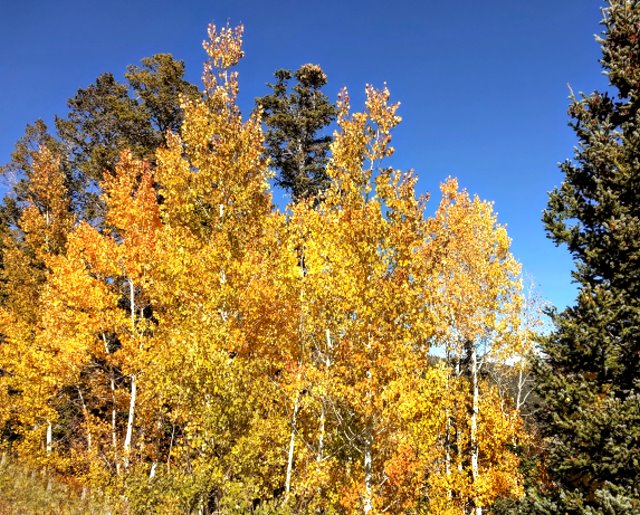 After turning around at the end of Baker Creek Road, we drive back toward the Visitors Center and take the Wheeler Peak Scenic Drive.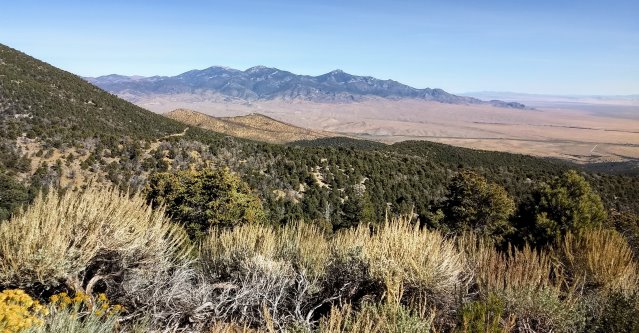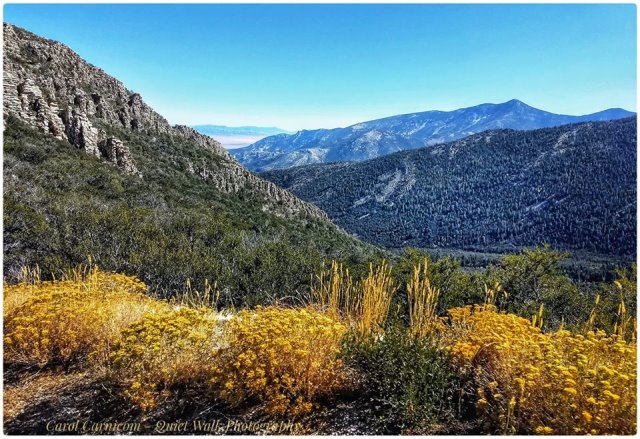 Mather Overview is especially scenic with a view of the mountain peaks and a great valley below with autumn trees in full color.
Instead of turning around here, we go on up the road to the Wheeler Peak Overview, and then on to the Wheeler Peak parking area at the end of the road.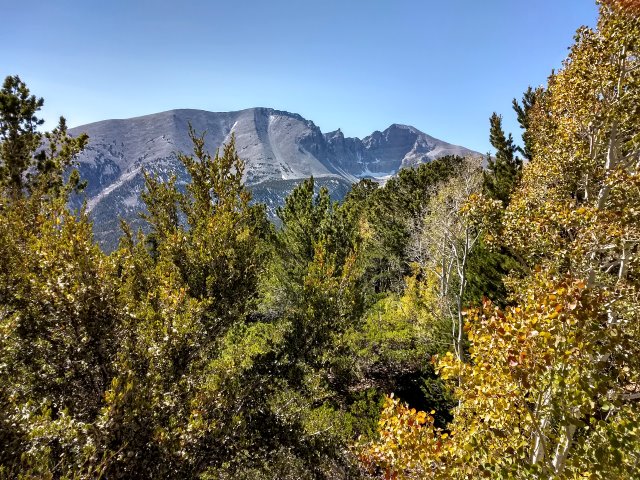 After finding a place to park, I get out to take photos. Clifford spies a kiosk describing the hiking trails and a decision is made to hike while we are here. This was not part of the original plan, so we don't have snacks, but we do have warm clothes, hiking sticks, and water in the Suburban. We decide on the lake loop trail that passes by two mountain lakes. Since Clifford will want to hike faster and not stop for photos, we take the loop in opposite directions so we can meet somewhere enroute.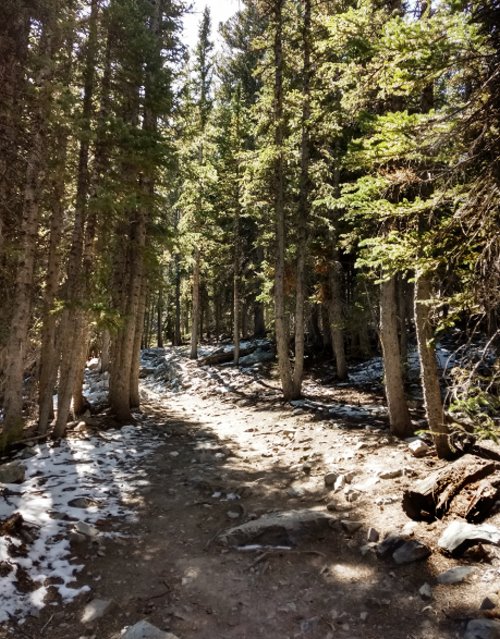 The elevation here is over 10,000 feet, so I take my time, rest when I need to, and sip at my water. I reach Teresa Lake and am enjoying taking photos here when Clifford joins me, having hiked twice the distance on his section of the loop. We hike back to the parking lot together.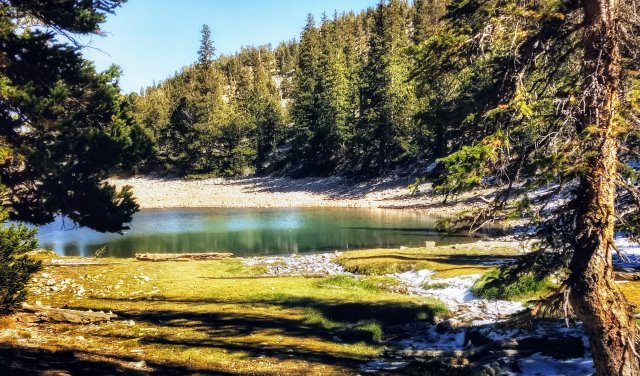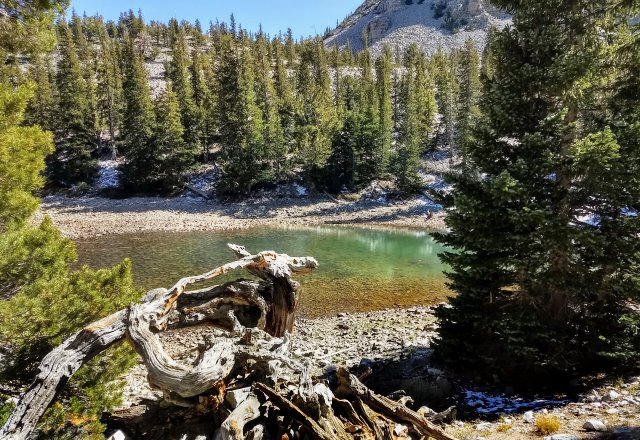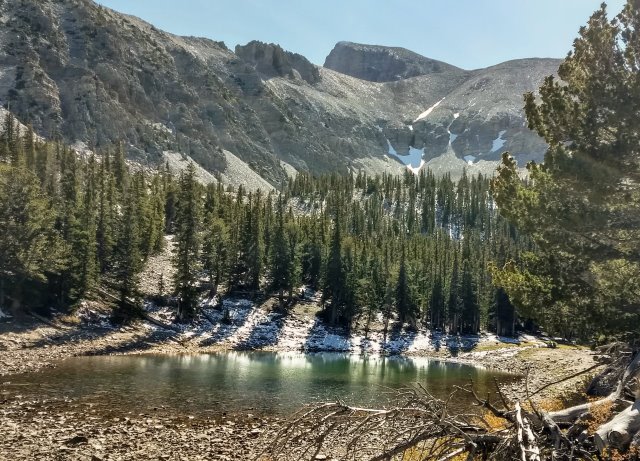 On our way back to camp, we swing into the Grey Cliffs group site. Although the sun isn't quite right, I get a couple of photos before we head back to our campground.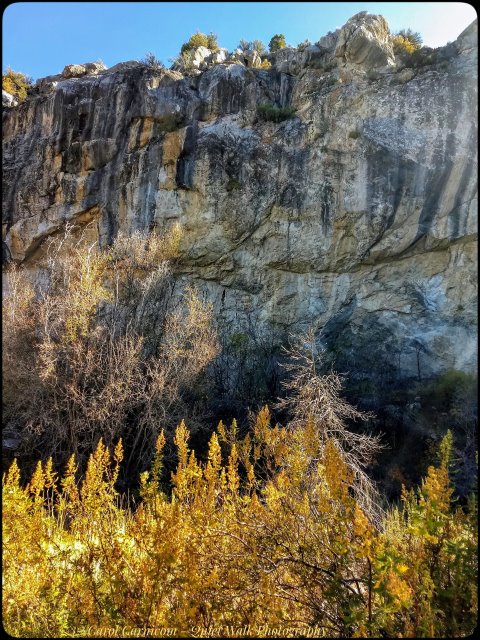 We have a very late lunch and then I walkabout for photos of the autumn foliage near the campsite.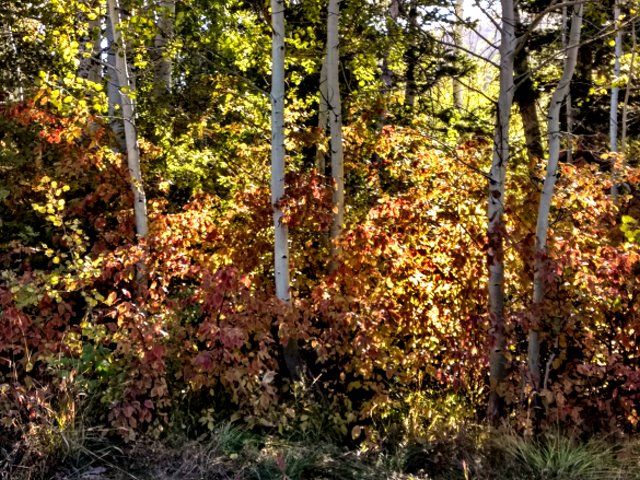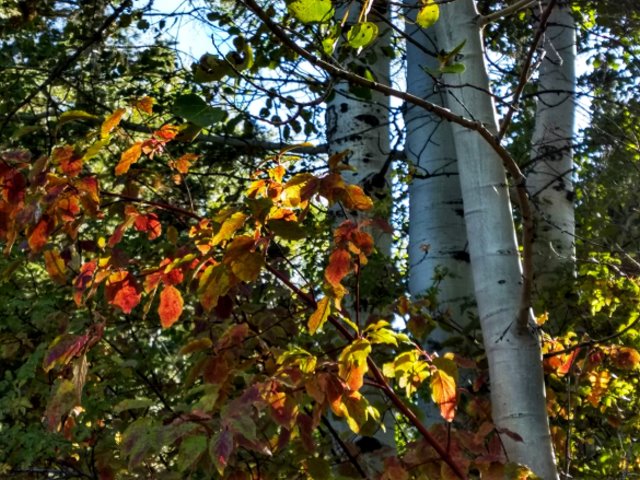 Later I do some editing and Clifford plays his dulcimer outside. Dinner is also late, as is going to bed, but it sure was a fun day!