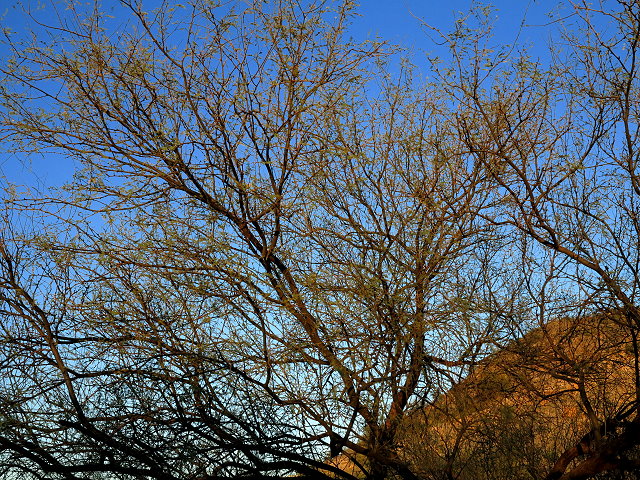 Sunday March 12th – our friend Dan comes to see us off as we prepare to leave Synder Hill BLM camping area west of Tucson, Arizona. It is about noon before we pull out, having done all the extra checks to make sure hitch, lights, brakes, tow bar and such are all functioning properly, since this is the first time for Suburban to tow Terry.
The desert is very green, but hard to get photos from the moving vehicle that show it adequately.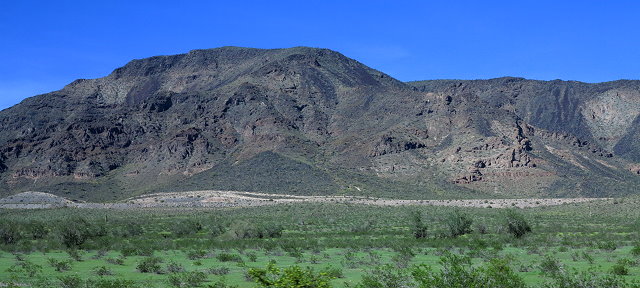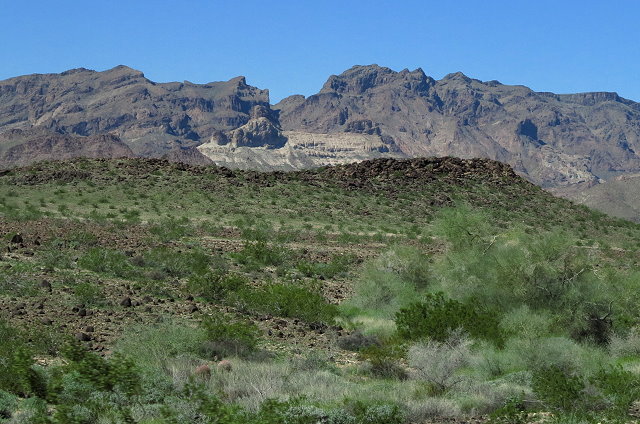 I-10 is busy, as usual, and very windy, but Suburban definitely handles it better.

We decide to not stop at the Buckeye BLM Recreation Area for the night, but continue on LaPaz, south of Quartzsite, arriving about an hour before dark. Hardly anyone here; so different than when we were here for Quartzfest in January. We park near where we were last time, but with more shade, since the daytime temperatures are in the 90's rather than the 50's.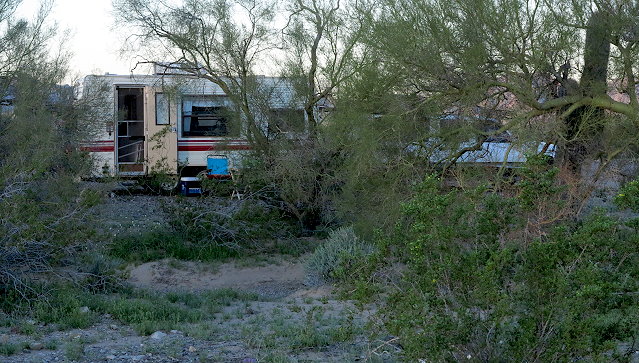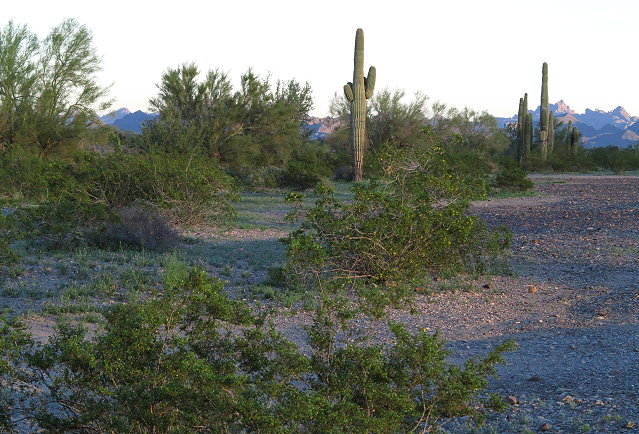 We have an easy dinner with minimal cleanup and then sit out to enjoy the last of the evening light. This will be a good place to spend the night.
Monday March 13th – I am up before Clifford and walk about, enjoying the cool lovely morning.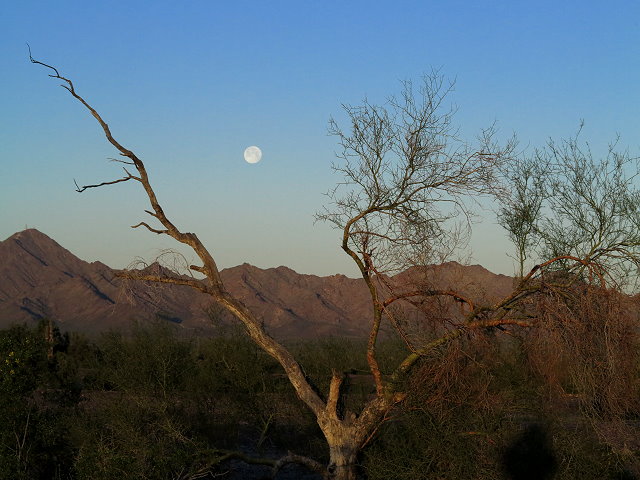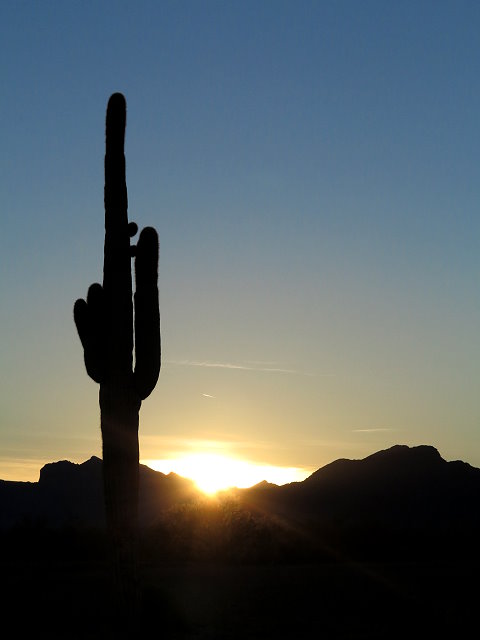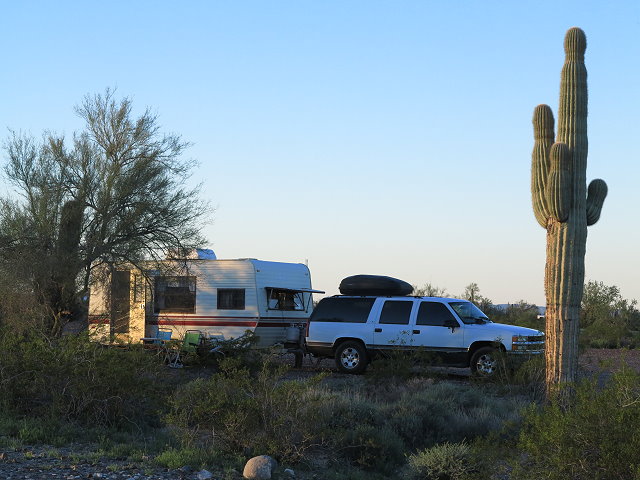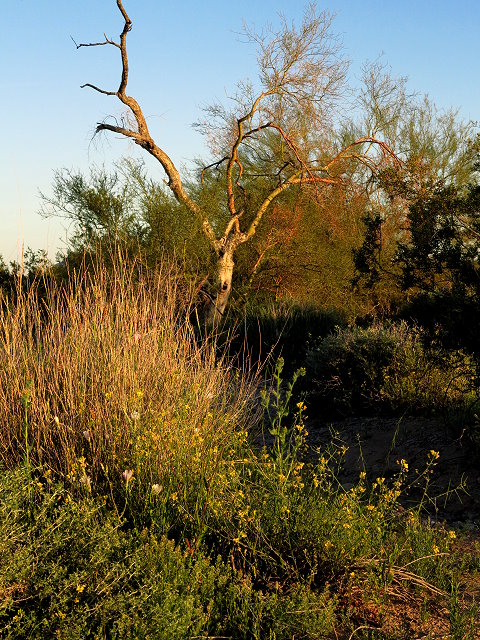 We are ready to go by 9:30 and head north on State Highway 95 to Parker, Arizona, where we stop at a Walmart for supplies. When we come out, we learn that some guy made too sharp of a turn pulling his rig through the parking lot and clipped Terry, putting a dent in the side panel. Fortunately, he was honest about it and the injury did not cause damage inside, but we will be contacting his insurance company to see about repairs.
From Parker to the Nevada state line, the road is narrow and winding with no shoulder and lots of traffic. Crossing over the state line into Nevada, the highway is a 4-laner as good as an interstate highway…. so much easier traveling. Turning east off highway 95, we take a road that winds steeply down to the bottom of the gorge, arriving at Cottonwood Cove Campground in mid-afternoon. Cottonwood Cove is on the Nevada side of Lake Mohave, the southern portion of the Lake Mead Recreation Area. We are lucky to find a spot with a big old eucalyptus tree for shade and get set up.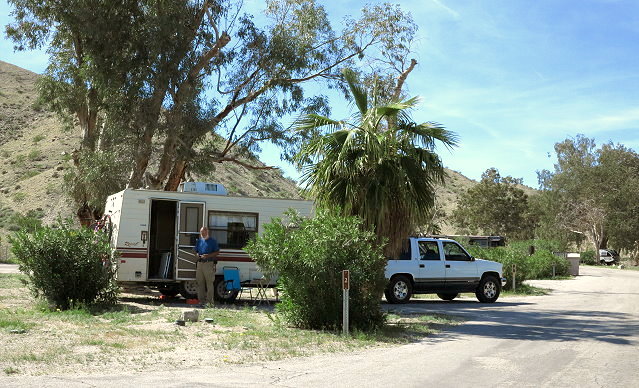 After a snack of fruit, cheese, and crackers, while Clifford naps, I go down to the lake to take photos. Becka calls and we have a nice chat as I walk.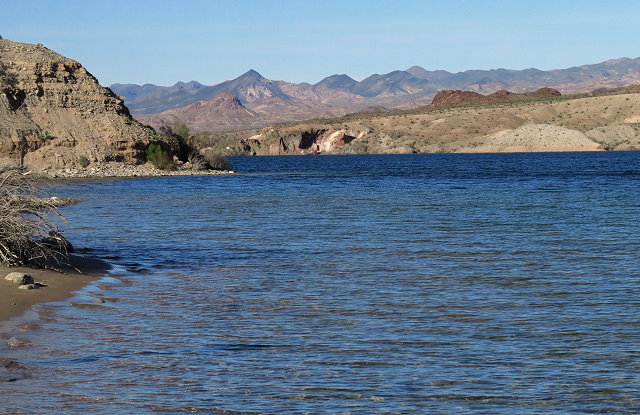 We have leftovers for dinner, keeping meals simple on travel days. Then we sit outside, enjoying the summer-like temperatures of the evening hours. This is a pretty enough spot, but it will be very hot here during the day, so we opt to continue on north tomorrow.