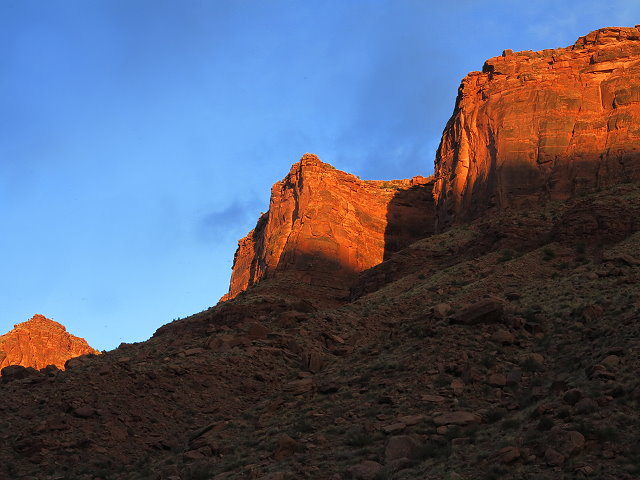 Tuesday April 25th – we are up by 7:15 and leave Horsethief Campground at 8:45, which is the fastest we have ever gotten out, except for overnight stays. No breakfast or showers, but we can do that later. The Suburban needs starter fluid to start, but we are getting used to that, and off we go, heading to Big Bend Campground on Highway 28 along the Colorado River outside of Moab.
We see a few open sites in campgrounds prior to Big Bend, which is encouraging, but we would like to camp at Big Bend, as it is a little further off the highway with great access to the river. However, no such luck, as when we get there, it is full. Maybe someone could still be in a leaving mode, but not likely, so we head back downriver, pulling into Drinks Canyon CG. The sites we saw open here just moments ago are already taken. As we are heading out, someone pulls out of a campsite; the site appears totally vacant and the stub on the post indicates leaving 4/25, which is today, so we assume it is available and pull in, pay our fee for a week, and get minimally set up.
The campground is close to the highway, which I don't care for, but our spot is in an oak grove and I can see the river below and we are surrounded by the great red cliffs of the Colorado River Canyon. Terry (our RV) is right alongside the dirt road, but provides privacy from the traffic going by on the road and the highway.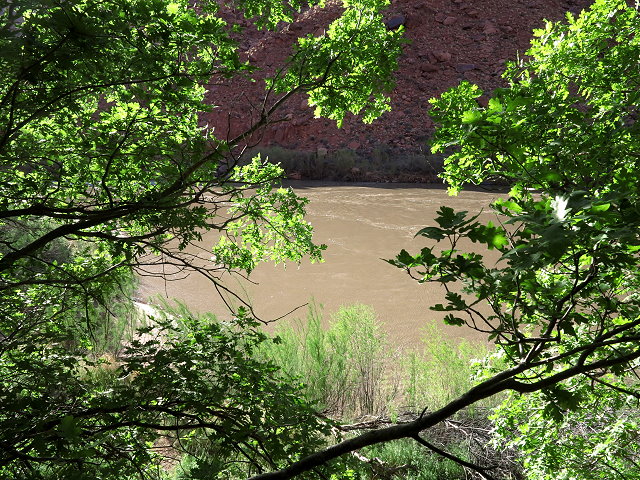 We head to Moab, as we have packages to pick up at the post office and then to the library for free wifi, power, and a table to sit at while taking care of business. We also go to an auto repair shop in Moab, but they don't have time to look at the Suburban today.
We head back to our campsite, a very scenic drive up the canyon, and finish setting up: solar, antennas, and so on.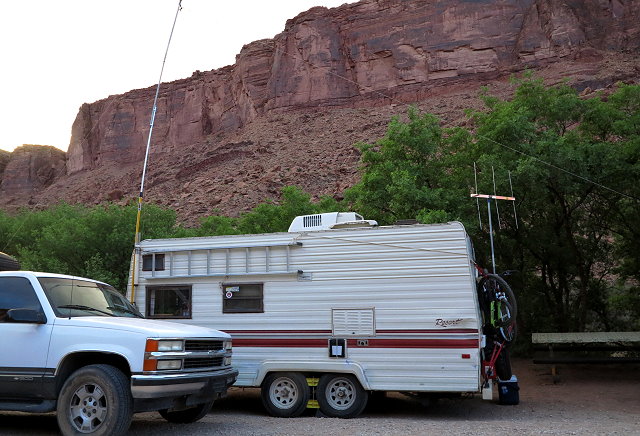 About then a huge wind comes ripping through the canyon and everything that is not solid blows away, including someone's tent that almost ends up in the river. This lasts about an hour and then it is calm enough that I take the cello out and play for a bit.
Later, while Clifford is getting his ham radios working, I go for a walk, seeking views of the river and trails where I can run. I find one trail down to the river, but no good places to run.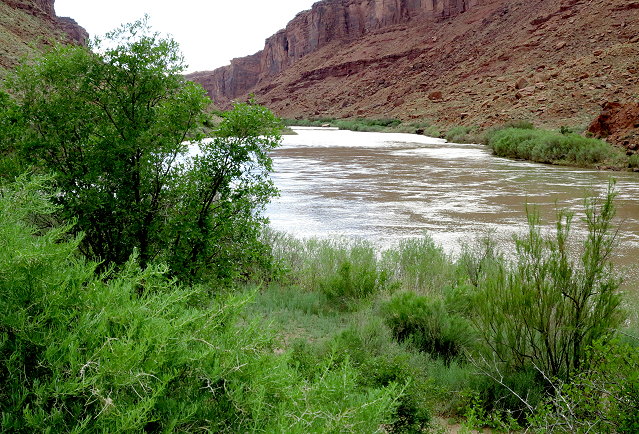 In the early evening, a young couple shows up, claiming they paid for this site, but since the ticket was filled out wrong, we honestly thought it was available. Long story short – we offer for them to park next to us, and use the campfire ring and picnic table if they want. They are satisfied with the arrangement and go off for more adventures, returning late to set up their tent for the night.
In the meantime, in the minutes before sunset, I take photos in every direction, enchanted with the beautiful colors of the mesas at the last light of day.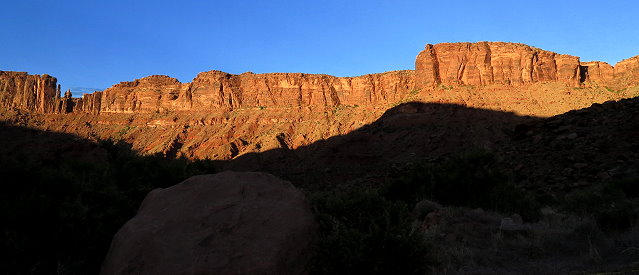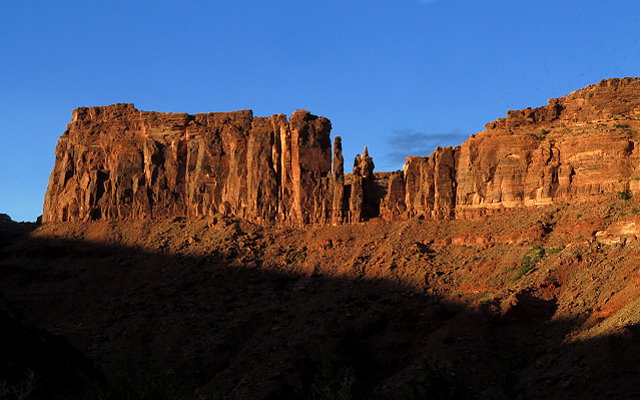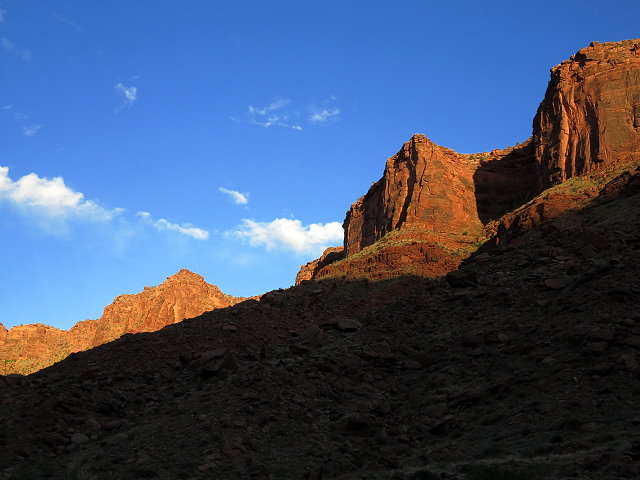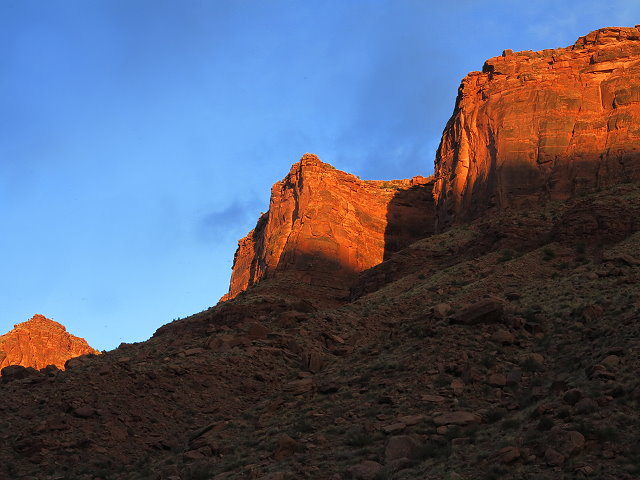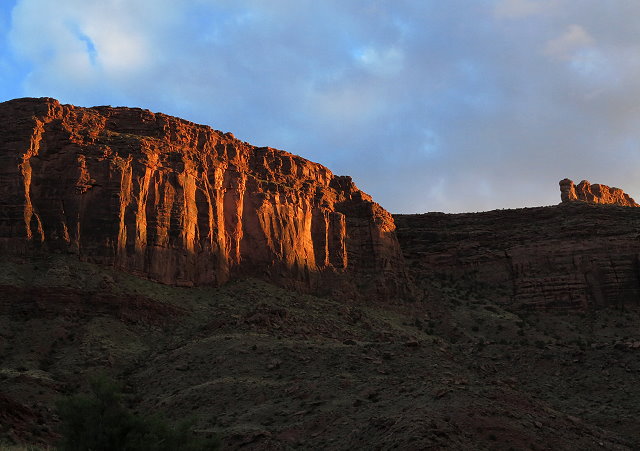 After the sun sets, we have dinner and I read "My Grandfather's Blessings" to end my day. Although I miss the quiet of Horsethief, we are fortunate to have found a spot along the river, and I fall asleep listening to the murmur of the powerful Colorado flowing by.