Thursday November 14. After a good complementary breakfast at our Rodeway Inn in Glenwood Springs, Clifford and I continue east on I-70, a very scenic drive. Glenwood Canyon is regarded as an outstanding engineering achievement due to running an interstate through this narrow canyon.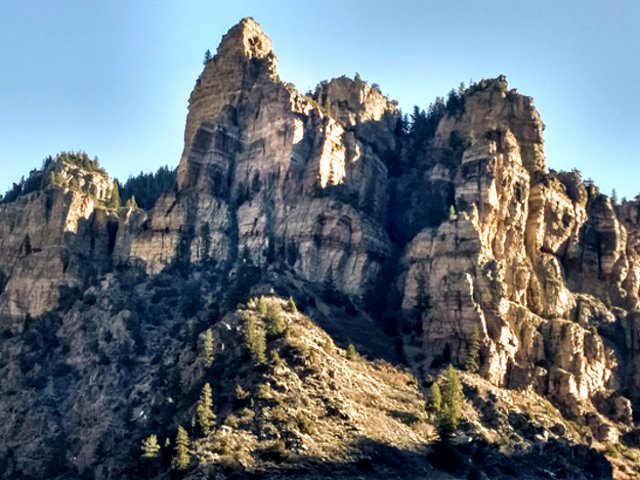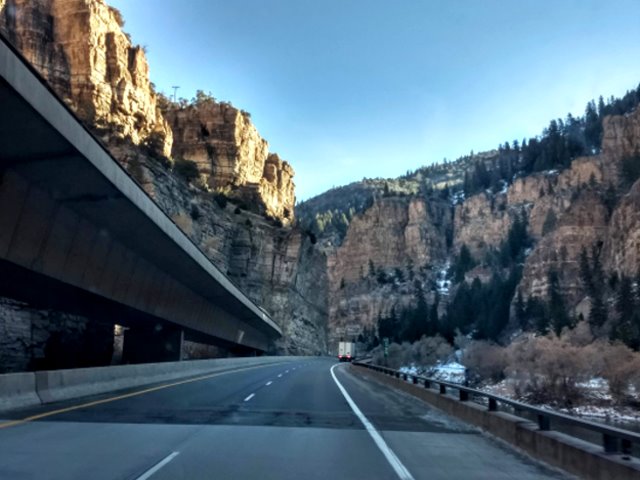 Vail Pass at over 10,000 feet and then Empire Pass over 11,000 feet are quite impressive and we are glad to see that snow reaching down the mountainsides has retreated from the highway itself.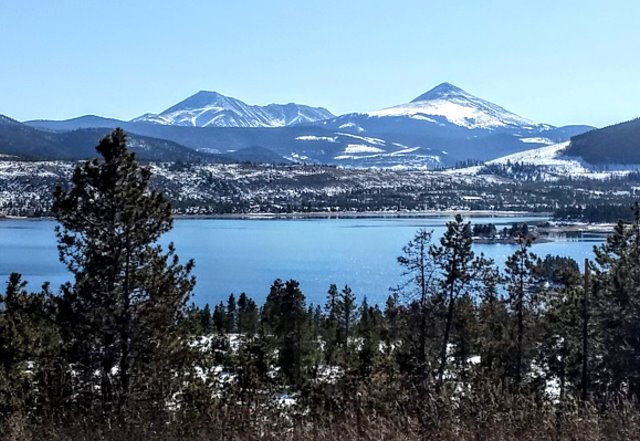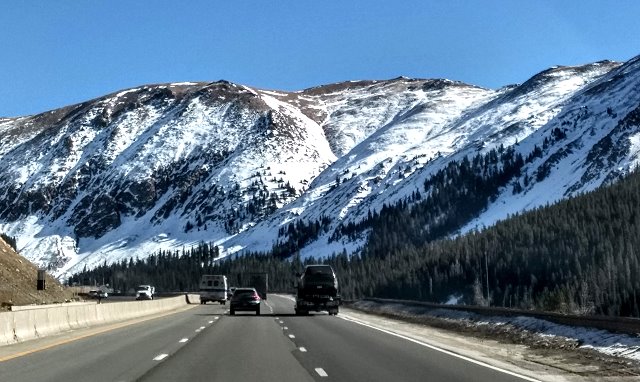 Tunnels through sections of the mountains, including the long Eisenhower Tunnel, over a mile and a half in length, are another engineering and construction accomplishment along this stretch of highway.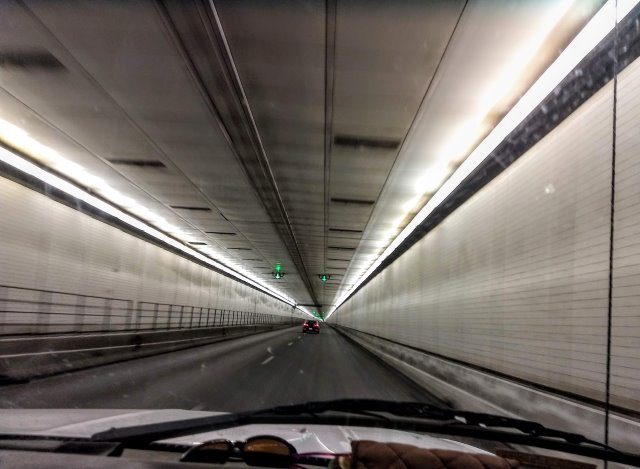 We are constantly aware, with the steep grades and the curves, that this is not a highway that we would ever want to tow our RV, and we see very few RV's as we travel.
The Eisenhower Tunnel is is followed by 44 miles of downhill curves all the way to Denver, where we leave I-70 and enter I-25 north.
Arriving at Loveland, we make out way to our friends' place, walk about seeing the neighborhood, have good pizza for dinner, and chat until late. I was also able to make contact with a "Celebrate What's Right With the World" friend. Since it is a chilly dark evening, we decide on a phone conversation rather than a get-together, and have a good talk about how each has come to have photography as a priority.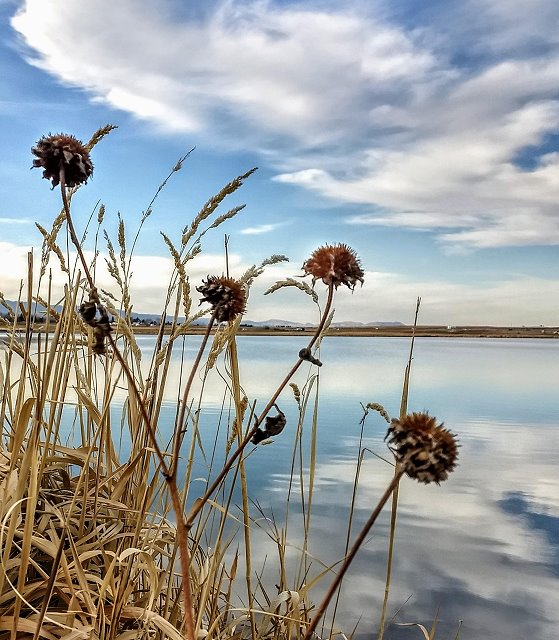 Friday November 15: Our friends make a good yummy breakfast and then, after Clifford does some work on the interview coming up, we all head up to Estes Park and Rocky Mountain National Park. After lunch at a coffee & sandwich joint next to some outdoor instruments, we go to the Stanley Hotel, famous as the location of the creepy Steven King movie, The Shining.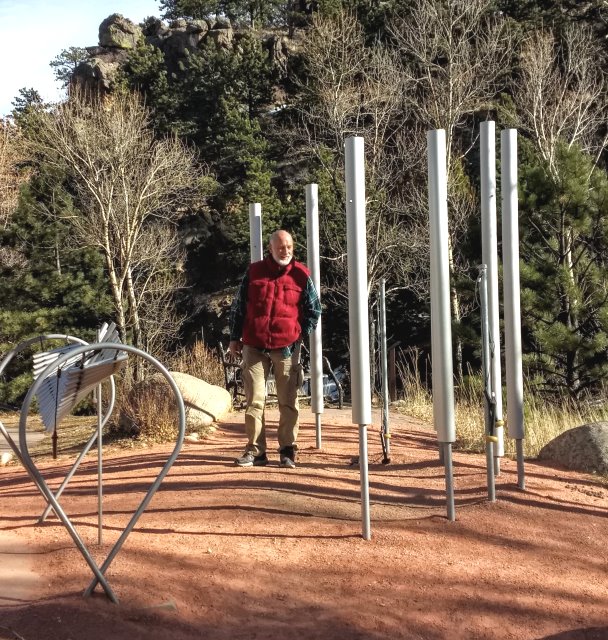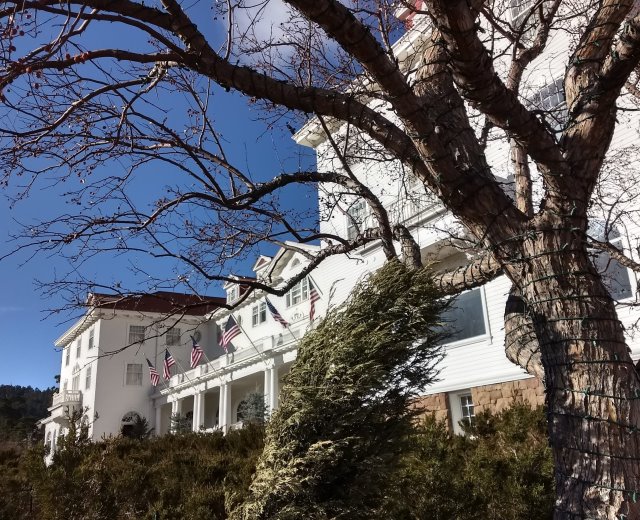 Then we head on up to the park to a waterfalls created years ago by a dam breaking and flooding all the way to Estes Park. After that is a scenic drive with amazing views of the great mountains that are the reason for a national park here. Due to the short days this time of the year, we don't go further, as it is necessary to return down the winding mountain road before dark.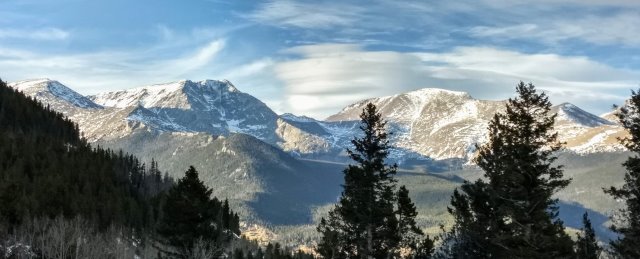 Back at their place, after dinner, we watch a very interesting documentary on country music, a good way to end the day.