Sunday August 12: Smokey and a few puffy clouds this morning at the Bass Creek Recreation Area where we are camped, but other than the smoke, it is a nice day and good that it is not so hot as it was in Missoula yesterday (100+ degrees).
Today is a gathering of my siblings and spouses at my sister Nancy's house, just down the Bitterroot Valley a few miles from where we are camped. Daughter Becka calls and we chat while I make a quinoa/fruit salad for the potluck with my siblings.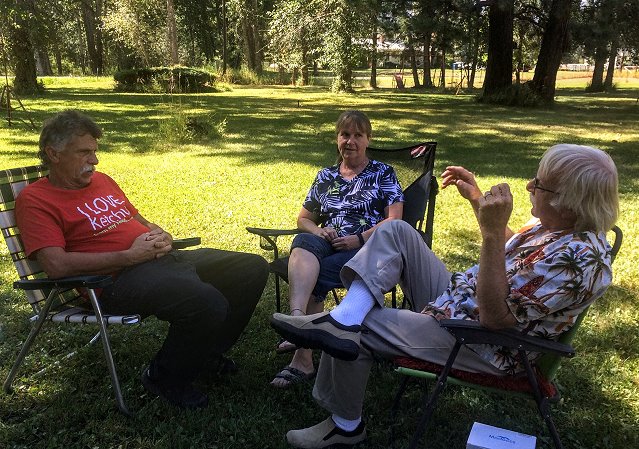 Nancy and Dick's place is looking really nice; tall shade trees and a beautiful big lawn provide a pleasant outdoor space for the gathering. Besides Nancy and Dick, my brother Rollie is there, brother Ed and his wife Sheryl, and sister Lillian and her husband Cliff. Lots of good conversation and laughter as we partake of the potluck. Rollie and I play music for a bit. It is such fun having this time together.
Back at camp, we hang out until my bedtime, and just as I'm getting into bed, I hear a noise (Clifford is outside) and looking toward the kitchen, I see mice coming up out of the heat vent. I have a mouse phobia, so my scream brings Clifford back to the camper. Two mice are caught in glue traps that we put out, as I suspected there was a mouse in the house. All the years we had Terry, we only had one mouse one time; we've only had Cougar two weeks and have already caught two mice with possibly a third on the loose. I'm kind of freaked out about this and it is midnight before I finally go back to bed. More bigger better mouse traps are high on the shopping list for tomorrow!
Monday August 13: It is still smokey, but otherwise a pleasant today. Today I am going to Lillian's place, also in the Bitterroot Valley, a ways out of Stevensville. I stop at a thrift store in Stevensville to drop off stuff that is being discarded due to the move from Terry to Cougar. Need to simplify a bit. Then on out to Lillian and Cliff's place in the slopes of the Sapphire Mountains, the range facing the Bitterroot Range, forming the wide Bitterroot Valley.
Lillian and I have a great visit with show-and-tell time, since I haven't been there for at least a year, and then we sit in her outdoor seclusion area, enjoying the peacefulness of the place as we talk. All too soon it is time to head back to camp.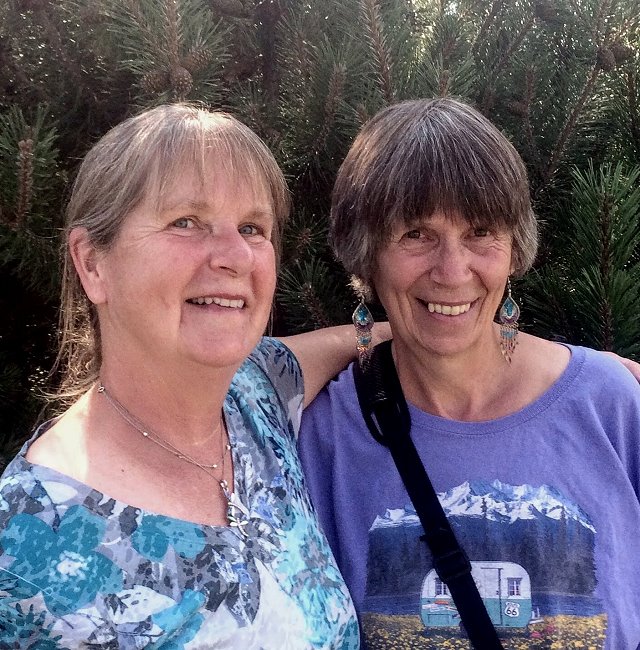 Lillian's flowers
I stop at the Super 1 on my way and buy mouse traps, hoping that we really don't need them. Clifford and I have a late dinner and begin packing, as tomorrow we must leave. It has been great being here, but we have other places to go and people to see.