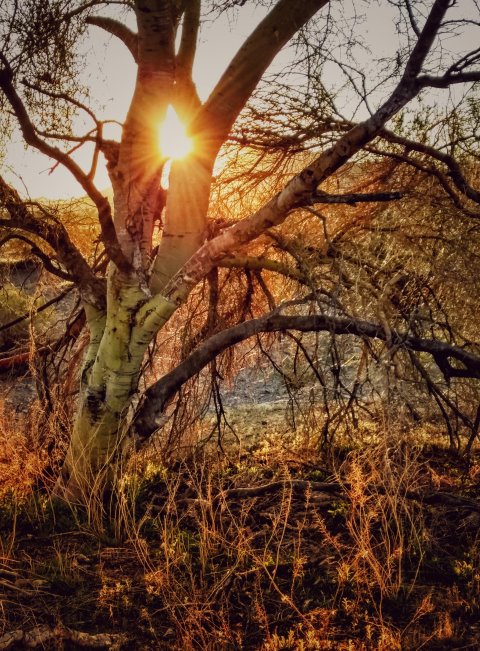 January 27 to 31: Monday starts with a move from Roadrunner BLM where Clifford and I have been camped the last two weeks to the long-term LaPosa South, both south of Quartzsite, Arizona. It is just a few miles, but moving is moving and everything has to be packed properly. We arrive at LaPosa South and set up next to my brother Rollie. The ground is a bit uneven, but levelers and stabilizers get Cougar level and solid. Then we load up laundry and head to Parker, 35 miles to the north for laundromat and stocking up on supplies for the next month.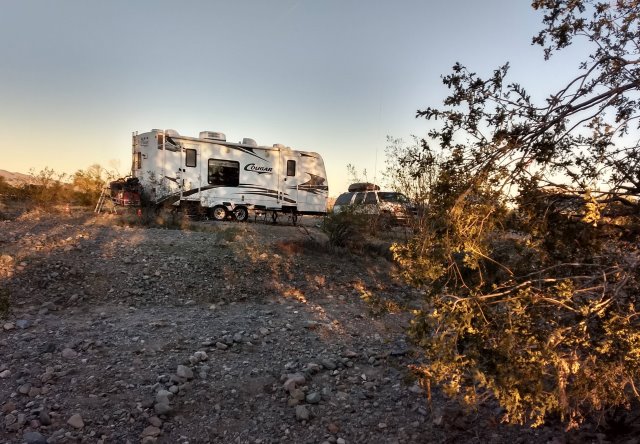 Tuesday is mostly a settling in day, although there is time for music with Rollie and neighbor Roy, a bluegrass friend from Missoula, Montana. What a pleasure to do music with a really good bass player. In the evening, Rollie, Clifford, and I go to a concert in Quartzsite. McDougal West is a Peter, Paul, and Mary Tribute group. They are really good, performing many Peter/Paul/Mary songs, and it is a delight to listen to them.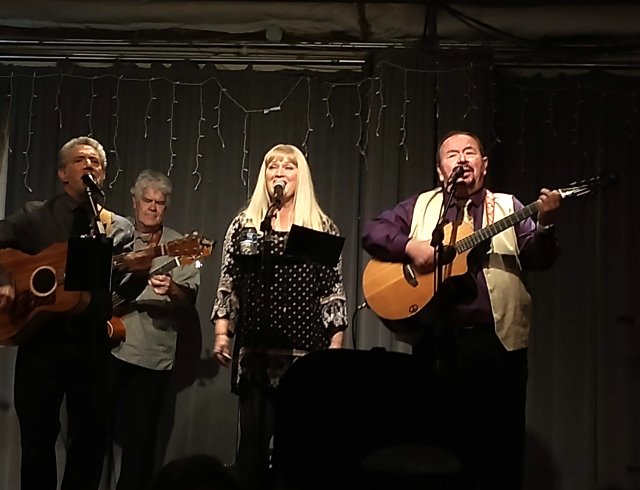 The next day, our friend HB arrives for a visit. We sit out at our campfire ring to talk until the wind drives us back to Cougar. Talk continues through the afternoon, as HB and Clifford discuss Carnicom Institute and the changes that have been made and continue to be made. It is a good visit and we look forward to seeing him again in the spring.
One day we go to Quartzsite for errands, including the post office and buying propane. We also go the funky bookstore on the edge of town.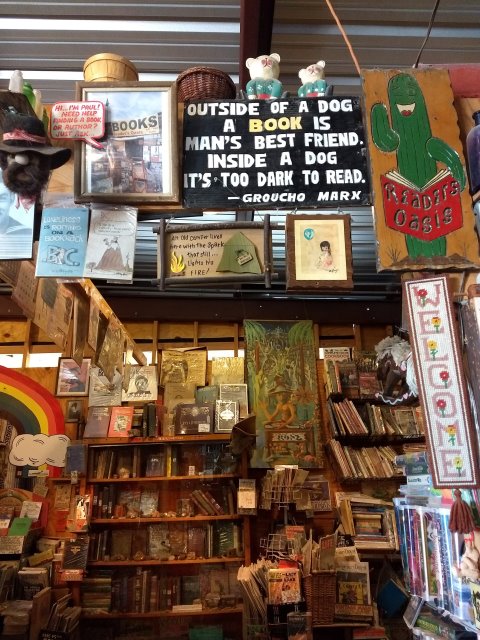 Quartzsite is unique in that most of the people here are RVers living in the desert. The grocery stores are small and inadequate for the number of RVers spending the months here, the line for General Delivery at the post office is only open for an hour a day, which means there is always a long line, the dollar stores are untidy and can't keep up with the demand. But beyond that, most of the establishments are tents – flea market style, lined up neatly. It's like no place else in the United States, as far as any place I've been. It is like being in a foreign country, but not necessarily a place of poverty. People camping in the desert live in anything from small tents to vans, to modest travel trailers, to mega Class A motor homes worth several hundred thousand dollars. Your neighbors can be any of these, and mostly folks just want to enjoy the solitude of the desert and not be bothered. Some people come for a few days, but others come and stay for the seven-month long-term period, setting up portable sheds and lining dirt tracks with rocks and solar lights.
I start most every day with a walk in the desert, loving the serenity and ambiance I feel here.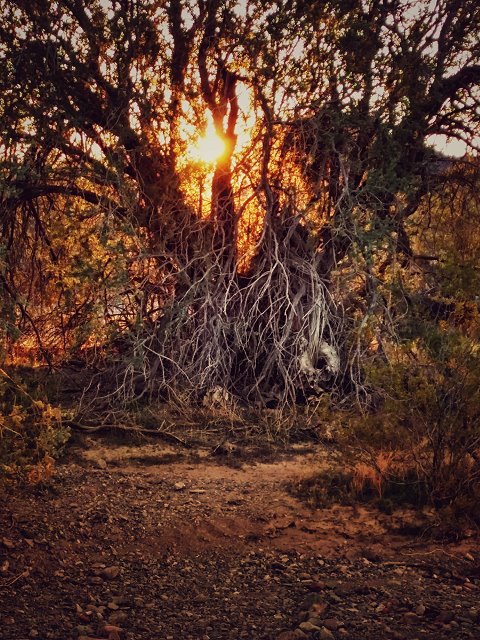 Clifford works with his ham radios every morning. We clear a spot for table and chairs in the trees along the wash next to us. This will be a quiet spot sheltered from the wind by the trees. Most days we play music with Rollie, sometimes joined by Roy. Clifford and I both continue with our projects, dealing with the weak cell service/hotspot/internet.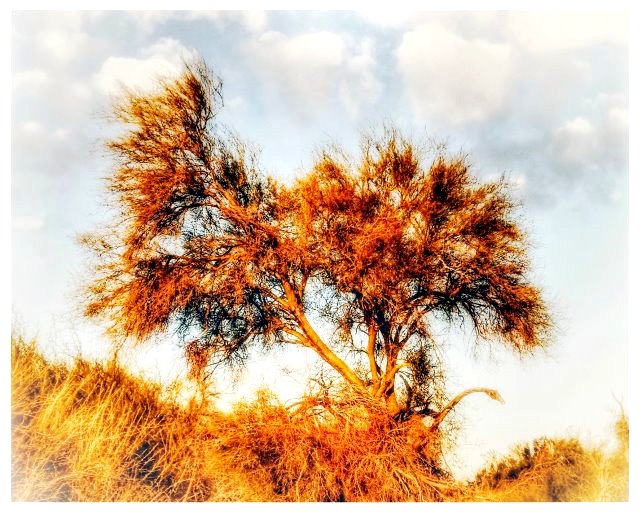 We are very happy to be here.