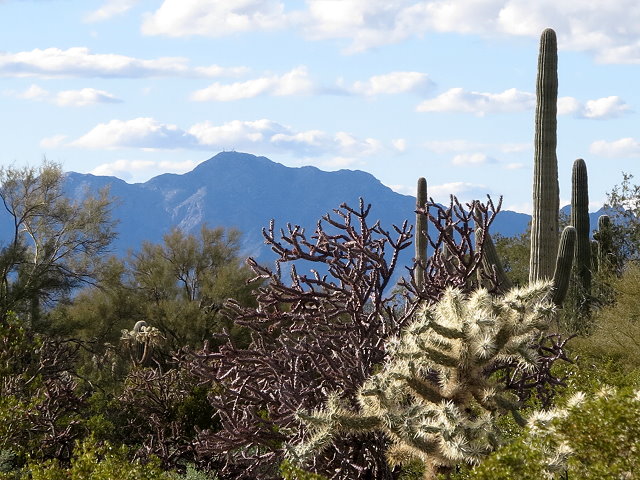 Tuesday February 12: Today is moving day and we are up early to finish packing, but first I go for one last walk in the desert, saying goodbye to LaPosa South, south of Quartzsite, Arizona, where we have been camped for over a month.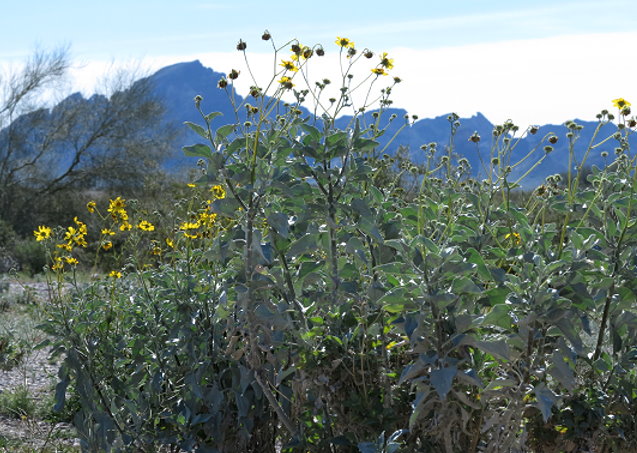 Back at camp, I finish packing inside and make thermoses of tea while Clifford takes down the ham antenna and packs his radios. We are on our way by 11:00 a.m. Our route takes us toward Phoenix until we turn south on Arizona highway 85. When we reach the Buckeye BLM Recreation Area, we decide to not stop for the night. We have stayed here a couple of times, but it is early enough in the day that we decide to push on. After stopping for gas in Gila Bend, we continue on I-8/I-10 to our destination, Cacti Forest, near Tucson.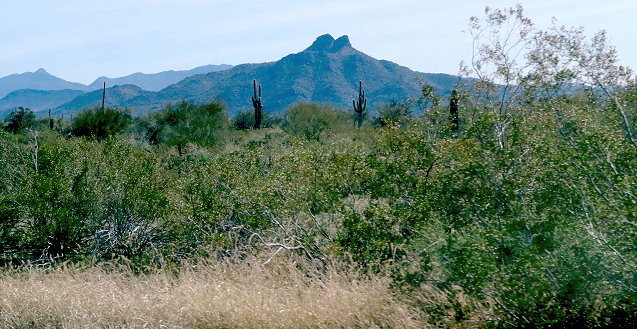 It is a good thing research was done ahead of time, as this place isn't exactly obvious from the highway. We find the right country road but miss the turnoff into the dispersed BLM camping area. The map isn't clear, but we find the right spot, park by the water tank, and then walk the road that heads out into a dense forested area. The reviews indicate that this this place does not accommodate big rigs. We are more of a medium rig, but investigating is a good idea.
This is quite the forest with cacti of all sorts growing lushly rather than sparcely as cacti tend to do.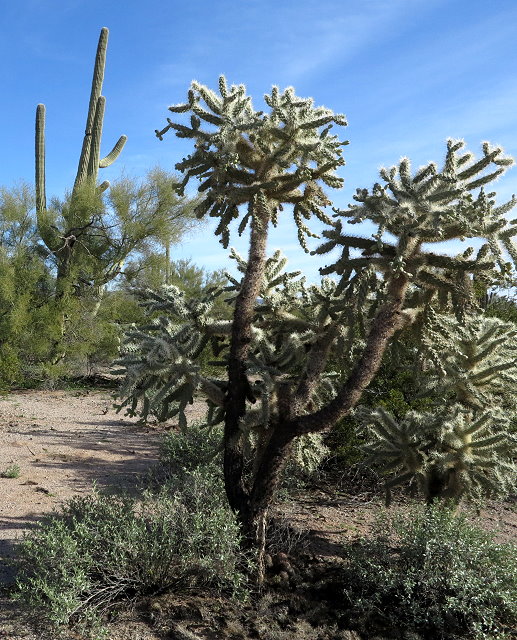 We find a spot that will allow for Cougar's size. The ground is a bit soft, but we get in place, taking care not to damage vegetation. We almost have a problem when releasing Cougar from the Suburban due to the wheel chocks not holding firm, maybe because of the soft ground. Yikes! A tense moment, but we make out okay.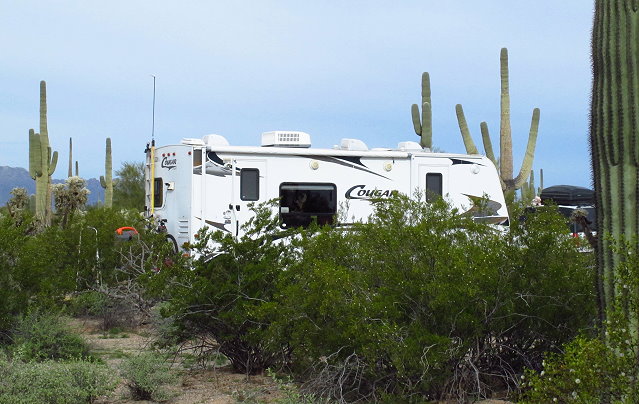 Once we are set up, we make a little patio area and sit out to relax with a glass of wine, happy to have found this little niche. Dinner is soup, rice, and leftovers, and since it was a long day, we soon head to bed.
A patio area

Relaxing after the days's drive and setup
Wednesday February 13: Today is a day of settling in and some exploring. After breakfast, we walk out to the cattle tank and across the paved county road to other camping sites, many of which are occupied. According to our map, this is not BLM, but obviously it is dispersed camping. As we walk, we observe the variety of cacti and the sometimes whimsical growth of the saguaros.
In the afternoon, I do quite a lot of editing from authors as well as photo editing for myself, post photos on FB, and send texts with photos to my kids and siblings.
I watch the light and take photos of the forest. This is really quite an intriguing place and I especially like seeing Picacho Peak in the background with the interesting variety of cacti in the middle and foreground.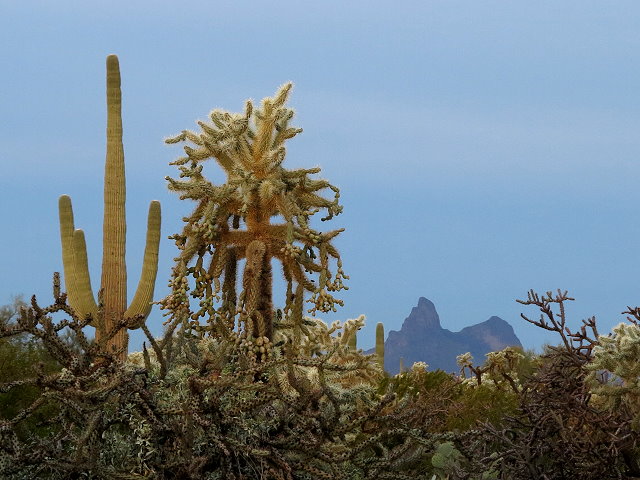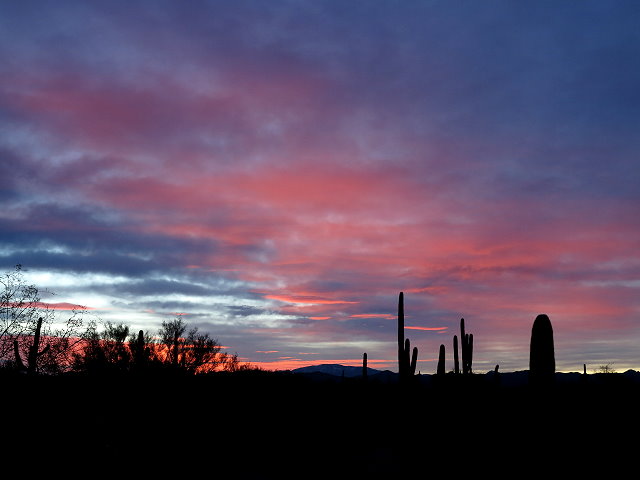 After dinner and cleanup, I write in my journal while Clifford works with his ham radio. It has been a quiet, peaceful, and productive day for us.